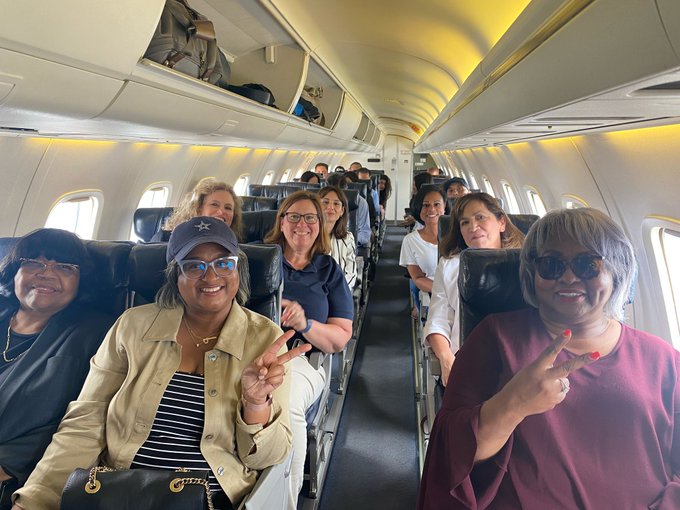 Texas Democrat legislators fled the state to DC on a private plane to deny Republicans a quorum in an effort to stop an election reform law.
The media cheered them on with no one asking questions about whose plane it was and whether that was not a thing of value (aka a bribe).
When Republicans flee, it is evil.
When Democrats flee, it is noble.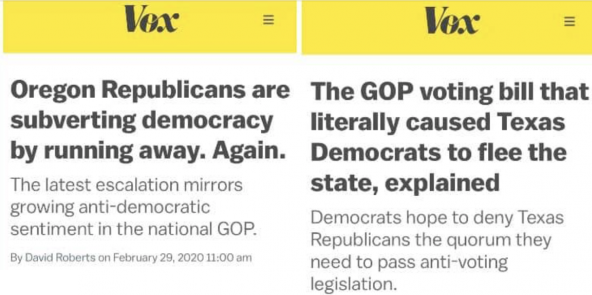 But it turns out those scrappy rebels did more than make a mockery of democracy in the Lone Star State. It turns out these runaways (aka flee baggers) went to Washington and spread covid 19.
While the Democrat legislators claim they are all vaccinated, 6 of them got covid and they spread it to a member of Nancy Pelosi's posse and the White House.
Kamala Harris has been at Walter Reed Hospital in Bethesda, Maryland, since Friday for some routine tests. Maybe it is covid. Maybe it is not.
This raises questions of whether the infected actually got vaccinated.
The media spin is not that the fleeing Democrats spread covid across the nation's capital, but that this is some sort of warning for the rest of the nation.
Axios reported on the Pelosi and White House staffers infected, "While both individuals are vaccinated and mildly symptomatic, they illustrate how Americans inoculated against the coronavirus can still contract and, potentially, unknowingly transmit the virus — even at the highest levels of the nation's government."
NBC was a little more focused in its report.
It said, "The Texas delegation fled en masse to Washington on July 12 to try to block passage of a restrictive state GOP voting bill, aiming to stay away until the special session called by Republican Gov. Greg Abbott ends.
"On Monday, a sixth member of the Texas delegation in Washington, D.C., tested positive for Covid-19, a spokesperson for the lawmakers told NBC News.
"Cara Santucci, the spokeswoman for the Texas House Democrats, confirmed the case and said the undisclosed member is self-isolating.
"Santucci had said last week the delegation would provide daily rapid tests for its members and their staffers who are in the nation's Capitol. But in a statement on Monday, she said the delegation will no longer release a daily Covid case count."
Suddenly, Democrats are buttoning up about covid.
The White House spin, according to CNN is vaccines work even when they fail. CNN quoted some anonymous official as saying, "We know that there will be breakthrough cases, but as this instance shows, cases in vaccinated individuals are typically mild.
"The White House is prepared for breakthrough cases with regular testing. This is another reminder of the efficacy of the covid 19 vaccines against severe illness or hospitalization. We wish our colleague a speedy recovery."
Meanwhile, the New York Times said, "Twitter Suspends Marjorie Taylor Greene for Posting Coronavirus Misinformation."
Yes, she said you can get covid even if you are vaccinated.
Which is what Democrats are saying now.
Texas Democrats tried to play games and deny the will of a clear majority of Texans.
Instead of Texas Democrats doing their job, they spread covid around. None in the press dare call them super spreaders because that is a title reserved only for Trump supporters.
You know they are Democrats when they stop democracy, desert their duties, flee their state, break federal laws by flying without masks, catch COVID, then disrupt DC by infecting House leadership, and MSM lavishes them with glowing hero status reserved for Bowe Bergdahl.

— Razor (@hale_razor) July 20, 2021