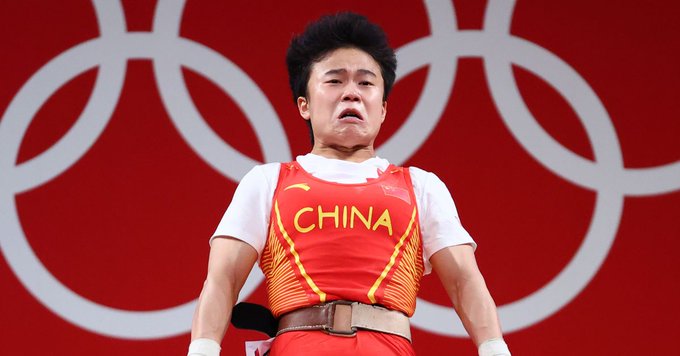 ITEM 1
:
Taiwan News reported
, "Chinese wolf warrior diplomats cried foul on Saturday over a photo of a Chinese weightlifter at the Tokyo 2020 Olympics.
"On Saturday, Reuters tweeted a photo of Chinese weightlifter Hou Zhihui with a strained expression on her face as she competed in the women's 49-kilogram weightlifting category. Hou placed first in the snatch with 94 kg and with 116 kg in the clean and jerk, for a total of 210 kg, clinching the gold medal and setting an Olympic record.
"However, the Chinese Embassy in Sri Lanka was less than pleased with the photo Reuters selected for Hou. 'Among all the photos of the game, Reuters has chosen this one, which only shows how ugly they are,' wrote the embassy."
Wolf warriors?
More like pouting pussycats.
ITEM 2: LAist reported, "Prominent Democrat Party fundraiser and gay rights activist Ed Buck was found guilty today in connection with the deaths of two men at his West Hollywood apartment.
"Buck, 66, was found guilty on nine federal counts, including providing methamphetamine to two men who overdosed in his apartment on different occasions — Gemmel Moore, 26, who died in July 2017, and Timothy Dean, 55, who died in January 2019."
Buck got his jollies by injecting black male hookers with drugs and watching them die.
ITEM 3: The purple-haired hussies pretending to represent us in women's soccer competition remain tied Australia 0-0 in their third Olympic match. Sweden shut them out 3-0 in their first match. But the USA beat New Zealand, a nation with 4.9 million people and 26 million sheep.
The other teams have the advantage of being patriotic to their countries.
My only interest in the Olympics is hoping for them and the men's basketball team to crash and burn.
(Updated to add that win over New Zealand.)
ITEM 4: Fox reported, "Every Democrat senator voted to advance the nomination of an alleged eco-terrorist collaborator who also endorsed population control and once applauded a call to let people's houses caught in forest fires burn.
"Senate Majority Leader Chuck Schumer, D-N.Y., ordered the vote to discharge Tracy Stone-Manning's nomination for Bureau of Land Management director from the Senate Energy and Natural Resources Committee. Her nomination was previously stuck in committee after a tied vote.
"The Tuesday vote saw the Senate split down party lines on Stone-Manning, 50-49, with every Democrat voting in favor of advancing President Biden's embattled nominee."
Manchin chairs that committee.
He lacked the guts to protect lumberjacks from a woman who promotes putting nails in trees to stop timbering.
If Democrats really hate timbering, let them stop using wood.
ITEM 5: Fox reported, "The art dealer representing the president's son has longstanding ties to China and said in 2015 that he wanted to be the art world's "lead guy in China."
"Georges Berges, who is representing Hunter Biden as he ventures into the art world, has talked about his business dealings in China in the past, but his reported ties could pose an ethics issue as he sells Biden's art to anonymous buyers."
Ethics issues?
The whole thing is unethical.
Berges is an agent of Red China?
Well, so is Hunter Biden.
ITEM 6: Via Kane at Citizen Free Press, "Asian dude coldcocks black man screaming 'go back to China.'"
Journalist Andy Ngô has the video.
I am uncomfortable with hitting someone for hate speech.
But given the attacks on Asians in Democrat cities, I can see why someone would just have a Popeye moment when he has had all he can stands because he can't stands no more.
ITEM 7: National Review reported, "With the Biden administration's big push to vaccinate more Americans, PolitiFact, one of the media's most consistently dishonest factchecking outfits, decided to rewrite history:
"President Joe Biden and Vice President Kamala Harris have been pushing Americans to get inoculated against covid 19. But a video on social media suggests that they actually had reservations about the safety of the vaccines.
"PolitiFact contends that such accusations are completely false, as Biden and Harris were merely 'raising concerns about the rollout by then-President Donald Trump, not the vaccines themselves.' This is an absurd distinction, tantamount to arguing that Donald Trump is 'only raising concerns about those who conducted the 2020 election, not the election itself.'
"Of course, if the former president released a statement promising never to take any vaccine that was produced during the Biden presidency, it would rightly be seen as perpetuating skepticism. Conspiracies theories about vaccines revolve around the producers and disseminators of the medicine. Vaccines do not organically appear from the ether. They are made. And both Biden and Harris worked to discredit those charged with creating them."
None of this would have mattered if National Review's staff had grown up, admitted they were wrong, and supported the Trump presidency.
Posers gotta pose.
National Review is the U.S. women's soccer team in the political Olympics.
ITEM 8: Hamas-Shield AP said, "California Gov. Gavin Newsom's office said Tuesday he pulled his children out of a summer day camp that did not require kids to wear masks, a violation of state policy that Newsom's spokeswoman said he and his wife missed when reviewing communication from the camp."
After he got caught, that is.
AP reported, "Reopen California Schools, a group that promotes full school reopening without masks, tweeted Monday it had obtained photos of one of Newsom's sons at the camp."
Newsom acts as if masks are just vaccine theater.
So does the CDC.
ITEM 9: Washington Free Beacon reported, "America's abortion laws are closer to North Korea's than they are to democratic countries', a fact the Supreme Court should consider as it weighs the constitutionality of Mississippi's abortion law, according to a new study.
"Mississippi's ban on abortion after 15 weeks of pregnancy mirrors the laws in effect in 47 European countries, but the policy is at odds with Supreme Court precedent established by Roe v. Wade and Planned Parenthood v. Casey, which hold that abortion bans cannot be instituted prior to fetal viability. The standard—loosely set at 24 weeks—has stood for five decades despite rapid advances in medicine. Mississippi's challenge to the Court, according to American Principles Project president Terry Schilling, will usher the United States into the 21st century."
The link between abortion and socialism is stunning.
Free societies value life.
Socialism doesn't.
ITEM 10: ABC reported, "The Centers for Disease Control and Prevention changed course Tuesday on some masking guidelines, recommending that even vaccinated people return to wearing masks indoors in parts of the U.S. where the delta variant of the coronavirus is fueling infection surges."
Sweden never mandated masks, never shut down, and pays people $23 to get the vaccine.
14,651 deaths out of 10,099,265 people.
Adjusted for population, that would be like 468,000 deaths in the USA.
America has suffered 611,000 covid deaths.
ITEM 11: One of these governors is not like the others...
Kristi Noem tweeted, "South Dakota's cases remain low. If you're worried about the virus, you're free to get vaccinated, wear a mask, or stay at home. But we won't be mandating anything. And the CDC's inconsistency doesn't help the American people."
Greg Abbott tweeted, "Every Texan has the right to choose whether they will wear a mask or have their children wear masks."
Ron DeSantis said, "Mandating masks for vaccinated people erodes public trust and confidence in the effectiveness of the vaccines. To me it appears that the government wants to be perceived as 'doing something' during a seasonal infection surge, even if their policy does not necessarily make people safer."
Gavin Newsom said, Mask-gregation Now. Mask-gregation Tomorrow. Mask-gregation Fo'evah!
(His actual words were, "You don't have a choice to go out and drink and drive and put everybody else's lives at risk.")
Mask mandates do not apply to Newsom, his wife, his kids, or any elected Democrat in California or their family members.
ITEM 12: Meanwhile, back at the border, illegal aliens brought in another 671 cases and two deaths on Monday.
But Reuters reported, "The United States will not lift any existing travel restrictions "at this point" due to concerns over the highly transmissible COVID-19 Delta variant and the rising number of U.S. coronavirus cases, the White House confirmed on Monday."
Illegal aliens have more rights than anyone.
Outside of California Democrat officials, that is.
ITEM 13: Katie Herzog reported, "Med Schools Are Now Denying Biological Sex. Professors are apologizing for saying 'male' and 'female.' Students are policing teachers. This is what it looks like when activism takes over medicine."
The 20th century had a bowel movement and called it the 21st century.
Frankly, I think Y2K killed us all and this is purgatory.
ITEM 14: Zero Hedge reported, "Brazil's top growing regions for coffee, sugar, and oranges are expected to see another round of frost later this week. A cold snap last week sent coffee futures to a seven-year high. Now orange juice futures are skyrocketing.
"Brazil is the world's leading orange juice producer. There are concerns about widespread frost Friday and Saturday in the southernmost regions of south Minas Gerais state could damage citrus trees.
"Drew Lerner, president of World Weather Inc, told Bloomberg that frost later this week 'would damage some trees' in the Minas Gerais state. Below are Friday morning forecast temperatures hovering around freezing."
I liked it better when orange juice came from Florida.
Roll On, Big-O!
You had to grow up in Cleveland to get it. My childhood was so great, it never ended.
ITEM 15: National Review reported, "Seattle Mayor Proposes Rebuilding Depleted Police Force after Violent Weekend."
The city has lost 250 of its 1,325 police officers in the last 17 months.
Get woke, and shootings rise 33%.
Yes, it is not a cute chant. It is not a cute situation either.
ITEM 16: The Washington Examiner reported, "Defense Secretary Lloyd Austin issued a warning toward China this week regarding aggression in the Pacific."
Watch out.
He'll send the 101st Transgendered Brigade.
How about shutting up and fixing the nation's defense by making our training as tough as the Red Chinese military training is?
FINALLY, KOMU reported, "President Joe Biden will announce on Thursday a requirement that all federal employees and contractors be vaccinated against Covid-19, or be required to submit to regular testing and mitigation requirements, according to a source with direct knowledge of the matter.
"The announcement will come in remarks where Biden is also expected to lay out a series of new steps, including incentives, in an attempt to spur new vaccinations as the Delta variant spreads rapidly throughout the country. It will also follow the decision by the Department of Veterans Affairs to require its frontline health care workers to be vaccinated over the course of the next two months."
We shall see if this happens.