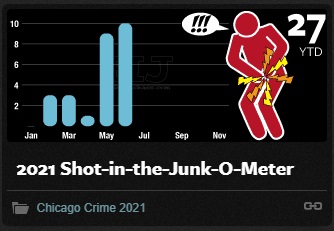 ITEM 1: Hey Jackass is the site that tracks shootings in Chicago. Not only does it list where in Chicago the shooting was, but where on the body the bullet went.
But the rise in violence under Mayor Lori Lightfoot is no joking matter.
The media made a big deal about her being the first black lesbian mayor, but largely ignores her incompetence.
NBC reported, "A 14-year-old boy was killed and 17 people were injured in three mass shootings in Chicago on Wednesday, police said.
"The first two shootings happened within minutes and blocks of each other in the city's North Lawndale neighborhood after 6 p.m., Area 4 Deputy Police Chief Ernest Cato said during a news conference.
"The 14-year-old was pronounced dead at Stroger Hospital after being struck in the head in the first shooting, which left a 16-year-old in grave condition, according to police. The wounded teen was also shot in the head, Cato said. A 22-year-old man and two 24-year-old men injured in the shooting near the intersection of 13th Street and Christiana Avenue, were stable.
"Multiple suspects then opened fire on a second scene, shooting four teens and a 22-year-old man near the intersection of Douglas Boulevard and Ridgeway Avenue. They were taken to hospitals, where they were listed in good condition, police said.
"Nearly six hours later, a dark gray Jeep Grand Cherokee opened fire on a party bus in the 1600 block of North LaSalle Drive in the city's Lincoln Park neighborhood, according to authorities. Eight people between the ages of 23 and 52 years old were wounded, but investigators said they don't know if they were inside or outside of the bus when they were shot."
Chicago does not care because the victims are by and large young black males from the poor side of town. That, my friends, is the actual systemic racism.
ITEM 2: The Washington Free Beacon reported, "An electric bus manufactured by Proterra caught fire while charging in a southern California city that is now considering taking the electric buses off the road, according to government records.
"The Foothill Transit agency, which serves the valleys surrounding Los Angeles, will decide on Friday whether costly Proterra buses purchased in the last decade are still operable. Problems cited by the agency include not only the bus that caught fire in what's described as a 'thermal event,' but also buses that melt in the California heat and have transmission failures. Roland Cordero, the agency's director of maintenance and vehicle technology, says the problems with the buses are exacerbated by Proterra's inability to help with repairs."
Ah, thermal events.
I remember Jim Morrison singing, "Light My Thermal Event."
And Smokey the Bear saying, "Only you can prevent forest thermal events."
And of course, ready, aim, thermal event.
The government never admits it is wrong until those who committed the wrong are dead.
ITEM 3: Newsweek published a column, "Double Scoops and Double Standards Courtesy of Ben & Jerry's."
The authors began, "In addition to its classic double scoops, Vermont-based ice cream producer Ben & Jerry's is now offering a calorie-rich serving of double standards, too. The Ben & Jerry's brand, owned and operated by Unilever, announced on July 19 that it would terminate its license agreement with an Israeli-based manufacturer to ensure its products will no longer be sold in the 'Occupied Palestinian Territory.' Unilever cut off the longstanding licensee after it refused to halt sales in the disputed territories, which reportedly would violate Israeli law. In short, Unilever engaged in a boycott of Israel as defined by state and federal law, which means the company may soon be facing penalties that eat into its profits."
The story said Unilever "maintains corporate offices in numerous human rights-abusing countries, including China, Pakistan, Russia, Saudi Arabia, Turkey, Venezuela, Vietnam and Zimbabwe."
The backlash is getting mainstream.
ITEM 4: Ben and Jerry started their ice cream company in 1978, which was 11 years after the Six Day War that ceded the land to Israel.
If doing business there is so evil, why did B&J ever sell ice cream there?
ITEM 5: Zero Hedge's headline read, "'This Is The Biggest Bubble I've Seen In My Career' - Dems' Infrastructure Spending Could Lead To Devastating Crash, Druck Warns."
The story said, "This isn't the first time billionaire investor Stanley Druckenmiller (Druck) has warned that US markets are caught up in a 'raging mania' fostered by the trillions of dollars in government spending.
"Druck, an acolyte of George Soros known for his macro investing prowess (even as he complains that contemporary Fed-backstopped markets 'make no sense') is a frequent guest on CNBC. But on Friday morning, he made a brief appearance on MSNBC's Morning Show with Stephanie Ruhle, who seemed ill-equipped to respond to Druck's arguments about why the Dems' multi-trillion two-part infrastructure plan will end up hurting America's poorest citizens.
"As Druck explains, the V-shaped economic recovery has been 'the sharpest recovery in history,' noting that it took 10 years for the American economy to achieve the same gains following the start of the Great Depression.
"The problem is that the nearly $6 trillion allocated by Congress to combat the economic impact of covid has been spent after the economy already finished recovering. The accelerating pace of inflation, and inability of certain businesses to hire lower-wage workers, are but byproducts of this."
When a Soros acolyte warns you that Democrats are on the road to ruin, you had better heed the warning.
ITEM 6: The economy snapped back from the shutdown quickly for three reasons.
First, there was no underlying problem with the economy other than the election of over-zealous fascist governors.
Second, a capitalist was president.
Third, lowering the tax rates in 2017 put companies in good shape financially.
Yes, there was a stimulus, which may or may not have worked. But the economy is over-stimulated now.
The S&P 500 closed at 4,411.79 on Friday, up 35% in the past year. The market is well overdue for a correction but the politicians won't let that happen.
A crash will come. Democrats hope it will be on the Republican Watch.
I don't think so, Elmer.
ITEM 7: The Hill reported, "The men who are accused of attempting to kidnap Michigan Gov. Gretchen Whitmer (D) are saying the FBI set them up, according to court filings, evidence and dozen of interviews seen by BuzzFeed News.
"There were at least 12 FBI informants involved in the investigation into the group for months while they were allegedly planning to kidnap the governor.
"The FBI's involvement was much bigger than previously known, as the agency was involved when the plot began and had informants allegedly encouraging the group to further its plans, BuzzFeed News reported.
"An Iraq War veteran informant rose to second in command of the group and paid for travel for members of the kidnapping plot to meet together. He also told members to work together and helped the person in charge advance the plan.
"So far, one defendant has accused the agency of entrapment, claiming the informants encouraged the group and even led military-style trainings for the plot."
The FBI has no time to investigate real crime like the ones revealed on Hunter Biden's laptop.
The FBI is too busy trying to entrap innocent people.
This goes back to Abscam 41 years ago when it targeted dozens of politicians and convicted a senator and 6 congressmen.
Just remember, J. Edgar Hoover kept a dossier on Martin Luther King, and not the Mafia.
ITEM 8: The White House press corps may be growing a spine.
A reporter challenges @PressSec on not releasing the number of breakthrough covid cases among WH staffers:

REPORTER: "Why not just provide the number are you trying to hide something?"@PressSec: "Why do you need to have that information?"

REPORTER: "Transparency..." pic.twitter.com/POVmqkzEFr

— Daily Caller (@DailyCaller) July 23, 2021
If reporters pretended they were addressing Sarah Sanders, the quality of the news would greatly improve.
ITEM 9: The Cleveland Indians changed their name to Guardians.
Why are they dishonoring and ridiculing Guardians?
I mean, that was the claim about Indians.
President Trump unloaded on the team.
He said, "Can anybody believe that the Cleveland Indians, a storied and cherished baseball franchise since taking the name in 1915, are changing their name to the Guardians? Such a disgrace, and I guarantee that the people who are most angry about it are the many Indians of our Country. Wouldn't it be an honor to have a team named the Cleveland Indians, and wouldn't it be disrespectful to rip that name and logo off of those jerseys? The people of Cleveland cannot be thrilled and I, as a FORMER baseball fan, cannot believe things such as this are happening. A small group of people, with absolutely crazy ideas and policies, is forcing these changes to destroy our culture and heritage. At some point, the people will not take it anymore!"
Communists want to end our enjoyment of sports. They are succeeding.
ITEM 10: Now for the other side of the argument.
I have to admit I'm entirely in favor of the name change. Many Indian tribes, such as the Comanche, regularly gang-raped female captives and tortured male captives to death.

It's time we stopped honoring them with sports team names.

— K T Cat (@ktcat) July 23, 2021
Having only 6 winning seasons in 35 seasons did not cause me to leave. Losing the World Series in 1997 and again in 2016 in extra innings in Game Seven did not cause me to leave.
But this is stupid and I don't root for stupid.
ITEM 11: Just the News reported, "The U.S. Sixth Circuit Court of Appeals unanimously ruled Friday the Centers for Disease Control and Prevention overstepped its authority and engaged in federal overreach by issuing an eviction moratorium during the pandemic."
The judges said, "It is not our job as judges to make legislative rules that favor one side or another.
"But nor should it be the job of bureaucrats embedded in the executive branch. While landlords and tenants likely disagree on much, there is one thing both deserve: for their problems to be resolved by their elected representatives."
I like the outcome but I do not like the stilted premise.
Why not just say the obvious: The government cannot cancel rent. Period. End of story.
ITEM 12: Todd Starnes reported, "While professional athletes are kneeling in protest for Black Lives Matter, a high school football coach is not allowed to kneel in prayer, according to the Ninth Circuit Court of Appeals.
"Coach Joe Kennedy, a Marine veteran being represented by First Liberty Institute, will file another appeal to the Supreme Court after a Court of Appeals panel declined to re-hear his case Monday, leaving a previous ruling in place, which stated the Bremerton School District did not violate his religious and free speech rights when they told him not to pray on the football field.
"Kennedy told the Todd Starnes Show Tuesday he was confused by the school officials telling him he can't practice his faith after he served for 20 years defending the constitutional rights of all Americans."
We no longer have free speech.
We have allowed speech.
ITEM 13: Just the News reported, "A California judge on Friday has ordered former California Democratic Rep. Katie Hill to pay nearly $55,000 in attorneys' fees and costs to Salem Media Group over her failed revenge porn lawsuit.
"Los Angeles Superior Court Judge Yolanda Orozco had previously ruled on April 21 that Salem Media, which owns the conservative site Red State, had shown the photos of Hill as a matter of public interest and protected by the First Amendment, according to Spectrum News."
The report also said, "Salem had originally asked for $70,000 in attorneys' fees, which Hills' lawyers rejected. Orozco had also preciously handed a victory to the British tabloid The Daily Mail and ordered Hill to pay the paper nearly $220,000 in attorney fees.
"Hill had sued the Mail, claiming the paper had conspired with her ex-husband to distribute naked photos of her including one of her with the female campaign staffer, resulting in a scandal that led to her resigning from Congress in 2019."
Ah, the trouble with throuples.
Wasn't that a Star Trek episode?
ITEM 14: The Record reported, "NSA review finds that Tucker Carlson's communications were not targeted."
In a related story, Goldilocks found no evidence that she ate Baby Bear's porridge.
ITEM 15: The real story came from the Washington Examiner, which reported, "Tucker Carlson's name in communications intercepted by the National Security Agency was revealed through the process of unmasking, according to a new report."
His name just happened to come up.
Just like Donald Trump's name did in 2016.
The next Republican president needs to appoint a special counsel to target Biden and all his henchmen for spying on Americans.
Chuck Schumer bragged that the intelligence community has 6 ways to Sunday to get you.
It's time to show the spies the 6 ways to prison for doing that.
ITEM 16: Red State reported, "'Fully Vaccinated' University President Forces Students to Get Vaccinated — Then Tests Positive for Covid."
I got a smallpox vaccine. I never tested positive for it.
But I took the covid shot. You do you. Your body, your choice.
ITEM 17: The Daily Mail reported, "The United Arab Emirates is creating its own rain using drones that fly into clouds and unleash electrical charges to beat the sweltering 122 degrees Fahrenheit (50 degrees Celsius) heat.
"The rain is formed using drone technology that gives clouds an electric shock to 'cajole them' into clumping together and producing precipitation.
"The UAE is one of the most arid countries on Earth, and it hopes the technique could help to increase its meager annual rainfall.
"And it is working. Video footage released by the UAE's National Center of Meteorology shows monsoon-like downpours across the country which create a sheet of rain on the highways."
Citizen: We could use a little rain.
Government: OK.
Next thing you know, there is a monsoon.
Press: Yeah!
ITEM 18: The Boston Herald reported, "The Vietnam War memorial located by Fenway's James P. Kelleher Rose Garden was vandalized with red paint on Thursday in an act that pains the community and military families, city officials said."
The lefties really did hate the troops and still do.
ITEM 19: The Truth About Cars reported, "Chip Shortage Leads to 'Dead' Cars On Factory Lots, GM Halts Truck Production."
Red China has us by the short hairs.
And the cowards they paid off -- the Bushes, the Clintons, the Obama, and the Bidens -- do not care.
We don't need another stimulus.
We need a chip factory.
FINALLY, 1945 reported, "China Risks Being Pulled Into Afghanistan's Civil War."
I scoffed in 2001 when people said Afghanistan is the place great armies go to die.
Russia went there in the 1980s and the Soviet Union is no more.
America went there in 2001 and the constitutional republic is dead.
We will see if Red China learned anything.