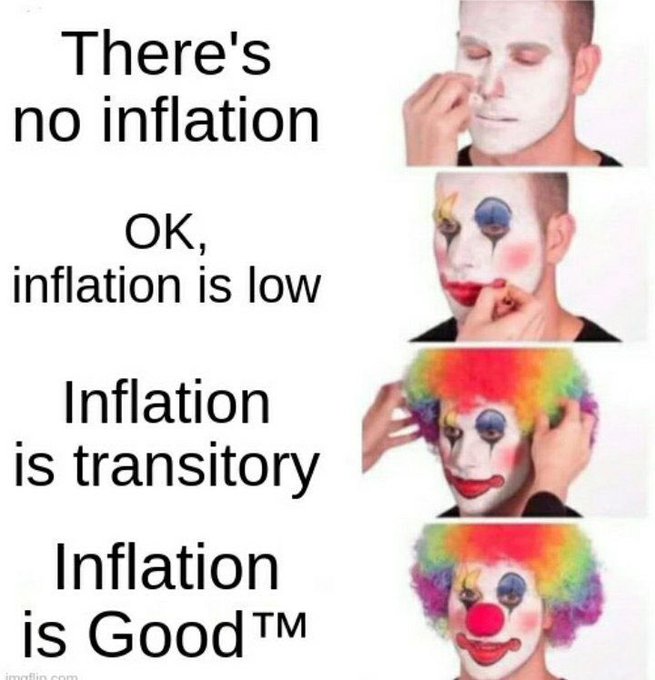 ITEM 1: CNBC reported, "The upside to inflation: rising wages."
Which you will need to keep up with prices that will rise to cover the higher wages.
Rinse, repeat.
Look, kids, I know That '70s Show makes that decade look cool, but really it was as ugly as an avocado shag rug. We really don't want to go back.
ITEM 2: Fox reported, "Arizona is the latest state looking to lower its income tax rate, citing a budget surplus despite the economic havoc wrought by the coronavirus pandemic.
"Gov. Doug Ducey last week signed a budget that includes a transition from the state's current progressive tax structure to a flat tax rate of 2.5%, which would provide an estimated $340 reduction in the average state income tax payment.
"Ducey said Arizona is able to proceed with the tax cut because the state's economy is booming and has generated a budget surplus.
"Arizona is not the only state looking to cut taxes as the broader U.S. economy recovers from a recession."
Nine states have lowered their individual income tax rates.
I am a fan of Arthur Laffer, and I approve this message.
ITEM 3: The New York Post reported, "A coalition of 48 progressive groups are calling on President Biden and members of Congress to look past China's gross human rights abuses — including genocide — to ensure cooperation on climate action.
"In a letter sent to the White House and congressional lawmakers Wednesday, the groups demanded the US abandon its 'dominant antagonistic approach' to the Chinese Communist Party, in order to work with the regime."
Lefties never believe their own BS.
Human rights as a cause was meant to be just a dig at conservatives.
Likewise, lefties could not give a whizz about climate change. They know it is a joke. Red China is building coal-powered electric plants while we fool around with windmills and solar panels.
ITEM 4: The Daily Mail reported, "Barron Trump was seen towering over his mother, Melania, on Wednesday as the mother and son duo left Trump Tower, where the former first family has been staying while in New York.
"In photos obtained by DailyMail.com, Barron Trump, now 15, walked next to his mother and carried Melania's vintage limited edition orange Louis Vuitton x Richard Prince bag, while she toted a $11,000 black Hermes Birkin."
He's 6-foot-7 with auburn hair.
Trump 2048.
ITEM 5: The Chicago Tribune reported, "President Joe Biden on Wednesday made his first visit to the Chicago area since taking office to discuss his plan to help working and middle-class families but, as is often the case, the city's rampant gun violence emerged as the dominant theme of the day.
"Just hours before Biden touched down in Chicago, two federal agents and a Chicago police officer were shot in a vehicle on the city's Far South Side. The president briefly discussed the shooting on the tarmac at O'Hare International Airport in a private conversation with Mayor Lori Lightfoot, according to the White House.
"Biden did not reference the shooting or Chicago's struggles to tamp down violent crime during his 31-minute speech at McHenry County College in northwest suburban Crystal Lake, perhaps in an effort to keep the day's focus on his domestic agenda to make community college free, extend the child tax credit and create universal pre-K programs across the country."
Struggles to tamp down?
Who does the Chicago Tribune believe it is fooling?

Chicago has been the murder capital of America for decades as more people are gunned down in Chicago than in any other city.
If Democrats cared, they would have tamped it down when Daley was mayor.
The first Daley.
ITEM 6: The Creepy Porn Lawyer is back in the news.
Kane at Citizen Free Press reported, "Michael Avenatti was sentenced Thursday to just 30 months in prison for a brazen scheme to extort athletic apparel giant Nike out of up to $25 million.
"That sentence was much lower than the nine years that was the bottom of the sentencing range suggested by federal guidelines, and not anywhere close to a substantial prison term sought by federal prosecutors."
Three years ago, CNN predicted he would be president!
Maybe his fellow inmates will elect him president of Cellblock 9.
ITEM 7: Breitbart reported, "Paul Pelosi, the husband of House Speaker Nancy Pelosi (D-CA), reportedly made massive bets on stocks in the weeks prior to the antitrust legislation vote in committee, securing large sums of money.
"In the weeks before the House Judiciary Committee voted on the antitrust legislation — aimed at Apple, Amazon, and Alphabet's Google — that was meant to limit the way companies organize and offer their products, Paul exercised call options, according to Nancy's financial disclosure forms.
"The financial disclosure showed that Paul was 'exercising call options to acquire 4,000 shares of Alphabet, the parent company of Google, at a strike price of $1,200. The trade netted him a $4.8 million gain, and it's risen to $5.3 million since then as the shares have jumped,' according to Bloomberg.
"Nancy filed the disclosure form July 2. The transaction was ultimately completed a week prior to the Judiciary Committee vote. The votes were supposed to advance six bipartisan antitrust bills, four of which targeted Google, Amazon, Apple, and Facebook.
"Bloomberg noted that the market was quiet, implying that investors did not see the bills are a real threat to those companies. Doing so, the share price from Alphabet had increased 3.2% since the Judiciary Committee voted the legislation out of committee."
Everyone in DC now seems to be a public self-servant.
Those who don't look out for themselves are ostracized because crooks distrust an honest man. The fact that he can't be bought makes Washingtonians nervous.
ITEM 8: Jacob Palmieri reported, "Judicial Watch announced that it is suing the FBI over their obtaining of January 6th banking information of some who attended Jan 6th march."
The Fascist Bureau of Intimidation no longer enforces the law. It exploits it. These people trespassed. The FBI wants to ruin their lives.
ITEM 9: Fox reported, "A drama teacher in Illinois is fighting back against what her attorneys say is highly racial content that stereotypes White people and violates the U.S. Constitution.
"Filed in federal court Tuesday, the lawsuit represents one of the primary lines of attack from activists seeking to combat the influence of critical race theory (CRT) in schools. The Southeastern Legal Foundation, which is representing teacher Stacy Deemar, is working as part of Chris Rufo's legal coalition that ultimately seeks to strike down CRT-related curricula at the Supreme Court.
"For months, Rufo and others have brought numerous school materials to public attention, often inspiring shock on social media. Tuesday's case seemed to spotlight one of the bolder instances of so-called anti-racist education, which critics have described as Neo-racism."
Racism is racism.
ITEM 10: Hamas-Shielding AP reported, "A federal judge has halted a loan forgiveness program for farmers of color in response to a lawsuit alleging the program discriminates against white farmers.
"U.S. District Judge William Griesbach in Milwaukee issued a temporary restraining order Thursday suspending the program for socially disadvantaged farmers and ranchers, the Milwaukee Journal Sentinel reported.
"The program pays up to 120% of direct or guaranteed farm loan balances for black, American Indian, Hispanic, Asian American or Pacific Islander farmers. President Joe Biden's administration created the loan forgiveness program as part of its covid 19 pandemic relief plan."
Apparently white farmers are immune to covid 19.
Must be that white privilege that I keep hearing about.
Becker News reported that a federal judge also enjoined the program on Thursday in a case in Tennessee.
ITEM 11: Newsmax said, "For the second time in two weeks, Newsmax is the big ratings winner, this time for its live coverage of Saturday's rally for Donald Trump — and it's beating Fox in key Nielsens.
"Last Saturday night, Newsmax estimates, more than 3 million U.S. viewers tuned in on traditional cable and through streaming OTT to watch former President Trump's Save America rally live from Sarasota, Florida.
"Nielsen reported that Newsmax drew a total audience coverage rating of .86, compared to Fox News .70, CNN's .33 and MSNBC's miniscule .16.
"Newsmax was only major cable channel to cover the Trump July 3 rally live."
That's nice, but Newsmax will sell us out. They all do.
ITEM 12: The Liberty Daily reported, "The 'Epsilon' Strain: How Long Until Covid Fearmongers Run Out of Greek Letters?"
Maybe they can sell naming rights like ballparks do.
It is odd that after my polio vaccination, I did not have to wear a mask.
ITEM 13: Jonathan Turley reported, "Twitter Flags Foreign Policy Expert Tweeting Criticism Of China."
John Lennon was wrong. If you go carrying pictures of Chairman Mao, you'll make it with everyone now.
I am beginning to believe all that venture capital for these Internet startups came from Beijing.
ITEM 14: Just the News reported, "Inmates convicted on terrorism-related charges or with 'known connections to terrorist organizations,' including the Islamic State, al-Qaeda and al-Shabaab, were allowed to lead religious services at a third of the federal prisons audited by a federal watchdog, raising deep security concerns.
"A recent audit by the Justice Department's inspector general of the Chaplaincy Services Program in the Federal Bureau of Prisons found four out of 12 facilities in which terrorist inmates were eligible to lead religious services.
"At three of the facilities, the prisoners were affiliated with Islamic terrorist groups, with at least two leading services on a regular basis or a frequent basis. One of them was chosen to lead services by other inmate co-religionists 'due to his extensive faith knowledge and Arabic fluency.'"
We spent trillions to invade Afghanistan and break up al-Qaeda only to turn our prison system into a recruiting center.
ITEM 15: The New York Times (which I never link) said, "Fierce thunderstorms hit New York City and its suburbs on Thursday, prompting the police to rescue more than a dozen people from one flooded stretch of highway and forcing would-be subway riders to navigate waist-deep waters on their way into one Upper Manhattan station.
"The heavy showers, accompanied by repeated bursts of booming thunder and crackling lightning, led to flash flooding across the region less than 12 hours before whatever remained of Tropical Storm Elsa arrived in the area with its own batch of rain and gusty winds.
"Videos posted on Twitter showed several subway stations taking on water — some from above, some from below. The No. 1 station at Broadway and 157th Street in Manhattan appeared to suffer the most dire effects of the storm, with some passengers opting to wade through filthy water on their way to the platform.
"Transit officials, already girding for Elsa's arrival, said they had crews out across the city addressing the flooding problems as quickly as possible and warned against entering stations that might still be inundated."
If true, this is what happens when you spend money that should go to maintenance on six-digit salaries and welfare.
If true.
It is NYT, after all.
ITEM 16: Reuters reported, "Pet adoptions surged during the coronavirus pandemic as people in lockdown sought companionship. But as the world has opened up again, the future looks less rosy for a growing number of animals sent to shelters or adoption centers by owners without the time or money to care for them."
Last year's feel-good story is this year's horror show.
FINALLY, We Love Trump reported, "Hundreds of Trump Supporters Out Number Joe Biden Supporters During His Visit To Illinois."
This was why Josef Biden did not campaign.
He knew he would be outnumbered at every campaign stop.