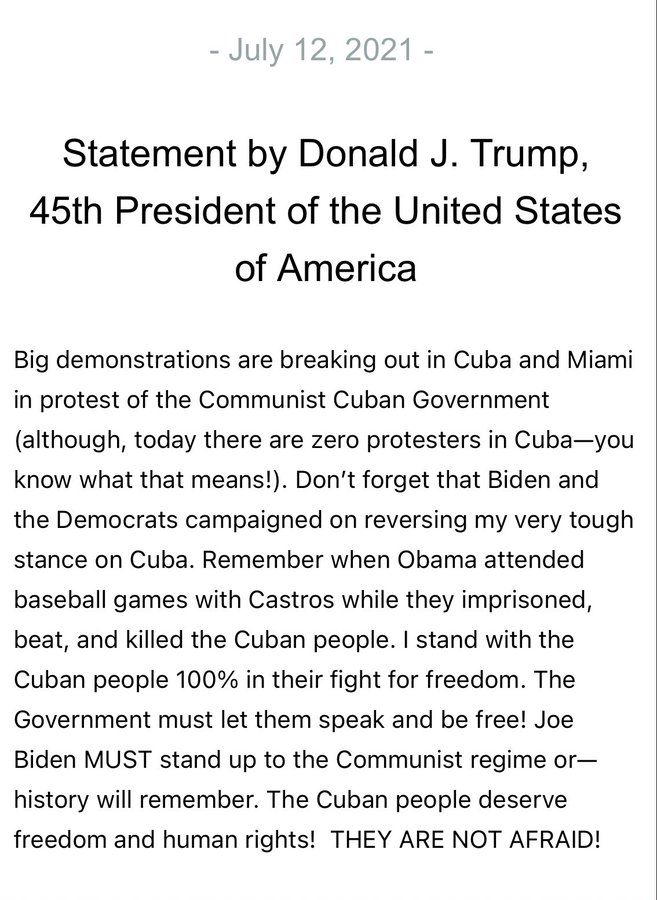 ITEM 1: The Hamas-Shielding Associated Press reported, "Large contingents of Cuban police patrolled the capital of Havana on Monday following rare protests around the island nation against food shortages and high prices amid the coronavirus crisis. Cuba's president said the demonstrations were stirred up on social media by Cuban Americans in the United States.
"Many young people took part in the Sunday protests in Havana, which disrupted traffic until police moved in after several hours and broke up the march when a few protesters threw rocks.
"Cuba is going through its worst economic crisis in decades, along with a resurgence of coronavirus cases, as it suffers the consequences of U.S. sanctions imposed by former President Donald Trump's administration."
Leave it to the AP to blame Donald Trump for 60 years of failure of communism. Blame America First.
ITEM 2: Republican Congressman Jim Jordan of Ohio tweeted, "Protestors in Cuba and Hong Kong seem to love the American flag more than some of our Olympic athletes."
Cubans are protesting communism in their country by waving the United States flag in their streets. Don't tell Colin Kaepernick. pic.twitter.com/LMpSxRGC6e

— Clay Travis (@ClayTravis) July 11, 2021
The American flag identifies those who love freedom and those who do not. As the song says, "Thy banners make tyranny tremble, when borne by the red, white, and blue!"
ITEM 3: The New York Post reported, "The US Capitol Lego set that federal authorities claimed to have recovered from an alleged rioter 'fully constructed' was actually not assembled at all, according to new court papers.
"An assistant US attorney in DC clarified in a letter filed on Friday that all 1,000-plus pieces of the plastic model seized from Robert Morss were still loose in the box.
"'Please note that after a review of the photographs from the search, there appears to have been a miscommunication and that statement appears to be inaccurate,' prosecutors wrote.
"'The Lego set was in a box and not fully constructed at the time of the search, as pictured below,' they added.
"Morss, who is being held behind bars pending a bail hearing, was hit with a number of charges for his role in the riot, including assaulting, resisting or impeding officers, civil disorder, robbery of US property and obstruction."
The deep state is run by morons.
Which makes them even deadlier.
ITEM 4: The Epoch Times reported, "A rally to stop critical race theory in public schools will be held on the Pennsylvania Capitol steps in Harrisburg, Pennsylvania on July 14 at 11 a.m., two hours before a planned Pennsylvania Board of Education meeting is scheduled to begin.
"The Board of Education canceled its planned in-person meeting and will now be holding a Zoom conference instead. Event organizer Lois Kaneshiki of the group Stop Common Core, CRT, & Action Civics in Pennsylvania told The Epoch Times that she believes the Board of Education made this decision to shut out the voice of parents who oppose critical race theory from attending the in-person meeting. Kaneshiki is a former Pennsylvania school board member.
"Speaking at the event and press conference are Laura Zorc, Director of Education Reform at FreedomWorks Foundation, and Dr. Joseph L. Green Jr. of St. Paul's Missionary Baptist Church and founder of the 2019 Movement. Attorney Marc Scaringi will be speaking at the event about his legal efforts to combat critical race theory in the public school system. Also scheduled to speak are Pennsylvania state Rep. Barbara Gleim, a Republican sponsor of HB 1532, an act that would ban the teaching of critical race theory in Pennsylvania schools, and Jonathan Butcher from the Heritage Foundation."
Take them to federal court and stop the Zoom.
Make them face the public.
ITEM 5: Weather news.
The heatwave at Kennewick, Washington peaked on June 30 when they reached 114F - one degree below the record which was set on August 10, 1898 and July 27, 1939.

Global warming made Kennewick almost as hot as they were 123 years ago, when CO2 was below 300 PPM

— Tony Heller (@Tony__Heller) July 13, 2021
Climate change is communism, not science.
ITEM 6: Hamas-Shielding AP reported, "Edwin Washington Edwards, the high-living, quick-witted four-term governor who reshaped Louisiana's oil revenues and dominated the state's politics for decades, a run all but overshadowed by scandal and eight years in federal prison, died Monday. He was 93."
Being a Democrat gets you almost a complete pass on being a crook who cheated, robbed, and stole from Louisianans.
8 years in a federal prison is an unusually long time even for a corrupt politician.
AP waited until Paragraph 8 to mention his actual conviction, "The federal case that led to his May 2000 conviction involved him taking payoffs from interests seeking riverboat casino licenses during his final term in the 1990s. Edwards maintained the case was built on secretly taped and misinterpreted conversations and the lies of his former cronies, who made deals to avoid jail."
That should have been the second paragraph because the other stuff he did was just for show. He sought high office to sell favors. Sadly, many governors -- both Republican and Democrat -- are almost as corrupt.
ITEM 7: Vanity Fair said, "The highest-rated Fox News host is reportedly extra pissed at his employer for not vocally championing his far-fetched allegations against the federal government. Since Tucker Carlson claimed two weeks ago that he is being secretly spied on by the National Security Agency in an attempt to take him off the air, the network has largely ignored his supposed revelations both from a PR standpoint and in its coverage—silence that suggests not even Fox News is buying the surveillance narrative. A perceived lack of support from colleagues and network executives—the top two of which have not issued statements of public support or decried the NSA's alleged behavior—has Carlson furious that Fox, especially its PR team, is not backing him up, one source told CNN, adding: 'Tensions are sky high.'"
If true, Carlson has every right to be furious.
But why aren't Vanity Fair and CNN protesting?
We know why. They are agents of the deep state.
ITEM 8: The Daily Mail reported, "ESPN's Stephen A. Smith apologizes for criticizing Shohei Ohtani's use of an interpreter ahead of the MLB All-Star Game after woke cancel mob came for $12M-a-year host when he tried to double down."
Ohtani is the 21st century's Babe Ruth. He is a homerun champ and a winning starting pitcher. Many people overlook that Ruth was a 20-game winner and held a World Series pitching record that stood for 60 years.
But Smith made a mistake. Get over it.
ITEM 9: Christian Toto reported, "Chelsea Handler: White Men Are the Only Comedy Targets Left."
True.
By the way, she was funny on Girls Behaving Badly. Then she got her own show and forgot to be funny.
ITEM 10: The Wall Street Journal reported, "The most serious offense leveled in a 15-count indictment of former President Donald Trump's longtime right-hand man, Allen Weisselberg, also carries the most uncertainty for New York prosecutors, according to legal scholars and white-collar defense attorneys.
"The charge—a single count of second-degree grand larceny—stands out in the July 1 indictment, which alleges that the Trump Organization and Mr. Weisselberg, its chief financial officer, cheated on taxes over the course of more than a decade. Prosecutors say the company secretly padded Mr. Weisselberg's compensation, subsidizing everything from his Upper West Side residence to home furnishings and private-school tuition. In all, prosecutors say, Mr. Weisselberg concealed around $1.8 million in taxable income and evaded more than $900,000 in taxes.
"The grand larceny allegation concerns a much smaller amount of money—around $95,000 in federal tax refunds that prosecutors say the 73-year-old executive illegally obtained in annual sums over a period from 2010 to 2018.
"But lawyers said the charge is significant. Grand larceny in the second degree is the highest level felony Mr. Weisselberg faces, carrying a maximum prison sentence of 15 years. That's more than twice as long as the maximum sentence of the other counts, magnifying the pressure on him to cooperate with authorities in a broader fraud probe into Mr. Trump and his business affairs."
Once again, a get-Trump investigation devolves into prosecutorial abuse of an underling.
Once again, the media is silent.
Once again, I want the next Republican president to exact vengeance on our oppressors.
Prosecute Obama. Prosecute Biden. Prosecute Hillary. And prosecute everyone at DOJ who covered up for them.
ITEM 11: Just the News reported, "Chicago Mayor Lori Lightfoot has said President Joe Biden's promised strike force is set to arrive in Chicago relatively soon. The force is meant to help the city curb violent crime, which has surged recently."
Democrat Mayor Rahm Emanuel vehemently opposed President Trump when he offered to do the same thing.
ITEM 12: Breitbart reported, "Democratic members of the Texas state legislature have fled the state for the second time this year to deny Republicans a quorum to pass voting integrity legislation — flying maskless to Washington, DC, undermining a vote on the right to vote.
"The Democrats claim that they are defending democracy. But they are, in fact, subverting it — as Democrats have done for nearly two decades, setting the disruptive precedent that rioters infamously followed at the U.S. Capitol on January 6."
That's a pretty impressive campaign Democrats plan for next year. If elected, we'll do nothing.
ITEM 13: The Truth About Guns reported, "According to this Washington Post article, the percentage of Americans who own guns has jumped from 32% to 39% in the past year. That's due to huge waves of new, first-time gun owners, of all political and cultural persuasions, deciding that owning a firearm is a good idea."
This is a remarkable shift, fueled in part by the riots of 2020.
Contrary to popular belief, conservatives do win cultural wars. Guns are one issue. CRT is another. And slowly abortion, too, is on the decline.
What we really need is a spiritual revival.
ITEM 14: The New York Post reported, "California Gov. Gavin Newsom will not be identified as a Democrat on ballots given to voters in the Sept. 14 recall election, a judge ruled Monday.
"Newsom had sued his handpicked secretary of state, Shirley Weber, last month in a bid to get his party affiliation included after his campaign failed to file the appropriate paperwork. Newsom's campaign had initially asked Weber to allow the affiliation to appear, but she refused, saying the matter would have to be settled in court.
"The governor was supposed to indicate whether he wanted his party preference on the ballot back in February 2020, when he first responded to the recall petition. That requirement was part of a new law Newsom himself signed that took effect in January 2020. Previously, California politicians targeted in recalls weren't permitted to include their party affiliation on the ballot."
This moron runs the largest state in the country.
But there are enough dumber morons who vote in California to stave off this recall.
ITEM 15: Hamas-Shielding AP reported, "Conservative radio talk show host Larry Elder entered California's Sept. 14 recall election on Monday, bringing a well-known voice on the political right to a muddled Republican field trying to oust first-term Democratic Gov. Gavin Newsom.
"Elder, whose show is nationally syndicated, is a regular guest on Fox News. He's dubbed the "sage from South Central" on his website, a reference to the area of Los Angeles where he grew up.
"In an interview with The Associated Press, the 69-year-old attorney said he initially was reluctant to become a candidate in a state where Democrats hold a lopsided grip on power in Sacramento. Among supporters who encouraged him to run: fellow conservative radio host Dennis Prager."
The story did not say that if elected, he would be the state's first black governor.
You have to be a Democrat for it to count.
ITEM 16: The Daily Mail reported, "Gayle King has revealed that she will ban family members from her Thanksgiving celebrations this year if they don't get vaccinated against the coronavirus.
"The CBS This Morning co-host shared her unfiltered views about unvaccinated relatives on Monday's show during a conversation with Dr. Anthony Fauci on the challenge of getting more Americans fully inoculated amid the threat of COVID-19's Delta variant."
I wonder how many of her vaccinated relatives will tell her they are unvaccinated.
ITEM 17: SB Nation reported, "The late Kobe Bryant said in 2019 that the world has caught up to the United States in basketball. We haven't seen whether the women's basketball team will lose in friendlies and the Olympics, but we'll find out in the next week once they begin their friendlies.
"But Bryant's certainly right in men's basketball as the USA Basketball men's national team lost to Australia in a friendly in Las Vegas, 91-83. The Americans are now 0-2 in friendlies."
Nigeria beat the NBA All-Stars, er, USA Basketball team two days earlier.