GOOD MORNING! Went to the Courthouse on Monday to pay the annual property taxes. It went as expected.
ITEM 1
:
Politico reported
, "Mike Pence was met by a respectful, even warm, crowd in his first trip back to Iowa since the election. Republicans at a picnic in the northwestern corner of the state stood and clapped for him on Friday. In Des Moines later that afternoon, a ballroom full of Christian conservatives did the same.
"He was 'honorable,' a 'man of faith,' attendees at the annual Family Leadership Summit said. Evangelical leader Bob Vander Plaats called him 'a very consistent conservative voice in Congress and then as governor, and then as vice president.'
"What few people said they saw in Pence, however, was the Republican nominee for president in 2024.
"Many Iowa Republicans had seen the results of the most recent Conservative Political Action Conference straw poll, released just days earlier, in which Pence flatlined, drawing no more than 1 percent support. Before that, they'd watched the video of Pence getting heckled and called a traitor at a major gathering of conservatives in Florida last month."
He played the vice presidency wrong. He wasn't that popular as a governor and in 2016, Republicans expected to lose that state's Senate race. Donald Trump's election rescued that seat.
ITEM 2: CNBC reported, "Nike is at risk of running out of sneakers made in Vietnam as the Covid crisis worsens around the global, according to a new report from S&P Global Market Intelligence.
"The warning comes after two of Nike's suppliers in Vietnam, Chang Shin Vietnam Co. and Pou Chen Corp., recently halted production due to a rapidly growing Covid outbreak in the region. In fiscal 2020, Nike said contract factories in Vietnam made roughly 50% of total Nike branded footwear.
"A new analysis from Panjiva, a business line of S&P Global Market Intelligence, found Vietnam accounted for 49% of U.S. seaborne imports linked to Nike and its products in the second quarter of 2021.
"Nike's imports from Vietnam are led by footwear, Panjiva said, which was included in 82% of shipments in the 12 months ended June 30."
Red China is using covid 19 to wipe out the competition.
ITEM 3: I am torn. On the one hand, Nike and its top management can go to hell because they use slave labor.
The Irish Times reported on December 10, "The Qingdao Taekwang Shoes Co. turns out eight million pairs of Nikes per year. Its factory in the Chinese city of Laixi resembles any other sprawling production facility, apart from the six-foot high barbed wire fences that run along the perimeter walls, watchtowers standing sentry at various corners, and an in-house police station, replete with facial recognition technology, that also serves as a surveillance hub. The prison-style security is necessary to ensure that upon shift's end, the Uyghurs working there return quickly to their segregated dormitories to prepare for mandatory patriotic re-education classes run by the Beijing government."
On the other hand, I hate seeing the Vietnamese suffer because they actually pay their workers.
It may not be $15 an hour, but the money is enough to pay the bills.
ITEM 4:
A reminder that Ben & Jerry's still sells ice cream in China and hasn't said anything about Hong Kong or the Uyghurs. https://t.co/0p1NLJwEY7

— tedfrank 💉 (@tedfrank) July 19, 2021
The New York Post reported
, "Big Apple supermarket chain Morton Williams has decided to severely curb its sales and marketing of Ben & Jerry ice cream after the popular brand took sides in a long-running Middle East controversy.
"Following a board meeting on Monday, Morton Williams Supermarkets resolved to reduce the Ben & Jerry's products it sells in its 16 stores by 70%, the Post has learned.
"The supermarket's board also agreed to stop promoting the ice cream in its weekly circulars, and to demote Ben & Jerry's to the least desirable locations of its freeze aisles, co-owner Avi Kaner, told the Post."
Bwa-ha-ha.
Too bad they cannot drop the virtue signaling carbuncles altogether.
ITEM 5: Bloomberg reported, "Investment strategists are starting to consider a new bearish scenario: the economy has already hit its speed limit.
"With the ferocious spread of Covid-19's delta variant and central banks already talking about tighter monetary policy to bring inflation under control, there's a sense of worry that financial markets have become too optimistic.
"The shift in narrative was evident across assets on Monday. The S&P 500 sank 1.5% and benchmark Treasury yields tumbled to the lowest level since February. In Europe, the Stoxx 600 Index fell 2.3%."
Meh.
Stocks are overdue for a correction of 10%.
ITEM 6: PJ Media reported, "The decision of 60 Democrats to walk out of a special session and flee the state could be costing taxpayers a pretty penny.
"Between their per diem and salary, they are costing taxpayers $723 per legislator per day during the 30-day special session—roughly $43,000 a day—according to Texas Rep. Jared Patterson.
"Texas House Speaker Dade Phelan is demanding that the fugitive Democrats return their $221/day per diem."
They fled to DC on a private jet.
Wake up the prosecutor.
ITEM 7: ABC reported, "A Florida man who breached the U.S. Senate chamber carrying a Trump campaign flag was sentenced Monday to eight months behind bars, the first resolution for a felony case in the Capitol insurrection.
"Paul Allard Hodgkins apologized and said he was ashamed of his actions on Jan 6. Speaking calmly from a prepared text, he described being caught up in the euphoria as he walked down Washington's most famous avenue, then followed a crowd of hundreds into the Capitol."
Ah, the show trials have begun, complete with the mandatory reading of a confession.
Comrade Florida Man read, "If I had any idea that the protest ... would escalate (the way) it did ... I would never have ventured farther than the sidewalk of Pennsylvania Avenue."
And he read, "This was a foolish decision on my part."
The judge sentenced him only to 8 months for felonious entry of the People's Palace of the Politburo.
ITEM 8: The Daily Beast exclaimed, "Wildfire Ravaging Oregon Is Now the Size of Los Angeles!!!!!!!!!!"
I added the exclamation points.
Well, how big is LA?
322,000 acres.
And how big is the United States?
1.9 billion acres (excluding Alaska and Hawaii -- or 5,900 times as large as LA.
I mean, it is a big fire, consuming 1/2 of 1% of Oregon. But how about less hype, more facts.
God bless the firefighters and pilots.
The Daily Beast? Not so much.
ITEM 9: Newsweek reported, "Spain's Prime Minister is spending several days in the United States this week but he won't be meeting with President Joe Biden—a notable departure from the expected protocol when world leaders cross paths.
"For Spanish PM Pedro Sanchez, the U.S. Capitol is not on the agenda. He is instead traveling to New York, Los Angeles, San Francisco and Cupertino in an effort to promote Spanish businesses, according to local reports."
That burn on Biden is bigger than LA.
ITEM 10: The New York Post reported, "Runaway tortoise reunited with owner after a year was only half-mile from home."
Homeowner Ruaidhri Jukes has to be the slowest man on Earth. And he did not even catch up to the tortoise. Two neighbors did.
ITEM 11: HuffPost reported, "A senior federal judge has gutted a criminal case championed by a Trump-appointed top federal prosecutor against a rock musician who posted promotional photos for his band on Facebook and had his home raided as a result.
"Justin Coffman, a member of an anarcho-punk band called The Gunpowder Plot, was the target of a June 2020 home raid in Jackson, Tennessee, after he posted three professionally shot images on his band's Facebook page. The photos showed him standing in front of a police vehicle and posing with a fake Molotov cocktail behind his back.
"Months after the raid, the U.S. Attorney's Office for the Western District of Tennessee charged Coffman under a rarely used statute that makes it unlawful to possess weapons as a user of an illegal drug. The charge has sometimes been used against white supremacists who espouse violence, but it was used here to target a member of a rock band with an antifascist theatrical motif."
Looks like prosecutor Mike Dunavant proved Coffman's point about fascism in the USA.
This happened under Trump.
Imagine what life will be like under Josef Biden.
A Bush 43 judge sprung Coffman.
I notice the feds use every tool in the book to get people they label white supremacists but give the Democrat Party's BLM and Antifa a pass.
ITEM 12: The New York Post reported, "President Biden on Monday insisted that his massive spending plans aren't causing price hikes on everything from bacon and bread to gas and electricity, saying inflation is temporary and expected after the covid 19 pandemic.
"Biden argued that about 60 percent of price increases are caused by transitory effects linked to covid 19, such as shortages of lumber and semiconductors, and aren't a sign of substantial long-term inflation linked to deficit spending."
Lumber prices are back to normal.
This is what happens when you elect a lifer senator who has not worked outside government in at least 50 years.
ITEM 13: Politico reported, "Senate Democrats are proposing a sweeping rewrite of the military draft laws aimed at requiring women to register for the Selective Service System, according to a draft authored by Senate Armed Services Chair Jack Reed."
How about no one registers for the non-existent draft?
ITEM 14: Just the News reported, "A new poll from Convention of States Action shows nearly 60% of those surveyed are not confident about Vice President Kamala Harris becoming president.
"The poll, in partnership with the Trafalgar Group, shows 58.6% of the electorate is "not confident at all" that Harris is ready to be president. Five percent said they were "not very confident."
"The flagging numbers for the vice president cross partisan lines, as 42.6% of Democrat voters say they are not very confident or not confident at all that Harris is ready to become the county's next commander in chief."
A woman president? Kamala is not the problem.
Let us review the antics of Nancy Pelosi and her Off With His Head impeachments, back clap at the State of the Union, and her ripping a State of the Union address.
Then there is the detestable Hillary.
Sorry, but women will have to do better before I vote for one for president.
ITEM 15: DPA reported, "A 25-year-old Super Mario 64 video game from 1996 that was still in its sealed cartridge set a new record after netting $1.56 million at a weekend auction held by Heritage Auctions in Texas."
I am going on a scavenging hunt in the old bedrooms of my sons.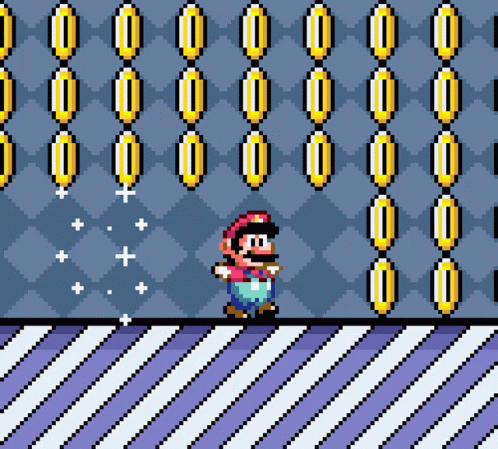 Finder keeper.
ITEM 16: CNN announced, "CNN is hiring hundreds of people and developing dozens of programs for a subscription streaming service that will launch early next year.
"The new venture, called CNN+, was formally announced on Monday morning. It will exist side by side with CNN's existing television networks and will feature eight to twelve hours of live programming a day.
"Jeff Zucker, the chairman of WarnerMedia News and Sports and president of CNN Worldwide, portrayed CNN+ as the evolution of video news and the start of a new era for the company."
So CNN will become a Vlogger.
Maybe Don Lemon and Anderson Cooper can start Only Fans accounts.
I'm thinking of starting Don Surber+.
I won't charge anything. It will be the same content. But with a plus sign!
ITEM 17: Via Paul Farhi of the Washington Post, media online traffic is down without President Trump to kick around anymore.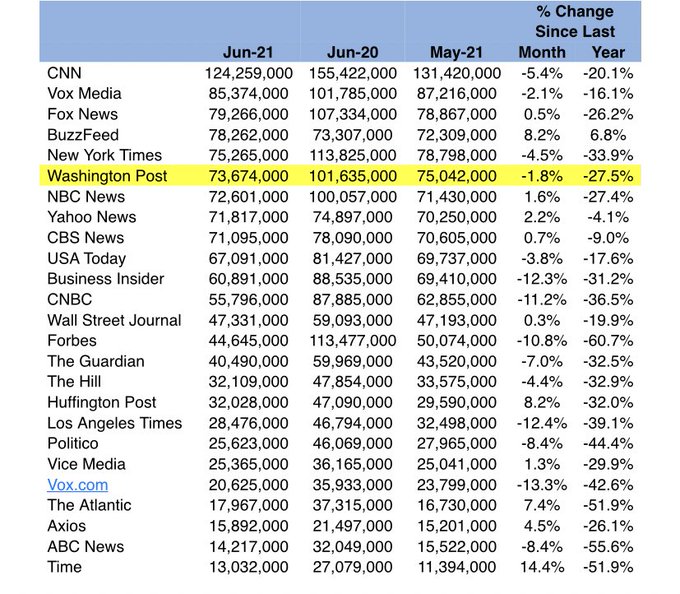 My traffic is up.
Thank you, readers, and Kane at Citizen Free Press.
FINALLY, Via the Epoch Times, Republican Congressman Byron Donalds of Florida said, "Listen, I'm 42 years old. I had COVID-19. I'm not getting vaccinated, because I don't want to. That is my own decision as a free-thinking human being. I don't want to do it. I don't want the shot. You have millions of Americans who are like that. Leave us alone."
To use the vernacular, he is a grown ass man.
Live free or die.
I got vaccinated. You do you.