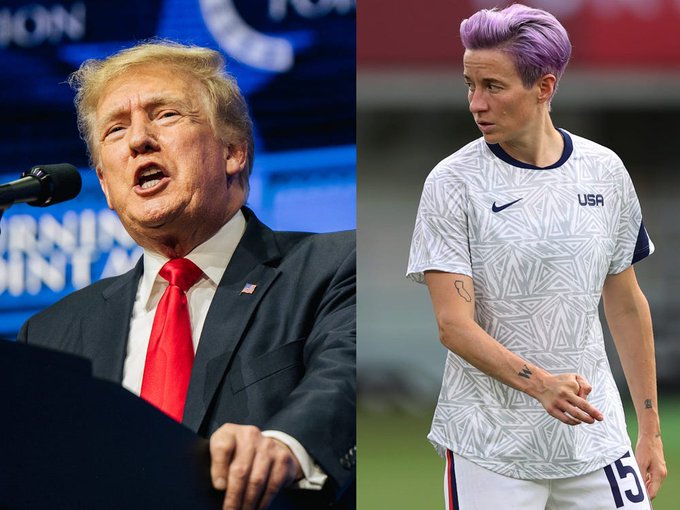 ITEM 1: NBC reported, "The Tokyo Olympics crossed over with a Donald Trump rally Saturday night, as the former president encouraged a hyped-up Phoenix crowd to boo the U.S. Women's soccer team."
NBC is airing the Olympics, so I can see why it is upset with him, but guess what? Trump supporters are not going to boo because we are not going to watch.
ITEM 2: Like all socialist leaders, Biden is a bully.
There has been a 900% spike in COVID cases among illegal immigrants crossing the border in the Rio Grande Valley.

But Biden would rather force 3-year-olds to wear masks in school than secure the border.

— Ronna McDaniel (@GOPChairwoman) July 27, 2021
It is easier to push around people who obey the law than people who scoff at our immigration laws.
ITEM 3: Zero Hedge reported, "Approximately 59 million Americans spanning five states can't buy Dell's high-end Alienware brand desktop PCs due to power consumption regulations.
"When one goes to the Dell Alienware online configurator to buy an Aurora R12 gaming desktop, a special notice appears which reads: 'This product cannot be shipped to the states of California, Colorado, Hawaii, Oregon, Vermont or Washington due to power consumption regulations adopted by those states. Any orders placed that are bound for those states will be canceled.'"
You know what I am going to say.
Come on.
Altogether: Dude, you're not getting a Dell.
ITEM 4: The Family Policy Council of West Virginia reported, "Tomorrow night Charleston City Council is proposing a bill in committee that would ban any Christian, Orthodox Jew or Muslim psychologist, psychiatrist, licensed counselor, social worker, pastor or intern from offering any hetero-normative talk therapy to their mental health patients under penalty of law.
"Any sexually-confused mental health patient who wants help stopping unwanted sexual thoughts or behaviors, will be denied access to talk therapy by mental health care providers who are willing to help them meet their mental health goals if those goals are to live and act as a heterosexual citizen.
"A similar ban by the city of Tampa Florida was ruled unconstitutional by the 11th Circuit Federal Court yet Charleston presses forward in an attempt to silence any professional that would dare speak up to tell the truth to those seeking help from damaging and unwanted same-sex attractions.
"However, talk therapy for any patient seeking help to embrace their same-sex attractions is not banned and in fact, is encouraged by this proposed Charleston City ordinance. This is progressive LGBTQAI activism at its worst to the detriment of both health care providers and patients in need."
I am so glad I so seldom have to go to Charleston now.
It is mainly a depressing pile of slums with a few manors in South Hills and near the Capitol. One reason the town is failing is its city council is peopled by buffoons.
ITEM 5: Barbara Boxer tweeted, "Earlier today former Senator Barbara Boxer was assaulted in the Jack London Square neighborhood of Oakland. The assailant pushed her in the back, stole her cell phone and jumped in a waiting car. She is thankful that she was not seriously injured."
In 34 years in Congress, her only accomplishment was getting a senior military officer to address her as senator instead of ma'am.
ITEM 6: UPI reported, "The United States' combat mission in Iraq will be over by the end of this year, President Joe Biden said at the White House on Monday alongside Iraqi Prime Minister Mustafa al-Kadhimi.
"When asked how long he expected the 2,500 U.S. troops now stationed in the country will remain there, Biden told reporters in the Oval Office the U.S. focus in Iraq will shift to an advisory one before 2021 is over."
Iraqis are as tired of us as we are tired of them.
ITEM 7: Reuters reported, "With no indication of a U.S.-China leaders' summit in the works, nor any outcomes announced from high-level diplomatic talks on Monday, relations between Beijing and Washington appear to be at a standstill as both sides insist the other must make concessions for ties to improve."
That is for show.
Biden does whatever Chairman Xi tells him to do, such as dropping all charges against Xi's spies.
ITEM 8: Newsweek reported, "Former President Donald Trump has announced his endorsement of the current Attorney General of Texas Ken Paxton. On Monday, Trump released a letterhead detailing his support for Paxton."
No more George Bushes.
Please.
ITEM 9: KRON reported, "Santa Cruz police investigators have arrested two men in connection with the Friday night vandalism of a Black Lives Matter mural in downtown Santa Cruz.
"Brandon Bochat, 20, of Santa Cruz, and Hagan Warner, 19, of Boulder Creek, were arrested Saturday, each being charged with one count of felony vandalism and one count of conspiracy to commit a felony. Investigators determined that Bochat and Warner took turns driving their vehicle during the commission of the vandalism."
The mural is graffiti painted in the street. They burned out their tires on it.
Black Tire Marks Matter.
ITEM 10: CNSNews.com reported, "The United Nations and leading human rights advocacy groups are condemning Iran's crackdown on protests in the country's southwest, but reaction from the Biden administration – engaged in attempts to revive the nuclear deal – has been relatively muted."
Biden supports the Iranian government.
He ended the 40-plus year embargo on its oil.
And really, how can a man who has jailed hundreds of protesters in jail for months on end complain about human rights?
ITEM 11: Politico reported, "Elina Kaplan is the kind of suburban mom who made Joe Biden president.
"An immigrant who came to the United States from the Soviet Union, she is a registered Democrat from San Mateo County, Calif. And she's alarmed over her state's new model ethnic studies curriculum, which cites critical race theory as a 'key theoretical framework and pedagogy.'"
She told Politico, "I firmly believe that if the vast majority of Californians and Americans knew about this, and about the content of this type of curriculum, this would not be happening. We would not be having this conversation."
Politico reported, "Kaplan, who has launched an email list, set up meetings with state legislators and recruited people to meet with their school boards to discuss ethnic studies, is representative of Democrat-leaning or politically moderate suburbanites interviewed by Politico in six states, all but one of which were won by Biden. They are up in arms over their school systems' new equity initiatives, which they argue are costly and divisive, encouraging students to group themselves by race and take pro-activist stances. Proponents of the initiatives say they are a long-overdue step toward getting rid of systemic racism in the school system.
"On the national level, Democrats have insisted that the brush fires over critical race theory — which has become a political punching bag even for unrelated equity initiatives — are largely the work of right-wing activists who willfully misrepresent what it means, and they blame Fox News for fanning parents' anger."
As if.
Online classes exposed parents to what the Democrat Teachers Union is feeding their children.
Parents did not like that.
There should be hell to pay.
ITEM 12: Breitbart Politics reported, "Democrats are worried about winning the 2022 midterm elections after Republican state legislatures reformed 30 election integrity laws in 18 states and additional legislation may come.
"Nsé Ufot, CEO of the Stacey Abrams-founded New Georgia Project, told Politico, 'If there isn't a way for us to repeat what happened in November 2020, we're f—ed.'"
I hope so.
I am making my prediction the day after the election.
ITEM 13: The Daily Mail reported, "San Francisco considers traffic congestion fee that would only apply to 'rich' drivers making more than $46,000 a year."
$46,000?
That reminds me of the SNL skit of the man from West Virginia stopping after making $100 on "Who Wants To Be A Millionaire."
Here's an idea, drop city council pay to $46,000 a year and tell me if the councilmen feel rich.
ITEM 14: The Hill reported, "Today, only eight states including New York are "may issue" for gun carry permits — meaning government officials may issue permits to applicants but are not required to (and hardly ever) do so. Litigation over what the Second Amendment means and requires is mostly limited to those states who are ruled by mega-cities. A law-abiding citizen who passes a background check in those states is still subject to a discretionary and random government decision about whether that person has proper cause to carry a firearm for self-defense.
"That means New Yorkers must distinguish themselves from their fellow citizens and be rationed a constitutional right by bureaucrats. In New York, gun licenses are restricted, expensive and the process is riddled with politics and bribery, making licenses inaccessible to most. This led to the judicial saga now before the U.S. Supreme Court of New York State Rifle & Pistol Association (NYSRPA) v. Corlett and a fundamental question for the Court to answer — is the Second Amendment a right of the people, or a privilege of the elite?
"When the Court announced it would hear NYSRPA v. Corlett, New York Governor Andrew Cuomo said, 'The streets of New York are not the O.K. Corral and the NRA's dream of a society where everyone is terrified of each other and armed to the teeth is abhorrent to our values.'
"Actually, the murder rate in today's New York City far exceeds that of any cattle town in the Wild West. In 2021, shootings are up almost 70% over 2020. Compared to 2019, murders are up nearly 50 percent. People are concerned for their safety. New York is not alone, violent crime in urban areas is surging nationwide. Record gun sales demonstrate that Americans are taking advantage of their Second Amendment rights for self-protection, many for the first time."
Lincoln made men free.
Sam Colt made men equal.
ITEM 15: Conservative Playbook reported, "It is no secret that PayPal is and always has been a woke company. For years, they have engaged in financial censorship, banning users based solely on ideological differences. Invariably, they have gone after those on the right, particularly those they consider to be fringe and therefore dangerous.
"Today's announcement of their partnership with the far-left Anti-Defamation League is not really introducing anything new. It's simply expanding what they already do. That expansion will reach more conservatives than before, allowing them to cancel accounts based on loose associations."
Note to the next Republican president: Don't be a wuss.
Go after these bastards. They are the 21st century King Georges and Lord Norths.