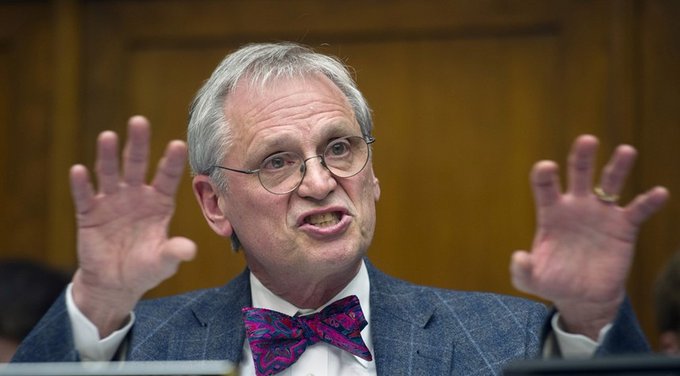 ITEM 1: A man in a purple paisley bowtie who has accomplished nothing in life wants to tax successful billionaires who venture into space, the final frontier.
Politico reported
, "A senior Democrat has proposed a new tax on commercial spaceflights, shortly after Jeff Bezos touched down Tuesday from his brief, high-profile jaunt to the edges of space.
"Rep. Earl Blumenauer (D-Ore.), who is spearheading the effort, said rich space dilettantes should have to pay taxes for those flights, and noted special concern about the environmental impact of sending people into space on trips with no 'scientific value.'
"'Space exploration isn't a tax-free holiday for the wealthy. Just as normal Americans pay taxes when they buy airline tickets, billionaires who fly into space to produce nothing of scientific value should do the same, and then some,' Blumenauer said."
Oregon, really, this clown with a purple paisley bowtie is the best you can do?
If I were the richest man in the world, you know what I would do? I would build a rocket and fly to the moon.
Every red-blooded American boy would.
I disagree with Bezos in many things but I admire his courage. Rockets have been known to blow up.
ITEM 2: The Department of Justice boasted, "A seven-count indictment was unsealed today in a New York federal court relating to the defendants' unlawful efforts to advance the interests of the United Arab Emirates in the United States at the direction of senior UAE officials by influencing the foreign policy positions of the campaign of a candidate in the 2016 U.S. presidential election and, subsequently, the foreign policy positions of the U.S. government in the incoming administration, as well as seeking to influence public opinion in favor of UAE interests."
Those indicted included billionaire Thomas Joseph Barrack, 74, of Santa Monica, California.
His actual crime was being a friend and supporter of Donald John Trump.
The deep state plans to get anyone and everyone who ever voted for Trump as a warning to any other potential rebel.
Remember a couple of years ago when I said disband the FBI?
Get rid of the entire Department of Justice because it has Stage 5 corruption cancer. We are funding our destructor, and he ain't the Stay Puft Marshmallow Man.
Meanwhile, an actual crook with a laptop of evidence roams free, collecting bribes by selling his worthless artwork.
ITEM 3: Via Zero Hedge:
The American Academy of Pediatrics wants all kids masked until vaccinated?!?

Let's go to their website and see who the biggest donor is.... pic.twitter.com/oAWHrF1fgt

— Show Me The Data (@txsalth2o) July 19, 2021
I expect calls for in utero vaccinations before this is over.
ITEM 4: Jonathan Maze of Restaurant Business reported, "Supply chain problems continue to plague the restaurant industry, leading big chains Taco Bell and Starbucks to warn consumers on Monday that some items may not be available.
"Starbucks told customers on its app that 'due to supply shortages, some items are temporarily unavailable.'
"That echoed warnings that have persisted at the chain's locations for months. Consumers have complained on social media channels about periodic shortages of items such as green tea.
"At Taco Bell, customers are complaining about a lack of hot sauce. The Mexican fast-food chain's website warns customers that not all items are available at the moment.
"The company, owned by the Louisville, Ky.-based Yum Brands, blamed transportation problems for the shortages."
Hmm.
CBS reported, "Restaurants have for months decried tight supplies and labor shortages, with hotels, meat processors and the trucking industry also hindered by a lack of workers."
A labor shortage may also explain why drive-throughs are getting slower and slower.
ITEM 5: Zero Hedge reported, "Congressional Democrats introduced the Reconciliation in Place Names Act last Friday to address land areas with racist and bigoted names. More than 1,000 land units and geographic features with racist names, such as Negro Mountain along the Allegheny Mountains, stretching 30-mile from Deep Creek Lake, Maryland, to Casselman River in Pennsylvania, are still labeled on US maps."
I must say, encountering Negro Mountain the first time was rather odd. I thought I was traveling back in time for a minute.
ITEM 6: Yahoo reported, "Senator Dr. Rand Paul (R., Ky.) and Dr. Anthony Fauci again clashed over alleged U.S. government funding of gain-of-function research on bat coronavirus in Wuhan, China, during testimony before a Senate committee on Tuesday.
"Paul implied that Fauci misled Congress during May testimony, in which Fauci said the U.S. had never funded gain-of-function projects at the Wuhan Institute of Virology. Gain-of-function research involves making viruses more contagious or deadly in a laboratory.
"Paul said that in May 11 testimony, Fauci 'stated that the NIH has never and does not now fund gain-of-function research in the Wuhan Institute of Virology. And yet, gain-of-function research was done entirely in the Wuhan institute by Doctor Shi [Zhengli] and was funded by the NIH.'"
I added the title Doctor to Senator Paul's title because if we are going to pretend that Fauci is anything other than medicrat why not extend that honor to other medical school grads who are not practicing medicine?
Kane at Citizen Free Press reported, "Rand Paul is sending a letter to the DOJ requesting a criminal referral for Dr. Fauci."
UPDATE: A reader points out that Dr. Paul still practices medicine pro-bono.
ITEM 7: CBS reported, "An off-duty special agent for the Drug Enforcement Agency carried his government-issued firearm while attending the January 6 riot at the U.S. Capitol, according to court documents unsealed Tuesday. Prosecutors say he posed for pictures while flashing his DEA badge and climbed onto the Peace Monument to film himself as he delivered a monologue."
So we charged a cop for carrying a gun while we will not even investigate a cop who shot and killed an unarmed woman for protesting inside the Capitol.
Disgusting.
ITEM 8: Breitbart reported, "Left-wing China stooge LeBron James' Space Jam: A New Legacy underperformed big-time with a projected $32 million opening weekend in nearly 4,000 theaters.
"For context, more than a quarter-century ago (26 years to be exact), Michael Jordan's original Space Jam opened to $27.5 million in 1996 in only 2,650 theaters."
The story also said, "this sucker cost $150 million to produce."
Pepé Le Pew-enfreude.
ITEM 9: BET reported, "Proud Boys leader Henry 'Enrique' Tarrio has reportedly pleaded guilty to two charges – one of which is related to the burning of a Black Lives Matter banner.
"On Monday (July 19), the 37-year-old resident of Miami pleaded guilty in D.C. Superior Court to destruction of property – for burning a banner stolen from a Washington church – and attempted possession of a large-capacity ammunition feeding device."
You can burn the American flag but not a BLM banner?
Well, we now know who our masters are.
ITEM 10: The Philadelphia Inquirer reported, "Philadelphia school officials are planning to consult with more air quality scientists after meeting Monday with an expert critical of the district's $4.5 million purchase of NASA-originated air purifier technology. The expert, a Drexel professor, said the purifiers were ineffective at reducing the spread of coronavirus and had the potential to create harmful chemicals."
The government is always ready to take a problem and make it worse.
ITEM 11: CNBC reported, "There are several signs in the market for newly built homes that point to a potential slowdown for the nation's homebuilders. Data released Tuesday added to the evidence that builders are pulling back. Single family housing starts continued to rise in June, many of those for homes already sold.
"But building permits, an indicator of future construction, fell more than expected last month to the lowest point since August and were about 100,000 units below the six-month average, according to the U.S. Census Bureau."
Looks like Black Rock stopped buying houses.
ITEM 12: The New York Post reported, "The lowlife thief charged with stealing a then-6-year-old Brooklyn boy's scooter was ordered held on $50,000 bail Tuesday — while his lawyer took a cheap shot at the young victim.
"'I don't know why a 7-year-old is on an electric scooter,' Brooklyn Public Defenders attorney Sarah Burleson, who represents accused scooter thief Daniel Ufares, griped at his arraignment.
"Ufares, 59, was charged with second-degree attempted robbery, third-degree robbery, fourth-degree grand larceny, petty larceny, and menacing in the callous July 7 crime."
Burleson also told the judge, "He is not doing harm to anyone but himself, your honor. Mr. Ufares has addiction issues which need to be addressed. He needs greater assistance."
No harm to anyone but himself -- and a 7-year-old boy.
The Post ran a picture of the victim.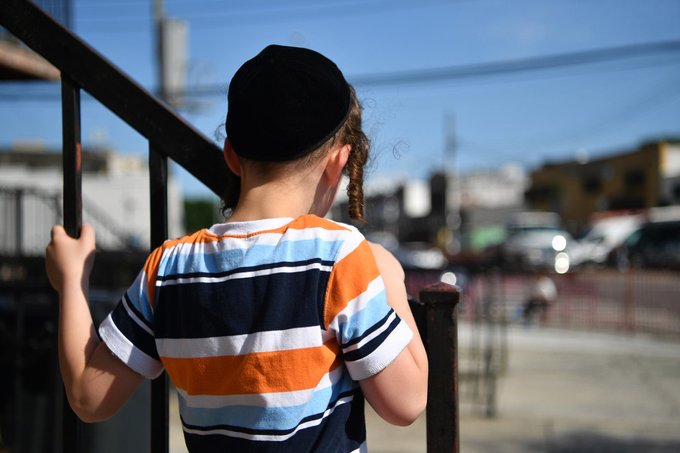 Looks like a hate crime to me.
ITEM 13: Hamas-Shielding AP reported, "Animatronic Biden joining Hall of Presidents at Disney World."
I trust it will be more lifelike than the real thing.
ITEM 14: Via Spinquark News: A subway in Red China.
#中共國洪水泛濫
7月20日,河南鄭州地鐵裡在行駛中的地鐵,水已經過腰⋯⋯ pic.twitter.com/N5CLTUL3Ki

— 輕煙姐姐141913(備用號) (@qingyanjiejie) July 20, 2021
A subway in NYC.
Some subway system ya got there. This is the 157th St. 1 line right now. @NYCMayor @BilldeBlasio pic.twitter.com/xyfTAUPPNu

— Paullee 🤠 (@PaulleeWR) July 8, 2021
In less than a week, Red China has achieved parity, my friends.
ITEM 15
:
Newsweek reported
, "A federal judge blocked an Arkansaw law Tuesday that would ban nearly all abortions starting from conception in the state, calling it categorically unconstitutional."
Yes, Newsweek spelled it Arkansaw.
Lord knows I make plenty of typos. But I am a one-man operation. I thank readers for pointing them out to me and I do correct them.
But what is Newsweek's excuse?
And yes, it was an Obama judge.
FINALLY, Just the News reported, "The Office of Inspector General for the Department of Justice released the findings Tuesday of an investigation that found a former senior FBI official violated agency policy by having numerous unauthorized contacts with the media.
"The investigation found that the official, who has not been named and has since retired from the agency, 'had numerous contacts with members of the media between January and November 2016 in violation of FBI policy,' as well as accepted unauthorized gifts from media members, according to the report.
"The senior official had unofficial contact with media officials during the opening months of the Trump-Russia investigation. That investigation by the FBI started in the months leading up to and after the Nov. 2016 presidential election. However, the report does not mention that this official was part of the investigation.
"Investigators found that the official had accepted tickets from members of the media for two black-tie dinner events, one costing $225 and the other costing $300.
"From 2014 through 2016, the official had more unauthorized contacts with the media, including 'substantive communications' with reporters and 'unauthorized social engagements outside of FBI Headquarters involving drinks, lunches, and dinners.'
"The official was contacted by the bureau for an interview during the investigation but denied the request. The inspector general's office has the authority to subpoena FBI employees but not former ones."
Just like the federal cop who killed Ashli Babbitt, this crook has no name.
The deep state takes care of its own.