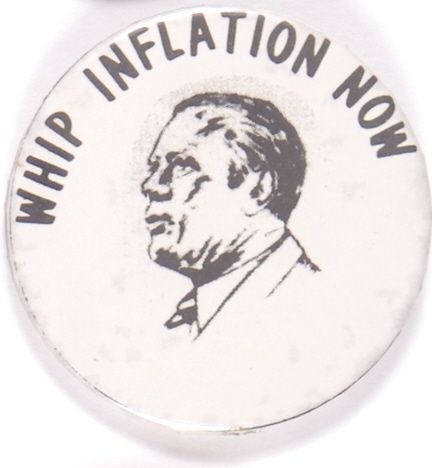 The Federal Reserve Bank of New York announced, "The June 2021 Survey of Consumer Expectations shows that median inflation expectations at the short-term horizon climbed 0.8 percentage point to 4.8%, while inflation expectations at the medium-term horizon remained unchanged. Households' labor market expectations continued to improve, with unemployment expectations—or the mean probability that the U.S. unemployment rate will be higher one year from now—decreasing to 30.7% from 31.9% in May."
While it is nice that unemployment likely won't rise, if inflation hits 4.8% for the year, Biden will have pushed inflation to its highest level since 1990, when Bush 41 was president.
Reagan inherited 12.5% inflation when he became president. He knocked it down to 3.8% in two years and knocked it to 1.1% in six years.
Biden inherited 1.2% inflation (down from the 2.1% Trump inherited).
In less than six months on the job, Biden has it at 5.4%.
Axios reported, "A top party pollster and senior adviser to the Biden political team is urging Democrats to confront the problem of rising prices — which she says is starting to bite with voters.
"Driving the news: Celinda Lake, who polled for the Biden presidential campaign and still advises Team Biden, told Axios that worries about inflation are coming through loud and clear in both public polls and her own focus groups."
Lake said, "Women voters are really experiencing it, because they're always more focused on kitchen table economics, microeconomics."
Well, that's the stereotype, isn't it? You gals are worried about the prices at the supermarket while we men grunt and talk about cars.
Inflation is a genie in the bottle, easy to let out but oh so hard to get back in.
At his half-empty townhall meeting, Biden said, "The vast majority of the experts, including on Wall Street, are suggesting that it's highly unlikely that long term inflation is going to get out of hand."
And the stock market is always right.
Biden said we can spend our way out of inflation.
He said, "If we pass the other two things that I want to get done we will, in fact, reduce inflation."
If that fails, he can always do what Jerry Ford did and pass out Whip Inflation Now buttons.
Hunter can design them for a hefty fee and Joe's brother can print them up.