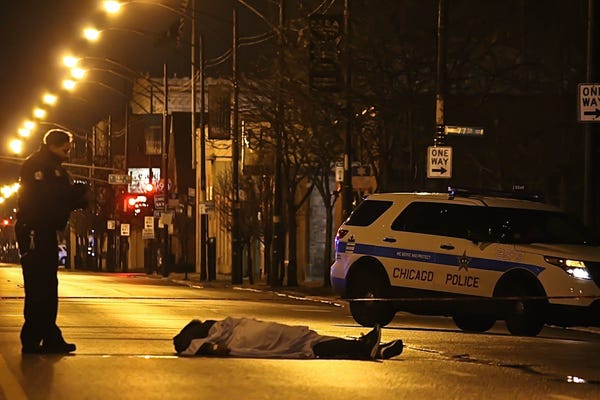 Dear CBS,
I would like to correct your headline, "U.S. experiences weekend of gun violence."
Most Americans had a good time, although some Americans fought forest fires and natural disasters. For the most part, it was hot fun in the summertime.
Sure people did kill one another, often using guns. Most of these shootings were by young black men. Most of their targets were young black men. And most of them lived in sections of big cities that we used to call ghettoes, a nod to the walled off Jewish sections of Europe.
But this goes on all the time because the people who run places like Chicago don't care.
Your story was mostly correct. You wrote, "Philadelphia, Chicago and Washington, D.C., experienced an outbreak of gun violence over the weekend. Those incidents were part of a wave of gun violence in which hundreds of people were killed and injured in the last 72 hours, according to the Gun Violence Archive.
"In Philadelphia, police responded to 42 shootings that left four people dead over the weekend. Another 56 people were shot in Chicago, with at least eight victims under 18 years old. The City of Chicago is offering $1 million for tips about illegal guns."
You left out the part where you explain what the Gun Violence Archive is, who funds it, and why it suddenly is a media go-to source. I suspect the site opposes private gun ownership.
I prefer Hey Jackass! a site that not only gives the numbers of people shot and people shot and killed in Chicago, but details each one. These are not statistics. They are tragedies.
The site is rather morbid. It lists where the shots land on the bodies.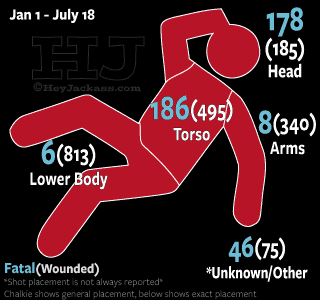 As the chart shows, the gangbangers mainly aim for the legs or arms. The purpose is not to kill but to send a message. They know what they are doing. When they go for the kill, they aim for the head.
Chicago is amid what Hey Jackass! calls the annual summer shooting season.
Well, parts of Chicago. The white sections and the upscale black neighborhoods are safe. Only the poor black sections are littered with wounded bodies and corpses. 12 dead and 53 wounded this weekend.
The site mocks you, CBS, and your fellow media whores who called last summer's riots mostly peaceful protests.
Here is how it listed the shooting numbers.
Final Peaceful Tally: 12 killed, 53 wounded
2020 weekend tally: 14 killed, 65 wounded
2019 weekend tally: 3 killed, 41 wounded
2018 weekend tally: 9 killed, 36 wounded
2017 weekend tally: 7 killed, 38 wounded
2016 weekend tally: 6 killed, 42 wounded
2015 weekend tally: 7 killed, 34 wounded
2014 weekend tally: 2 killed, 30 wounded
Notice, the shooting and killing surged last summer when the media played footsy with BLM. The irony is that black lives don't matter to these communists. If black lives mattered, they would work to stop the violence.
Instead, BLM profits from the violence, shaking down Corporate America. Its leaders seem to be skimming money to buy huge houses in mainly white neighborhoods.
CBS, you said Chicago is offering a million bucks not to turn in killers, but for tips on people with illegal guns.
You passively quoted Chicago police superintendent David Brown, who said, "Our children are worth your giving these people up."
Baloney.
You should have confronted him with the facts. Only 1 in 6 murders is solved in Chicago, and my guess is white murders get solved, while the murders in the ghetto go unsolved. Snitches get stitches, and cops don't want no trouble.
My hunch is Democrats get kickbacks from gangbangers. If not, they would have done something about ghetto murders decades ago.
400 were shot dead in Chicago in 2021 as of Monday.
Another 1,909 wounded.
And Chief Wiggums is going after the guns, not the shooters.
And Kent Brockman is acting as if the entire country is one big shooting gallery because the ugly truth is that young black men are killing and wounding other young black men and nobody seems to care.
If we did care, the media -- including you, CBS -- would demand that Congress investigate those shootings instead of the January 6 protest.
A half century ago, Elvis tried to get people to care.