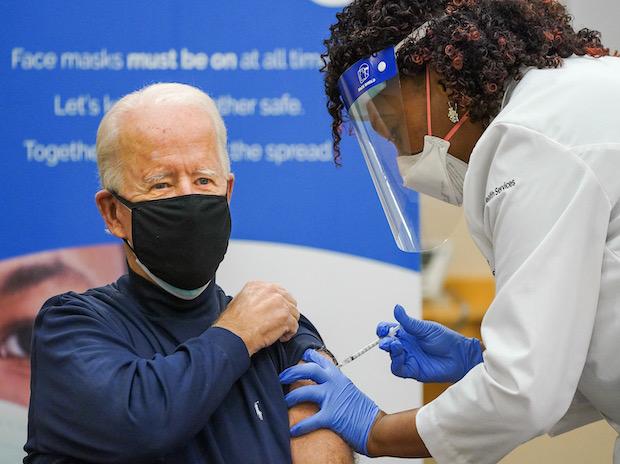 Xavier Becerra, the head of HHS, clarified his remark that "it is absolutely the government's business" who is vaccinated.
Becerra tweeted, "To be clear: government has no database tracking who is vaccinated. We're encouraging people to step up to protect themselves, others by getting vaccinated. It's the best way to save lives and end this pandemic."
What he left out of his statement is that the government wants to build such a database.
This has been a bad week for Marxists who want to use covid 19 to expand their power over the people. Thank goodness the holiday made it a short week for them.
On Tuesday, Josef Biden said, "Now, we need to go community by community, neighborhood by neighborhood, and oftentimes, door to door — literally knocking on doors — to get help to the remaining people protected from the virus."
These Josefbiden Witnesses will knock on your door and ask, "Have you found Vaccination?"
Jen Psaki clarified the president almost immediately at her briefing that afternoon. She told the press the Vaccine Police would go to "targeted, community-by-community, door-to-door outreach to get remaining Americans vaccinated."
Republican Congressman Dan Crenshaw spoke for half the nation when he said, "How about don't knock on my door. You're not my parents. You're the government. Make the vaccine available, and let people be free to choose. Why is that concept so hard for the left?"
I agree. I am vaccinated. I told readers that months ago. I refuse to tell the Vax Police anything more than my name and the phone number of my lawyer.
Becerra is pretty full of himself. His medical degree consists of a four-year gig as attorney general of California.
He told CNN, "The federal government has spent trillions of dollars to keep Americans alive during this pandemic. So it is absolutely the government's business [to know who is vaccinated.] It is taxpayers' business if we have to continue to spend money."
Fact-check: WRONG.
The federal government cost Americans trillions of dollars by giving unscientific advice about masks and social distancing while dismissing HCQ as a treatment out of hand.
But I thank this arrogant busybody for clarifying that the government does not give you a damned thing. There is always a price. And Becerra wants that price to be your privacy.
President Trump's Operation Warp Speed made vaccines available in record time. But the decision is up to the individual. Republicans respect that.
Washingtonians do not.
AP reported, "South Carolina Gov. Henry McMaster said Friday that he doesn't want the federal government sending people door-to-door to convince residents to get vaccinated against COVID-19, joining a growing number of Republican state politicians opposing the strategy."
He wants to ban the Vax Police.
The AP story also said, "State leaders in Arizona and Missouri also have pushed back."
The push for vaccination comes after we have achieved herd immunity. If you don't want to be vaccinated, it does not affect me because I have been vaccinated. Your body, your choice. You can even go swimming right after you eat for all I care.
Now Becerra is back-pedaling.
Psaki also back-pedaled, telling Politico that federal officials will not man the Vax Police.
She said, "The thing that is a bit frustrating to us is that when people are critical of these tactics, it's really a disservice to the country and to the doctors, faith leaders, community leaders and others who are working to get people vaccinated. This is about saving lives and ending this pandemic."
No, this is about trust.
Most Americans no longer trust the federal government. The FBI spied on Obama's political opponents, including Donald Trump. The NSA is spying on Tucker Carlson. The IRS is denying Christian churches tax exemptions (although it did restore the exemptions to churches that publicized the decision). The top general in the Pentagon is too busy reading Marx to bother preparing for war.
The list goes on.
The people have had it with the federal government. The best thing Josef Biden could do is sit on his bottom for 4 years and run as a president who did not F things up.
On this, he did F up.