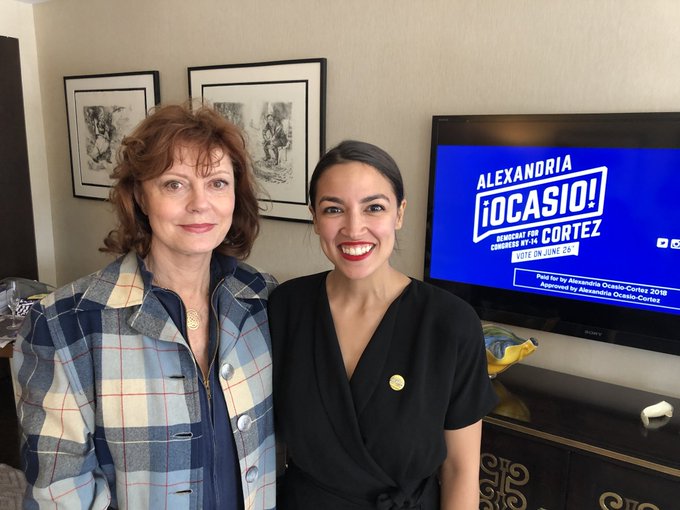 Just three summers ago, AOC was a nobody running an under-the-radar primary challenge to Joe Crowley, a man many saw as Pelosi's eventual successor. Even the New York Times ignored AOC. But Susan Sarandon visited her, and gave her support.
Sarandon tweeted, "So inspired after meeting with Alexandria Ocasio-Cortez. On June 26th we have a chance to prove that real Democrats who only answer to their constituents, can win against Dems beholden to corporate money. If you believe in Democracy, learn more & donate at http://ocasio2018.com."
AOC got the money and won.
This week, Sarandon was reduced to yelling in a megaphone outside AOC's office in the Bronx. Someone's phone calls aren't being returned.
Sarandon shouted, "we're losing hope here that you represent us."
Gee, ya think?
AOC went into office promising Medicare for All and the New Green Deal. So far, she has not delivered.
Via the Independent, Sarandon shouted from her megaphone, "I'm here to say to the Squad, and especially AOC, who, you know, did make a lot of promises, that we still have faith in you and we would like to see if you have a better plan than we've been able to see, please share it."
And she said, "If there's a pathway you've got that we're not aware of please share it. Because we're losing hope here that you represent us."
The pathway that AOC sought was to public office and a $174,000 a year paycheck.
Besides, why is Sarandon begging for Medicare for All when Obama gave her Obamacare?
Remember him? On Inauguration Day 2009, Sarandon said, "He is a community organizer like Jesus was. And now, we're a community and he can organize us."
Under their black Jesus, as Sarandon implied, Democrats passed Obamacare, but it turned out to be a gift to the insurance companies, giving them subsidies and requiring people to buy health insurance.
How would Medicare for All be any better?
There is one common denominator between far-out lefties and normal people when it comes to politics. We get used. Republicans use normal, red-blooded, God-fearing Americans to get to Washington, and Democrats use the Sarandon Obama-Is-Jesus crowd.
Democrats will say there is no money for Medicare For All, and that is true.
But the fact that the government is broke won't stop Democrats from spending $4 trillion (or whatever total is today) on infrastructure, a euphemism for paying back the moneymen who sponsor the elections.
AOC is the next Bernie Sanders. He's been in Washington for 30 years. All he has accomplished is buying homes and becoming a millionaire.
Sarandon served her purpose. She can shout in a megaphone all she wants. She gets nothing.