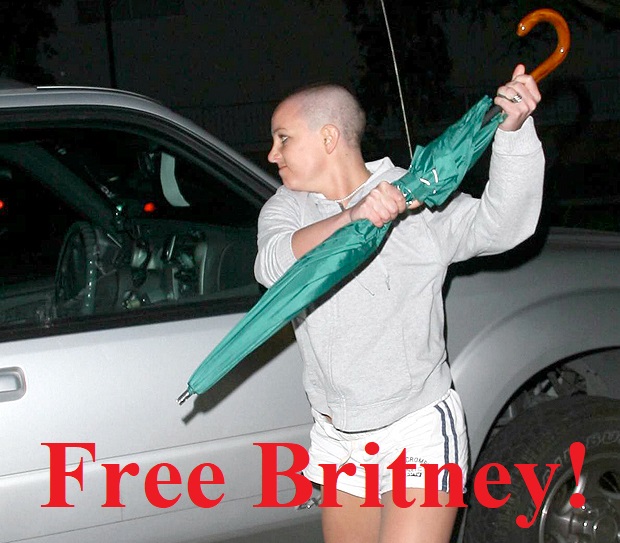 After she went wacky about a dozen years ago, her family took over singer Britney Spears's life to protect her from herself. Regardless of her antics, her fans stood by her. She remained a money-making machine.
Once President Trump left office, the New York Times was lost. It had shredded its credibility by pushing the wacky Russian Collusion hoax. But Fake News sells better than real news. (In Anchorman II, Will Ferrell's character admits that news is boring.)
It needed a new Fake News story. Political Fake News about a Democrat president would be dangerous. As Chuck Schumer said, the intelligence community has six ways to Sunday to get you. So NYT cast its net and found a new cause célèbre to replace its mission to Kill The Trump Presidency.
NYT found an actual celebrity for its cause célèbre: Britney Spears. NYT worked to end the conservatorship that gives her family control over her life and her finances.
In February, right after Trump left office, NYT released a documentary -- i.e., a propaganda film -- that embraced the Free Britney movement, which at the time consisted of a few bored people on Twitter.
In its pages, NYT promoted its Framing Britney Spears documentary.
It breathlessly stated, "The country was enthralled with Spears in the 1990s as she suddenly ascended to global superstardom. Then the public seemed to relish watching her personal struggles, turning her life into fodder for late-night talk show zingers, sensationalist interviewers and a thriving tabloid magazine industry.
"That was a long time ago. These days, Spears is enduring a stranger, and maybe even darker chapter: She lives under a court-sanctioned conservatorship, her rights curtailed. She is not in control of the fortune she earned as a performer.
"Spears entered the conservatorship in 2008, at age 26, when her struggles were on public display. Now she is 39, and a growing number of her fans are agitating on her behalf, raising questions about civil liberties while trying to deduce what Spears wants.
"A new feature-length documentary by The New York Times captures what the public might not know about the nature of Spears's conservatorship and her court battle with her father over who should control her estate."
NYT said it interviewed:
a lifelong family friend who traveled alongside Spears for much of her career
the marketing executive who originally created Spears's image
a lawyer currently working on the conservatorship
a lawyer Spears tried to hire in the early days of the conservatorship to challenge her father
Like I said, a propaganda film.
To call it tabloid journalism is to cast aspersions on the last journalistic venue that is untouched by Trump Derangement Syndrome.
On Wednesday, a judge heard Spears's request to end the conservatorship. I do not know enough about mental health, the law, or her specific case to make a judgment.
Reading the NYT reporting provided no insight.
Its story on the hearing began, "Britney Spears told a Los Angeles judge on Wednesday that she has been drugged, compelled to work against her will and prevented from removing her birth control device over the past 13 years as she pleaded with the court to end her father's legal control of her life.
"'I've been in denial. I've been in shock. I am traumatized,' Ms. Spears, 39, said in an emotional 23-minute address by phone that was broadcast in the courtroom and, as she insisted, to the public. 'I just want my life back.'
"It was the first time that the world had heard Ms. Spears address in detail her struggles with the conservatorship granted to her father, James P. Spears, in 2008, when concerns about her mental health and potential substance abuse led him to petition the court for legal authority over his adult daughter."
The story went on and on like that for 22 paragraphs before giving the other side.
Maybe her father does this out of concern for her life. Maybe he exploits her. I know some readers have been in this situation, usually for a parent. Those are sad and lonely journeys.
I do know NYT exploits her, just as it exploits black pride with its 1619 project. The news is unprofitable because it is boring. Hoaxes are cash cows.