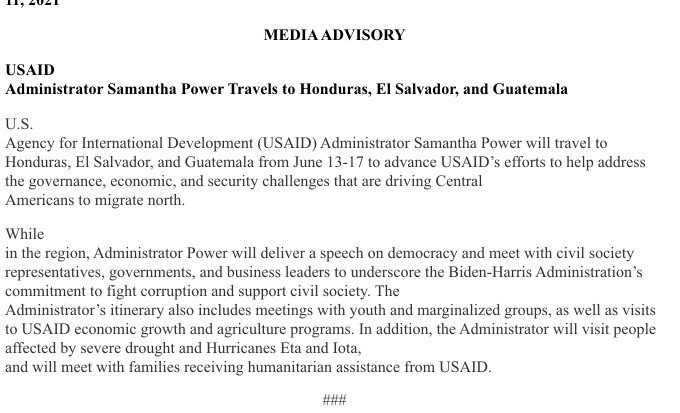 Kamala Harris's weak response to the border crisis -- "do not come, do not come" -- on a trip to Central America has led the Democrat White House to send a grown up there, Samantha Power.
Central American leaders worked with President Trump to stem the flow north. Biden put out the welcome mat. Biden's open borders policy irks the leaders of Mexico, El Salvador, Honduras, and Guatemala.
In an interview on Fox, Guatemalan President Alejandro Giammattei ripped the Democrat White House for weak messaging. Hence the White House's quick action to call in someone from the bullpen.
Putting Kamala in charge of the border was a mistake because she is an affirmative action hire whose incompetence is matched only by her arrogance.
Her first trip abroad was strictly amateur hour.
She sounded like a little girl as she said, "do not come, do not come." She embarrassed the White House. The Daily Mail reported, "Even the Biden administration appears to be baffled by Kamala Harris' trip to Guatemala and Mexico to address the border crisis.
"White House insiders were 'perplexed' by her answers to her questions over whether she would visit the Rio Grande and 'hoped her first foreign trip would be a success', CNN reported.
"Officials also fear that any progress she made during her meetings with the Guatemalan and Mexican presidents may be undone by her mixed messages and terse encounters with reporters."
This was not an overnight failure. She worked long and hard to achieve this level of ineptitude.
Giammattei told Fox that Biden's campaign message of a kinder, gentler border undermined efforts to stop the illegal migration.
Guatemala wants the USA to toughen penalties on the criminals who take caravans north to the border.
The Guatemalan president said, "Well, humanitarian messages were used here by the coyotes in a distorted manner because what they said over there was that they will promote family reunification.
"So the coyotes came and took the children and the teenagers to the United States and the borders were full, not only with people from Guatemala, but with a lot of people from all over, which is why our proposal is that messages should be clear.
"The vice president sent a clear message yesterday of 'Do not come because we will not let you in.' That's a clear message — but if you have a lukewarm message, it only creates the opportunity to misinterpret."
The problem is she had to be prodded and was timid in her delivery.
In fact, she seemed to be begging, not ordering. Her lack of a command voice totally undercut the message.
She said in an interview, "I want to be clear to folks in this region who are thinking about making that dangerous trek to the United States-Mexico border: Do not come, do not come.
"The United States will continue to enforce our laws, and secure our border. There are legal methods by which migration can and should occur, but we, as one of our priorities, will discourage illegal migration, and I believe if you come to our border, you will be turned back."
Her message also was undercut by Democrat cries to Abolish ICE and Defund the Police. Criminals in Minneapolis and dozens of other Democrat strongholds no longer fear prosecution because Democrats don't care about crime.
The coyotes know the same applies to Democrat border policies. Democrats reverted to the old, failed policy of crossing the border, claiming to be a refugee, and gaining entry while waiting for your case to be heard. Only a fool would show up for the hearing.
Being arrested at the border means being allowed in. May's arrest figures show we are on pace to add 2 million illegal aliens this year. That is the equivalent of 3 congressional districts and Electoral College votes for Democrats.
Making illegal aliens wait in Mexico worked. Arrests fell markedly and remarkably.
Mexico and Central America want to go back to that. Americans fail to see the border crisis for what it is: a crisis on both sides.
Putting Kamala in charge showed a lack of seriousness because she is a running joke. They know it. We know it. Coyotes know it. The whole dang world knows it.