That was then.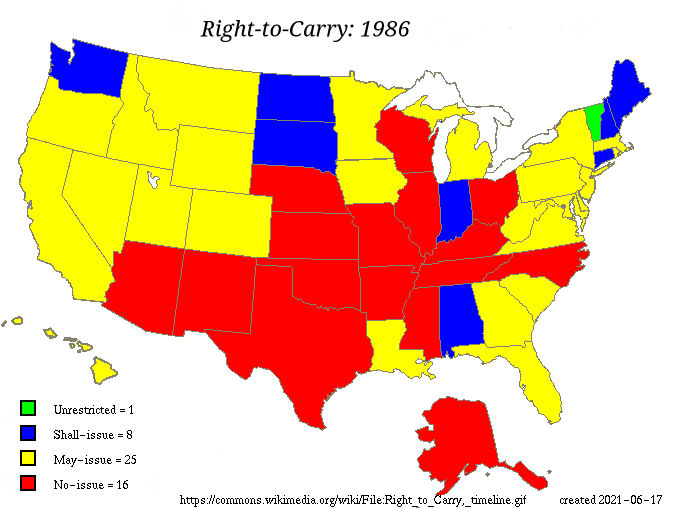 This is now.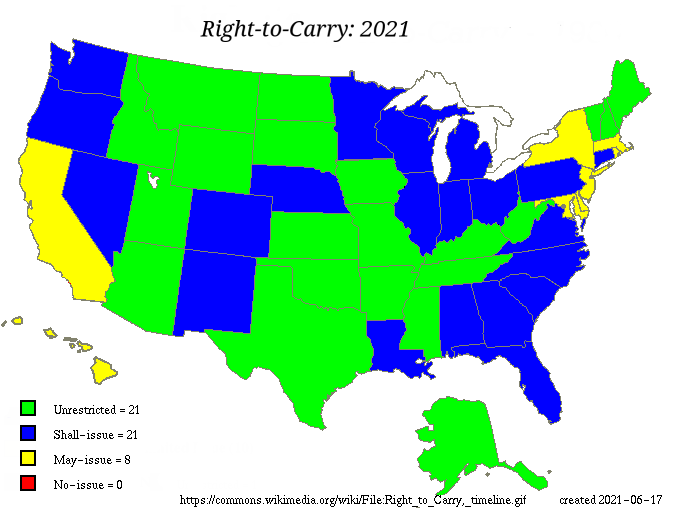 Without firing a shot (except at the firing range), Americans have won a revolution -- state by state.
Texas is the latest to join the freedom coalition. The Texas Tribune reported to its dismay, "Texans can carry handguns without a license or training starting Sept. 1, after Gov. Greg Abbott on Wednesday signed the permitless carry bill into law.
"House Bill 1927 eliminates the requirement for Texas residents to obtain a license to carry handguns if they're not prohibited by state or federal law from possessing a gun. The signing was reported by the Texas Legislature's official website, which tracks the progress of legislation. Abbott's office has announced a ceremonial signing of the bill and other gun-related legislation at 11 a.m. Thursday.
"Abbott's signature seals a win to conservative activists who have long sought the measure without success. Abbott, Lt. Gov. Dan Patrick and other Republicans who were initially noncommittal about the bill were under immense political pressure this session from conservatives and gun rights advocates, who have long lobbied the Texas Legislature for permitless carry but historically struggled to win support."
That is a big victory in Texas, and another notch on the gun handle nationally.
35 years ago, it was illegal in 16 states (including Texas) for a civilian to carry a concealed weapon. Only Vermont did not require a pistol permit.
Working through the slow process of going state to state to change the law, the revolution happened.
First came the switch from no permit to may permit. That placed the decision on issuing permits in the hands of elected sheriffs, which explains why California and New York have not budged. Democrat sheriffs pocket a lot of money from patrons who want to carry.
Then came shall permit. This put the onus on law enforcement to show why a person should not carry a concealed weapon.
Finally, came freedom. 19 states no longer require the state's permission to carry a concealed weapon.
Texas and many other states went from red (a ban on concealed carry) to yellow (may issue) to blue (shall issue) to green (no permission necessary).
It is the Vermontization of America. The Green Mountain Boys always put the right to firearms off limits to regulation. Interesting state. For 14 years, it was a republic -- longer than Texas and other states that were republics for a time.
The battle for the Second Amendment continues. From Massachusetts to Hawaii, there are clusters of holdouts who allow sheriffs to decide who shall have the right to defend himself.
But this gives Americans hope that they can regain their rights, state by state. The battle for the right to life for children continues, with states interceding on behalf of babies with deadlines for making the decision on abortion.
How odd that liberals argue for gun control because murderers use guns to kill hundreds of children each year, while protecting the killing of a million babies each year through abortion.
The success in the gun revolution should encourage those in the babies revolution.