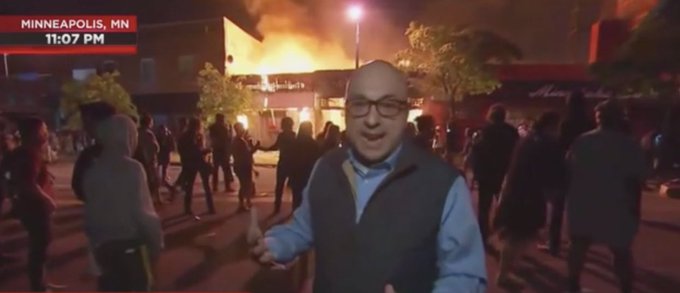 A Minneapolis couple and their neighbors sued the city and Democrat Mayor Jacob Frey for failing to keep residents safe amid a 21% spike in violent crime over the past year.
Defund the Police may prove to be very expensive.
The George Floyd riots created a wave of lawlessness, as well as the departure of police officers en masse because they now know the city does not have their back. Minneapolis is a zoo.
George Floyd Square is at times a shooting gallery
. A mostly peaceful shooting gallery.
The city had 48 homicides in 2019.
It had 84 in 2020, a 75% increase.
Hence the legal action.
Fox reported, "The lawsuit accuses the city of operating outside a charter that requires a minimum threshold of police officers per citizen in Minneapolis. The petitioners say the city council's move to defund the police, have caused officers to quit in droves, which in turn has contributed to an escalation in crime.
"Doug Seaton, who is representing petitioners, told Fox News, his clients are long-time Minneapolis residents who are deeply engaged in the community.
"He said their view – which, he believes is representative of the wider community – is that 'although we support certain reforms of the police, we are absolutely opposed to defunding the police and reducing their numbers.'"
Seaton told the ABC affiliate in Minneapolis, "The city, based on census population, should have 743 sworn officers ready to respond to call.
"We've asked the city to tell us how many available officers there are right now to answer calls but we have not received that information, and the plaintiffs think the number of officers on the street is well below the required 743."
He said the city charter requires a minimum of 743 officers based on the city's population.
The city began 2020 with 877 officers.
It ended the year with 638 officers.
The city also defunded the police budget by $8 million.
The city gave George Floyd's family $27 million.
Seaton also said, "My clients have just had enough and they don't feel safe and their families don't feel safe. They've had bullets flying around their homes, and not just around their homes, some have had bullets actually go into their homes."
The local paper said in February, "Violent crimes soared by 21% in Minneapolis last year, adding a painful coda to the city's struggles in coping with a deadly pandemic and widespread protests against racial injustice.
"The city recorded 5,422 violent crime incidents, including homicides, rapes, robberies and aggravated assaults, according to preliminary year-end Minneapolis police statistics. That is a dramatic jump over the previous five years, which averaged roughly 4,496 such crimes. Property crime saw a more modest 10% increase."
Make no mistake. Last summer's riots were sanctioned by the city. I consider the destruction of small businesses the 21st century version of pogroms.
For whatever reason, Mayor Frey and the Democrat Party want violent crimes. Residents do not. I hope they get $27 million each because they, too, are victims of an incorrigible City Hall.