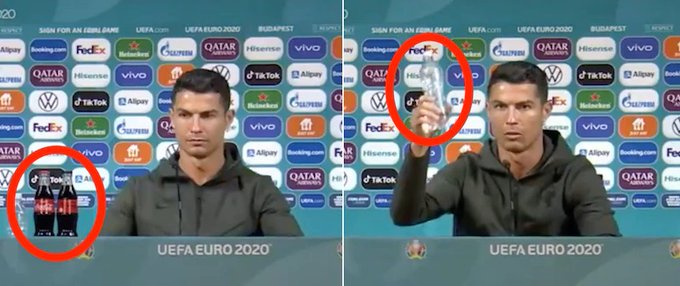 A soccer star's refusal to drink Coca-Cola at a press conference shook up the stock market, dropping the company's stock by nearly $1 a share in one day, Market Insider reported. That meant the market cap for Coke fell $4 billion -- off one sip of water.
Readers will love the punchline.
Many conservatives are amused because the corporation has become woke, caving into communist race politics. In February, the corporation admonished employees to "try to be less white."
Coke has a problem. Young people largely do not care for it. And after the company went woke, old white people are turning to other beverages.
Disney-owned ESPN reported, "Cristiano Ronaldo's removal of two Coca-Cola bottles at a Euro 2020 news conference coincided with a $4 billion drop in the market value of the American drink giant."
Coincided.
Right.
Now for the punchline.
The story continued, "The Portugal captain was visibly troubled when he saw two bottles of the carbonated soft drink in front of him as he sat down to speak to the media on Monday in Budapest ahead of his national team's Group F opener against Hungary.
"Ronaldo, an advocate of a healthy diet, moved the glass bottles out of the camera frame and instead held up a bottle of water and said in Portuguese: Water!
"Coca-Cola saw its share price drop by 1.6% to $55.22 soon after Ronaldo's actions. The market value went from $242 billion to $238 billion -- a $4 billion drop.
"Coca-Cola, an official sponsor of Euro 2020, responded in a statement that 'everyone is entitled to their drink preferences' with different 'tastes and needs.'"
What a mess.
The marketing geniuses at Woka-Cola (its less white name) paid millions to sponsor an event that cost its shareholders $4 billion.
In February, Newsweek reported, "Coca-Cola, facing mounting backlash from conservatives online, has responded to allegations of anti-white rhetoric after an internal whistleblower leaked screenshots of diversity training materials that encourages staff to 'try to be less white.'
"On Friday, Karlyn Borysenko, an activist who supports banning critical race theory, shared images from an internal whistleblower of the company's online racism training. The slides included tips to learners on how to be 'less white, less arrogant, less certain, less defensive, less ignorant and more humble.'"
Arrogant, certain, defensive and ignorant?
She just described LeBron James.
If a corporate company sent around a training kit instructing black people how to "be less black", the world would implode and lawsuits would follow.

I genuinely hope these employees sue @CocaCola for blatant racism and discrimination. https://t.co/07OPZouEcV

— Candace Owens (@RealCandaceO) February 19, 2021
The company's share prices are up 4.54% so far this year.That's well below the 14.48% rise in the Standard & Poor 500 index so far this year.Coke's rise also is far smaller than the Dow Jones Industrial Average's 13.13% rise so far in 2021.
The saying is go woke, get broke, but in Coke's case the opposite may be true.
Ronaldo is part of the post-baby boom generation world that is abandoning old foods and beverages for what young people believe are healthier and more natural products. A brand that has been around for more than a century is becoming worth less and less.
In desperation, Coke went woke. No one is buying it.