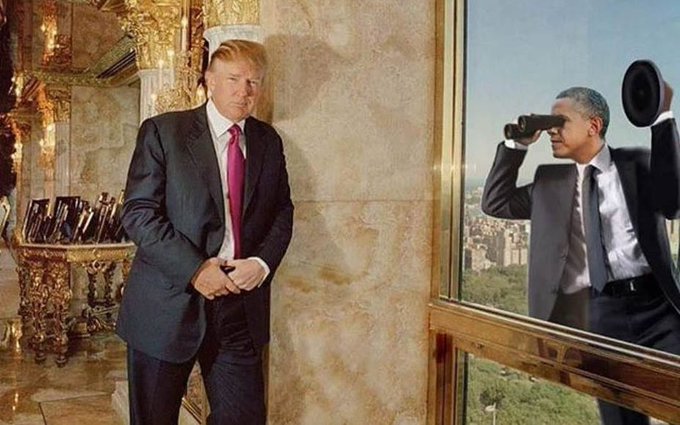 Reports from irreputable sites such as the New York Times maintain that President Donald John Trump used the FBI to spy on Democrats. That is an unproven charge by liars who perpetrated the Russian Collusion hoax.
But if he did, he learned it firsthand for Barack Hussein Obama, who used the FBI to lie and spy on Donald Trump during the 2016 campaign.
And the irony is that this abuse of FISA by Obama was used to peddle the Russian Collusion hoax on the NYT and others.
Times reporters read the transcripts from the spying and admitted so in a Page One story published on Inauguration Day 2017.
Now NYT dares to bitch about the rumor that President Trump used the FBI to spy on Adam Schiff and other Democrats.
NYT whined, "As the Justice Department investigated who was behind leaks of classified information early in the Trump administration, it took a highly unusual step: Prosecutors subpoenaed Apple for data from the accounts of at least two Democrats on the House Intelligence Committee, aides and family members. One was a minor."
It seems like a longshot because the FBI was in open rebellion against Donald Trump throughout his term.
But if it is, so what?
Obama had the FBI lie and spy on Donald Trump and his children.. One was a minor.
No one was fired. No one was fined. And certainly, no one was jailed. I fully expect Josef Biden to be spying on political enemies today.
Watch your back, Joe Manchin.
All presidents, of course, search for leakers. That is nothing new. Obama had agents go after James Rosen, then of Fox. Obama had the phones at AP tapped.
But the Hamas-Shielding AP did not complain. It is a team player. It failed to mention Obama's spying in its rewrite of the NYT fable.
The Associated Press belched, "The Justice Department under former President Donald Trump seized data from the accounts of at least two members of the House Intelligence Committee in 2018 as part of an aggressive crackdown on leaks related to the Russia investigation and other national security matters, according to a committee official and two people familiar with the investigation.
"Prosecutors from Trump's Justice Department subpoenaed Apple for the data, according to the people, who were granted anonymity to discuss the secret seizures. The revelations were first reported by The New York Times."
AP's source is NYT.
But others did some original reporting.
CNN, which also promoted the Big Lie of Russian Collusion, reported, "Rep. Eric Swalwell of California, another Democrat on the committee, told CNN's Don Lemon on Thursday evening that he was notified that his data had been seized as part of the probe as well."
Hmm.
That could be true.
The FBI may have been investigating Christine Fang, a Red Chinese spy who was banging Swalwell. For that she deserves a medal.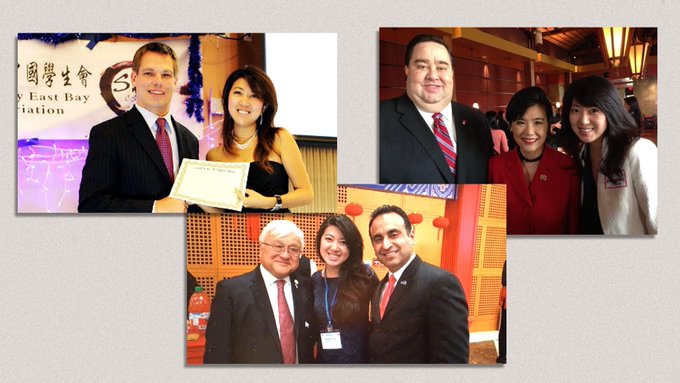 Apparently she was a busy girl.
Xi should make her vice president.
With the tables turned, Democrats are demanding blood. Raw Story reported, "Bill Barr could lose his law license over Trump DOJ spy scandal: Legal expert says 'expect a lot of legal fallout.'"
Democrats always threaten the law licenses of lawyers who may be on Team Trump.
They wanted Giuliani's and any lawyer involved with the post-election litigation.
I hope President Trump used the FBI to spy on political opponents because Obama did that to him and got away with it.
But as I said, the FBI worked against him. If the FBI spied on Democrats, it had reasons that had nothing to do with Donald Trump.