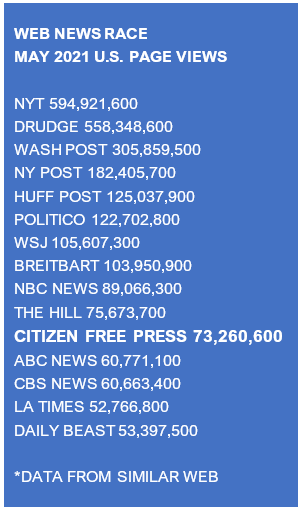 Citizen Free Press zoomed past ABC, CBS, and others to become No. 11 in the USA in delivering the news in May.
One man with a dream and conservative values.
ITEM 1
: Forget Kim Jong Un.
BIDEN: "Those who say the blood of Patriots, you know, and all the stuff about how we're gonna have to move against the government."

"If you think you need to have weapons to take on the government, you need F-15s and maybe some nuclear weapons."pic.twitter.com/WVHUffpphP

— Breaking911 (@Breaking911) June 23, 2021
Josef Biden just threatened to nuke the United States.
America's Maoists are crazy and dangerous.
ITEM 2: The New York Post reported, "Antivirus software tycoon John McAfee died by an apparent suicide in a Spanish jail cell Wednesday evening — hours after reports surfaced that he would be extradited to face federal charges in the US, according to local media.
"The eccentric tech entrepreneur was arrested in October and was awaiting extradition when he was found dead, police sources told the newspaper El Pais.
"The newspaper reported McAfee was pulled from his cell in Barcelona and police are investigating the circumstances around his death."
Maybe he caught a virus.
Or maybe he had dirt on Hillary.
ITEM 3: Vox reported, "The Supreme Court ruled on Wednesday that a public high school violated the First Amendment when it punished a student — the cursing cheerleader you might have heard about — for a vulgar message she posted online while she was off campus."
So a cheerleader can say F** the school.
In 2000, the Supreme Court banned cheerleaders from reciting the Lord's Prayer.
This means dropping F-bombs is not an act of defiance. Reciting the Lord's Prayer is.
We are back to Rome, 30 AD.
ITEM 4: Politico reported, "Vice President Kamala Harris is heading to the U.S.-Mexico border this week, amid an unrelenting chorus of criticism from Republicans over her failure to visit there."
Just what America needs, Willie Brown's ex-bimbo telling Mexicans, "Do not come. Do not come."
That will stop the invasion.
ITEM 5: Yahoo reported, "Republican Senator Susan Collins announced Monday that she will vote against the confirmation of David Chipman, President Biden's nominee to head the Bureau of Alcohol, Tobacco and Firearms."
She represents Maine.
Mainers still believe in the Second Amendment. Chipman does not.
This won't stop his confirmation. Manchin or another Democrat would have to flip. Maybe Maine's other senator (technically an independent) will.
ITEM 6: The New York Times said, "The Biden administration plans to extend the national moratorium on evictions, scheduled to expire on June 30, by one month to buy more time to distribute billions of dollars in federal pandemic housing aid, according to two officials with knowledge of the situation."
Why not a moratorium on paying income taxes?
It is the same principle.
ITEM 7: The New York Post reported, "Did Joe inadvertently pay for Hunter Biden's wild night at Chateau Marmont?"
Hunter was 48 at the time.
Daddy's Credit Card.
Don't go whoring without it.
ITEM 8: The Independent reported, "Marks & Spencer has claimed that its new lingerie range was inspired by the global movement against racism sparked by the killing of George Floyd.
"The retail giant has launched a neutrals lingerie range that offers more colors for women of different ethnicities."
This makes Victoria's Secrets new line of social justice undies look lame.
Plus, I don't think George Floyd left anti-Asian tweets.
But why did it take a black man's death for M&S to realize all its customers are not white? Obviously, the CEO is not a genius.
ITEM 9: Trending Politics reported, "Fredo Cuomo Has Meltdown For The Ages After GOP Filibusters New Election Bill."
Consider it the cherry on top of Republicans icing this farce.
ITEM 10: Financial Times reported, "A London-based hedge fund that suffered losses betting against U.S. retailer GameStop during the first meme stock rally in January is shutting its doors.
"White Square Capital, run by former Paulson & Co trader Florian Kronawitter, told investors that it would shut its main fund and return capital this month after a review of its business model, according to people familiar with the fund and a letter to investors.
"White Square, which at its peak managed about $440 million in assets, had bet against GameStop, say people familiar with its positioning, and suffered double-digit percent losses in January.
"The move marks one of the first closures of a hedge fund hit by the huge surges in so-called meme stocks. Retail investors, often coordinating their actions on online forums such as Reddit's r/WallStreetBets and in some cases deliberately targeting hedge fund short sellers, drove up the price of stocks such as GameStop and cinema chain AMC Entertainment in January and again in recent weeks. GameStop, for instance, soared from less than $20 at the start of the year to more than $480 at its January peak."
Buying GameStop stock was stupid. This was strictly defiance against the pandemic billionaires. As David Sachs from the All in Podcast said, "We can be retarded longer than you can be solvent."
That proved to be true.
Put White Square Capital on a pike as a warning to all others.
ITEM 11: Reuters reported, "The school board of Virginia's wealthy Loudoun County had planned to hold a routine meeting to close out the school year. Instead, it was pandemonium.
"Many of the hundreds of parents who flooded the auditorium in the suburbs of Washington, D.C., on Tuesday night were there to accuse the schools of teaching their kids that racism in America is structural and systemic – which the board denies. Some signs read, 'Education not indoctrination' and 'You don't end racism by teaching it.'
"The evening grew so heated that the board walked out of the room, leaving sheriff's deputies to disperse the crowd.
"'I've never seen anything like this,' said Wayde Byard, the Loudoun County Public Schools spokesman for more than two decades, after deputies took two attendees out of the room in handcuffs."
The Reuters lead was ignorant. Nothing has been routine at Loudoun BOE meetings for some time.
On June 8, Fox reported, "The Loudoun County Public Schools district on Tuesday named its new superintendent – but not without the kind of heated comment period that has become characteristic of district meetings of late."
In addition to pushing the Marxist CRT, Loudoun BOE is placing transgendered rights over all others. Liberals have taken over one of the richest school systems in America and are turning it into an indoctrination center.
ITEM 12: AP reported, "Warren Buffett resigned Wednesday as trustee of the Bill and Melinda Gates Foundation, which says it will announce plans in July to answer questions raised about its leadership structure as it deals with the divorce of its two founders.
"The announcement from Buffett comes weeks after Bill and Melinda Gates revealed that they were divorcing after 27 years of marriage but would continue to jointly run the foundation, one of the largest charitable foundations in the world. Buffett is one of three members of the foundation's board, the others are Bill and Melinda Gates."
With him leaving, board meetings will be awkward.
ITEM 13: Max Boot of the Washington Post wrote, "Ron DeSantis is showing Trump-level skill at waging culture war."
DeSantis has them muttering to themselves already.
ITEM 14: Human Events reported, "In a leaked State Department cable from 2009, then-Secretary of State Hillary Clinton warned that the Wuhan Institute of Virology could lead to 'biological weapons proliferation concern.'
"The cable, obtained via Wikileaks, was sent from the State Department in June 2009 to all embassies in member nations ahead of the Australia Group plenary session in Paris, September 21-25, 2009. The Australia Group is an international export control forum organized to prevent the spread of technologies and research that could be used in chemical and biological weapons. All Five Eyes nations are members of the group, including the EU, India, Japan, and South Korea. China is not a member of the group.
"The cable stated, 'We believe it is important to focus on emerging chemical and biological technologies, trends in the trade of CBW-related goods and threats.'"
If Hillary knew, Obama knew.
And yet he let Tony Fauci help fund it.
ITEM 15: The Man Who Saved Manhattan gets recognition.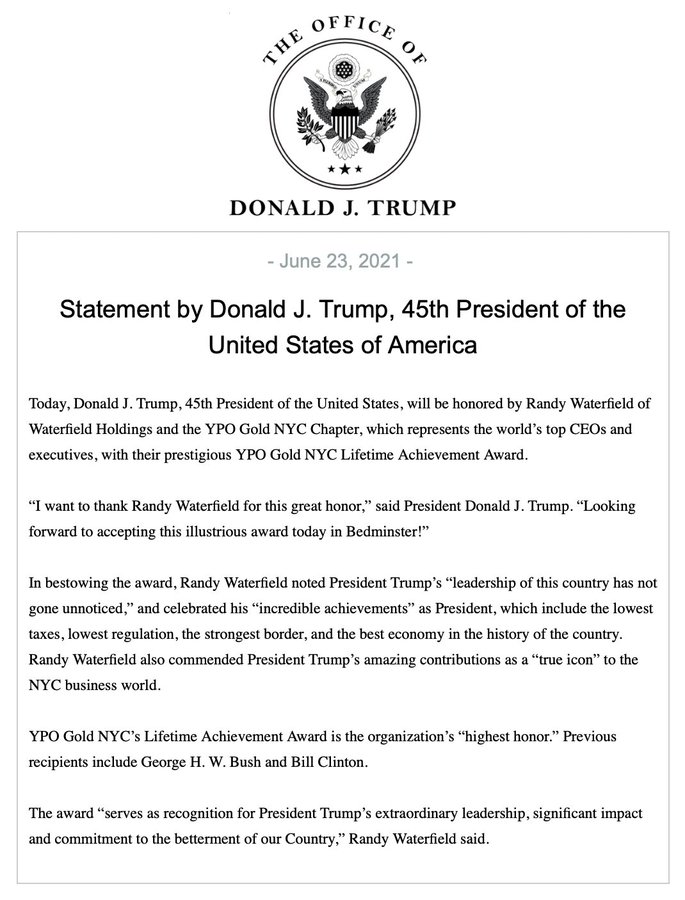 No brag, just fact.
ITEM 16: The Washington Free Beacon reported, "ProPublica Donors Absent From Bombshell Report on Billionaire Tax Dodgers. Nonprofit pub has thousands of private tax docs on nation's wealthiest."
Mafia then: Nice store window you have there. Too bad if someone threw a rock through it.
ProPublica now: Nice fortune you have there. Too bad if someone published your tax records.
ITEM 17: Drudge said, "Top 1% of Americans have 16 times more wealth than bottom 50%!"
I don't like the Marxist Matt Drudge.
Do you?
ITEM 18: The Guardian reported, "The government is poised to announce a ban on junk food advertising online and before 9 pm on TV from 2023, as Boris Johnson looks to deliver on his pledge to tackle the UK's growing obesity crisis."
Meanwhile, online porn remains ubiquitous in the name of free speech.
ITEM 19: The Western Journal reported, "The Supreme Court struck down a California regulation Wednesday that allowed union organizers to access agricultural farm workers on private property, ruling that it violated the 5th and 14th Amendments.
"The court voted 6-3 against the 1975 regulation that required agricultural employers to allow union organizers onto their property to talk to the workers, according to The Wall Street Journal."
If after 46 years of union officials badgering workers to join the works still have not joined, maybe they should just go home and leave the workers alone.
ITEM 20: Legal Insurrection reported, "The LPGA moved the Portland Classic to a suburb for the first time in 50 years due to safety concerns in the city.
"The event usually takes place at the Columbia Edgewater Country Club in Northeast Portland.
"The city's rise in homelessness, including people living near the parking lots of the country club, led to the decision."
This is the plan. Democrats want to destroy everything that is decent about our country.
ITEM 21: The Hill reported, "Iran claimed on Wednesday that the U.S. would lift oil and shipping sanctions on the country but the State Department said nothing has been agreed to.
"Iran claimed the concession was made during talks to renegotiate the Iran Nuclear Deal that President Biden is aiming to rejoin after former President Trump backed out of it."
I expect Iran will appoint Hunter Biden to the board of directors of its oil company.
FINALLY, a reader wrote, "Don, I like the Bentley convertible too.
"Oil change - $475
"New water pump - $5,300 +"
I replied, "OK, how much did my wife pay you to email this to me?"
I love my readers.