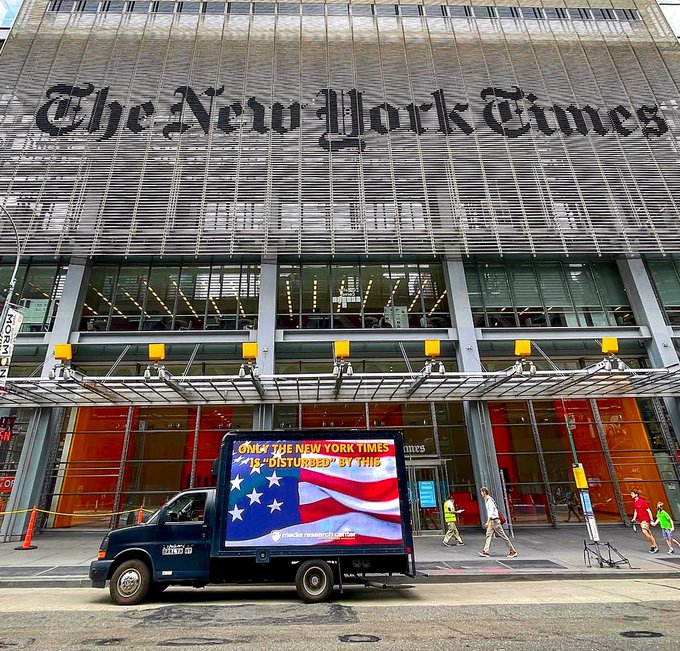 The sign says, "Only the New York Times is 'disturbed' by this." Wave a flag. Trigger a liberal. Love your country.
ITEM 1
:
The Star Tribune reported
, "A St. Cloud law firm is in turmoil after a round of firings that began with its leader going after employees he believed were supporters of former President Donald Trump, according to a lawsuit filed in Stearns County District Court.
"In the wake of the Jan. 6 riot at the U.S. Capitol, when Trump supporters violently stormed the building to prevent congressional certification of Joe Biden's election as president, the suit alleges that Wesley Scott sought to fire employees he believed had made pro-Trump posts on social media.
"Scott, president of the Kain & Scott law firm, terminated two employees — and then fired three of his law partners after they told him his actions were violating Minnesota law, according to the legal complaint.
"The partners whom Scott fired — William Kain, Margaret Henehan and Kelsey Quarberg — are suing for wrongful termination from the St. Cloud-based law firm that specializes in bankruptcy cases."
Nobody hates lawyers more than other lawyers.
ITEM 2: News Max reported, "James Murdoch, an heir to the Fox News fortune, spent $20 million opposing Donald Trump's 2020 reelection while funneling another $100 million through a nonprofit to support leftwing political groups, according to a new report.
"James and his wife, Kathryn Murdoch, have largely backed Democrats or liberal, nonpartisan causes, according to CNBC, which found the large contribution while reviewing the 2019 tax return documents of Quadrivium, a 501(c)(3) nonprofit the couple control. Quadrivium was founded in 2014.
"It has been widely known that the young Murdochs backed President Joe Biden's candidacy, but the $100 million for Democrats and other PACs was not well publicized, having been funneled through Quadrivium, CNBC reported."
Thank you for watching Fox News.
Now you have two minutes to leave the premises before James releases the hounds.
ITEM 3: Hamas-Shielding AP blogged, "The Associated Press appreciates the opportunity to meet with Ambassador Erdan to discuss the attack on the building housing our Gaza bureau and Israel's support for our efforts to rebuild the bureau. It was a positive and constructive conversation.
"Israeli authorities maintain that the building housing our bureau was destroyed because of a Hamas presence that posed an urgent threat. We have yet to receive evidence to support these claims.
"AP continues to call for the full release of any evidence the Israelis have so that the facts are public."
They want the evidence so they can turn it over to Hamas, which will then kill Mossad's sources.
Instead of apologizing for shielding Hamas, AP is belligerent.
It is a garbage organization and the next republican president should revoke its tax exemption.
ITEM 4: The Post Millennial reported, "After a New York judge released a teen for the third time in four months on gun charges, the 16-year-old shot and killed a 34-year-old father of four. Alberto Ramirez is reportedly a gang member, and the incident apparently took place when he was in a rival gang's neighborhood.
"Alberto Ramirez is accused of shooting Eric Velasquez on May 16. Ramirez, who was arrested and charged with second-degree murder, first degree manslaughter, and two counts of criminal possession of a weapon, would not have been on the street had he not been previously released by NYC Supreme Court Justice Denis Boyle—twice, according to the New York Post.
"In December, Boyle let Ramirez go without bail on gun charges, and in March, Ramirez's bail was set at a mere $10,000. Prosecutors had opposed the December release, and had asked for bail to be set at $75,000 in March."
New York City is a sewer.
Crime is a fatberg.
Looking at the mayoral candidates, there is no plumber available.
It's like Chicago but without the Cubs.
ITEM 5: The Daily Mail reported, "Guatemala's president says Joe Biden's decision to try and reunite illegal migrants with their families in the US has helped trigger the ongoing border crisis.
"Speaking to Fox News on Wednesday, Alejandro Giammattei also said he'd offered a solution to Vice President Kamala Harris by urging the US to work with him to prosecute people smugglers.
"Giammattei told Sean Hannity reporter Sara Carter: 'You can see that humanitarian messages were used here by the coyotes in a distorted manner.
"'They said that they were going to support family reunification.
"'So the coyotes came and took the children and teenagers to the United States.
"'And the border filled up. Not only with people from Guatemala, but lots of people.
"'That's why we have suggested that the messaging be clear.'
"Giammattei spoke as it was revealed border crossings had exploded 674% in May 2021 compared to the same month a year previously, with 180,034 migrants recorded crossing into the US last month.
"His swipe came after President Biden signed an executive order in February establishing the Family Reunification Task Force to reunite unaccompanied minors separated from their families and detained under the Trump administration.
"And just last month, Biden's Secretary of Homeland Security Alejandro Mayorkas spoke of the United States' exhaustive efforts to reunite migrant children separated from their families by the Trump administration."
Now you know why the progressive Pew dare not poll Latin Americans about Biden.
ITEM 6: Just the News reported, "The cost of a steak to put on the grill continues to escalate and it is largely due to a shortage of truck drivers..
"The shortage began before the COVID-19 pandemic and is getting worse. The American Trucking Association says there was a shortage of 61,000 drivers at the end of 2019.
"The Illinois Trucking Association recently conducted a survey of companies around the state and 97% said they were short of truck drivers.
"Matt Hart, executive director of the ITA, said the main problem appears to be enhanced unemployment benefits."
Forget a PhD. Get a CDL.
ITEM 7: The Washington Examiner reported, "Manhattan prosecutors may have found their insider as a grand jury considers whether charges are warranted against former President Donald Trump, according to a top prosecutor in Robert Mueller's special counsel investigation.
"Andrew Weissmann, a former Justice Department official and FBI general counsel, said reports about the testimony of a senior Trump Organization official may be a game-changer for the New York-based inquiry."
The walls are closing in.
The dam is about to break.
These are the same Mueller leakers who said the walls were closing in.
ITEM 8: Fox reported, "The White House this week gave President Biden the greenlight to move forward with removing a Trump-era health care policy designed to bring down the price of insulin.
"Biden's bid to retract the rule was approved on Monday, as reported by Politico, with the expectation that the Department of Health and Human Services could publish the retraction within the coming days.
"The measure, signed off on under the previous administration in December, aimed to require some 340B community health centers to deliver savings to low-income patients for insulin and epinephrine in a bid to bring down unaffordable prices."
What?
But USA Today told me in a Fact-Check on January 30 that this was just a delay, and that Biden was not reversing the discount.
Wow.
USA Today couldn't have lied, could it?
ITEM 9: The German news agency DPA reported, "The human rights organization Amnesty International on Thursday called on the international community to do more to halt the persecution of the Muslim minority Uighurs in China."
The story said, "In the 160-page report, more than 50 former prisoners describe the measures under which since 2017 the religious tradition, cultural practices and local customs of the Muslim minority have been systematically repressed by Chinese authorities.
"According to the report, Chinese authorities created a sophisticated surveillance system with a network of so-called re-education camps. Former inmates spoke of "brainwashing, torture and other degrading treatment" at the camps.
"But all aspects of daily life were also being regulated, according to the report, in order to create a homogeneous Chinese nation. Members of the Uighur minority were being targeted under the excuse of anti-terrorism measures."
When Red China eventually collapses under the weight of its evil, a generation will ask why the United States and the rest of the world had anything to do with Red China.
The answer is greed.
Those who traded with the Nazis largely were ignorant of Germany's abuses. We do not have that excuse.
ITEM 10: The New York Post reported, "Arch Manning is the talk of the town, even if its way too early.
"The 16-year-old high school quarterback — and nephew of NFL QB legends Peyton and Eli Manning — was a debate topic on ESPN's First Take on Tuesday, following a viral video of him throwing a swanky 50-yard touchdown pass."
His father, Cooper, had a debilitating spinal disorder that ended his football career in college.
I saw the headline ("Arch Manning debate on ESPN's 'First Take' really jumped the gun") and thought his grandpa was making a comeback.
I was so disappointed.
But you cannot be a football fan and not root for the kid. Too much history.
ITEM 11: CNBC reported, "Attorney General Merrick Garland told lawmakers Wednesday that investigating the source of a massive leak of taxpayer information behind an article by investigative news outlet ProPublica will be one of his top priorities."
He is on the case just like OJ is on the case of the murder of Nicole Brown.
Given the FBI's track record, his agents will visit the perps and help them destroy the evidence.
ITEM 12: Hot Air reported, "CNN interviews Jeffrey Toobin: How did it feel to be caught masturbating on a Zoom call?"
The Zoom call was a CNN meeting.
Masturbation on Zoom is now called Toobin.
You know, for a cable channel that banned a guest for life for saying boobs, CNN sure has a lenient policy toward sexual harassment among employees. I am trying to figure out in what occupation this would be acceptable. Even sperm donors do this in private.
ITEM 13: The Press Gazette, a media trade journal, reported, "Right-wing news sites saw the biggest year-on-year growth in the US in April, according to Press Gazette's analysis of visits to the most popular English-language news websites.
"The Epoch Times, which has become a home for anti-China conspiracy theories around coronavirus, was the single fastest-growing site according to data from web analytics firm SimilarWeb. Visits to another pro-Trump site, Newsmax, increased by 171% to 29.4 million while visits to right-wing video platform Bitchute were up 150% to 19.3 million."
The New York Times had a 17% decline.
Overall, news sites saw a 25% decline in traffic.
ITEM 14: The Hill alleged, "Former President Trump issued a statement Thursday dismissing the threat of climate change and saying that President Biden should fire the joint chiefs of staff if they view it as a big problem for the country.
"The message from Trump, who is still banned on Twitter, Facebook and other social media platforms, comes as Biden makes his first foreign trip as president to Europe."
Climate change, the Easter Bunny, and the Tooth Fairy pose no threat to anyone.
In Europe, Biden said, "When I went over to the tank in the Pentagon when I was first elected vice president with President Obama, the military sat us down and let us know what the greatest threats facing America were, the greatest physical threats. This is not a joke. You know what the Joint Chiefs told us the greatest physical threat facing America was? Global warming."
The Hill said, "Trump's emailed statement on Thursday also took Biden's comments out of context."
Once upon a time, The Hill played it straight.
Now it is one big lefty blog.
ITEM 15: Boris Johnson said, "The president and the prime minister set out a global vision in a new Atlantic Charter to deepen cooperation in democracy and human rights, defense and security, science and innovation, and economic prosperity, with renewed joint efforts to tackle the challenges posed by climate change, biodiversity loss, and emerging health threats."
Someone in the press should have asked if that resolve on democracy and human rights applied to Red China?
I once had high hopes for BoJo.
He turned out to be a bozo.
ITEM 16: The Washington Times reported, "A U.S. congressman's shocking account last week of migrant abuse in Panama, including incidences of babies being washed downriver, is being echoed in a new report from Doctors Without Borders, which says staffers in the region are seeing a stunning number of sexual assaults of migrant women.
"The humanitarian group said it sent medics to Bajo Chiquito, the village migrants arrive at after crossing the treacherous wilderness jungle of the Darien Gap, which lies on the border between Panama and Colombia. Migrants coming north from South America have to either boat around the jungle or cross it—the cheaper, but far more dangerous option."
For the love of humanity, stop luring desperate people to the USA.
For the love of God, please stop.
ITEM 17: The New York Post reported, "Inflation continued to surge in May, with consumer prices accelerating at the fastest pace in more than 12 years as the economy emerges from the pandemic, the feds said Thursday.The Labor Department's Consumer Price Index, which measures a basket of goods and services as well as energy and food costs, jumped 5 percent in May from a year earlier."
Welcome to socialism.
ITEM 18: CNBC reported, "Bipartisan Senate group reaches infrastructure deal without tax hikes — but leaders still need to sign off."
While Josef Biden is in Europe, work gets done in Washington.
ITEM 19: Zero Hedge reported, "The Centers for Disease Control and Prevention announced Thursday that it will convene an emergency meeting of its advisers on June 18th to discuss rare but higher-than-expected reports of heart inflammation following doses of the mRNA-based Pfizer and Moderna COVID-19 vaccines.
"The new details about myocarditis and pericarditis emerged first in presentations to a panel of independent advisers for the Food and Drug Administration, who are meeting Thursday to discuss how the regulator should approach emergency use authorization for using COVID-19 vaccines in younger children.
"As CBS reports, the CDC previously disclosed that reports of heart inflammation were detected mostly in younger men and teenage boys following their second dose, and that there was a higher number of observed than expected" cases in 16- to 24-year-olds. Last month, the CDC urged providers to ask about prior COVID-19 vaccination" in patients with symptoms of heart inflammation."
Funny how it never convened when it pulled the J&J vaccine for a week or two over a few blood clots (and one death) but it is holding an emergency meeting on this effect.
These vaccines do appear to work. They are helping us reach herd immunity, which we would already be at if we had elected some sensible people as governors.
I urge readers to either get vaccinated or don't.
Or procrastinate on making that decision.
FINALLY, The Daily Mail reported, "Two Iranian warships, believed to be transporting arms to Venezuela in defiance of US warnings, have reached the Atlantic Ocean, Iran's state TV reported on Thursday.
"The domestically built destroyer Sahand and the intelligence-gathering vessel Makran departed last month from Iran's southern port of Bandar Abbas, Iran's deputy army chief Admiral Habibollah Sayyari said. He described their mission as the Iranian navy's longest and most challenging voyage yet. Iranian state TV released a short clip of the destroyer cruising through the Atlantic's rough seas. The video likely was shot from the Makran, a converted commercial oil tanker with a mobile launch platform for helicopters."
Hamas West.
The USA is the target.
Obama gave them $170 billion to finance this.
But climate change, the Easter Bunny, and the Tooth Fairy are the threats the Pentagon is preparing for.