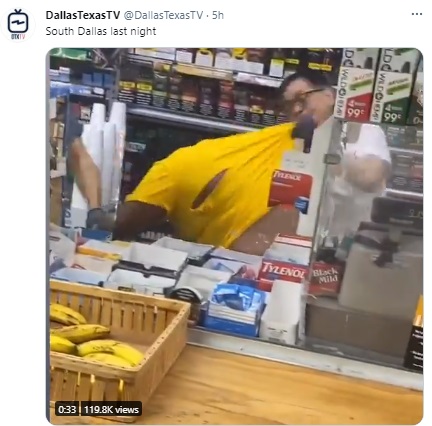 ITEM 1: Kane at Citizen Free Press reported, "Liquor store customer gets violent… Asian owners beat her into submission…"
Don't want none, don't start none.
The media can pretend that violent black racism does not exist, but it does. Either the law handles it, or people will. Don't make them bring back the Rooftop Koreans.
ITEM 2: Via Gateway Pundit, Josef Biden said, "You heard me say this before, again and again. I'm going to keep saying it. What's that idea. We don't derive our rights from the government. We possess them because we're born. Period. And we yield them to a government."
Fact-check: That is exactly how it works. We trade rights for security, and wind up with neither.
We are all Conestoga Indians now.
By the way, the Wounded Knee Massacre happened when soldiers came to take the Indians' rifles.
Oh, and those rights from the Creator are endowed upon us at conception.
ITEM 3: The Sun reported, "Wetherspoons REFUSED to serve woman, 20, and her pal over 'inappropriate' tops that 'made them look topless.'"
And the Sun followed up with the report, "After girls were kicked out of Wetherspoons for wearing revealing tops, we ask: How much boob is too much boob?"
That's better journalism than WaPo and NYT offer. They won Pulitzers for their coverage of an imaginary story called Russian Collusion.
I am pretty sure those boobs are real.
ITEM 4: Becker News reported, "Former President Donald Trump will go down as one of the toughest presidents on China since Richard Nixon. But Trump has come out against boycotting the 2022 Olympics and a lot of people are fascinated why.
"In an interview with Real Clear Investigations published on Thursday, Donald Trump gave his reasoning for why the United States should attend the 2022 Olympic Games in Beijing."
President Trump said, "I see it both ways, but I would not do that. … You go. You compete. You win."
Look for liberals to go with the intent of losing graciously.
ITEM 5: The Wall Street Journal reported, "The Biden administration is sharply reducing the number of U.S. antimissile systems in the Middle East in a major realignment of its military footprint there as it focuses the armed services on challenges from China and Russia, administration officials said.
"The Pentagon is pulling approximately eight Patriot antimissile batteries from countries including Iraq, Kuwait, Jordan and Saudi Arabia, according to officials. Another antimissile system known as a Terminal High Altitude Area Defense, or Thaad system, is being withdrawn from Saudi Arabia, and jet fighter squadrons assigned to the region are being reduced, those officials said.
"The accelerated withdrawals reflect several recent changes on the ground in the Middle East as well as Washington's own strategic imperatives under the Biden administration. As the war in Afghanistan winds down, ending two decades of counterinsurgency as a chief driver of U.S. troop and weapons deployments, the Biden administration wants to bulk up forces directed at countering China, its chief rival in a national security landscape now defined by competition between the major powers.
"Separately, the Biden administration's policy toward Iran—the chief U.S. adversary in the Middle East—is focused on negotiations over re-entering a revised version of the 2015 international nuclear agreement. Because of that, Pentagon officials see a diminished risk of war after the Trump administration's maximum pressure campaign employed more military brinkmanship."
I suspect Josef Biden is doing this to appease his Chinese masters who have befriended Iran.
But fine. Bring the troops and the gear home.
While we are at it, remove the troops and equipment from Afghanistan.
President Trump promised to do so by May 1.
War-mongering Josef Biden keeps it going.
ITEM 6: WSJ also reported, "Big companies are hiring for remote positions that can be performed in any state across the U.S. except one: Colorado.
"At issue is a new Colorado law that requires companies with even a few employees in the state to disclose the expected salary or pay range for each open role they advertise, including remote positions. The rule's aim is to narrow gender wage gaps and provide greater pay transparency for employees. To avoid having to disclose that information, though, some employers seeking remote workers nationwide are saying that those living in Colorado need not apply."
Everyone receiving zero is equal.
ITEM 7: Fox reported, "Walter Shaub, the director of the United States Office of Government Ethics under President Obama, said the Biden administration is sending an F-you to ethics experts by hiring so many relatives of senior White House officials.
"Press secretary Jen Psaki, Secretary of State Antony Blinken, national security adviser Jake Sullivan, senior adviser Anita Dunn, White House counselor Steve Richetti, deputy chief of staff Bruce Reed and presidential personnel office director Cathy Russell each have at least one direct family member working for the Biden administration."
Well, this is the president Fox wanted.
Enjoy.
ITEM 8: CNBC reported, "St. Louis Federal Reserve President James Bullard told CNBC on Friday that he sees an initial interest rate increase happening in late-2022 as inflation picks up faster than previous forecasts had anticipated.
"That estimate is even quicker than the outlook the broader Federal Open Market Committee released Wednesday that caused a hit to financial markets. The committee's median outlook was for up to two hikes in 2023, after indicating in March that saw no increases on the horizon.
"Bullard at several points described the Fed's moves this week as hawkish, or in favor of tighter monetary policy than what has prevailed since the onset of the Covid-19 pandemic."
We long ago reached the point where low interest rates no longer help the economy because they kill saving money. I get 0.1% interest now.
ITEM 9: Reuters reported, "A divided conference of U.S. Roman Catholic bishops announced on Friday that they had voted to draft a statement on Holy Communion that may admonish Catholic politicians, including President Joe Biden, who support abortion."
The bishops need to tell Cafeteria Catholics that the cafeteria is closed.
ITEM 10: The Euro soccer results via DPA, a German news service:
"England held to 0-0 Euro draw by Scotland in Wembley rain."
"Sweden top Euros group with 1-0 win over Slovakia; pressure on Spain."
"Bloodied Schick not enough for Czechs as they draw 1-1 with Croatia."
3 games, 3 goals.
Riveting.
ITEM 11: Just the News reported, "In a nationally televised interview in January, Georgia Secretary of State Brad Raffensperger rattled off an impressive list of measures his state used to ensure the November election count was accurate. 'We had safe, secure, honest elections,' he declared to 60 Minutes.
"That rosy assessment, however, masked an ugly truth inside his agency's own files: A contractor handpicked to monitor election counting in Fulton County wrote a 29-page memo back in November outlining the massive election integrity failures and mismanagement that he witnessed in the Atlanta-area's election centers.
"The bombshell report, constructed like a minute-by-minute diary, cited a litany of high-risk problems such as the double-counting of votes, insecure storage of ballots, possible violations of voter privacy, the mysterious removal of election materials at a vote collection warehouse, and the suspicious movement of too many ballots on Election Day."
I wonder how much it cost Democrats to buy off Raffensperger.
Impeach and remove him from office.
He is just as bad as those two guards who looked the other way when Jeff Epstein did not kill himself.
ITEM 12: Breitbart reported, "President Joe Biden's White House halted a proposed package of lethal aid to Ukraine, according to a Politico report.
"State Department officials and the Pentagon worked to develop the aid proposal before the White House National Security Council put it on hold ahead of Biden's summit with Russian President Vladimir Putin.
"The package's development came in response to Russia's massive military buildup near the Ukrainian border earlier in 2020, and would have been worth up to $100 million, according to Politico.
"The Washington Post reported Tuesday, citing people familiar with the decision, that the Biden administration tabled the aid package after Russia said in April they would reduce the number of troops on the border.
"Biden officials estimated in May that 80,000 Russian troops remain on the border of Ukraine, the New York Times noted.
"Biden began his presidency with a series of high-stakes diplomatic signals to Russia and conversations with Russian President Vladimir Putin.
"Russia's troop buildup alarmed Ukrainian officials, as it echoed the movements prior to the 2014 annexation of Crimea."
Republicans will look the other way because they are shills for a new world order that Donald John Trump tried to stop.
For that they impeached him.
ITEM 13: Metro reported, "Bruce Springsteen fans who have had AstraZeneca vaccine barred from shows in the US."
That's because the vaccine wasn't born in the USA.
I suspect Bruce's ban on fans affects none of my readers.
ITEM 14: CNN reported, "A brazen daytime shoplifting incident captured on video at a Walgreens in San Francisco on Monday has highlighted what local officials say has become a consistent problem, particularly for chain drug stores in the city.
"The video, captured by a reporter for CNN affiliate KGO, shows a suspected shoplifter taking items from a Walgreens and putting them into a black garbage bag. The suspect continues even as three people, including the store's security guard, begin filming on their cell phones just feet away."
The story failed to mention that California decriminalized theft of up tp $950.
The Public Policy Institute of California, which promoted this decriminalization of theft and drug laws, PPIC said the reform "has narrowed—but far from eliminated—disparities in incarceration rates between African Americans and whites."
Given that nearly half the homicides in America are by black men, we could eliminate that disparity by legalizing murder.
ITEM 15: Ed Morrissey reported, "Curiously incurious: Where is the media coverage of China's defector?"
He said, "Or even the possibility of a defector from China with potential information about COVID-19's origins? RedState's Jennifer Van Laar began reporting on this development a week ago, although while the source remained anonymous. Yesterday's report from Spy Talk gave more heft to the story, whose report got co-published in The Daily Beast."
There is nothing curious about the incuriosity.
Corporate America sold out to Red China.
Americans are only now catching on.
ITEM 16: The Washington Post reported, "The slow-building conservative effort to turn Ashli Babbitt into a martyr."
George Floyd got 3 funerals despite a pandemic ban on funerals.
But at least her name finally made a WaPo headline.
ITEM 17: James Delingpole reported, "UK Health Secretary Matt Hancock has appeared to suggest that people who refuse to get the vaccine may be banned from using the National Health Service."
Government-run health care is literally putting your life in the hands of bureaucrats.
By the way, the Supreme Court did not uphold Obamacare.
Senate Republicans did.
Their refusal to repeal it in 2017 was shameful. Elections matter but only if you get the primary right.
FINALLY, Sunday is Father's Day. I grew up without a father. I was 47 when we met, and I had to initiate it.
If you have a son like that, contact him. If he is an adult, apologize. If he is still a kid, spend the day with him. Give him a good memory.
One other thing, when you withhold child support, you are not getting back at your ex. You are hurting your kids.