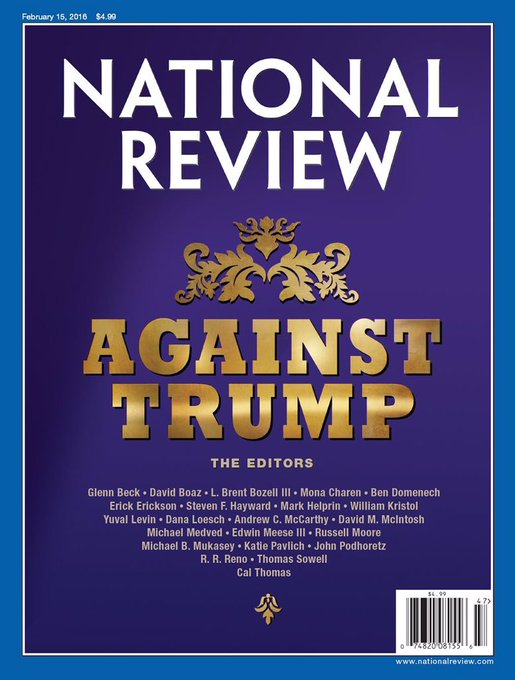 Conrad Black delighted in watching Liz Cheney sink into the quagmire of her own making. Trumpenfreude is best served cold. Or hot. Or room temperature. Face it, this stuff is delicious.
Black wrote
, "The apparent suicide plunge of U.S. Representative Liz Cheney (R-Wyo.) appears to be the psychopathic backlash of Never Trumpers who are starting to realize Donald Trump's defeat in November and the allegations he was attempting to overturn the election by provoking an 'insurrection' at the Capitol on January 6 do not bring back the Republican Party of the Bushes and McCain and Romney, as those families seem to imagine. This is only the first shoe dropping. It will soon be followed by the realization of the role the Never Trumpers have played in shackling the country and the Western world to the unfolding disaster of the Biden presidency."
Oh, that shoe fell.
We realized long ago just who these leeches are.
The neocon Never Trumpers thought they could kneecap Donald Trump in the 2016 election and take the party back.
He won.
They thought they could kneecap him last November. Dick Cheney had visions of President Liz in 2024.
But anyone in Poca, West Virginia, saw their undoing five Januarys ago when National Review published its Against Trump issue. By turning their backs on a Republican nominee, they revealed themselves as the Fifth Columnists they always were.
Donald Trump has an uncanny ability to get people to shed their facades. It is quite illuminating. The hoi polloi call it red pilling.
I will review later what I wrote on Friday, January 22, 2016.
But I am a cobbler. Black is a master. He shredded her.
He wrote, "Cheney endlessly repeats her faith in the rule of law as the justification for her mortal opposition to the president whom she claims to have voted for just six months ago. This faith in law did not propel her to object to the lawless assault upon Trump by the authors of the Trump-Russia collusion fraud or the first spurious impeachment of him. It is rather the last refuge of someone willfully sacrificing a congressional leadership position to be a useful idiot for the Democrats as they seek, through their iron-fisted control of the national political media, to maintain the Real Big Lie—namely, that the November election's results have been carefully and impartially reviewed by the courts, and that the ex-president incited an insurrection on January 6."
The courts of course never gave President Trump his day in court.
Black wrote, "The Real Big Lie seeks to suppress the fact that all 29 of the lawsuits over the presidential election that addressed the integrity or constitutionality of the electoral counting process were left unadjudicated. They were not heard for process reasons: late filing, lack of time to hear them, the wrong defendant, the procedural finding that challenges had to begin at the lowest courts and wend their way upwards, or lack of standing to hear the cases. Most of these objections were spurious and cowardly. The fact is, the judiciary abdicated its duty as a coequal branch of American government. It presumably did so for political reasons as overturning a presidential election result would indeed have been extremely controversial.
"It may have been, politically, the correct call—making it unlikely that there will be a serious effort to pack the Supreme Court. But that is not the role of the justices of all the courts involved—they have not been placed in their life-positions on the benches of the country's highest courts to be politicians. That is the ultimate response to Liz Cheney's tired and hypocritical pieties about the rule of law."
There is a price to be paid. Lizzie Boredom paid it. The media and other Democrats who built her up have dropped her like a Jeff Flake, a Justin Amash, or a used condom.
So should we.
Black wrote, "The ex-president is conducting himself with commendable restraint. His support is not declining appreciably and will not, especially as the screaming horror of the Biden presidency sinks in on its victim-electors. Meantime, Republican leadership is taking the position that there are legitimate concerns about the last election but there is no point in debating them further and all Republicans should focus on bringing their party back in the midterm elections and in 2024."
Again, my take is that is what they should do.
We cannot undo the Cheat. Hillary-ing the election now is a diversion from mocking Biden's Big Bust as president.
And that is the road back.
Black wrote of Trump, "Unless he does something to damage his franchise, none of the other plausible Republican nominees will announce until Trump says that he will not run. If he does not say that, he will probably be renominated and reelected.
"That is what drives the Never Trumpers to these insane acts and utterances: in policy terms, he was very good and it is clear that his opponents wounded but did not kill him. In their mindless hate, they inflicted this terrible regime on the country. Their rage now is designed to assuage their guilt. It will not succeed, even in that."
They are irrelevant.
They thought they could get away with it but that Against Trump issue doomed them because it made their real goal obvious.
As I wrote when the issue was unveiled, "National Review Hoists White Flag, Defiantly Rows To Outcast Island."
Their argument was that Trump was no conservative. My argument was nobody cares.
I wrote, "This is a White Flag edition that shows the people at the National Review now believe the Republican presidential race has become a referendum on Donald Trump -- which is exactly what he wants it to be. In a field of 17 candidates, The Donald rose to the top. He is the only one anyone talks about. That has been the case since June 16, 2015, when he entered the race. The magazine cover is a tribute to his success, and a concession of defeat because those writers -- from Glenn Beck to Cal Thomas -- have been through too many presidential elections not to be able to see and read the handwriting on the wall.
"All summer and fall and winter, everyone at The Weekly Standard and the National Review screamed to conservatives that Donald Trump is not a conservative.
"Guess what? That's fine. This year many conservative voters don't care. Certainly moderates and liberals don't."
I gave the conservative perspective on Donald Trump as of January 22, 2016.
My post said, "Having elected Bush 43 in 2000, what did conservative voters get? Another Cabinet office -- the Department of Homeland Security -- and a doubling of the national debt, after having spent the 1990s finally getting the budget balanced again. Oh and they got that jackass John Roberts as the chief justice and chief defender of Obamacare.
"I left out No Child Left Behind, which further expanded federal control of local schools. Also, Bush championed the right to home ownership in 2006, which resulted in mortgages for the unworthy in 2007, which led to the financial collapse of the Western world in 2008, which led to President Obama and the restoration of the House of Lyndon Baines Johnson."
The Tea Party came next and it ended in disappointment for conservatives as Republicans failed to overturn Obamacare.
I wrote, "But [2016's] election is not about conservativism or liberalism. The survival of the nation is. It's not about entitlements or foreign policy or balancing the budget. It is about protecting the borders. We are reduced to that basic an issue because Washington has failed to protect the nation from two simultaneous invasions. Trump's response to Muslim terrorism in San Bernardino led to a chorus of clucked tongues on cable TV, but the people watching at home cheered.
"American Lives Matter."
Posts don't always hold up well as events unfold. This one did.
Liz Cheney's dismissal from Republican leadership came because she was Hillary-ing the 2020 election, which is ironic.
Republicans want to move on. They appreciate what Donald Trump did as president. He is their leader and their hero. He is their president emeritus. I suspect he will soak up the praise and enjoy being given his due.
And then I suspect he will make way for a new generation of conservatives.
Black does too.
He wrote, "There is an argument to be made for trying to persuade Trump to confer his benediction on another candidate who would thus be much indebted to him, and to do the necessary to make that candidate a unitary Republican figure. In this, Cheney inadvertently shows the way: the Trump policy with a less disruptive personality but with whom Trump is congenial."
Donald Trump earned his place at the head of the table. Those who refuse to sit at the table with him won't be missed because plenty of others await their turn.