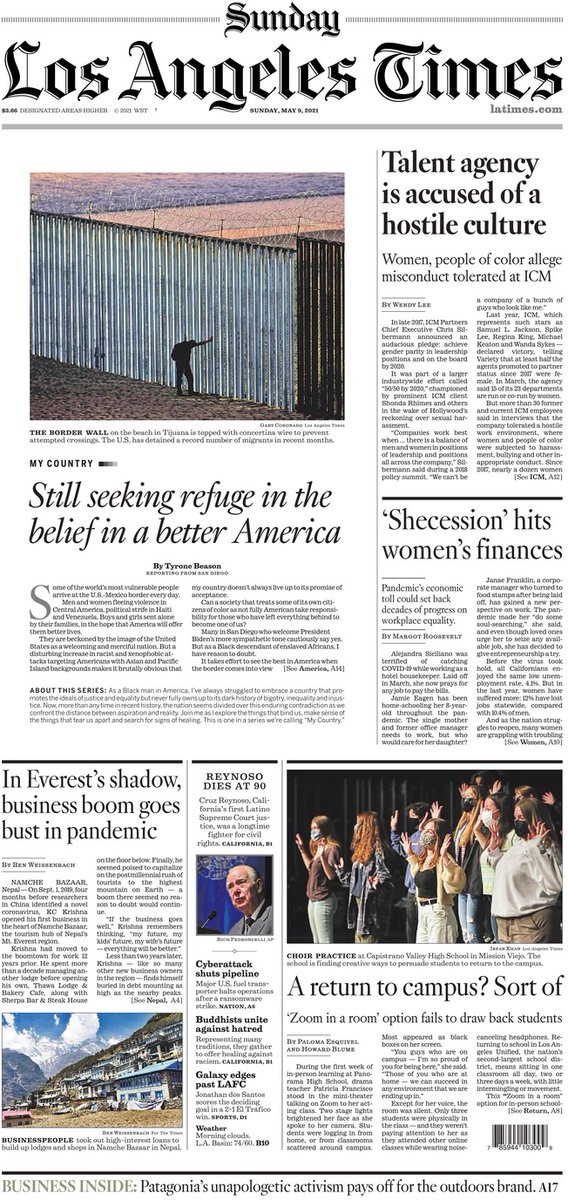 The billionaire who bought the Los Angeles Times wants a government bailout. He says this will support local journalism.
A look at the front page of his Sunday newspaper undercuts his argument. His newspaper covers LA with all the gusto of a kid eating spinach.
The front page has 5 stories on it. One is about ICM, which represents Hollywood actors and actresses. One is sympathetic to illegal aliens. One is about the "shecession." One is about the economic boom in Nepal. One is about students going back to campus.
All are staff-written. None are about city hall because the LA Times cares little about city hall.
Only 6 reporters cover city and county government for the LA Times.
It has 8 reporters in Sacramento, and another 8 covering state politics.
It has 24 people in its DC bureau.
It has bureaus in Beijing, Beirut, Mexico City, Seoul, and Singapore, as well as bureaus in Atlanta, Houston, and Seattle.
City hall?
Where's that?
Bloomberg reported, "The owner of the Los Angeles Times is calling on the government to throw its support behind newspapers, saying the loss of advertising to tech companies and declining readership threaten local journalism.
" 'The government needs to step in a little bit,' Patrick Soon-Shiong, the billionaire biotech entrepreneur who bought the Times in 2018, said in an interview.
"While a few newspapers -- like the New York Times and Wall Street Journal -- are thriving thanks to growing online audiences, many are shrinking due to the loss of ad sales and readers. The Los Angeles Times has about 240,000 digital subscribers. That's far behind the New York Times, where the digital subscriber base has grown to 6.9 million."
His request for government aid fails on two counts.
The first is how can you be independent and still on the teat of the very government you cover?
The second is the LA Times just does not give a fig about local journalism.
If it did, it would not have most of its news staff covering stories outside LA.
Here's a thought, maybe if it covered city hall with the same energy it covers Nepal, people in LA would buy the newspaper and it would not need the benevolence of government to survive.