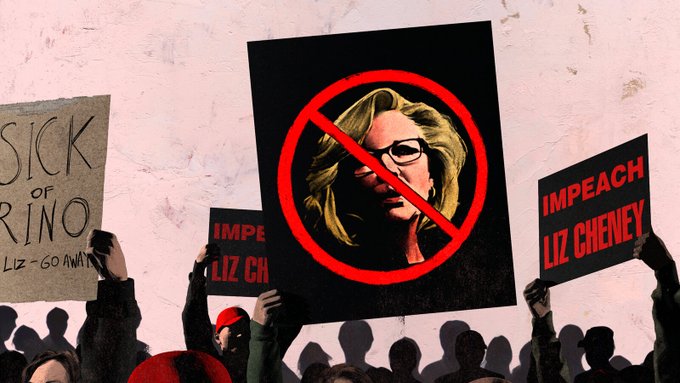 Ransomware shut down the main pipeline of gasoline from Texas to the Eastern Seaboard, which threatens the economy. Hamas attacked Israel, which threatens the Abraham Accords, which brought peace to the Middle East. Foreign adversaries have seized on Biden's weakness mentally, physically, and politically.
So what are House Republicans doing today? Taking out the trash. Instead of responding to Biden's ineptitude, they had to spend time removing Liz the Drama Queen from a leadership post that she only had because of who her daddy is.
Liz is a Republican In Name Only. She is a spoiled little brat. She wants to speak to the manager.
The media is making her a martyr and saying she was canceled. Whatever. Be glad she's gone, and she should be kicked out of the Republican caucus as well.
Daddy's Little Girl took to the House floor on Tuesday and said, ridiculously, that supporters of Donald Trump are a threat to democracy. Apparently she wants us to become the Democratic People's Republic of America. Biden might look good in a Kim Jong-un hairdo.
Senator John Kennedy said it best, when he said, "The congresswoman has every right to her opinion. She doesn't have every right to be a leader and it's clear to me that many House Republicans want to concentrate on the Biden agenda in 2022 and she doesn't want to do that."
Republicans are not divided. The fake ones who have been in Washington too long are being outed. Liz the Whiny RINO wrote a column in the Washington Post that dumped on Republicans, but not Biden. She said the party is at a crossroads.
I agree.
It is time to rid the party of these RINOs because they serve Democrat propaganda purposes first, last, and always.
As Jim Jordan said, "The problem is you can't have a Republican conference chair who continually recites Democrat talking points. You can't have a Republican conference chair who takes positions that 90% of the party oppose."
Dick Cheney Neocons and Never Trump Dead Enders like her gift Democrats with a diversion from failures. Deliberately. Republicans should kick all of them out of the caucus.
Pro-impeachment Congressman Adam Kinzinger told reporters, Republican leaders "decided that winning the next election and winning the majority was more important than a clear-eyed recognition of what happened on January 6."
Kick Kinzinger to the curb because he wants to lose in 2022.
Purge the party of all virtue-signaling RINOs. I do not mean simply dumping them from leadership posts. I mean kick them out of the party. Kick Kinzinger, Li'l Liz, and the rest of the Impeachment 10 off all committees. Why should MTG be the only one sidelined?
Do so now because we must learn from the 2010 and 2016 elections, which we won only to be done in by the enemy within, who were led by John Boehner and Paul Ryan.
And Kevin McCarthy must be demoted as well because of the unethical deal he got to rent a penthouse apartment from Frank Luntz for $1,500 a month when the HOA fees alone are $5,000 a month.
I do not demand ideological purity, but I do expect them to stay clean ethically. I also expect some semblance of loyalty to the party and to the country for which we stand.
UPDATE: The president emeritus weighed in.