Liz Cheney, the daddy's little girl who believes the world revolves around her, says she opposes Biden's policies but she attacks President Donald John Trump incessantly over what she calls character issues.
Baloney. It is Biden's policies she likes because his character is unacceptable. A new disclosure shows that Biden's character is not just flawed but damaged beyond repair. Through his son, Hunter, Biden accepts and launders bribes from Red China.
Jonathan Turley reported
, "There are new disclosures from Hunter Biden's laptop that offer an added perspective on his dealings with Chinese figures, including Patrick Ho, secretary general of Chinese oil giant CEFC, who was later indicted and has been connected with Chinese intelligence. The emails and pictures relate to the young Chinese assistant supplied to Hunter who makes revealing statements about the fluid expense accounts and level of support given Hunter by the Chinese. I have read through the new messages and I am not clear about the relationship with the young aide who tells him that she still has his dog tags in her New York apartment. However, the new emails include details on how Biden was paid and the fluidity of the accounts established by the Chinese.
"There is much on the Internet suggesting that the 29-year-old Chinese-American assistant, JiaQi Bao, was an effort by Chinese intelligence to create a sexual relationship that could be used to influence Hunter and ultimately his father — much like the scandal involving Rep. Eric Swalwell's intimate relationship with an alleged Chinese spy. It is not clear that Biden had any intimate relationship with Bao.
"The first of the emails from Bao appear to be dated shortly before the arrest of Ho in November 2017 and after the business partners were stepping back from the company and associations including the one with Bao. It is not clear if Biden was told at that point that he needed to wall off Bao and others connected to the company, but he does not appear to respond to the emails."
The sins of the son should visit the father because, for more than three decades, Biden has used his position in the Senate and later as vice president to shield his son from the consequences of a hedonist lifestyle.
Contrast and compare to the adult children of President Trump, all of whom have been productive contributors who generate taxes. Instead of accepting bribes and suckling on the public teat, they build resorts and a brand name.
Donald Jr. got in a Twitterstorm on Friday by pointing out Biden's failure. 4 months into his presidency, Biden has brought back inflation and unemployment as no president has since Jimmy Carter. Donald Trump Jr. pointed this out in a tweet.
He tweeted, "Biden isn't the next FDR he's the next Jimmy Carter."
Well, the $10 an hour moderators at Twitter would have none of this.
They crafted a "trending" that made Jimmy Carter out to be better than FDR.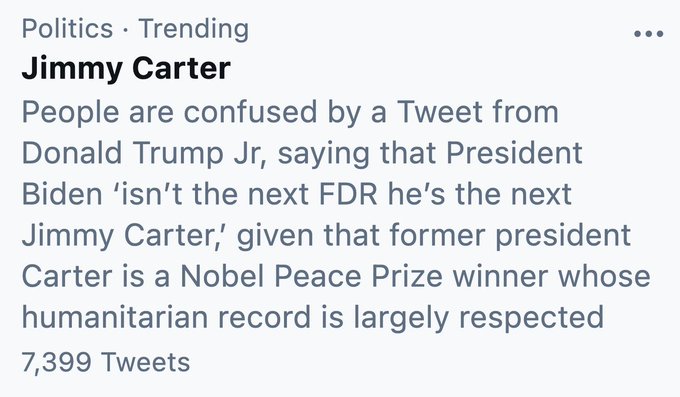 FDR had no Nobel Prize, right?
He had no post-presidency building houses for the poor, right?
In the Twitterverse, Jimmy Carter is superior to FDR because, well, Trump Jr. implied FDR was better.
I am amused by all these incessant attempts by the left to top people on Twitter. Once again, it was a self-own.
Biden is not the next Carter, though. Biden is the next Benedict Arnold in a string of Benedict Arnold presidents who sold the country out to Red China.
Donald John Trump broke that string, which is why Liz Cheney and other beneficiaries of the sellout of America to Red China are so angry all the time.