Donald John Trump still lives rent-free in the head of every liberal in America.
ITEM 1
: Eli Lake explained, "Why Hamas Starts Wars It Always Loses."
Lake wrote, "20 years ago, Palestinian provocations and Israeli counterattacks were enough to spoil and strain America's relationship with its Arab allies. In 2001, Saudi Arabia's ambassador to Washington famously delivered a warning to the George W. Bush administration that if it did not take a more even-handed role in the Israeli-Palestinian conflict, then Saudi Arabia would reassess its relationship with the U.S.
"In 2021, the Saudis are more worried about nations that support Hamas than about Israel's response to Hamas. And even a new U.S. administration that seeks a nuclear deal with Iran doesn't accept the idea of moral equivalence between the sovereigns of Gaza and the Jewish state. That raises again the question of what exactly is Hamas's strategy.
"Ismail Haniya's comments notwithstanding, Hamas is not winning. Nor is it weakening Israelis' resolve. The only thing Hamas is spoiling is the prosperity and security of the Palestinian people."
President Trump got 4 Muslim nations to sign peace accords with Israel. The world has changed. Hamas and the Democrat Party have not.
ITEM 2: The Wall Street Journal reported, "Public opinion surveys ahead of the 2020 presidential election were the most inaccurate in 40 years, according to an expert panel convened by the main trade group for pollsters, which said its work hadn't yet pointed to a way to correct the error.
"In the aggregate, the panel said, polls overstated support for Democratic nominee Joe Biden by 3.9 percentage points in the national popular vote in the final two weeks of the campaign. That was a larger error than the 1.3-point overstatement in 2016 surveys for Hillary Clinton, who won the popular vote but lost in the Electoral College.
"It was the most substantial error in polling since 1980, when surveys found it hard to measure the size of Ronald Reagan's impending landslide and overstated support for President Jimmy Carter by 6 percentage points.
"The 2020 polls overstated Democratic support "in every type of contest we looked at: the national popular vote, the state-level presidential vote as well as senatorial and gubernatorial elections,'' said Joshua D. Clinton, a professor of political science at Vanderbilt University who led the review for the American Association for Public Opinion Research."
The polls were worse than unscientific.
The polls were propaganda used to hide the substantive cheating by Democrats in that election. The turnout suddenly went from 56% in 2016 to 67% in 2020 for a candidate who never campaigned?
The media and the Republican Party in DC were in on the fix.
The fact that you cannot say this publicly or even question the results shows we no longer live in a constitutional republic.
ITEM 3: TMN reported, "Caleb Kennedy, a 16-year-old contestant on American Idol, has dropped out of the show after a controversial video surfaced of him. He was with someone wearing a white hood that resembled Ku Klux Klan garb."
He better watch out.
When Democrats learn about this incident, they may nominate him for governor of Virginia.
A TV show has higher standards for candidates than Democrats do.
ITEM 4: PJ Media reported, "The GOP's Nominee for Virginia Lieutenant Governor, Winsome Sears, Just BLASTED Critical Race Theory."
Sears told Fox, "I just heard the segment on critical race theory. It's nonsense. And it says that it's prima facie evidence that, on its face, as soon as we see a white person, well, 'They are racist, clearly. And so is everybody else in their family.' It's going to be detrimental to our schools and not what we want. It supposedly is to help someone who looks like me and I'm sick of it, I'm sick of being used by the Democrats and so are many people who look like me."
She's black.
And a Marine.
And a Republican.
So what racist pejorative will white liberals use to slur her?
ITEM 5: The Sun reported, "Governor Ron DeSantis will pardon all Floridians that have been prosecuted for failing to wear a face covering or socially distance, he announced last night."
Meanwhile, the CDC finally got around to saying vaccinated people need not wear masks.
And the head of the second largest teachers union said we should re-open all schools in the fall.
The crazy may be over but the crazies are still in charge in DC.
ITEM 6: A reader said, if he were sincere he would be disinvited for Thanksgiving at the Crawford Ranch.
Republicans deserve leadership that represents the views of their constituents, not their own personal vendettas. We need leaders in Congress that stand up for conservative Republican ideology, and Liz Cheney is not that leader. pic.twitter.com/0Mpo0D6jeW

— George P. Bush (@georgepbush) May 13, 2021
He should tell this to Uncle George.
Until then, George P. Bush's nickname is Liz.
ITEM 7: Just the News reported, "House Speaker Nancy Pelosi said Thursday the 'country needs a strong infrastructure package,' framing it as a 'quality of life issue' to have people out of their cars.
"President Biden has proposed a $2.25 trillion spending plan known as the American Jobs Plan that focuses on physical infrastructure improvements and green energy initiatives, which Pelosi supports.
" 'It's an issue of commerce,' Pelosi said at her weekly news conference. 'It's an issue of clean air. It's an issue of quality of life to have people, have them out of their cars with more mass transit and the rest and it is also an issue of just, again, growth in a way that is about safety as well as jobs.' "
Make a condition of this bill that she has to give up her chauffeur-driven limo and ride the buses of DC and San Francisco.
In fact, every member of Congress who votes for this monstrosity should give up their private cars and government-supplied cars.
You know, to help the environment.
ITEM 8: The Christian Broadcast Network reported, "Since President Joe Biden took office, illegal crossings have gone up every month. In April, a 900% increase from a year ago.
"Homeland Security Secretary Alejandro Mayorkas was in the hot seat Thursday on the record number of children making the journey alone.
" 'We are dedicated to an orderly, safe, and humane immigration system,' said Mayorkas."
There is nothing safe nor humane about this policy because it encourages parents to abandon their infants and young daughters in the desert.
ITEM 9: President Donald John Trump reported, "A devastating letter written by Arizona Senate President Karen Fann on voting irregularities, and probably fraud, in Maricopa County during the 2020 Presidential Election. Even the database was illegally deleted after the subpoena to produce the information.
"Senate President Fann has invited Maricopa County officials to a public hearing on May 18 to allow them the opportunity to try to explain what happened to the missing databases, ballots, and other significant issues.
"The Fake News and Lamestream Media is doing everything they can not to cover this major story. They just refuse to talk or report about it. They don't want the United States or World to see what is going on with our corrupt, third world election."
Trump's a better reporter than 99% of journalists.
ITEM 10: The Daily Caller reported, "Former Secretary of State Hillary Clinton is set to speak at a virtual event during the Asian Pacific American Heritage Summit to address unity in the United States amid a rise in anti-Asian hate crimes."
I look forward to her fake accent.
Will it be Indian? Chinese? Japanese? Korean? Polynesian? Filipino?
Remember, she is in no ways tired.
ITEM 11: The Washington Examiner reported, "Arizona has fallen from the nation's ranks of most competitive economic outlooks after voters enacted a new income bracket to better fund public schools.
"The Copper State ranks 13th for economic outlook in the U.S in the American Legislative Exchange Council Center for State Fiscal Reform's 2021 Rich States, Poor States competitive index. The state ranked 10th last year.
"Judged by more than a dozen metrics, Arizona received low marks on its sales tax, minimum wage and top marginal income rate.
"Voters approved Prop. 208 last fall. It created an additional 3.5% income tax on single filers with marginal income over $250,000 and joint filers making more than $500,000. The money is used to increase teacher pay, retention and other public school-related spending.
"At 8%, Arizona has the ninth-highest top marginal income tax rate in the nation, including the District of Columbia. The tax is facing a legal challenge in the state supreme court."
For Arizona's sake, I hope the justices strike the tax down. States always start at the top earners and work their way down to the middle class when it comes to income taxes.
ITEM 12: CNBC reported, "Asian cities are facing the greatest risks from environmental hazards including extreme heat, climate change and natural disasters, according to a new report from Verisk Maplecroft.
"Among the 100 cities most at risk, 99 of them are in Asia — with 37 in China and 43 in India.
"Globally, the report found 414 cities across the world, with a population of more than 1 million each, are vulnerable to pollution, dwindling water supplies, extreme heat, natural hazards and climate change. Collectively, those cities are home to 1.4 billion people."
The Paris Accords exempt Red China and India, home of 80 of the world's 100 most polluted places.
The best way to help the environment would be to stop importing goods from Red China.
ITEM 13: The New York Times moaned, "GAZA CITY — On Tuesday evening, Gazans celebrated as they heard the whoosh of rockets sent toward Israel.
"But by Wednesday morning the cheers had stopped, as Gazans saw the aftermath of what some described as the most intense airstrikes since cross-border Israeli-Palestinian hostilities flared again this week.
"In one neighborhood, near Zeitoun and Sabra, residents inspected their homes and neighborhoods for damage, and desperately sought information about where the missiles might strike next."
Don't want none?
Don't start none.
ITEM 14: The New York Post headline said, "Romney blasts DHS head over 'extremely damning' border crisis response."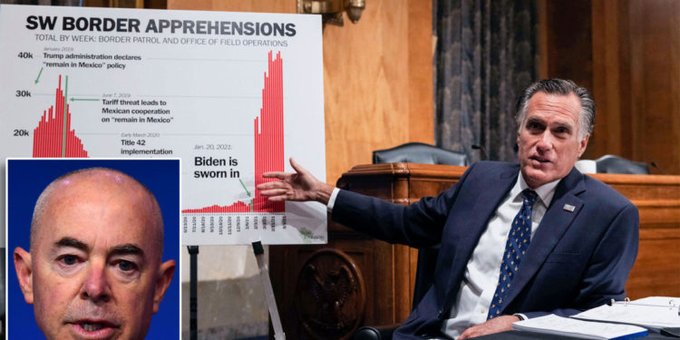 But look at the chart. Border jumping was at an all-time low under President Trump.
If Romney actually cared about border jumping, he would have supported President trump. Instead, Romney blasted Trump daily in a manner he never showed Clinton, Obama, or Biden.
ITEM 15: The Epoch Times reported, "A Minnesota judge delayed the trial of three former police officers who were involved in the arrest of George Floyd in Minneapolis last year, after one of the officer's defense attorneys argued that the medical examiner who performed Floyd's autopsy was coerced by prosecutors.
"Thomas Lane, J. Kueng, and Tou Thao, according to court records, will now face trial on March 7, 2022, a delay of more than six months from the previous date.
"Hennepin County District Judge Peter Cahill told a pretrial hearing in Minneapolis that he wanted to give time for federal prosecutors to pursue their case against the three men, local media reported."
Coercion.
Hmm.
ITEM 16: The Daily Mail reported, "France has banned schools from using 'gender neutral' spellings, saying they are a threat to the French language.
"The country's education ministry issued the ruling last week after a push to include full stops in the middle of written words -- dubbed 'midpoints' -- which allow both male and female forms to be represented simultaneously."
Preserve the language. Preserve the heritage. Preserve the sanity.
ITEM 17: The Associated Press reported, "The Jesuit priest who presided over an inaugural Mass for President Joe Biden has resigned his position as president of Santa Clara University in Northern California, college officials said, after an investigation found he engaged in inappropriate, alcohol-fueled conversations with graduate students.
"The Rev. Kevin O'Brien, at the direction of Jesuit officials, has begun a therapeutic outpatient program to address personal issues, including alcohol and stress counseling. He had been president of Santa Clara University since July 2019 and was placed on leave in March.
"The university announced O'Brien's departure in a statement to the campus community on Wednesday that included messages from acting President Lisa Kloppenberg and board of trustees Chair John M. Sobrato. O'Brien had notified the board of his resignation Sunday and the trustees accepted it the next day."
The Biden Touch.
It's like the Midas Touch except instead of gold, stuff turns to excrement.
FINALLY, the New York Times sent a reporter to Wyoming in the search for the increasingly rare Liz Supporter.
The story said, "Some local Republicans see Cheney's lonesome stand against former President Donald Trump's lies about a stolen election, and her refusal to back down, as an example of true Wyoming grit and independence.
"But many others are quick to point out that [a pro-Cheney] billboard was put up by an out-of-state dark money group, a sign of outsiders meddling. And among locals in this state that voted in a landslide for Trump, few are thankful for much of anything Cheney has done lately, and have vowed to vote her out of office."
Bye-bye Liz.
Bye-bye phoniness.
Hello happiness.
I think I'm gonna laugh.