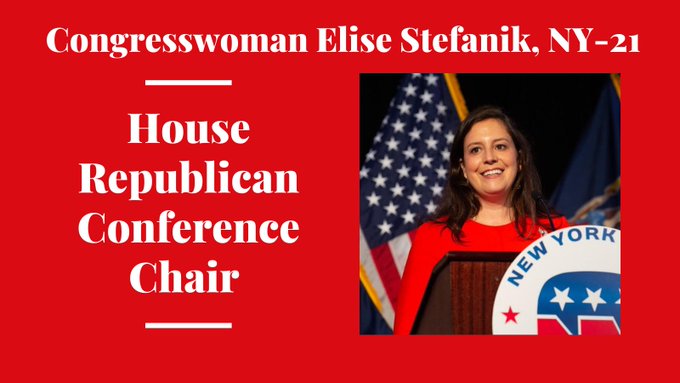 Elise Stefanik, 36, is now the No. 3 Republican in the House. Her Democrat counterpart is Jim Clyburn, 80. He is too old to be her father.
ITEM 1
:
The Associated Press reported
, "A national terrorism alert issued Friday warns that violent extremists may take advantage of the easing of pandemic restrictions to conduct attacks.
"The alert does not cite any specific threats. But it warns of potential danger from an increasingly complex and volatile mix that includes domestic terrorists inspired by various grievances, racial or ethnic hatred and influences from abroad.
"Those threats were exacerbated by COVID-19, which spawned conspiracy theories and deepened anger at the government in some quarters over the shutdown of the economy. As virus conditions improve, the alert says new dangers loom."
Scare theater continues.
Will Commissar Fauci require us to carry a Glock to stop the violent extremists?
ITEM 2: The Daily Mail reported, "Donald Trump's allies were so intent on rooting out a 'deep state' working against him that they employed a British spy to recruit women as 'honeytraps', intent on ferreting out critics of the then-president while on dates at DC restaurants.
"The spying scheme was orchestrated in part by Project Veritas, according to The New York Times."
According to the New York Times.
Might as well say according to the Daily Planet for all the credibility the conspiracy-spreading NYT has.
An alleged honeypot said she will sue NYT. (See slide 3.)
ITEM 3: Healthline reported, "Herd immunity prevents community transmission of disease when about 70% of the population is immune (either through vaccination or previous infection).
"But before a population reaches herd immunity, an inflection point must occur — the point where there's enough immunity that cases begin to decline consistently.
"Israel, for example, hit an inflection point in early March when about 40% of the population was given the first dose of the COVID-19 vaccine.
"Some experts think the United States hit its inflection point in late April when, similarly, 40% of the population received at least one dose. Cases have been declining since."
The Days of the Red Masks are over.
ITEM 4: Cuomo told a reporter at his press conference, "You can leave this press conference today and say, 'oh, the governor harassed me.' You can say that.
"I would say I never said anything that I believed was inappropriate. I never meant to make you feel that way. You may hear it that way, may interpret it that way and I respect that. And I apologize to you if I said something that you think is offensive. Harassment is not making someone feel uncomfortable. That is not harassment."
Actually, yes, that is harassment.
But let's have a jury decide how much that should cost Fredo's dumber brother.
ITEM 5: U.S. News reported, "The Russian government on Friday formally categorized the U.S. as an unfriendly country in retaliation for new American sanctions last month."
Ah, Biden the Great Diplomat.
ITEM 6: The Daily Caller reported, "Humans must transition to a more environmentally sustainable diet that includes maggots and fungi to protect the global food supply, researchers concluded in a report."
For Democrats, that would be cannibalism.
ITEM 7: The Washington Examiner reported, "Pennsylvania state Rep. Frank Burns has introduced legislation to create a new lottery for two elk hunting licenses per year for 100% disabled veterans.
"Burns, D-East Taylor Township, created the idea for House Bill 937 in response to contact from Timothy Seymore of Cresson, a disabled veteran who loves to hunt. Cresson entered Pennsylvania's elk hunting license drawing for 12 straight years but was never selected."
Frank Burns is the winner of the 2021 Pander Bear Award. I mean who could vote against disabled veterans? He has come a long way since M*A*S*H.
ITEM 8: CNBC reported, "Cloudera exited its downtown San Francisco office early last year with plans to sublease the space and move its employees south to the software company's Silicon Valley headquarters.
"But the pandemic left the company with nobody to take over the office, forcing it to take a substantial real estate write-down.
"At DoorDash's nearby former headquarters, a tenant defaulted on rent a month into lockdown, resulting in lost income for the food delivery company, which was doubling as a landlord.
"Airbnb said in its earnings report on Thursday that it took a $113 million impairment in the first quarter 'related to office space in San Francisco that we deemed no longer necessary.'
"Combined, those three companies have recorded nearly $200 million in real estate impairments in the past year after Covid-19 turned the Bay Area office market into a dead zone. That dollar figure swells to almost $1 billion when adding in lease-related write-downs from large tech employers Salesforce, Dropbox, Uber, PayPal and Zendesk."
When you let people poop in the streets but ban plastic straws as a public health threat, normal people think you are crazy.
And no one wants to live or work in a town run by crazy people.
ITEM 9: Charles C.W. Cooke wrote, "This is a story about Rebekah Jones, a former dashboard manager at the Florida Department of Health, who has single-handedly managed to convince millions of Americans that Governor Ron DeSantis has been fudging the state's COVID-19 data.
"When I write single-handedly, I mean it, for Jones is not one of the people who have advanced this conspiracy theory but rather is the person who has advanced this conspiracy theory. It has been repeated by others, sure: by partisans across the Internet, by unscrupulous Florida Democrats such as Nikki Fried and Charlie Crist, and on television, by MSNBC in particular. But it flows from a single place: Rebekah Jones. To understand that is to understand the whole game. This is about Jones, and Jones alone. If she falls, it falls.
"And boy does it deserve to fall."
Good for him and National Review for calling her out.
ITEM 10: Fox reported, "A growing number of GOP-led states are planning to end supplemental unemployment benefits designed to help out-of-work Americans weather the coronavirus pandemic, a move they say will help businesses struggling to hire employees.
"At least 18 states decided over the past week to prematurely cut off the sweetened aid, which provided an extra $300 a week on top of regular state unemployment benefits. The supplemental benefit is not slated to expire until Sept. 6, 2021.
"Alabama, Alaska, Arizona, Arkansas, Georgia, Idaho, Iowa, Mississippi, Missouri, Montana, North Dakota, Ohio, South Carolina, South Dakota, Tennessee, Utah, West Virginia and Wyoming announced they will stop giving unemployed workers an extra $300 in benefits sometime over the summer."
Telling the federal government to stuff it rocks because the federal policy on covid unemployment stinks.
ITEM 11: Just the News reported, "Former President Trump reminded Americans on Friday, one day after the CDC recommended no mask for the fully vaccinated, that his administration fast-tracked the making and emergency approval of the COVID-19 vaccines that led to the agency's major announcement.
" 'Isn't it incredible that because of the vaccines, which I and my Administration came up with years ahead of schedule (despite the fact that everybody, including Fauci, said would never happen), that we no longer need masks, and yet our names are not even mentioned in what everybody is calling the modern day miracle of the vaccines?' Trump said in a statement.
"His administration's Operation Warp Speed helped pharmaceutical firms get the funding and federal support to make the vaccines and to get the Food and Drug Administration to give them emergency-use approval."
If we had foolishly elected Hillary, we would still be selecting a diversified group of researchers to develop a vaccine that put equity ahead of effectiveness.
ITEM 12: USA Today reported, "After ousting Liz Cheney, Republicans prove they're a bigger threat than 9/11 hijackers."
Is there like a contest among newspapers to see who can publish the most garbage?
Republicanophobia is real.
ITEM 13: Reuters reported, "Some U.S. border patrol agents are so frustrated with President Joe Biden's more liberal border policies that they are considering early retirement, while other disgruntled colleagues are buying unofficial coins that say 'U.S. Welcome Patrol.'
"Interviews with a dozen current and former agents highlight growing dissatisfaction among some rank and file members of the agency over Biden's swift reversal of some of former President Donald Trump's hardline immigration policies. Since Biden took office, border apprehensions have risen sharply.
"Some of that frustration is coalescing into opposition to Biden's pick to lead the border patrol's parent agency, U.S. Customs and Border Protection (CBP). The nominee is Tucson Police Chief Chris Magnus, who still needs to be confirmed by the U.S. Senate.
"The discontent was partly reflected in an unusual memo from the acting Border Patrol chief last month, who objected to a new directive to stop using the term 'alien' when referring to migrants, saying it would hurt agents' morale."
Biden will replace the largely Hispanic patrol with a diversified group of communists.
Democrats have done that with the FBI, CIA, the military, and all the agencies they created.
ITEM 14: Firefox slapped a warning on my blog last night.

I thought we already were boycotting Firefox.
At any rate, do not use Firefox. It is Woke.
A reader explained, "I tried Tor, which was kind enough to give me an explanation of the advisory:
" 'Diese Website verwendet Cookies von Google, um Dienste anzubieten und Zugriffe zu analysieren. Deine IP-Adresse und dein User-Agent werden zusammen mit Messwerten zur Leistung und Sicherheit für Google freigegeben. So können Nutzungsstatistiken generiert, Missbrauchsfälle erkannt und behoben und die Qualität des Dienstes gewährleistet werden.'
"It's saying that you use Google cookies and thereby grant Google access for analytics, which entails turning all of my information over to Google. The claim is that this is only for the purpose of usage statistics, identification of malicious sites, and improvement in Google's QoS.
"It looks like Google is labeling your site as malicious based on Cookies placed there by Google."
Blame Google, but still stay off Firefox.
ITEM 15: The Federalist reported, "Sen. Josh Hawley's new book, The Tyranny of Big Tech, is selling at rapid rates following a cancellation attempt by Simon and Schuster in January for his stance on election integrity.
"According to Publishers Weekly, Hawley's book ranks sixth in the nation for hardcover frontlist nonfiction. Since the book was released on May 4, Hawley has sold nearly 21,000 copies and shows no sign of slowing down. In its first week on Amazon's Top 20 Most Sold & Most Read Books of the Week list, Hawley's book ranked number 15.
"The Washington-based Regnery Publishing company made a deal with Hawley shortly after New York-based Simon and Schuster canceled their deal with the senator one day after the Capitol riot due to a 'pressure campaign organized by leftist activists.' Their reasoning for pulling back on the deal, Simon and Schuster claimed without evidence, was that Hawley is linked to the storming of Capitol because he publicly questioned the 2020 election results."
Simon and Schuster's cowardly loss is Regnery's gain.
ITEM 16: The Verge reported, "As part of iOS 14.5, Apple's App Tracking Transparency forces developers to ask permission for something they used to be able to do for free: track iOS users. Today, Twitter is joining the ranks of other developers and adding a prompt that asks users to enable tracking on iOS (via MacRumors).
"Twitter's main justification for listening to its request is straightforward — having the feature enabled allows it to serve "better" ads. The company includes a link to settings so you can make those changes, but read Twitter's explanation before you decide: 'Keep ads relevant to you by allowing Twitter to track data from other companies on this device, like apps you use and websites you visit."
"The company also includes a link to a support post in the Twitter help center which explains why it has to ask for permission, includes a link to its current App Privacy Policy, and goes over what enabling or disabling tracking does in iOS."
Bwa ha ha, Jack.
Reinstate President Trump and maybe -- just maybe -- we will.
Right after hell freezes over.
ITEM 17: The New York Post reported, "No one is laughing at The Daily Show host Trevor Noah — who is being ripped for suggesting that Israel should limit the intensity of its response to rocket attacks by Hamas."
Ah yes, proportionality from a celebrity who demanded President Trump be impeached over a phone call.
The story said, "Noah then compared the deadly conflict to a scrap between himself and his little brother."
Lay off the Kool-Aid.
The weed.
The meth.
The fentanyl.
ITEM 18: The New York Post reported, "A trio of women has been busted for leaving a bloody pig's head at the former Northern California home of the police expert who testified for the defense at the murder trial of ex-cop Derek Chauvin, officials said.
"Rowan Dalbey, 20, Kristen Aumoithe, 34, and Amber Lucas, 35, were arrested in Santa Rosa this week on charges of felony vandalism and conspiracy, police told NBC."
It is witness intimidation, too.
ITEM 19: The German news agency DPA reported, "Confusion and chaos reigned between Israel and the Gaza Strip on Friday amid backtracking about a reported Israeli land invasion of the salient and another night of confirmed attacks by both sides.
"The Israeli army reported that it had sent 160 aircraft into the strip to destroy a network of tunnels operated by Hamas, the Islamist party that controls the region. Army spokesperson Jonathan Conricus said about 40 tanks participated in the 40-minute mission.
"Conricus said the tunnel system, named Metro, operated as a sort of city under the city. The extent of the damage to the system was unclear.
"The tunnel network is vital in the Gaza Strip for shifting goods and people in and out, since Israel maintains tight restrictions on the region so long as it is ruled by Hamas, a group Israel classifies as terrorist and which has a history of armed resistance to Israeli rule.
"Israel often targets the tunnels, which it says are used by Hamas to allow militants to access Israeli territory for attacks."
I explained this in a post yesterday.
Israel said it was moving in. The terrorists went into hiding in the tunnels. Israel then blew up the tunnels.
Well-played.
ITEM 20: The Times of Israel reported, "The blue and white Israeli flag flew on official buildings in Austria and Slovenia on Friday in a sign of solidarity with the Jewish state, officials said."
Why not America?
We declared a Global War On Terrorism after 9/11.
Why exempt Palestinian terrorists?