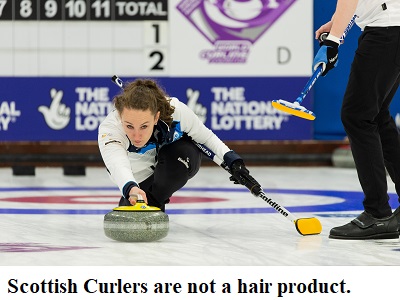 ITEM 1: SI reported, "Scotland Captures First World Mixed Doubles Curling Championship."
The story said, "Scotland, the birthplace of curling, won its first world title in the mixed doubles discipline on home ice Sunday afternoon.
"Jennifer Dodds and Bruce Mouat won a 9-7 championship final over Norway's Kristin Skaslien and Magnus Nedregotten, who won Olympic bronze in 2018.
"The final was a see-saw affair in which each pair scored a three-ender plus a total of three deuces."
Everybody else told their readers Phil Mickelson won the PGA tournament. Here, you get curling news.
In June, Highlights celebrates Accordion Awareness Month. I just do what readers ask me to do. Call me genie because your wish is my command.
ITEM 2: CBS reported, "This week on 60 Minutes, correspondent Lesley Stahl reported on the health care challenges facing the transgender community, amid a spate of legislation being introduced in states across the country that would limit care for transgender youth.
"The report, titled Transgender Healthcare, introduced the 60 Minutes audience to a group of people who call themselves detransitioners, those who took steps to transition but chose to reverse the process. Their stories highlight an issue of increasing concern for some providers in the transgender healthcare field. They said some patients are not being properly evaluated in accordance with professional guidelines before being prescribed hormone treatments or approved for surgery.
"Stahl and the producing team of Alexandra Poolos and Collette Richards began reporting on the story in December, methodically contacting doctors, clinicians, activists, transgender people and their families, and people who detransitioned."
The backlash is as one might expect.
But you cannot sew it back on.
I say you wait until you are old enough to drink before you are allowed to make this decision. Jenner waited until age 65.
ITEM 3: The media called President Trump morbidly obese.
The state-corporate fusion press is at it again. pic.twitter.com/ImkffzL8ug

— Jordan Schachtel (@JordanSchachtel) May 24, 2021
Chairman Mao at 73 swam faster than today's Olympic champions.
ITEM 4: The Daily Wire reported, "Florida Governor Ron DeSantis (R) signed legislation Monday reining in big tech companies and empowering users who believe they have been discriminated against unfairly.
"DeSantis signed the bill, which he touted as the first of its kind in the United States, at a ceremony in Miami. His office sent out a release explaining the bill:
" 'All Floridians treated unfairly by Big Tech platforms will have the right to sue companies that violate this law — and win monetary damages. This reform safeguards the rights of every Floridian by requiring social media companies to be transparent about their content moderation practices and give users proper notice of changes to those policies, which prevents Big Tech bureaucrats from moving the goalposts to silence viewpoints they don't like.
" 'The Attorney General of Florida can bring action against technology companies that violate this law, under Florida's Unfair and Deceptive Trade Practices Act. If social media platforms are found to have violated antitrust law, they will be restricted from contracting with any public entity. That antitrust violator blacklist imposes real consequences for Big Tech oligopolies' bottom line.
" 'Big Tech is prohibited from de-platforming Floridian political candidates. The Florida Election Commission will impose fines of $250,000 per day on any social media company that de-platforms any candidate for statewide office, and $25,000 per day for de-platforming candidates for non-statewide offices. Any Floridian can block any candidate they don't want to hear from, and that is a right that belongs to each citizen — it's not for Big Tech companies to decide'."
Now to get a Republican president and a Republican Congress to make this the law of the land.
Community standards are set by the community, not the oligarchs.
ITEM 5: Politico reported, "Former Secretary of State Mike Pompeo is making plans to travel to Israel later this week, three people with knowledge of the plans said.
"Pompeo's potential trip could come the same week that Secretary of State Antony Blinken is also traveling there, and as conflict between Israel and Hamas has roiled the region.
"A person close to the former secretary of state said the plans are not finalized because of Israel's Covid protocols. That person added that Pompeo, a former CIA director, would travel as a private citizen to celebrate the retirement of Yossi Cohen, the head of Israel's intelligence agency, Mossad.
"Pompeo may also meet privately with nongovernmental officials, according to the person, who added that Pompeo alerted Blinken of his plans.
"The former secretary of State was a staunch defender of Israel during his time in office. Pompeo was America's top diplomat during the negotiation of the Abraham Accords — bilateral deals that normalized relations between Israel and a number of Arab countries."
We get the message loud and clear.
Keep Calm and Wait Biden Out.
ITEM 6: The Post Millennial reported, "Andrew Giuliani claimed on Twitter that New York City Mayor Bill de Blasio prohibited the New York Police Department from protecting pro-Israel demonstrators in Times Square amid growing incidents of anti-Semitic attacks in the city."
Once America's melting pot, New York City has turned into Berlin 1934.
ITEM 7: Trending Politics reported, "In a video posted on social media, Kwame Brown, the No. 1 overall NBA draft pick in 2001, blasted Democrats in general for continually making claims and promises on which they have never delivered, a pattern which held true during Joe Biden's campaign.
Brown said, ""You fake woke n*gros man, y'all, y'all are the worst thing to the black community.
"You fake woke n****s won't allow independent thought, because I don't care who you vote for. I ain't never cuss nobody out for voting for the Democratic party, I ain't ever called anyone a coon or a disrespectful name, none of that."
"You motherf***ers are, you guys that do that, not all Democrats do that, but the guys who do that, y'all are the new version of the KKK. White folks don't got to do nothing. You all are the new version of the KKK because you try to intimidate.
"You try to exile black folks and you try to cancel them because they don't agree with you and that's sad. You act like you doing something righteous for doing that, 'the Democratic Party is our people!' So, you going to hurt another black man for the white people that you like? You a fool."
I will bet he also opposes slavery in Red China.
ITEM 8: The Washington Examiner reported, "The Supreme Court unanimously ruled against a Mexican green card holder challenging a deportation order on Monday.
"The court's ruling reversed a previous decision from the California-based U.S. Court of Appeals for the 9th Circuit. That court had held that Refugio Palomar-Santiago, a Mexican citizen deported for a 1998 DUI, was removed invalidly because of a subsequent Supreme Court decision finding that DUIs were not sufficient cause for removal.
"The case arose in 2019 when Palomar-Santiago was found to be in the country illegally. He argued, and the 9th Circuit agreed, that his original deportation was not valid. Justice Sonia Sotomayor struck down that notion in the court's unanimous opinion.
"Sotomayor wrote that Palomar-Santiago had not attempted to exhaust all of his other options to reverse the deportation before reentering the country illegally. She chided the 9th Circuit, which the court frequently reverses, for attempting to excuse him from normal procedures."
I appreciate the 9-0 ruling but I am troubled to learn that DUI is not sufficient grounds to deport an illegal alien.
Being here illegally should be sufficient grounds for deportation.
ITEM 9: The Epoch Times reported, "Iowa Gov. Kim Reynolds and Alabama Gov. Kay Ivey have signed bills into law, joining more states to prohibit COVID-19 vaccine passports at the state level.
"Ivey signed Senate Bill 267 into law on Monday, while Reynolds signed House File 889 into law on May 20."
I am pretty sure requiring passports to travel from state to state is unconstitutional, not that the Constitution seems to matter anymore.
ITEM 10: The Indian Express reported, "Days after Twitter flagged some posts by ruling party leaders alleging a Congress plot to malign the Prime Minister and the Central Government as manipulated media, a team of Delhi Police's Special Cell Monday — working under the Union Home Ministry — knocked on the doors of Twitter India's Delhi and Gurgaon offices to ostensibly serve the social media platform a notice.
"This ratchets up the controversy over tweets by BJP leaders alleging a Congress toolkit, which the Congress has called fake. A Delhi Police official said they had decided to issue a notice to Twitter after receiving complaints from Rohan Gupta, who heads the Congress's social media department, and M V Rajeev Gowda, the party's national spokesperson, over the BJP's toolkit allegations."
Twitter censors.
India raids.
Don't want none, don't start none.
I trust Governor DeSantis took notes.
ITEM 11: Jacob Palmieri reported, "Biden Has A Brain Freeze–Struggles To Read Notes."
You know, he should call a lid right now and not open it back up until 20 JAN 25 when he hands over the Resolute Desk to a Republican.
ITEM 12: Reuters reported, "U.S. Commerce Secretary Gina Raimondo said on Monday a proposed $52 billion boost in U.S. government funding for semiconductor production and research could result in seven to 10 new U.S. factories.
"Raimondo said at an event outside a Micron Technology Inc. chip factory that she anticipated the government funding would generate $150 billion-plus in investment in chip production and research – including contributions from state and federal governments and private-sector firms."
Raimondo, who has zero business experience, said, "We just need the federal money … to unlock private capital. It could be seven, could be eight, could be nine, could be 10 new factories in America by the time we're done."
That's not how it works.
Instead of doling out money for the chip factory version of Solyndra, the government should roll back the red tape and slap high tariffs on foreign chips. That worked to build our industries a century ago.
ITEM 13: Forbes reported, "French fashion tycoon Bernard Arnault is the world's richest person this Monday morning, with an estimated net worth of $186.3 billion—putting him $300 million above Jeff Bezos, who is worth $186 billion, and Elon Musk, worth $147.3 billion."
So, I am only $186.3 billion behind Arnault.
And moments later, Forbes added a correction, "Since this story was published, Jeff Bezos has returned to number one on the Forbes real-time billionaire tracker."
I don't think Forbes knows what it is taking about.
For all we know, I may be only $185.9 billion behind the two men.
ITEM 14: CNSNews.com reported, "Secretary of State Antony Blinken on Sunday acknowledged that Iran funds terrorist proxies across the Middle East, but confirmed that the Biden administration is looking to lift sanctions against the regime in Tehran anyway."
Democrats hate Israel and want it destroyed, and they do not care who knows it.
We need to get Donald Trump or his designated replacement in the Oval Office as soon as possible.
ITEM 15: CNBC reported, "The Covid-19 resurgence in some parts of Asia could lead to a change in fortunes for China, according to an economist.
"Previously, the U.S.-China trade war caused companies to move their supply chains out of China, shifting their production and distribution networks for products and services. As a result, countries like Vietnam and India benefited as companies moved to set up shop in their countries.
"But the situation appears to be changing, and supply chains could pivot back to China as cases spike in India and Vietnam, according to Zhang Zhiwei, chief economist at Pinpoint Asset Management."
This is no coincidence.
Red China uses covid 19 as a weapon in its War Against The World.
ITEM 16: Fox reported, "The FBI is investigating a suspicious package, filled with white powder and bearing an image threatening violence, that arrived at Republican Sen. Rand Paul's home in Kentucky Monday.
"On the outside of the envelope was a picture of a bruised and bandaged Paul with a gun to his head and a threat printed beneath it: 'I'll finish what your neighbor started you motherf------'
"Paul in 2017 was assaulted by his neighbor, Rene Boucher, while doing yard work. Boucher badly injured the senator, breaking five of his ribs. and eventually pleaded guilty to assaulting a member of Congress."
Boucher is a Democrat.
The senator's wife tweeted.
I got the death threat letter and called the FBI. This kind of violent threat is fomented against Rand daily by @ReallyAmerican1 , a Dem PAC that pays thugs like @mmpadellan to celebrate the assault that nearly killed Rand. @DNC ignores. @richardmarx was inciting more violence

— Kelley Paul (@KelleyAshbyPaul) May 25, 2021
Just this weekend. For years people like @BetteMidler have cheered Rand's horrific attack and serious injuries. The former teacher of the year @RodRobinsonRVA tweeted that Rand's attacker was a "hero" and urged Mitch McConnell's neighbors to "step up". Why is he still teaching?

— Kelley Paul (@KelleyAshbyPaul) May 25, 2021
I am sick of the hatred and vitriol from people who boast of their "empathy and compassion" in their bios. Rand will continue to stand up for our constitutionally protected liberties. He will keep questioning the "experts." We won't be intimidated. And yes, we have guns.

— Kelley Paul (@KelleyAshbyPaul) May 25, 2021
Democrats are a violent people. Approach with caution.
ITEM 17: The Jerusalem Post reported, "BBC News correspondent Tala Halawa has recently come under fire for a series of anti-Semitic tweets that have been unearthed by pro-Israel Twitter user Gnasherjew, according to Honest Reporting.
"Halawa is a BBC digital journalist who specializes in Palestinian affairs and covers the Israeli-Palestinian conflict."
As an anti-Semite, she has job security in the journalism trade. If BBC cans her, the Hamas-Shielding Associated Press will hire her.
ITEM 18: The New York Post reported, "The Democratic-led state Senate plans to throw the book at New York's embattled watchdog Joint Commission on Public Ethics Tuesday, preparing to pass legislation overhauling the panel.
"Although JCOPE has long been criticized for its lack of transparency and close ties to Gov. Andrew Cuomo, the last straw came several weeks ago following revelations that the entire commission never discussed or voted to approve the governor's outside income related to his controversial, $5.1 million book deal.
"Instead, it was secretly greenlit by staff — enraging commissioners who later launched an investigation into the dealings. "
Why bother with a reform?
As long as New York is a blue state in which the governorship is handed down from generation to generation, its state government will remain a racketeer-influenced corrupt organization.
Instead of passing a new law, impeach and remove the granny-killing misogynist.
That would strike fear in his successors.
ITEM 19: Politico reported, "U.S. health officials and the State Department on Monday warned Americans against travel to Japan because of a surge in coronavirus cases in the country, which is preparing to host the Olympics in just two months.
"The twin alerts don't ban U.S. citizens from visiting the country, but they could have an impact on insurance rates for travelers and may factor into decisions by Olympic athletes and spectators on whether to compete in or attend the games, which are due to start in July. There was no immediate indication as to what effect the warnings might have on would-be Olympic-goers."
If you are vaccinated, you should be able to go.
That is the whole point of vaccination.
Just so we are clear, the Biden administration won't boycott the Red China Olympics to protest slavery, but is discouraging attendance at Japan's Olympics.
FINALLY, Donald Trump reported, "Highly respected pollster John McLaughlin says 73% of all Republicans want Trump to run again in 2024 and Republican primary voters would support him 82%-13%. Even the Washington Post has just reported 'All Republican Roads Lead to Mar-a-Lago.'
"What WaPo and other members of the Fake News Media don't report is that Joe Biden is of no interest to anybody—21 million less people watched his Joint Address to Congress than watched mine.
"Also, Biden's ratings have killed the Radical Left Fake News Cable Channels. MSNBC and CNN have plummeted in the ratings. MSNBC doesn't have a show in the top 10 of all cable news programs, and CNN doesn't even have a show in the top 100. They should have embraced and endorsed Trump—their ratings would have been at new highs! I have been doing very limited media so the American public could see just how big of a disaster the Biden Administration has been, and I was right. Inflation, the Border Crisis, our forgotten Military, war in the Middle East, all as a result of Biden's mistakes. Our Country is being destroyed. Watch, it's only going to get worse!
"The Washington Post also incorrectly reported about my DonaldJTrump.com website viewership. We have not yet launched our own social media platform, but even the very basic site we have to post our statements has received 36.7 million views over the past month alone, and we're getting more traffic to our website now than in 2020, an Election year! This number would be even greater if we were still on Twitter and Facebook, but since Big Tech has illegally banned me, tens of millions of our supporters have stopped using these platforms because they've become boring and nasty.
"My website is a place where everyone can see my statements, issued in real time, and engage with the MAGA Movement. This is meant to be a temporary way of getting my thoughts and ideas out to the public without the Fake News spin, but the website is not a platform. It is merely a way of communicating until I decide on what the future will be for the choice or establishment of a platform. It will happen soon. Stay tuned!"
We are.
According to the Washington Post, its website had 77 million visits in April. Double The Donald's, sure, but it has a large staff and posted thousands of stories.
That 77 million was down from 88 million in March and 82.5 million in February.
It was down from 111 million in January.
Oh, and in April 2020, WaPo had 111 million visitors.
WaPo should worry about its own traffic and let The Donald worry about his.