Memorial Day. All gave some. Some gave all.
Not all of them were soldiers.
ITEM 1
: Texas dropped the requirement for a permit to carry a concealed weapon.
Stephen Gutowski, founder of the Reload told Fox News
, "I think that this just continues the momentum for permitless carry across the country. It's the most popular gun policy over the last decade here in America. More popular than even 'red flag' laws which have popped up in quite a few states. So, I think with Texas adopting it, if they don't see any negative repercussions for that, you'll probably see a number of other states adopt this as well."
The concealed weapons movement is a success that used socialism's incrementalism to take us from a few privileged people being allowed to carry concealed weapons, to restoring it as a right.
The movement started by changing that the government "may" permit to "shall" permit. Then came interstate reciprocal agreements. Now the move is to just carry without a permit. Conservatives got a boost from the Supreme Court in Heller, the game-changing Second Amendment ruling that took us from the abyss of banning private ownership of guns.
But the benefits of this movement include finally flipping many southern states and West Virginia red to get the legislation passed.
This holiday commemorating the sacrifices of American soldiers is a good time to remember we must -- and are -- preserving the rights they died defending.
ITEM 2
: More good Second Amendment news.
The New York Times complained, "An Arms Race in America: Gun Buying Spiked During the Pandemic. It's Still Up.
"Preliminary research data show that about a fifth of all Americans who bought guns last year were first-time gun owners. Sales usually spike around elections, but the sheer volume is notable."
Riots have consequences.
The story said, "39% of American households own guns. That is up from 32% in 2016, according to the General Social Survey, a public opinion poll conducted by a research center at the University of Chicago. Researchers said it was too early to tell whether the uptick represents a reversal from the past 20 years, in which ownership was basically flat."
At what point does private gun ownership create a herd immunity to violent crime in which criminals stop attacking people because the risk of being shot down is too high?
ITEM 3
: Herbert Buchsbaum is the Middle East Editor of the New York Times.
Lies on Social Media: Misinformation about the Gaza conflict has flourished on Twitter, TikTok, Facebook and other social media. https://t.co/oxeJ8WCLMD

— Herbert Buchsbaum (@herbertnyt) May 14, 2021
Correction: We published a picture in error. The child in the photograph of Rahaf al-Masri was not her. We've replaced that photo with one supplied by her family. Rahaf was killed on the first night of the war, as we reported. The photo was wrong. https://t.co/kfOevTPZRz

— Herbert Buchsbaum (@herbertnyt) May 29, 2021
When it comes to disinformation about Israel, he does not like competition. Leave the pro-Hamas terrorist posting to the pros.
The obsession with children killed (most of them by the Hamas terrorist group) in this incident stands in stark contrast to coverage of Obama's unprovoked attack on Libya which killed thousands. I assume at least 1 or 2 were children, but the Times did not count them, much less run stories on the brief life of each one.
Lives matter to the Times only to push its anti-Semitic message.
ITEM 4: Jessica Marie Baumgartner reported, "From 2001 to 2017 the CDC reported that overall cancer rates had been decreasing about 1.5% each year. Male cancer deaths decreased 1.8%, and female cancer deaths decreased 1.4%. This was considered a medical triumph. There was hope for many. Unfortunately, it was quickly destroyed by changes in medical protocol due to COVID rules put in place without proper research and consideration for all the consequences, short and long-term."
Early detection was the key to improving the survival rate.
Last year, we shut down colonoscopies and other procedures to detect cancer because governors banned elective surgery to free hospital space because the liars told us hospitals would be overrun.
Hospitals laid off workers, and lost money because their fixed costs remained the same.
And cancer deaths will rise post-covid.
ITEM 5: The Assembly said, "Emails obtained by The Assembly show that UNC-Chapel Hill's largest journalism-school donor warned against Nikole Hannah-Jones' hiring. Their divergent views represent a new front in the debate over objectivity and the future of the field."
The story said, "Even in the midst of a record-setting $4.25 billion capital campaign, Walter Hussman Jr.'s $25 million commitment in 2019 to the UNC-Chapel Hill school of journalism stood out. His name went on the school, and his statement of journalistic principles went up on the entryway wall.
"Hussman, the publisher of the Arkansas Democrat-Gazette, is an evangelist of old-school objectivity. 'Impartiality means reporting, editing, and delivering the news honestly, fairly, objectively, and without personal opinion or bias,' says the opening line of his statement of core values."
Hannah-Jones is a fact-challenged, race-baiting propagandist pushing a sophomoric and discredited theory that we built the country on slavery and not freedom.
I thank the Great Benefactor of this J-school for standing up for journalism.
ITEM 6: The New York Post reported, "Grief-stricken mothers who have accused Black Lives Matter of profiting from the deaths of their sons condemned the group's embattled co-founder Patrisse Cullors after she announced she was stepping down from the movement.
The story said, "Cullors, the executive director of the Black Lives Matter Global Network Foundation, announced on Thursday she was leaving the group a month after The Post reported on her $3.2 million real-estate buying spree and questions about the group's finances."
Black Lives Matter is the re-branding of the communist Black Liberation Movement. Communists are ghouls. I feel sorry for the mothers whose sons died and now are used to buy mansions for opportunists like Cullors. These mothers suffer twice.
ITEM 7: The Washington Examiner reported, "The Texas state Senate passed a sweeping voting reform bill on Sunday that would create new criminal penalties and tighten nontraditional ballot methods.
"The bill, SB-7, cleared the Senate by an 18-13 margin following closed-door overnight deliberations and would prohibit drive-thru polling places, which were two practices employed by the blue stronghold of Harris County during the 2020 presidential election. The legislation would also make it a crime for local leaders to send mail-in ballot applications to those who did not request them, and the proposal would also require more identification for absentee and mail-in voters.
"The House is expected to vote on the measure later in the day. If approved by the House, it will head to Gov. Greg Abbott's desk."
The New York Times said it "includes some of the strictest voting measures in the country."
Good. It should be as difficult to vote as it is to buy a gun.
Fighting election corruption requires determination, and speed. 2022 is just around the corner.
ITEM 8: The Sentinel reported, "A federal judge earlier this week denied a preliminary injunction that, unless overturned on appeal, could force the College of the Ozarks to begin allowing men in women's dorms and showers — or vice versa.
"In mid-April of this year, the small Christian private college along with the Alliance Defending Freedom sued the Department of Housing and Urban Development — and President Joe Biden personally — over changes in HUD rules that would prevent discrimination against the transgendered, by requiring the school to house a student as whatever gender with which they identify.
"Federal District Court Judge Roseanne A. Ketchmark, a Barack Obama appointee, denied the motion for preliminary injunction filed by the college, asking her to suspend the rule changes pending the outcome of their lawsuit."
We need to fight for cis rights, that is people who accept their biological assignation as men or women. The Lord does not make mistakes. Men do. Obama judges make more mistakes than normal people do.
ITEM 9: Most of us miss President Trump.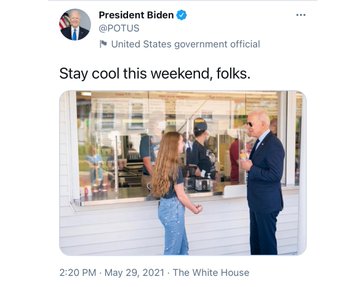 But there is someone else we also should miss.
Vice President Pence.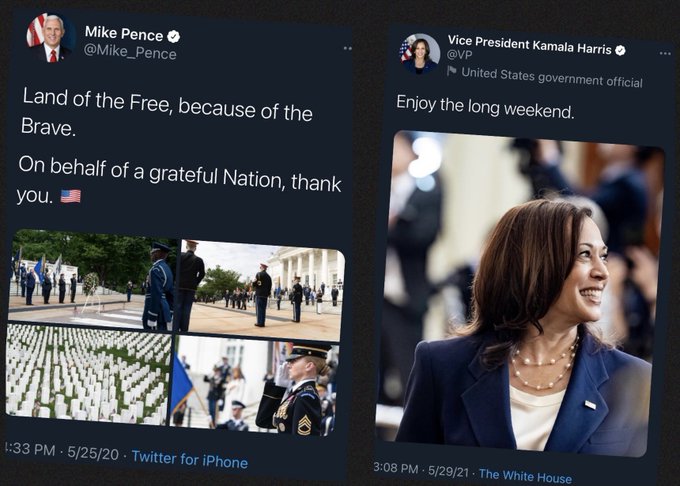 All weekends are long when Kamala is the veep.
ITEM 10: The New York Post reported, "A Southwest Airlines pilot who watched porn and exposed his genitals to a female officer on a flight to Florida has been sentenced to one year of probation.
"Michael Haak, 60, apologized before US Magistrate Judge J. Mark Coulson."
Just who does Haak think he is?
ITEM 11: The Daily Mail reported, "The flagship commemoration event to mark the 100th anniversary of the Tulsa Race Massacre was scrapped after three survivors demanded $1 million each to appear.
"Monday's Remember & Rise event - which was also set to feature John Legend and Stacey Abrams - was called off on Friday after survivors Viola Fletcher, 107, her brother Hughes Van Ellis, 100 and Lessie Benningfield Randle, 106, upped their appearance fee from $100,000 each to $1 million each.
"Lawyers representing the trio also demanded seed money for a reparations fund be boosted from the agreed $2 million to $10 million, with Oklahoma State Senator Kevin Matthews saying organizers were unable to meet their revised demands.
"The event was due to take place on Monday -- the 100th anniversary of the notorious massacre that saw whites in the Oklahoma city given permission to attack the prosperous black Greenwood district and its residents."
The left dredges this ancient history up to obscure Memorial Day. As president, Obama ignored all the 150th anniversaries of the Civil War including passage of the 13th Amendment in favor of honoring the 50th anniversary of the March on Selma.
Lefties plan to destroy real American history.
ITEM 12: The Epoch Times reported, "A World War II veteran who turned 97 years old earlier this month received a welcome gift from a local biker club in Maine.
"When the Garry Owen Motorcycle Club learned that the town had foreclosed on Army veteran Joey Comeau's home in Ellsworth, they knew they had to step in.
"The biker club quickly mobilized to raise funds for Comeau, who turned 97 on May 13.
"They set up a barbecue and held signs on Bangor Road, encouraging motorists to contribute toward paying some of the veteran's taxes and saving his home."
They did well raising $4,400.
ITEM 13: WND reported, "A South Dakota farmer is suing the federal government after its Agriculture Department ordered him not to farm his farm.
"It seems the Washington bureaucrats have determined that a mud puddle in one of his fields is a protected wetlands.
"The fight is being taken up by Pacific Legal Foundation.
"Arlen Foster's action is against the federal department, Tom Vilsack as secretary, the Natural Resources Conservation Service and others."
It did not take long for Chairman Biden to have the government protect puddles again.
The federal government has no jurisdiction over a farm in any state.
ITEM 14: Zero Hedge reported, "It's the end of an era for Israeli politics as embattled prime minister Benjamin Netanyahu, the country's longest serving leader, is facing a shocking ouster after the head of a small hard-line party on Sunday said he would try to form a unity government with Prime Minister Benjamin Netanyahu's opponents, effectively ending Bibi's 12-year rule.
"In a nationwide address, Yamina party leader and Netanyahu's former defense minister, Naftali Bennett said he had decided to join forces with the country's opposition leader, Yair Lapid in a unity government whose unified goal has long been removing Netanyahu from office. The pair have until Wednesday to complete a deal in which they are expected to each serve two years as prime minister in a rotation deal."
He has been prime minister for the last 12 years.
He's 71.
He's replaceable.
I don't know if these are the right replacements, however.
ITEM 15: Just the News reported, "Newsmax White House correspondent Emerald Robinson tweeted on Saturday that she was told that an alarm went off at the facility where ballots were being stored, and that the building was open.
" 'Scoop: Attorney dealing with Fulton County GA on audit of more than 145k ballots from 2020 election tells me that alarm went off today at secure building where ballots were kept. The building was found left wide open & unattended,' Robinson tweeted on Saturday.
"On Sunday she posted a photo that the attorney supplied of the open door."
I used to think people voted socialism in, then had to fight their way out.
Now I know the socialists usually steal the election.
ITEM 16: The Associated Press reported, "President Joe Biden marked his first Memorial Day weekend as commander in chief by honoring the nation's sacrifices in a deeply personal manner as he paid tribute Sunday to those lost while remembering his late son Beau, a veteran who died six years ago to the day.
"As a cold rain fell, Biden made his annual appearance at the commemoration in New Castle, not far from his Wilmington home, a day before he planned to do the same at Arlington National Cemetery on the official observance.
"The death of his son from brain cancer at age 46 is ever-present for the elder Biden, with the loss defining so much of his worldview, dotting his speeches and stirring his empathy for others in pain."
Sad as it was, his son's was not a military death.
If Donald Trump had made such a claim, AP would have put its fact-checking in overdrive, and rightly so.
But Donald Trump would never make such a claim because he is a decent and honorable man.
ITEM 17: Twitchy reported, "Glenn Kessler gives Rep. Marjorie Taylor Greene four Pinocchios for saying the Nazi Party was a national socialist party."
Kessler is a propagandist at the Washington Post.
Of course he said something insane. That is what he does for a living.
ITEM 18: The New York Daily News, "Protesters gathered around a Nashville hat store on Saturday and one top manufacturer said it would pull its products after the store's controversial Instagram post of its owner wearing a Star of David patch that read "not vaccinated."
"In the now-deleted post by hatWRKS, the patches were described as great with a strong adhesive back, and added that they would be making hats eventually.
"The offensive post drew ire from many users and some left comments to make their displeasure known to the store's owner. The shop then followed up with another post asking why people were so angry with their initial photo and not with the tyranny the world is experiencing."
The store made a powerful statement about the Nazi-fication of America.
A message most Americans are too afraid to challenge.
ITEM 19: New York Times headline, "Think Your Weekend Plans Were Ruined? Try Being a Mayoral Candidate."
Some would gladly change places.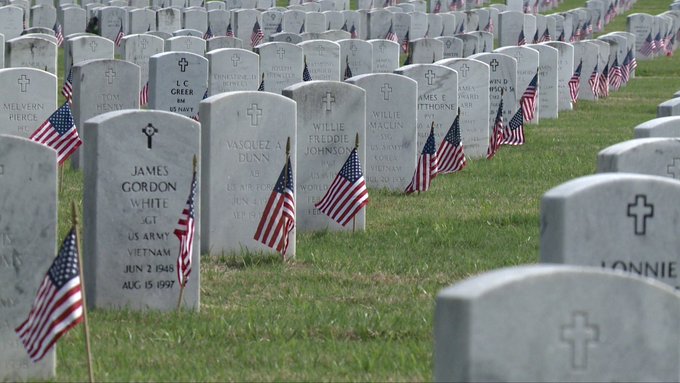 ITEM 20: Breitbart reported, "Biker Event Raises Awareness About 22 Daily Average Military Suicides."
22.
That's 22 too many.
ITEM 21: The Washington Examiner reported, "A Navy warship and the Pentagon's Missile Defense Agency on Saturday failed twice in a key test to shoot down a medium-range ballistic missile, raising questions about America's readiness to intercept potential enemy attacks.
"The Defense Department did not reveal a specific location, but it's believed the test took place somewhere off the coast of Hawaii."
But they used the correct pronouns, and that is all that matters in today's Navy.
ITEM 22: CNBC reported, "Senate Democrats plan to forge ahead with crafting a massive infrastructure package next month — regardless of whether Republicans get on board — as they push to pass a bill this summer.
"Senators will be out of Washington next week for the Memorial Day holiday. When lawmakers return, Democrats aim to write an infrastructure plan that touches on everything from transportation to broadband, utilities and job training."
Gentlemen, we must do something immediately, immediately, immediately because the grift and kickbacks cannot wait.
FINALLY, as Summer Shooting Season begins, let us compare homicides to date, 2020 vs. 2021.
Defund the Criminals.
UPDATE: Some bad coding got in the Highlights. I found it and fixed it. Comments are now open.