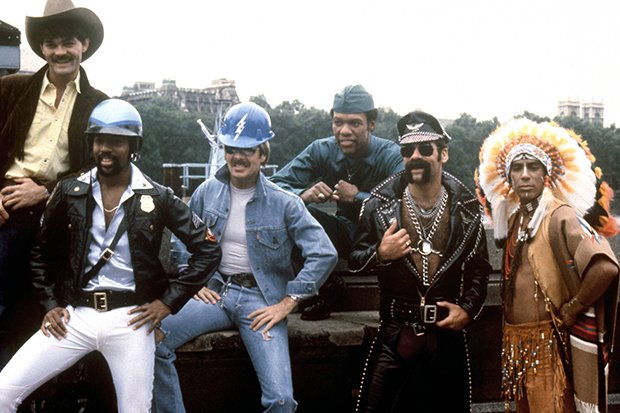 Second guy on the left? You are no longer in the band.
ITEM 1: NBC reported, "Groups representing LGBTQIA+ members of law enforcement will be banned from participating in NYC Pride events, including the annual march held each June, organizers announced Saturday."
Gay cops served their purpose. Bu-bye.
It is called cannibalism. Lefty causes always end this way.
ITEM 2: Saturday was moving day for the Associated Press in Gaza City.
Being a human shield for Hamas kept the rent down.
The AP denies it knew its offices were in the Hamas military intelligence complex.
These are people paid to pay attention to things. And they saw nothing, Colonel Klink. Nothing!
ITEM 3: The Wall Street Journal reported, "Microsoft Corp. board members decided that Bill Gates needed to step down from its board in 2020 as they pursued an investigation into the billionaire's prior romantic relationship with a female Microsoft employee that was deemed inappropriate, people familiar with the matter said.
"Members of the board tasked with the matter hired a law firm to conduct an investigation in late 2019 after a Microsoft engineer alleged in a letter that she had a sexual relationship over years with Mr. Gates, the people said.
"During the probe, some board members decided it was no longer suitable for Mr. Gates to sit as a director at the software company he started and led for decades, the people said. Mr. Gates resigned before the board's investigation was completed and before the full board could make a formal decision on the matter, another person familiar with the matter said."
As I recall, he said he left to spend more time with his family.
In his case, familiarity must breed contempt.
ITEM 4: The Daily Caller reported, "Louisville police are investigating an attack that happened on Mother's Day that left a military veteran with a broken nose, Wave 3 News reported.
"Pamela Ahlstedt-Brown was attacked in a Kroger grocery store parking lot after a car was blocking her from leaving a parking spot, according to Wave 3 News.
" 'I get out and I say, 'Do you guys need any help?' and she said, 'F*** you, you white b****.' I said, 'Hold on, you don't even know me,' Brown said. 'I said, 'That's fine. If you don't need anything, that's fine. I'll get back in the car.'
"Ahlstedt-Brown, a disabled military veteran, said her attackers were four young black women in a Dodge Challenger or Charger, according to Wave 3 News. She claimed they threw a cup and then proceeded to assault her."
When you preach systemic racism to advance Democrat politics, expect to raise quite a few black supremacists.
The story also said, "Brown is in an interracial marriage with biracial children."
The police refuse to call it a hate crime. It doesn't serve the Democrat mayor's political agenda.
ITEM 5: The New York Times said, "The University of California will not take SAT and ACT scores into account in admissions or scholarship decisions for its system of 10 schools, which include some of the nation's most sought-after campuses, in accordance with a settlement in a lawsuit brought by students.
"The settlement announced on Friday signals the end of a lengthy legal debate over whether the University of California system should use the standardized tests, which students of color and those with disabilities have said put them at a disadvantage."
How racist.
Students of color cannot meet the standard, and so the answer is to get rid of the standards.
College in America is a joke. Learn to weld, get a CDL, and buy guns and ammo. The 21st century is headed for catastrophe.
ITEM 6: Via Western Journal, Kevin McCarthy said, "You know the only reason why they changed not wearing the mask? Gasoline went to $7 and there were gasoline lines and he wanted to change the news."
Frank Luntz's roommate is catching on.
Attack Biden, not each other.
ITEM 7: Fox reported, "AOC says she's going to keep wearing a face mask despite being fully vaccinated."
I changed my mind. I no longer believe everyone should drive a convertible. Stupid people should not.
ITEM 8: The New York Post reported, "Florida might as well be known as the sixth borough.
"New data from the Sunshine State's Department of Highway Safety and Motor Vehicles offers the latest glimpse of just how many New Yorkers fled south during the COVID-19 pandemic.
"At least 33,565 New Yorkers exchanged their NY drivers licenses for Florida credentials between September 2020 and March 2021.
"That's a 32% increase from the same period the prior year, when 25,370 New York driver's licenses were traded for Florida ones."
Florida, you should have closed the gate when Donald Trump moved in.
ITEM 9: Last week, the owner of the Los Angeles Times called for government aid to support newspapers because they provide local journalism.
This week, the LA Times reported, "The man who didn't invent Flamin' Hot Cheetos," an exhaustive 5,600-word story on the origin of a snack food.
That's what I call hardly hitting local journalism.
ITEM 10: ABC reported, "New mask guidance for vaccinated individuals does not grant permission for widespread removal of masks, Centers of Disease Control and Prevention Director Dr. Rochelle Walensky said."
The Constitution does.
We fought a Revolutionary War amid a smallpox epidemic.
We are vaccinated. Masks are unnecessary. Walensky is another Democrat quack.
ITEM 11: Just the News reported, "U.S. Marshals recovered record-high 387 missing children last year."
That's great work under President Trump.
Don't look for a repeat because President Biden will make the agency Woke.
ITEM 12: News Wars reported, "Canadian anti-lockdown pastor Artur Pawlowski spoke with Fox News on Friday to warn of fascism creeping into the free world under the guise of COVID public safety.
"In an interview on The Ingraham Angle, Pawlowski, who was recently arrested and put in solitary confinement for holding a church service in defiance of Canadian lockdown rules, explained that the current COVID measures are producing a hybrid of fascism and communism."
He said, "We have no rights whatsoever. What we have right now is some kind of a hybrid between fascism and communism: medical tyranny."
Amidst a pandemic, churches should be the last place we close because we need God as never before.
ITEM 13: The New York Post reported, "A Bengal tiger that has been missing for a week in Houston — and which prompted hundreds of tips about his possible whereabouts — has been found safe."
My first thought was, I hope the tiger was hungry and hadn't eaten in a week.
Meanwhile, the Associated Press reported, "Groups Call for Reintroduction of Jaguars in U.S. Southwest."
How about reintroducing common sense instead.
ITEM 14: The New York Times propagandized, "When Fighting Erupts Between Israel and Hamas, the Question of War Crimes Follows."
Israel is an actual sovereign nation, and has been since 1948. When it can, it warns civilians of a bombings, as it did with AP on Saturday.
Hamas is an actual terrorist group. It fires missiles indiscriminately.
Via Kane at Citizen Free Press, Israeli PM Benjamin Netanyahu told CBS, "We, unlike Hamas, take special precaution to tell people to leave the premise, and we make sure everyone is gone before we take down those buildings. What would you do if it happened to Washington and to New York? You know damn well what you'd do. You do, at the very least, what we're doing.
"One of the AP journalists said we were lucky to get out. No, you weren't lucky to get out. It wasn't luck. It's because we took special pains to call people in those buildings, to make sure that the premises were vacated."
Hamas kills indiscriminately.
Including its own children.
ITEM 15: Phys.org reported, "Mammals can breathe through anus in emergencies."
This explains every AOC speech ever.
ITEM 16: Jihad Watch reported, "Muslim CNN reporter: 'The world today needs a Hitler.' Now deleted, but the screenshots are everywhere. Will CNN fire him? Or give him a promotion?"
AT+T owns CNN. That means AT+T CEO John T. Stankey is totally cool with this. Welcome to Woke.
UPDATE: Fired.
Good.
ITEM 17: Web MD reported, " A new survey shows only 54% of respondents have a great deal of trust in the CDC, the agency that led the battle against the COVID-19 pandemic, and even fewer have that level of trust in the FDA or the National Institutes of Health."
I think that was the plan.
By undermining public confidence in the CDC, liberals put the public's health at risk.
The incompetence and mixed messages from the CDC and its cousins in the federal government did not help.
ITEM 18: The Daily Mail reported, "Female student, 29, who said 'women have vaginas' and are 'not as strong as men' faces disciplinary action by university after fellow classmates complained about the 'offensive and discriminatory' comments."
Remember women's rights?
Ah, the good old days when you could say as you please in public except the F word.
Now people drop F bombs to their heart's content but they cannot say the truth.
F*** the 21st century.
ITEM 19: The New York Post reported, "President Biden is taking heat for using a Police Week statement to highlight a deep sense of distrust between law enforcement and minority communities."
264 officers died in the line of duty last year, nearly double the 135 officers who died in the line of duty in 2019.
America, your president hates you.
FINALLY, a reader tipped me to Sean of the South. He wrote a great post, "There Will Never Be Another You."
Do yourself a favor. Read it.