ITEM 1: Fox reported, "Chicago weekend violence: 6 killed, including 13-year-old boy, 28 people wounded in shootings."
The annual Chiraq
summer shooting season
is off to a month-early start in the city with the most stringent gun laws in the nation.
Old Chicago song: Saturday, in the park, I think it was the Fourth of July.
New Chicago song: Saturday, in the park, I thought I was gonna die.
But hey, there is no problem another gun law won't solve.
ITEM 2: A Washington Post headline read, "Refusal to accept reality is doing unquestionable damage to democracy."
There goes WaPo bragging about its pushing the Russian Collusion lie again.
ITEM 3: Just the News reported, "A short drive from the U.S. Capitol, 1,500 inmates are stuck in their jail cells 22 hours a day. Until last month it was 23, and they were also barred from going outside.
"A smaller group of inmates may have it even worse: those awaiting trial for alleged crimes in the Jan. 6 Capitol riot. They've been placed in restrictive housing, a maximum-security designation.
"The plight of nearby inmates has received surprisingly little attention on Capitol Hill for the better part of a year, since the District of Columbia Department of Corrections issued its 'medical stay-in-place' policies for COVID-19 mitigation.
"That only changed in late April, and it flipped the partisan script. Rep. James Comer, ranking Republican on the House Oversight Committee, demanded better treatment for the inmate population at large, while Democratic Sens. Elizabeth Warren and Dick Durbin spoke up for inmates accused of insurrection to keep Donald Trump in office."
Dissent is patriotic, which explains why Nancy Pelosi and Liz Cheney want to punish dissidents without a trial.
ITEM 4: Hot Air reported, "Texas Republican lawmakers are moving forward with a conservative agenda and Governor Abbott took a moment Saturday to celebrate that. Abbott tweeted out a list of conservative legislative victories achieved in the Texas House of Representatives over the span of 48 hours. It's enough to make any Republican governor up for re-election proud."
The victories were:

* Defund cities that defund police
* Ban abortion at detection of heartbeat
* Slash STAAR test requirements
* Ban homeless camping statewide
* Penalize protestors blocking roads
* Ensure election integrity- easy to vote, hard to cheat
Wow.
Texans voted Republican and actually got Republican. The revolution is taking place in statehouses, not DC.
ITEM 5: Trending Politics reported, "Governor Ron DeSantis has had enough of the Centers for Disease Control. The Florida governor has filed a lawsuit that is being heard in federal court that would finally hold the CDC accountable for the economic damage it is needlessly doing to the country.
"DeSantis revealed the lawsuit in a press conference at Satellite Beach, which followed up on his earlier statement in April about the governor's intent to sue the CDC."
Actions speak louder than words.
The man has dialed it up to 11.
ITEM 6: The Epoch Times reported, "Rep. Elise Stefanik (R-N.Y.), who has been endorsed by some Republicans to take the No. 3 House Republican spot, said that she views people who voted for President Donald Trump as crucial to the GOP re-taking the House majority in 2022.
"In an interview over the weekend, Stefanik—who has been endorsed by Trump and House Minority Whip Steve Scalise (R-La.)—told Breitbart News about what she would do differently if she were to replace Rep. Liz Cheney (R-Wyo.), the current House Republican Conference chairwoman.
" 'Number one, I would listen to the voters across the country, which I do every day in my district, which voted overwhelmingly for President Trump,' Stefanik said, referring to New York's 21st Congressional District.
"The congresswoman said that the role of the conference chair is to serve as a unifier of sorts who can speak on behalf of the majority of House Republican lawmakers."
Trump carried 54% of the vote in her district.
Trump carried 70% in Liz's.
ITEM 7: The Epoch Times reported, "Oklahoma Attorney General Mike Hunter implored the Supreme Court to hear a Mississippi case that could allow states to ban abortions after 15 weeks of gestation.
"Hunter's remarks came after Oklahoma Gov. Kevin Stitt, a Republican, signed a so-called trigger bill April 27 that would automatically outlaw abortion in the state if the Supreme Court were to overturn Roe v. Wade, which, in 1973, made abortion lawful throughout the United States.
"Hunter, also a Republican, said his office has an interest in getting involved when wayward courts get it wrong on vitally important policy issues, The Oklahoman reported May 9."
As I said on Saturday, the revolution is happening. Just not in the halls of Congress.
ITEM 8: Tom Lifson reported, "Genius award winner sets himself on fire while burning an Israeli flag."
He has photos.
I trust this brightened everyone's day.
No?
The next one will then.
ITEM 9: Reuters reported, "Beyond Meat Inc. on Thursday reported a wider quarterly loss than expected, as the plant-based meat maker incurred higher freight costs, spent heavily on testing new product launches, and sold less to pandemic-hit restaurants."
I wonder why that is.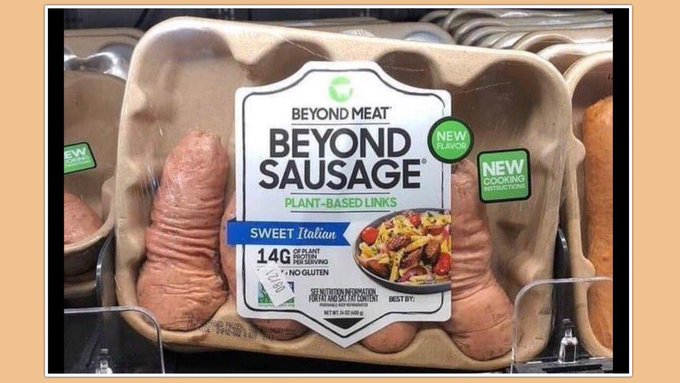 'Tis one mystery even Scooby-Do could not solve.
ITEM 10: The Associated Press reported, "Hamas militants fired dozens of rockets into Israel on Monday, including a barrage that set off air raid sirens as far away as Jerusalem, after hundreds of Palestinians were hurt in clashes with Israeli police at a flashpoint religious site in the contested holy city.
"The rocket fire drew heavy Israeli retaliation in the Gaza Strip. Health officials said at least 20 people, including nine children, were killed in fighting, making it one of the bloodiest days of battle between the bitter enemies in several years."
One would think that after a half-century of getting their ass kicked, militant Arabs would give up by now.
But anti-Semitism poisons the mind.
ITEM 11: Deadline reported, "There will be no Golden Globes in 2022 on NBC, as the besieged Hollywood Foreign Press Association continues to falter in reforming itself to the satisfaction of Hollywood studios and stakeholders."
Dozens of viewers are affected.
As Glenn Reynolds, the ZuZu Bailey of the Internet, said, "Whenever a pretentious lefty awards show is cancelled, an angel gets its wings."
ITEM 12: HuffPost reported, "Georgia Gov. Brian Kemp (R) signed legislation on Monday repealing an old law that allowed for citizen's arrests in response to the murder of Ahmaud Arbery, a black man, by three white men last year."
Gomer Pyle hardest hit.
But does this mean if someone robs your store you cannot detain them until police arrive?
ITEM 13: Citizen Free Press reported, "A Texas rancher living north of Eagle Pass discovered five unaccompanied children abandoned by smugglers on their farmland Saturday night. The five small girls, ranging in ages from one to six years old, were led across the Rio Grande River and abandoned the evening before. The human smugglers left them with no food, water, or any adults to care for them throughout the night."
As I said last month, illegals are the worst parents in the world.
Unaccompanied means abandoned, just as undocumented means illegal.
ITEM 14: The Daily Mail reported, "Biden official warns cyberattacks on US are 'here to stay' after 'Russian ransomware gangsters DarkSide' shut down America's largest fuel pipeline: Emergency declaration is issued in 18 states amid price hike fears."
Ah, just like Islamic terrorist attacks were here to stay.
Biden's surrender makes me wonder what DarkSide's kickback to Hunter is.
Democrats are great in attacking fake threats such as climate change, but cowards when it comes to defending the country.
ITEM 15: Via the Washington Times, Michelle Obama said, "You wanna hang out with us? Get your vaccine."
Is there any way to unvaccinate yourself?
Asking for a friend named me.
ITEM 16: The Wall Street Journal reported, "America's biggest cash crop has rarely been more expensive. Corn prices have risen roughly 50% in 2021 and a bushel costs more than twice what it did a year ago.
"Corn has been one of the sharpest risers in the broad rally in raw materials that is prompting companies to boost prices for goods and fueling concern among investors that inflation could hobble the post-pandemic economic recovery.
"Lumber prices have shot to more than four times what is typical, pushing up home prices and obliterating renovation budgets. Copper, a cog of industry found throughout the home and in electronics, hit record prices Friday."
With the rise in corn prices, can we wean gasoline from ethanol?
ITEM 17: Zero Hedge reported, $50,000 worth of wood could be used to build 10 homes a year ago.
Today it would build only 2.
Bidenomics is becoming worse than Carternomics.
This happens when you replace a capitalist billionaire with a crooked communist.
ITEM 18: Electroverse reported, "Following its coldest APRIL since 1922, England is now on for its coldest MAY since record-keeping began some 362 years ago–since the Maunder Minimum (1645-1715)!
"Back in 1659, England was still processing the death of Oliver Cromwell, who, after the execution of King Charles I, had ruled the Commonwealth of England for 5 years. The year 1659 is also the start date of the Central England Temperature (CET) dataset, which has proved an invaluable resource for meteorologists and climate scientists alike. Astonishingly, what the dataset reveals in 2021, in this time of supposed catastrophic global heating, is that England is on for its coldest May in more than three and a half centuries (at least).
"Even more astonishingly, note that 1659 falls within the early-stages of the Maunder Minimum (1645-1715)–a period of reduced global temperatures correlating with historically low solar activity during which the Sun was often devoid of sunspots for years and even decades at a time. Therefore, what the English are experiencing this May eclipses the extreme lows documented during the last full-blown Grand Solar Minimum."
How bad is it?
The story said, "Snow started falling on Tuesday, May 4, and was deep enough by Wednesday to allow the Lake District Ski Club to open its slopes. Members were giddy at the unusual sight of snow-covered mountains in May, according to club president Mike Sweeney."
He said, "I haven't seen snow at this time of year before. These May flurries have been substantial, too, rivaling what the area would receive in the depths of winter."
Fear an Ice Age, not warmer temperatures.
ITEM 19: The New York Post ran a story about Hannah Sanford, 44, under the headline, "I used to work with Fauci — now I sell my orgasm art on OnlyFans."
Fauci only hired the best people.
ITEM 20: The Daily Mail reported, "A librarian at Cornell University has claimed libraries are 'fraught with racism' - and highlighted their book classification system as evidence of this bigotry.
"Reanna Esmail, an outreach and engagement librarian at Cornell's Olin Library, spoke during a discussion last Friday aimed at combatting anti-Asian racism.
"She said: 'As a librarian, I see the ways in which my profession has the capacity to confront bias and misinformation in ways we approach and teach information and digital literacy.
" 'Libraries are predominantly white fields, and Cornell is no exception in this regard. Libraries themselves also have a fraught history of being complicit in racism, and in some cases, upholding and disseminating racist ideas.' "
Well, she must be a racist because only a racist would sign up to work in racist places like libraries.
ITEM 21: CBS reported, "Michael Sangbong Rhee, 37, was arrested Thursday night at his home in Lake Forest. Irvine police say Rhee may have attacked a woman, believing she was white, in retaliation for the rise in hate crimes against Asian people.
"Irvine police say an Asian woman was sitting in the driver's seat of her car near her apartment Thursday afternoon when she looked up to see Rhee standing at the door, holding a handgun. She told police she did not recognize Rhee, who ordered her to get into the back of her car if she wanted to live."
We live in a tit-for-tat world. Race is a powderkeg again, 57 years after passage of the Civil Rights Act of 1964.
FINALLY, Christian Toto reported, "Critic Confessions: It's Time for 'SNL' to Go. Politics aside, 'Saturday Night Live' has outlived its creative usefulness, cultural clout."
Bring back Mister Bill.
And the Ambiguously Gay Duo.
And Samurai (fill in the blank).
But really, bring back Mad TV.