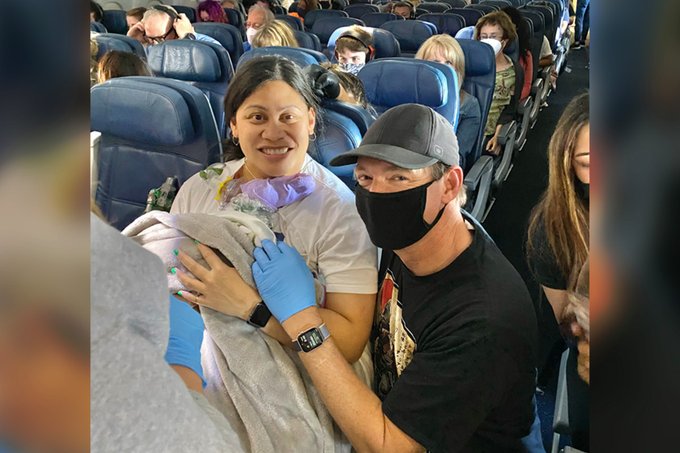 ITEM 1: The New York Post reported, "Woman on flight to Hawaii gives birth high above Pacific Ocean."
The airline immediately kicked the family off the airplane because the baby wasn't born with a mask.
ITEM 2
:
Yahoo Finance reported
, "Mattress sales are on fire: Tempur Sealy CEO."
The story said, "Tempur Sealy's first quarter sales surged 26.9% from a year ago, leading to an 88.2% spike in adjusted earnings despite the company dealing with supply chain constraints related to an innerspring shortage. Sales in Tempur's North America and International segments rose 27.6% and 23.4%, respectively.
"Tempur Sealy Chairman and CEO Scott Thompson said on Yahoo Finance Live the results reflect two powerful trends.
"First, U.S. consumers in the market for entry-level mattresses used their new stimulus checks to buy a new bed. Meanwhile, the gaining momentum in the world economy as the pandemic rounds the corner is giving those with more money to spend on a mattress greater confidence to upgrade."
I would have bet on couch sales rising. I guess people really are too lazy to get out of bed now.
ITEM 3: Bill Gates is shedding his first wife.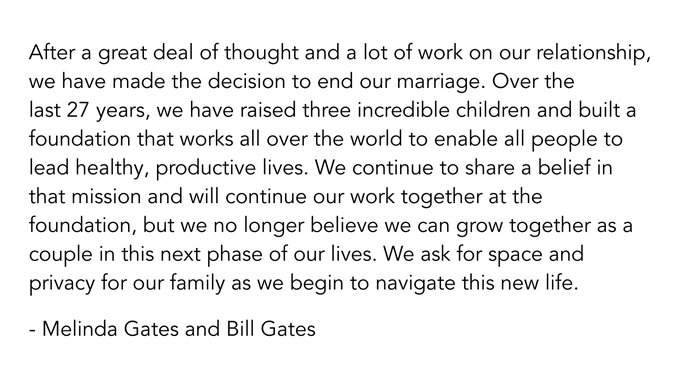 After a great deal of thought? Why not after a few ashtray-flinging arguments over a bimbo found under a desk?
The New York Post reported, "Bill and Melinda Gates don't have a prenup, court docs reportedly reveal."
Hahahaha.
ITEM 4: KIRO reported, "After an incident in late April when an employee of Chocolati in Wallingford refused to serve a pair of Seattle police officers, the company announced in a Facebook post that the company is parting ways with the employee.
"The scenario started on April 27 when Mike Solan, president of the Seattle Police Officers Guild, said that an officer and trainee went to the Wallingford location and was refused service."
That is good.
Back in the day, the restaurant I worked at comped police meals. They wanted their presence.
ITEM 5: CNBC reported, "Florida Gov. Ron DeSantis signed an executive order Monday that immediately suspends all outstanding local Covid-19 emergency orders and related public health restrictions."
The crisis ended. DeSantis is now the front-runner for 2024.
But then again, at this point in the 2016 race, Scott Walker was the front-runner.
ITEM 6: The Daily Wire reported, "On Sunday night, the Foreign Minister of the Philippines, Teddy Locsin Jr., issued a fiery tweet targeting the Chinese Communist government and warning them about their incursions into the South China Sea, snapping on Twitter, "GET THE F*** OUT."
"Locsin's tweet, which came in response to Chinese coast guard vessels harassing some ships from the Philippines, stated: 'China, my friend, how politely can I put it? Let me see… O…GET THE FUCK OUT. What are you doing to our friendship? You. Not us. We're trying. You. You're like an ugly oaf forcing your attentions on a handsome guy who wants to be a friend; not to father a Chinese province.' "
The tweet was deleted hours later, either by Twitter, which is pro-Red China or Locsin, which I doubt.
We need more men like Locsin.
By the way, the American press hates his boss, Rodrigo Duterte, which tells you all you need to know about him.
ITEM 7: Congressman Gooden of Texas tweets.
Homicides are up 41 PERCENT in Washington, D.C., but thankfully Mayor Bowser banned dancing at weddings.

— Lance Gooden (@Lancegooden) May 3, 2021
I have come to the conclusion that Democrats want violent crime. They must see some advantage in it.
ITEM 8: Fox Business reported, "A looming fuel shortage could mean more pain at the pump this summer, but it's not due to a lack of oil and gasoline production.
"Instead, the drivers needed to deliver the fuel to gas stations are in short supply.
"According to the National Tank Truck Carriers trade group, up to 25% of trucks are parked around the country because there are not enough qualified tank truck drivers. That number is up 15% from the beginning of last summer.
"The demand for drivers took a hit when pandemic-induced lockdowns triggered steep declines in the gasoline market, and drivers opted for other jobs. However, the return to pre-pandemic numbers has been further undermined by unemployment benefits and stimulus checks keeping people away from jumping back into the workforce."
Once again, the federal government meddles in the economy and screws it up. No one can suffer even a little -- and so we all suffer too much.
ITEM 9: The Post Millennial reported, "A juror on the Derek Chauvin trial who told the court that he had no prior knowledge of the George Floyd civil case was photographed last August wearing a shirt that read 'Get your knee off our necks' and BLM. He stated last week that he saw jury duty as a means to 'spark some change.' "
Unsurprising. It is perjury. It will not be prosecuted.
O.J. Simpson was the first of these payback trials. It will go on until someone points out, payback for what?
Bull Connor died 48 years ago and with him any systemic racism.
A white waiter was rude to you? Don't tip him. That's what the white customers do when he is rude to them.
ITEM 10: The Washington Examiner reported, "Lubbock, Texas, became a sanctuary city for the unborn after residents voted to outlaw abortion completely — making it the 24th city in Texas to do so."
62% of the voters supported the referendum.
I don't know what the measure does exactly. But it makes me feel good. Sometimes, that's enough.
ITEM 11: Jacob Palmieri reported, "According to one ally of GOP House Leader Kevin McCarthy (R-CA), there is no way that Rep. Liz Cheney (R-WY) will be in leadership by the end of the month."
I sure hope so.
Voting to impeach your party's president should mean immediate banishment from the party. I do not care who your father was. Let the deep state and the Democrats have you.
ITEM 12: The Epoch Times reported, "A federal judge on Friday ruled that police in Columbus, Ohio, may not use non-lethal force against nonviolent protesters, following a lawsuit that claimed law enforcement used excessive force to disperse peaceful demonstrators last summer, including by deploying rubber bullets, wooden pellets, and pepper spray.
"In an 88-page opinion obtained by The Epoch Times, Chief Judge Algenon L. Marbley of the Southern District of Ohio ruled in favor of a preliminary injunction, prohibiting Columbus police from using non-lethal measures like flash-bang grenades and batons against nonviolent protesters, while limiting enforcement of dispersal orders through citations or arrests, based on probable cause that a violation had been committed."
Democrat judge appointed by Clinton.
Defund the Southern District of Ohio.
ITEM 13: Breitbart reported, "A Swiss billionaire who has been quietly backing left-wing groups donated more than $208 million to those groups between 2016 and early 2020, according to a report.
"The New York Times reported Hansjörg Wyss doled out the money from two of his organizations, a nonprofit fund and a foundation, to three other nonprofit funds that gave money to left-wing groups that assisted Democrats in their efforts to take back the White House and control Congress in 2020.
"Representatives for Wyss say his funds are not being spent on political campaigning. But documents obtained by the Times and interviews show these groups played a big role in funding the political infrastructure that supports the Democrats and their causes.
"While most of Wyss's giving was channeled through the three nonprofit funds, Wyss's organizations also gave direct donations in the tens of millions of dollars to groups against former President Donald Trump and in support of Democrats and their causes.
"Some of the left-wing groups that benefitted from Wyss's giving included the Center for American Progress and Priorities USA.
"His funds also helped build media outlets such as couriernews.com that allegedly slant the news to favor Democrats and editorially sought to block Trump's nominees, prove Russian collusion, and advocate for Trump's impeachment."
Democrats have a Swiss bank account.
Wyss made his billions by running a medical supply company that ran afoul of the FDA and killed at least three Americans. Four of his henchmen went to jail for this. He was spared prosecution by the Obama Department of Justice.
ITEM 14: Dillon Burroughs reported, "Florida Republican Gov. Ron DeSantis said on Fox News that he plans to sign the state's newly passed bill to ban males who identify as female from competing in girls' sports.
"The governor's statement took place during a town hall event Friday night led by Fox News host Laura Ingraham."
Caitlyn Jenner, winner of ESPN's 2015 Arthur Ashe Courage Award, supports such legislation.
This means that if you oppose the bill you are transphobic.
ITEM 15: The Lid reported, "Via their own poll, CNN has discovered that most Americans believe voter ID is the best way to make elections 'more fair' (yes, THAT CNN). CNN poll voter ID.
"A recent CNN survey found that 65% feel that requiring a valid photo ID to vote would make elections more fair, despite even CNN's efforts to push Americans to turn against voter ID laws.
"The survey gave respondents a series of choices and asked them to rate them for how they could make elections more fair, less fair, or the same as they are now.
Fairness is now racist.
ITEM 16: Tucker Carlson reported, "Over the weekend, we got a call from a source who said that, in fact, Frank Luntz and Kevin McCarthy are not simply friends, they're roommates. Kevin McCarthy lives in Luntz's apartment in downtown Washington. That's what we were told, and honestly, we did not believe it. The top Republican in the House lives with a Google lobbyist? Come on. Even by the sleazy and corrupt standards of politics in Washington, that didn't seem possible. In fact, it sounded like a joke.
"This morning, since we heard it we called to check with Kevin McCarthy's spokeswoman, and when we raised this she all but chuckled at the suggestion, 'No when he's in Washington,' she told us, 'Kevin McCarthy rents hotel rooms, or sleeps in his office in the Capitol. He certainly isn't living with Frank Luntz.' Okay, and that seemed logical to us, but we did press a little bit because we got the tip from someone reliable and we just wanted to be sure. So the spokeswoman said she would get back to us.
"Two hours later, we got this text. Quote: 'Following up on our conversation from earlier today. Because of the pandemic, McCarthy has rented a room in Washington at a fair market price from Frank.' "
I wonder if they focus group one another.
So, the riff-raff have to socially distance and wear masks even after vaccination, while everyone in Washington seems to be in bed with one another.
ITEM 17: Fox reported, "A Tennessee assisted living facility faces hefty fines after two residents escaped in March thanks to some military training, according to reports.
"Elmcroft Senior Living in Lebanon must pay $2,000 for failing to provide daily awareness for the whereabouts of two residents who briefly escaped from the secure memory unit on March 2.
"The couple, a husband and wife team who remain unnamed in public records, suffers from dementia and Alzheimer's disease, but they had their wits about them as the husband used his military training with Morse code to figure out the facility's electric lock code, the Tennessean reported."
That's right.
They made a dash for it.