ITEM 1: The New York Post reported, "Missouri House approves push to create Rush Limbaugh Day."
Rush Limbaugh Day would be January 12, his birthday.
A measure by liberals to make January 13 Walter Cronkite Day failed. Equating the two makes sense, except Limbaugh was honest and never pretended to be unbiased.
ITEM 2: Unemployment rose to 6.1% in April as inflation begins to climb.
At this point in his presidency, Donald Trump had shaved the unemployment rate by 0.6 points to a mere 4.3%, well below the 4.9% rate he had inherited 3 months earlier.
Biden has dropped it by only 0.2 points.
That 6.3% unemployment he inherited was less than half the 14.7% rate in April 2020. Donald Trump gave us hope. Biden gives Red China hope.
ITEM 3: Kevin McCarthy's roommate, Frank Luntz, said, "This could cost the Republicans the majority in the House in 2022.
"What Donald Trump is saying is actually telling people it's not worth it to vote. Donald Trump single-handedly may cause people not to vote. And he may be the greatest tool in the Democrats' arsenal to keep control of the House and Senate in 2022."
No sitting president campaigned harder for Republican candidates than Donald Trump. Thanks to him, Republicans surprisingly came very close to taking back the House.
Has Luntz ever gotten anyone elected?
ITEM 4: CNBC reported, "Dr. Nancy Messonnier, the health expert who was among the first to sound alarms about the threat posed to the U.S. by the coronavirus, is resigning from her role at the Centers for Disease Control and Prevention, the agency's director confirmed Friday."
Her warning saved about 100,000 lives as President Trump restricted travel to Red China before anyone died.
She made the mistake of telling the public the truth.
That's a career ender in government.
ITEM 5: French President Emmanuel Macron blasted Biden's stupid call to end the patents on covid vaccines.
Macron told reporters, ""What's the issue right now? It's not really about intellectual property; you can give it to a lab that won't know how to produce it — the first issue is giving doses."
Communism gave us covid
Capitalism gave us the vaccine.
Biden wants to punish capitalism.
ITEM 6: Politico tweeted, "This week it was all about the Republicans. On Playback, Tara Palmeri and Meridith McGraw break down the worsening feud between Rep. Liz Cheney and Kevin McCarthy and Caitlyn Jenner's first sit-down interview since announcing her run for California governor."
And that is the poison Cheney unleashed.
She wrote a Washington Post column that did not attack Biden's pathetic and failing policies. No, she attacked Republicans.
They should have dumped her in February. She is toxic, bitter, and entitled. She has made herself a gift to Democrats. If Frank Luntz had a daddy who was vice president, Luntz would be Liz.
ITEM 7: Mollie Hemingway of the Federalist tweeted, "While true that NeverTrump can't quit Trump, their problem is that he *did* bring unity to GOP (and expanded it by 11M votes), in part by choosing to make peace instead of their ceaseless wars, and crafting an econ policy focused on American workers instead of global corps.
"What's more far and away the largest source of division in the party has not been Trump but the NeverTrumpers who refused to accept the legitimacy and significance of his election, spending five years trying to throw him out of office and undermine his electorally winning agenda.
"Yes, Trump is divisive and polarizing with broader electorate, but not within GOP. That's why polls showed such overwhelming support for him in GOP. And why folks were so frustrated at the Never Trump sabotaging the agenda constantly instead of supporting."
That's an excellent observation.
Why is she giving such content away free to Twitter? It sells ads based on people reading her tweets.
Write the post, then tweet a link to it. Use Twitter. Don't let Twitter use you.
ITEM 8: Fox reported, "CNN's struggling media program Reliable Sources with Brian Stelter hit another low on Sunday with its smallest audience of 2021 as the liberal program has now failed to crack the one-million viewer plateau for five consecutive weeks.
"Stelter's program averaged only 810,000 total viewers and a dismal 163,000 among the key demographic of adults age 25-54 on May 2, for its worst performance of the year in both categories."
Helter Stelter is safe. He works cheap and does whatever Jeff Zucker wants him to do. Stelter not only looks like a potato but he acts like one too.
ITEM 9: Neil Bradley of the U.S. Chamber of Commerce said, "We need a comprehensive approach to dealing with our workforce issues and the very real threat unfilled positions pose to our economic recovery from the pandemic."
The pro-Red China, anti-MAGA chamber wants a handout.
Here's an idea: raise wages.
ITEM 10: Americans for Tax Reform reported, "Oops. Every House Democrat Endorsed By U.S. Chamber Voted for Job-Killing Biden Bucks."
ATR reported on a chamber press release that complained because 37% of the unemployed now receive more in unemployment compensation than they did when working.
The story said, "The unfortunate part for the U.S. Chamber is that every single House Democrat the trade association endorsed in the 2020 election cycle voted to extend the 300-per-week Biden Bucks."
That's not an oops.
That was the plan.
The chamber says one thing, does the other. The people who run the chamber are sneaky and deceitful, but they are nobody's fool.
ITEM 11: The Washington Examiner reported, "God didn't deliver for President Joe Biden, who recently begged The Lord to help him erase the congressionally approved immunity that gun-makers have from lawsuits.
"In a little-noticed decision with a major impact on the firearms industry, a federal judge in Arizona has ruled in favor of pistol manufacturer Glock and dismissed a suit brought by the Brady Campaign to Prevent Gun Violence on behalf of a man who was accidentally shot and paralyzed.
"U.S. District Court Judge Susan Brnovich upheld liability immunity granted in the Protection of Lawful Commerce in Arms Act passed in 2005 to block gun-makers from a potential wave of industry-killing lawsuits.
"Brnovich, nominated by former President Donald Trump and the wife of Arizona Attorney General Mark Brnovich, dismissed multiple claims in the suit that the act's protections were illegal, writing, 'The statute is constitutional.'
"While she made her decision in mid-March, it is just now winning attention as Biden and top congressional Democrats begin a campaign to impose new gun control restrictions and end liability immunity for gun-makers."
Without that immunity, there would be no guns, which is the evil intent of Biden and his Democrats.
ITEM 12: Via Twitter, CNN's Christine Romans reported, "If you haven't felt it yet, it's coming. You can expect higher prices for toilet paper, diapers, soft drinks, plane tickets, a tank full of gas. Whirlpool is raising prices of some of its appliances by up to 12%."
I lived through the 1970s. The poor and the elderly will be hardest hit.
ITEM 13: Life Site News reported, "AOC Praises Planned Parenthood's Prenatal Care, But 95% of Its Abortion Clinics Don't Even Offer It."
Most of the plan for Planned Parenthood is not to become a parent.
ITEM 14: CNN reported, "The 23-month-old girl who fell out of a car and into a bay Sunday after a multi-vehicle crash on a bridge in Ocean City, Maryland, is expected to make a full recovery thanks to a humble hero who jumped into the water to save the child, authorities said Monday.
"Eight people were taken to hospitals Sunday after the crash on the Route 90 bridge left a car dangling off the guardrail, authorities said. All eight were discharged from hospitals and are doing well, Ryan Whittington, firefighter and medic at Ocean City Fire Department, told CNN on Monday.
"Whittington said the man who saved the toddler is choosing to remain unnamed publicly. The fire department is calling him the humble hero for his rescue.
"The man was driving on the bridge, and his car was also involved in the crash, Whittington said. The drivers were pointing down to the Assawoman Bay, where he saw the girl lying in the water, face down."
God bless the man.
Notice how we connect any doers of good deeds to the Samaritans because of one act thousands of years ago.
ITEM 15: Via Glenn Reynolds.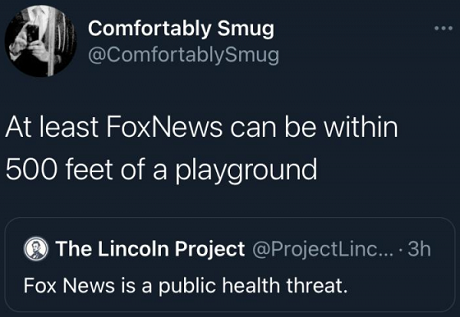 Didn't all the Lincoln Project schmucks once work for Fox?