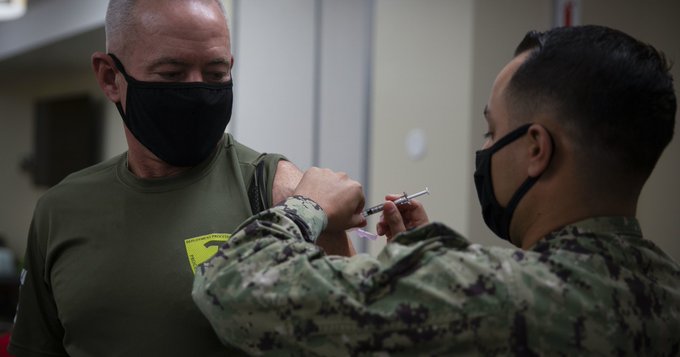 Matt Drudge is upset because Biden might order the military to get covid vaccinations. Too bad. I had to get a swine flu shot 44 years ago.
Uncle Sam's body, Uncle Sam's choice.
ITEM 1
:
CNBC reported
, "The Biden administration will restrict travel from India as that country grapples with a gigantic surge in coronavirus cases, White House press secretary Jen Psaki said Friday.
"The policy will take effect Tuesday, May 4, Psaki said in a statement. The administration made the decision on the advice of the Centers for Disease Control and Prevention, she said.
"While Covid infections and deaths have been on the decline in the U.S. as millions of Americans get vaccinated each day, India is in the grip of an unprecedented spike in cases.
"India reported record daily death tolls from Covid on Wednesday and Thursday. The country is averaging about 3,050 Covid deaths per day, according to data compiled by Johns Hopkins University, though media reports indicate the official figure is being understated."
A year ago,
Biden said such travel bans
were ineffective.
I don't know.
12,500 miles seems to be pretty good social distancing.
ITEM 2: Fortune reported, "The country is in the midst of a growing chlorine shortage. And that's causing some pool supply stores to limit the amounts people can buy.
"That could be a problem, since a lot of people added pools to their homes during the pandemic in lieu of a summer vacation. And a major chemical plant fire in Louisiana last August has created supply issues, as an estimated 800 tons of pool chlorine were lost.
"That's going to make it more expensive to keep pools clean. IHS Markit predicts chlorine prices could jump 70% this summer, after already doubling in some areas in the months following the fire at BioLab. The real effects of that fire haven't been felt, as it took place right before Labor Day, when many pools close for the summer."
Pool's out for summer!
ITEM 3: John Nolte wrote, "Tim Scott, a black United States Senator who in 2016 won 61% of the vote in the conservative state of South Carolina, who earned more raw votes and won by a wider margin than Donald Trump, has done more in just a few days to drag the racism of the Democrat party out into the sunlight than the feckless Republican party ever has.
"On Wednesday night, during his brilliant rebuttal to His Fraudulency Joe Biden's congressional address, and through the simple act of stating a truth, Scott smoked these racist monsters out and proved once again that racism is still very much a part of the Democrat party's DNA, a DNA that stretches back to their creation of the Jim Crow South and their willingness to go to war to stop a Republican president from taking away their slaves.
" 'Hear me clearly,' Scott said. 'America is not a racist country.'
"With those nine words, Scott undermined everything that motivates today's organized left, and to prove Scott wrong, to prove America is indeed a racist country, Democrats hurled the worst kind of racism directly at Scott.
"Instead of addressing the substance of his argument, Democrats took direct aim at his skin color. For hours, 'Uncle Tim' — a play on the slur 'Uncle Tom' — was allowed to trend on Twitter, and the only reason it trended at all was Democrats, including countless members of the Blue Checkmark Mafia, who ensured it trended.
"Cable news anchors smeared him for throwing 'white Republicans' a lifeline, which is just a dog whistle screaming 'Uncle Tom.' "
Jimmy Kimmel and Joy Behar were among the Fake Comedians who attacked Scott.
Both have appeared in blackface.
Senator Scott poses an existential threat to their Throne of Lies.
ITEM 4: The Daily Mail reported, "A Texas rancher's TV interview about the crisis on the border was interrupted when federal agents stormed his property chasing migrants as he said he was 'under siege' amid the crisis.
"John Sewell was speaking live from his property to Fox News about the border crisis, saying he had already caught three migrants at his ranch that day before breakfast.
"Dana Perino was attempting to read a statement issued by Sen. Mark Kelly about President Joe Biden's speech on Wednesday but dogs were heard loudly barking in the background."
Democrats created this crisis so they could surrender the country to the invaders.
Sadly, Dubya sides with the Enemy From Within.
ITEM 5: Finally the truth about Italian cooking.
I know it's a clickbait food post—but pizza palace per pizza palace, Jersey beats New York. Not really debatable. https://t.co/fLj3dIg4od

— David Reaboi (@davereaboi) May 1, 2021
I thought they only torched places for the insurance money.
ITEM 6: William A. Jacobson reported, "You know who is the most racisty racisty racist in America right now according to Democrats? That would be one Democrat Senator Joe Manchin, who just drove a stake through the heart of Democrat dreams to make the District of Columbia a State.
"Making D.C. a state would be unconstitutional, even with an attempt to carve D.C. into pieces and make one piece a state. So unconstitutional even John Roberts might switch sides and join the conservatives on the high court. But nonetheless, Democrats wanted to go there, perhaps hoping more threats from Chuck Schumer and Sheldon Whitehouse to go all insurrectionist against SCOTUS would work.
"But in order for it even to be in play legislatively, Democrats would need to bust the filibuster AND get all Democrat Senators plus the Vice President to vote for it. Joe Manchin has said he's not busting the legislative filibuster, and today he said he's also not voting to make D.C. a state, arguing that a constitutional amendment would be needed for that."
I hate to say Joe's right, but Joe's right.
ITEM 7: Financial Times reported, "Duke and Vanderbilt universities, two of the most prestigious seats of learning in the US, are among the biggest shareholders of a company that owns a single sandwich shop in New Jersey and has a stock market valuation of $100 million despite recording just $13,976 in sales last year.
"The delicatessen in Paulsboro, a dusty refinery town abutting the Delaware river near Philadelphia, has attained notoriety on Wall Street after its parent company Hometown International was named by hedge fund manager David Einhorn as an example of the quasi-anarchy that he said had taken hold in financial markets."
No, this is an example of well-connected managers turning college endowments into hedge funds with a university attached.
Investigate and prosecute because someone is making millions through a Bernie Madoff scheme.
By the way, the next Republican president must order colleges to start spending down their endowment funds. No other charity gets away with keeping $40 billion in the bank.
ITEM 8: The New York Times reported, "The Museum of Modern Art blocked protesters from entering the museum Friday afternoon at the conclusion of a march designed to focus attention on what the demonstrators say is the undue influence of wealthy patrons on the cultural institution's values and programming."
Good for the museum.
And of course wealthy donors get to call the shots -- not 40 "activists" who contribute nothing to society but a lot of unpleasant noise.
ITEM 9: Venture Beat reported, "Intel wants 8 billion euros ($9.7 billion) in public subsidies towards building a semiconductor factory in Europe, its CEO was cited as saying on Friday, as the region seeks to reduce its reliance on imports amid a shortage of supplies.
"The pitch is the first time Pat Gelsinger has publicly put a figure on how much state aid he would want, as Intel pursues a multibillion-dollar drive to take on Asian rivals in contract manufacturing."
Ah the irony. Europe regulated and taxed their homegrown businesses to the point where they have to pay $10 billion to an American company to open a factory there.
ITEM 10: KMJ reported, "This year's Kentucky Derby will be run Saturday, with the state song being played before the horse race despite calls to end the musical tradition.
" 'My Old Kentucky Home,' written by Stephen Foster, traditionally has been performed pre-race by the University of Louisville's marching band."
Foster read the anti-slavery novel "Uncle Tom's Cabin" in 1852. He became an abolitionist, as millions of Americans did. It was a very powerful book. His song was sympathetic to the slaves -- darkies, as he called them -- who were leaving everything they knew to cross the Ohio to escape slavery.
Liberals detest the song not because its original lyrics use the word darkies, but because it is a reminder that the American people rose up against slavery, formed the Republican Party, and fought a civil war that ended slavery for good.
Kentucky was a northern state in that conflict.
ITEM 11: The Arizona Republic reported, "An Arizona Republic reporter was escorted from the Arizona election audit site on Friday morning after posting a photo showing a former Republican legislator at a ballot-counting table.
"The photo showed a ballot, with no markings discernible, on a vertical stand in front of former state Rep. Anthony Kern, R-Glendale.
"The reporter, Ryan Randazzo, was told his press privileges were revoked. He left the building as requested."
Reporter?
Try activist.
The newspaper opposes the audit and now is obviously trying to sabotage it.
ITEM 12: The State Department announced, "Ambassador Daniel Smith, the Director of the Foreign Service Institute who recently served as acting Secretary of State and Acting Deputy Secretary of State, will be departing for New Delhi to serve as Chargé d'Affaires, ad interim. Ambassador Smith carries the highest Foreign Service rank of Career Ambassador."
India?
Now?
He must have pissed off someone important to get sent to Covidlandia.
ITEM 13: Politico reported, "Texas Republican congressional candidate Susan Wright is seeking help from federal law enforcement the day before her special election, after supporters reported receiving robocalls that accused her of being responsible for the death of her late husband.
"Wright's campaign reached out to the Federal Bureau of Investigation and the Department of Justice on Friday after discovering robocalls baselessly alleging that she had 'murdered' her husband, the late GOP Rep. Ron Wright. Wright is running in the special election to succeed Wright, who passed away in February after being diagnosed with coronavirus."
Let's slap the 24 Hour Rule on this one.
The special election is today.
ITEM 14: NBC reported, "Florida is on track to be the first state in the nation to punish social media companies that ban politicians like former President Donald Trump under a bill approved Thursday by the state's Republican-led Legislature.
"Gov. Ron DeSantis, a Republican and close Trump ally who called for the bill's passage, is expected to sign the legislation into law, but the proposal appears destined to be challenged in court after a tech industry trade group called it a violation of the First Amendment speech rights of corporations."
Hahaha.
Oh the tech companies have a lot of brass trying to hide behind the First Amendment -- an amendment they defecate upon daily.
ITEM 15: HuffPost reported, "President Joe Biden has spent his first 100 days pushing massive spending bills, proposing higher taxes and enacting progressive policies. But unlike his Democratic predecessor, President Barack Obama, a mass movement in opposition hasn't materialized yet.
"At this point in his presidency, Obama faced the Tea Party revolt. On April 15, 2009 ― Tax Day ― thousands of protesters took to the streets in cities across the U.S. to demonstrate against high taxes and increased government spending following the Great Recession. In Washington, D.C., a crowd even forced a temporary shutdown of the White House after they hurled tea bags onto the executive mansion's lawn.
"Republicans insist the same type of backlash is coming for Biden if he continues down the path he's on. But the party, still reeling from years of Donald Trump and a Jan. 6 insurrection at the Capitol, faces a problem: some of Biden's policies are very popular."
Some of his policies are popular?
Well if he really got 80 million votes, all his policies would be popular.
The reason no Tea Party has emerged is Republicans ignored the last one. The Tea Party gave Republicans the House and a decade later Republicans still had not repealed Obamacare. They never did.
We got the message.
ITEM 16: Breitbart reported, "Rep. Cheri Bustos (D-IL), former Democratic Congressional Campaign Committee (DCCC) Chairwoman, and a top lieutenant of House Speaker Nancy Pelosi (D-CA), announced Friday she will not be seeking reelection.
"Bustos said 'following a decade of service,' she 'will not seek reelection after completing this term.'
"This is a major blow for Pelosi and House Democrats with their already slim majority crumbling. Bustos is the latest Democrat to announce she will not run for reelection.
"Former President Donald Trump previously won Bustos' district in both of his elections in 2016 and 2020. The retiring Congresswoman was able to hold her seat. Illinois lost a congressional seat after the Census, and the Democrat supermajority controls redistricting for the 2022 election."
It will be nice when Nancy hands that gavel to Kevin McCarthy in January 2023.
ITEM 17: United Press International reported, "Federal agencies are investigating at least two possible incidents on U.S. soil that appear similar to mysterious 'sonic attacks' that caused debilitating symptoms in dozens of U.S. diplomats in Cuba.
"Defense officials briefed lawmakers on the House and Senate armed services committee about the investigation into the incidents, including one near the White House last year, CNN and NBC News reported.
"A National Security Council official was sickened in an incident near the Ellipse, a lawn on the south side of the White House in November and a White House official reported a similar attack while walking her dog in a Virginia suburb near Washington, D.C., in 2019."
If the government cannot protect its own employees, how can it protect you?
And if it cannot protect you, why are we spending $700 billion a year on defense?
FINALLY, The Blaze reported, "An Alaska couple says the FBI raided their home with guns drawn at them this week in the search for House Speaker Nancy Pelosi's (D-Calif.) laptop, which is apparently still missing after it was reported stolen following the Jan. 6 attack on the U.S. Capitol.
"According to the couple, Paul and Marilyn Hueper, the feds left after hours of interrogation, in what the Huepers say is a case of mistaken identity."
This is the same FBI that had Hunter's laptop and sat on it for a year without bothering to prosecute him.
Break up the FBI. Level the J. Edgar Hoover Building. Pass a constitutional amendment banning Congress from authorizing another one.