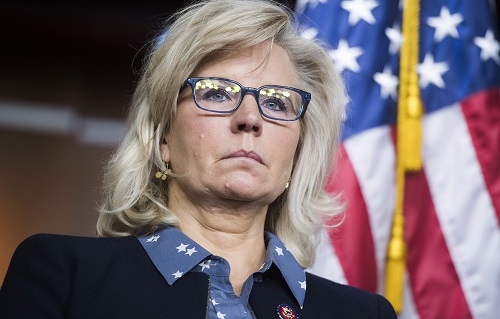 Because Democrats used to call her daddy Darth Vader, Liz Cheney must think she is Princess Leia. Her act is wearing thin, and congressional Republicans may dump her from her leadership position in favor of someone less full of herself.
Axios reported
, "Top Republicans are turning on Rep. Liz Cheney, the party's highest-ranking woman in Congress, with one conservative leader suggesting she could be ousted from her GOP post within a month."
In a rarity for what passes for journalism in DC, Axios named names.
The story said, "The comments by Reps. Steve Scalise, the minority whip, and Jim Banks, chairman of the Republican Study Committee, carry weight because of their close relationship with House Minority Leader Kevin McCarthy (R-Calif.) — who is openly feuding with Cheney."
She should have been shown the door when she voted to impeach President Donald John Trump. But Republicans are the cowardly lions in our Oz Along The Potomac.
Besides, her daddy is revered among the mendacious money men elected Republicans still show fealty to. The elected crew closes their eyes to the money these same benefactors shower on Democrats. The Koch Brothers may as well be the Kennedys now.
Dick's daughter wants to be a kingmaker. She declared Cruz cannot be the nominee in 2024 because he voted not to accept the tainted election results. Her actual words were, "I do think that some of our candidates who led the charge, particularly the senators who led the unconstitutional charge, not to certify the election, you know, in my view that's disqualifying."
You know what is really disqualifying?
Voting to impeach your own party's president.
Banks said the biddy is not helping to regain the House next year.
He said, "That's what we got out of Liz Cheney, which doesn't help us remain focused on that single goal. Her lack of focus on that, while being focused on other things, and proving her point, was an unwelcome distraction.
"The sort of sideline distractions at the GOP retreat will only serve to hold us back from being focused on that nearly unanimous goal we have as a conference."
She ain't a team player.
Yesterday, I called Democrat Michigan state representative Jewell Jones an EP -- Entitled Princess -- for threatening state troopers with political retaliation when they arrested him for drunken driving.
That title fits Cheney. I hope the voters of Wyoming kick her out of office next year.
This year, Republicans should kick her out of the caucus.
I don't expect purity or blind loyalty. I do demand you stand by your party's president. If not, she should do what her father told Pat Leahy to do.