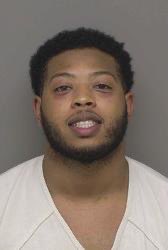 The email tagline was simply, "You knew it was coming..."
Without opening the email, I understood what the story would be. And I was right.
On April 16, Michigan State Police took Democrat state Representative Jewell Jones into custody and charged him with drunken driving.
They had to pepper spray, tase, and wrestle him to the ground to make the arrest. Obviously they also charged him with resisting arrest.
Upon looking at his mugshot, anyone knew what his excuse would be.
Breitbart reported, "The Detroit News reported other drivers called 911 prior to the incident to report the vehicle — with an ELECTED vanity plate — 'was drifting in and out of lanes and along the rumble strip.' Soon after, he 'rolled into the ditch' after nearly hitting a bridge.
"During his roadside altercation with police — which was captured on dashcam video — Jones invoked Gov. Gretchen Whitmer (D) by name and demanded he be allowed to get her on the phone."
He also said, "I run y'all budget, bro."
At 21, he was the youngest person elected to the Michigan legislature. He's now 26 and being elected has gone to his head.
Oh, and he demanded the arresting troopers call the head of the state police.
Jones said, "Tell Joe who you got, and call fucking Joe. I'm not sure he's up or not. If he's not up, wake him up. Tell Joe who you have, tell Joe who you have handcuffed.
"Let him know I'd like to go home. After that, let me go fucking home.
"You all don't know who you all are dealing with, bro."
He is an EP.
Entitled Princess.
The Detroit News covered the EP's first court appearance. His lawyer told the judge, "We believe the police used excessive force and Mr. Jones was mistreated in this incident. If this was not a black man in Livingston County, he would have been in that ambulance and on his way to the hospital."
He harassed the police, and now he claims victimhood.
The newspaper said, "While police attempted to get Jones into handcuffs, they deployed a stun gun twice before spraying Jones with pepper spray in the eyes, according to the police report. A loaded Glock was found in the cupholder of Jones' vehicle, the report said.
"On April 16, he was charged with four counts of resisting and obstructing a police officer; operating a vehicle with a high blood alcohol content; operating while intoxicated; reckless driving; and possession of a weapon while under the influence of alcohol."
A black trooper wrestled him to the ground.
I get that a lawyer has to give whatever flimsy defense he can find, but someone needs to tell Jones to grow up and accept responsibility for driving drunk and harassing the officers who arrested him.
Jones can blame the booze for his action then.
He has nothing but his own inflated ego to blame for his unacceptable behavior and excuses now.
The officers knew to expect trouble when they saw that vanity plate, ELECTED.
The state should issue him a new one -- EP -- to warn the world that the driver is an Entitled Princess.