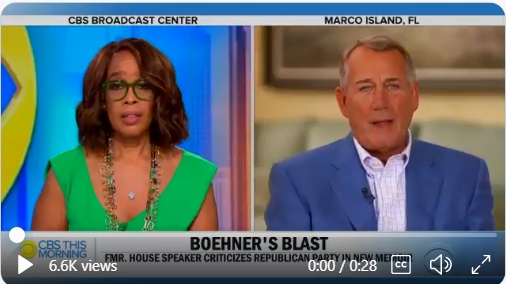 John Boehner had a storied 24 years in Congress, a period that saw Republicans take control of the House for the first time in 40 years. He helped shape the Contract With America, was part of the first impeachment in 130 years, and finally was Speaker of the House.
In retirement, Boehner has written a book that he is peddling on morning TV.
The questions asked are Democrat-soft because he is harmless now, neutered by time and a party that has largely forgotten him.
Besides, he is attacking a Republican, Ted Cruz.
That is Boehner's selling point for the book. Buy it now because a former Republican speaker attacks Ted Cruz!
Via Martin Walsh, Boehner said this morning, "This guy wasn't even a member of the United States House of Representatives, he was a member of the Senate, stirring up some of the crazies in my own caucus to cause all kinds of problems.
"And that's probably why I zeroed in on him — probably the only person in this book — in the way that I did."
Cruz's response was "I don't anticipate writing a fortune cookie about him."

In his own words, Boehner did not attack Jim Wright, the crooked Democrat House Speaker, whose corruption led to the 1994 Gingrich Revolution, like this.
Boehner did not attack Clinton like this. Indeed, he apologized for the impeachment.
Boehner did not attack Obama, whose policies fundamentally transformed America into a Deep State, like this.
Boehner did not attack Dennis Hastert, the pedophile House Speaker, like this.
Boehner did not attack Chairman Xiden, whose stupidity is legendary and whose presidency is a reversion to the socialism that had receded under President Donald John Trump, like this.
No, Boehner went after Ted Cruz, blaming him for Boehner's inability to work with the 85 rookie Republicans who joined the House after the historic 2010 election and made him speaker. After nearly 4 years of the runaround, many of the old rookies rallied around Cruz.
Of course, Boehner attacked him, saying, "As I say in the book, there's nothing worse than a reckless jackass who thinks he's smarter than everybody else."
That description may loosely fit Cruz, but it fits Obama perfectly.
But you must understand why Obama was off limits. A year after resigning the House rather than fight Obama, Boehner joined Squire Patton Boggs, the third-largest lobbying firm in the U.S.
It is called a sellout.
I trust they pay him well and keep his liquor cabinet well-stocked.
The book is part of that lobbying effort.
Disagree with Newt all you want, but he never sold us out.