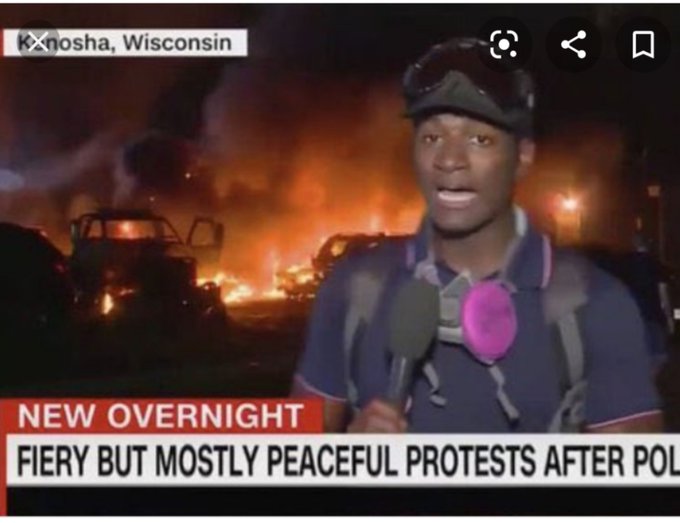 Grace Bureau, a student at Gustavus Adolphus College, has packed up and will leave Minneapolis for good today. She wrote in The College Fix about her decision. Yes, she is in her 20s and lots of people leave home at that age.
Big deal.
But she is being forced to leave because of riots. That is a huge deal.
Minneapolis has been a hellhole for almost a year now. George Floyd died in police custody after overdosing on fentanyl. A jury convicted the officer who pinned him down of second-degree murder, third-degree murder, and manslaughter.
Between his death and the conviction, activists and anarchists tore up the city. They destroyed 1,500 buildings.
Sane people are saying OK, you win -- and are leaving.
Bureau wrote, "I'm too afraid to even walk in my neighborhood by myself.
"The ACE Hardware down the street? The one that I used to bike to in the summer? Robbed twice in the past five days.
"The Walgreens next to my elementary school? Molotov cocktail thrown into it.
"The Lake Harriet Bandshell, where we spent countless Mother's Days? Homeless encampment popped up next door.
"These are the things you don't read about in the news."
Her words took me back to the summer of 1966, which began with Sonny Siebert tossing a no-hitter on June 10 against the Washington Senators.
I was 12 going on 13. I had just finished my first year at Alexander Hamilton Junior High, a predominately black middle class school outside my district. My family was poor. They had a major works program for above average students. I made the mistake of getting Straight A's in sixth grade so I could get a pair of tickets to an Indians game courtesy of the Cleveland Press.
A month after that no-hitter came the Hough riots. And 3 months later, we moved across town to all-white Lakewood because the neighborhood I grew up in was gone. Just a year or two earlier, you could walk the streets at night and no one locked the door. That vanished seemingly overnight.
Of course, every liberal now puts the exodus from the cities down as White Flight.
Last fall, William Voegeli wrote in City Journal about White Flight.
He began, "Speaking at an October 2019 Obama Foundation Summit, Michelle Obama reminisced about growing up in South Shore, a Chicago lakefront neighborhood. Some memories were bitter. The former First Lady, born in 1964, lamented living through white flight. As 'upstanding families like ours, who were doing everything we were supposed to do . . . moved in,' she said, 'white folks moved out.'
"In her telling, the whites who abandoned South Shore had motives as obvious as they were ugly, choosing to relocate because 'they were afraid of what our families represented.' They voted with their U-Hauls to reject families like hers because of 'the color of our skin' and 'the texture of our hair,' those 'artificial things that don't even touch on the values that people bring to life. And so, yeah, I feel a sense of injustice.' "
Of course, there is more to the story than she tells because she has no personal memories of the 1960s. She was 5 when they ended.
I remember them through a slightly older child's eyes. We lived between Little Italy and Little Budapest. Old ladies spoke Hungarian and Italian over the fences.
In the 1950s, there were plenty of kids on the street to play with. By 1966, there were Wilbur Smith, me, and Frankie Blackowski (and his sister and brother). We lived on a hill. Slowly, the black population was expanding quite literally up the hill.
The older kids had gotten jobs, gotten married, and gotten out. They moved to newly built homes in the suburbs leaving behind little cottages with a widow or a retired couple inside. No one wanted to live in the old homes with the postage stamp yards. They wanted clean air (the Cuyahoga River was not the only pollution problem in Cleveland). They wanted good schools. They wanted something new and fresh.
In his piece on white flight, Voegeli hit upon that element. Whites fled the city not because black people were moving in, but because the suburbs offered a better quality of life.
He wrote, "Suburbanization was a phenomenon even in metropolises that saw little demographic change from the Great Migration. Leah Boustan cites Minneapolis–St. Paul, which, after World War II, saw only a small increase in the number of black residents but rapid growth of its suburbs. The 'newly prosperous families,' she writes, were 'seeking larger houses and more open space.' In Lost Cities (1995), Alan Ehrenhalt discusses Elmhurst, a Chicago suburb 16 miles west of the Loop. The newcomers who bought its new ranch houses and split-levels were 'refugees from Chicago apartments,' he writes, 'fleeing all the things suburbanites fled in the 1950s: landlords and cooking smells, neighbors one flight above or uncomfortably close next door, physical surroundings that carried indelible reminders of hard times years ago.' One new resident told the Elmhurst Press, 'It is wonderful to be able to see grass and trees, instead of hallways and speeding automobiles.' "
In the song Somewhere That's Green, the musical Little Shop of Horrors both mocks and pays tribute to suburbanization.
Still, that Seymour's a cutie
Well, if not, he's got inner beauty
And I dream of a place
Where we could be together at last
A matchbox of our own
A fence of real chain link,
A grill out on the patio
Disposal in the sink
A washer and a dryer and an ironing machine
In a tract house that we share
Somewhere that's green.
He rakes and trims the grass
He loves to mow and weed
I cook like Betty Crocker
And I look like Donna Reed
There's plastic on the furniture
To keep it neat and clean
In the Pine-Sol scented air
Somewhere that's green
This desire to leave the city behind and start over again was the chief motivator, not Michelle Obama's family moving in. This was upward mobility. The suburbanization of America began in the Roaring '20s. The Great Depression and World War II delayed the inevitable. But between cheap mortgages and brand-new interstate freeways, people could easily flee the cities, and they did.
The liberal racialization of this begs the question: Why did Michelle Obama's family leave the black neighborhood? What did her father, Fraser Robinson, dislike about black people? The color of their skin? The texture of their hair?
If that sounds ludicrous, it is because it is ludicrous. The motives she places on others are rather self-centered. It could not be that people wanted out of South Shore. No, no, no. It was all about her. The Robinson Family did everything right. They were entitled to white neighbors. How dare white people leave!
And how does this victimization -- this demand that no one leave until Michelle Obama says they can -- square with black people protesting what they call gentrification when white people move back to the city?
Voegeli ended his piece, "In short, the thesis that racism alone caused white flight, disinvestment, and ultimately neighborhood decline is dubious, both empirically and logically. Some whites who fled South Shore and communities like it in the decades after World War II were prejudiced. Others were simply observant—of rising crime, devastating riots, deteriorating public schools, vanishing business opportunities, and plunging property values. Their departure does not amount to a moral transgression. Further, one cannot blame South Shore's decline on departing whites without also maintaining certain corollaries: that by remaining in large numbers, they would have either prevented the arrival of the element that wrecked the neighborhood or would have had an edifying, pacifying effect on youths otherwise drawn to street or thug culture. It would then follow that the white owners of homes and businesses there had a duty to stay, risking solvency and safety, for the sake of their new black neighbors. To state such propositions is to demonstrate their unreality.
"Goodwill, which manifestly rules out bigotry, is indeed a necessary condition for a heterogeneous America to cohere and flourish. But it is not a sufficient one. Sharing a nation also requires candor and rigor in examining every reason for ethnic tensions. Ascribing the difficulty of integrating residential communities entirely to white racism is not only inaccurate but also harmful, an impediment to interpreting a complex situation intelligently, and then improving it. Morality tales of white villains and black victims may assuage the resentments that Michelle Obama started accumulating 50 years ago. Their only effect today, however, is to render the profound challenge of reconciling liberty, equality, and diversity even harder."
***
A half-century after Michelle Obama's family moved into South Shore, Chicago, Grace Bureau is leaving Minneapolis for good.
Bureau wrote, "I can't help but look around and wonder, 'What happened here? Where exactly did it all go wrong?'
"Was it the liberal mob? Identity politics? The cries of 'RACIST!' when someone disagreed with a particular reaction or policy?
"Was it conservative silence as the loudest voices got more and more radical?
"Was it our acceptance that 'we live in a blue area, this is just the way things are?'
"How did it all happen so fast?
"Whatever it was, I'm leaving this dark, surreal, twisted version of Minneapolis on Friday [today]. And I pray to God that I never have to come back."
I wish her luck.
She owes nothing to Minneapolis.
Her body, her choice.
I hope she finds her place, somewhere that's green.