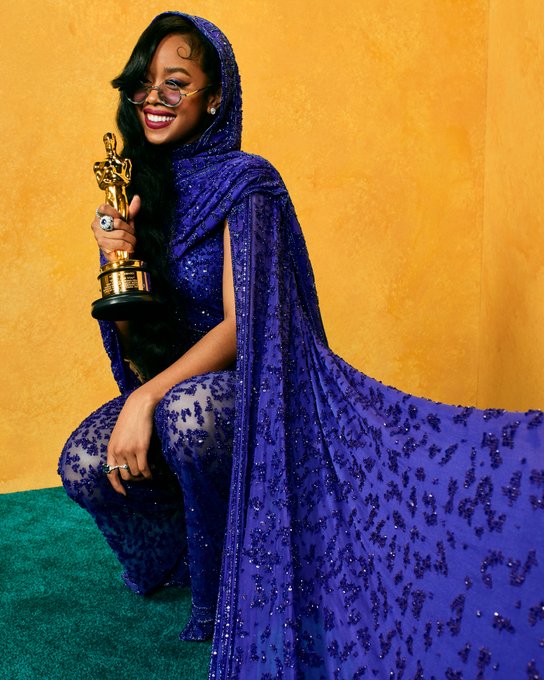 Oscar ratings were in the basement in 2019 with a rating of 21.6.
Last year, they went into the sub-basement with a rating of 18.1.
This year, the Oscars fell well below that at 8.9. Less than half the small number of people who watched it last year came back this year.
The numbers are courtesy of Bobby Burack at Outkick. Nielsen mysteriously delayed its overnight ratings, perhaps to save face for Disney, which owns ABC, which broadcasts the Oscars.
Burack wrote
, "Award shows are already hemorrhaging viewers. Between cord-cutting and the industry nominating films no normal human would spend a dime to watch, ratings for the Oscars crashed 44 percent between 2014 and 2020. Hollywood isn't exactly a brand that can afford to tell half of the country it's racist, yet it does so anyway.
"A ratings collapse. Expected, but still staggering to see in print."
Oscars viewership —

2014: 43.7M
2015: 37.2M
2016: 34.4M
2017: 33M
2018: 26.6M
2019: 29.6M
2020: 23.6M
2021: 9.8M

— Frank Pallotta (@frankpallotta) April 26, 2021
The spin from the New York Times is that politics turn people off, and that is true to some extent. But the Oscars were politicized in 1973 when Marlon Brando sent Mary Louise Cruz, aka Sacheen Littlefeather, to decline his Oscar as a protest to Hollywood's portrayal of Indians over the years.
After 48 years the leftist politics have done their damage.
Part of it may be turning the Oscars into a BET awards special. Black actors have pressed the Oscars to be less white and this year's awards reflected that.
Well, when more than half your audience is white, they get the hint. They don't tune in a show that will berate them for being white. The biggest racial problem today is leftist black people seeking racial vengeance for crimes committed long before any of us were born.
That the show itself was a bore did not help matters. Johnny Oleksinski of the New York Post lambasted the production.
He wrote, "The night was nearly non-stop drudgery, zero humor and a format that tried even the most resolute of attention spans.
"Too bad. The ceremony started out promisingly. Presenter Regina King confidently strutted through Los Angeles' Union Station, which was reconfigured to host the event, like it was a catwalk during Fashion Week. And she arrived to a neat Art Deco-looking banquet hall where the trophies would be handed out. Cool, new, fun!"
He hit upon why people watch the Oscars.
Glamour.
People don't care who wins. They just want to see the actresses in gowns and the actors in tuxes. The real winners of the Oscars are the people who get the most attention at the ceremony.
The Hollywood Reporter declared this year, "Glenn Close Wins the Oscars by Dancing to 'Da Butt.' "
Absolutely.
There was a fuss about Anthony Hopkins winning the best actor Oscar over Chadwick Boseman, who played the title character in Black Panther, a comic-book character film. Boseman was nominated for a more serious role this year.
USA Today said, "Typically the ceremony ends with the announcement of best picture, but this year, the award for best actor was moved to the end. The restructuring seemed to indicate that Boseman, who picked up a Golden Globe, Screen Actors Guild Award and Critics Choice Award for his performance as Levee in Ma Rainey's Black Bottom, had also earned an Oscar."
He didn't win. A few black actors were upset. Hopkins, 83, had skipped the ceremony rather than fly 8 hours to LA from his home in Wales.
He released a video topday, in which he said, "At 83 years of age, I did not expect to get this award. I really didn't. I'm very grateful to the Academy. Thank you. I want to pay tribute to Chadwick Boseman, who was taken from us far too early. And again, thank you all very much. I really did not expect this, so I feel very privileged and honored, thank you."
Classy statement from a classy guy.
And that's what the Oscars had. Class. And that is what the Oscars lost, its class.
Changing demographics suggest that in time most films will be made by non-whites. The Oscars will come in time for non-whites. But will those Oscars have any meaning by the time this happens?
There is irony in all this.
Tyler Perry won an Oscar for being Tyler Perry. He gave an exceptional acceptance speech. I suggest Hollywood be more like Hopkins and Perry, and less like Sacheen Littlefeather.