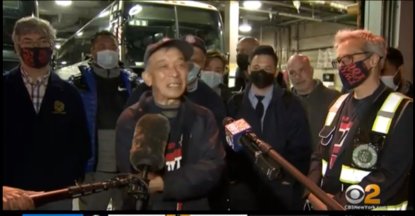 Tommy Lau is New York's most beloved bus driver since Ralph Kramden. The headline said it all, "Asian-American Bus Operator Intervenes to Stop Hate Crime; is Himself Assaulted."
New Yorkers are proud of the man.
Lau said, "I figured I had to get involved. These are my people. I can't take it when people think they can get away with attacking elderly people."
The increase in such cases got the police off their duffs.
CBS reported, "The NYPD is beefing up its efforts to combat a spike in anti-Asian hate crimes. The department is adding more resources — and manpower."
And it is not just throwing money at the problem. Tactics changed. Asian police officers are going undercover. That's pretty good.
The New York Times has embraced the sudden interest in inner-city attacks on Asian Americans and Pacific Islanders, in part because it can pretend the cause is Donald Trump.
He said Wuhan Flu!
But when police arrested and charged Donovan Lawson for attacking Lau, the New York Times changed its tune.
It isn't a hate crime because Lawson is mentally ill.
And black.
The Times said, "It was the 33rd arrest for Mr. Lawson, 26, who is homeless and mentally ill, the authorities said. Four times, officers had been called to assist him because he appeared to be in the grip of a mental breakdown, and he was being monitored for treatment in a mental health program run by the Police Department.
"He is not unique. Many of the people charged recently with anti-Asian attacks in New York City have also had a history of mental health episodes, multiple arrests and homelessness, complicating the city's search for an effective response."
The arrest ruined the narrative, as reality often does.
The odds are zero to negligible that a homeless man in the middle of the second-most anti-Trump city after Washington is a Trump devotee who was triggered by the words Wuhan Flu.
But the story is revealing. The city arrested the man 33 times and instead of jailing him or helping him, the city literally threw him out on the streets.
33 times.
Bail reform and no jail for minor crimes have a price paid by law-abiding citizens, especially in Chinatown.
Lawson is not an exception to the rule.
The Times said, "For instance, Mr. Lawson was one of at least seven people arrested after attacks on Asian city residents in the last two weeks of March, ending with a horrifying attack on a Filipino-American woman, who was kicked repeatedly in broad daylight in Manhattan by a man the police say was homeless and on parole after serving a prison sentence for killing his mother.
"Of the seven people arrested, five had prior encounters with the police during which they were considered emotionally disturbed, police parlance for someone thought to be in need of psychiatric help. Investigators believed the remaining two also had signs of mental illness."
Now I do not doubt that mentally ill people are attacking Asian Americans in the cities. Involuntary commitment fell out of vogue among liberals and now the mentally ill -- and the people they beat for no reason -- are the ones who suffer.
Make no mistake. Crazy or not, Lawson beat a man because of the color of his skin and Lawson should be tried convicted, and punished.
But Lawson also needs help, likely from a pill. The prison should get him that aid.
If the New York Times wishes to look for the root cause of all this trouble, I suggest its staff begin with a good long look in the mirror. Liberalism is a disease that hits hardest those with comorbidities such as mental illness.