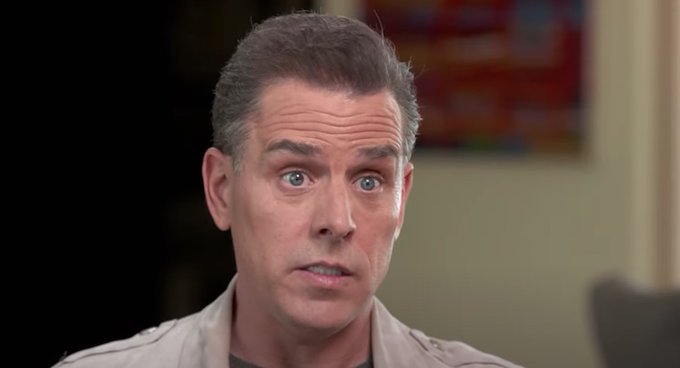 Now that his dad is president and the FBI won't touch his laptop with a 10-foot pole, Hunter Biden is willing to admit that yes his laptop filled with child porn and documentation of his graft.
The media is willing to admit it too.
It is called gloating.
Call him Hillary Jr. because like her and the 33,000 emails she sent to Red China, he got away with it and there is nothing anyone can do about it.
The New York Post broke the story a month before the election. Twitter banned the story from its web site. The media discredited it. Hunter hid.
Today, the New York Post reported two stories.
The first was, "NPR issues stunning mea culpa after claiming Hunter Biden laptop story was 'discredited' by intelligence."
It said, "A book review of Hunter Biden's memoir 'Beautiful Things' initially dismissed the documents first reported in October by The Post.
" 'The laptop story was discredited by U.S. intelligence and independent investigations by news organizations,' the book review by NPR senior editor and correspondent Ron Elving initially claimed.
"The correction on the Thursday article now says, 'A previous version of this story said U.S. intelligence had discredited the laptop story. U.S. intelligence officials have not made a statement to that effect.'
"Although some Democrats claimed that the laptop may have been 'Russian disinformation,' President Biden's campaign, the White House and Hunter Biden have not denied the laptop belonged to Hunter."
The second story said, "Hunter Biden has finally 'fessed up that the laptop at the center of The Post's explosive exposé last year absolutely could belong to him, he revealed in an interview Friday."
Could absolutely?
Sheesh.
The story continued, "In a sitdown with CBS's Sunday Morning, President Biden's embattled son was pointedly asked yes or no if the MacBook Pro that was dropped off at a Delaware computer repair shop in April 2019 was in fact his.
" 'I really don't know what the answer is, that's the truthful answer,' Hunter Biden said in an excerpt of the interview released on Friday, before adding, 'I have no idea.'
"But asked whether it could have belonged to him, he replied, 'Absolutely.' "
The FBI is very reluctant to investigate Democrats because unlike Republicans, Democrats punish government employees who do not resist the opposing party's presidents.
Democrats play hardball.
The CBS take on its own interview was headlined, "Hunter Biden opens up about family intervention and addresses laptop reports."
Kudos to the network for asking him about the laptop.
The one the media swore last October wasn't his.
The next Republican president needs to be nice and pleasant to the media and the deep state in public, while he rips them to shreds behind closed doors. There are scores to settle, lessons to teach, and heads to place on pikes.
The RNC needs to hire private investigators and create dossiers on every senior official in the FBI, Pentagon, and so on down to the Department of Transportation.
And then the RNC must leak these stories while out of power and while in it. As Michael Corleone told Tim Hagen, "Tom, wait a minute. I'm talking about a cop that's mixed up in drugs. I'm talking about a dishonest cop -- a crooked cop who got mixed up in the rackets and got what was coming to him. That's a terrific story. And we have newspaper people on the payroll, don't we, Tom?"
Republicans need more reporters on the payroll. They are pretty cheap.
And Republicans must learn to ballot harvest. If Democrats can learn it, we can. The goal should be having the next Republican nominee carry Southside Chicago in a landslide. Gin up West Virginia's voter participation to 90%. Fight fire with water. Go with what works.