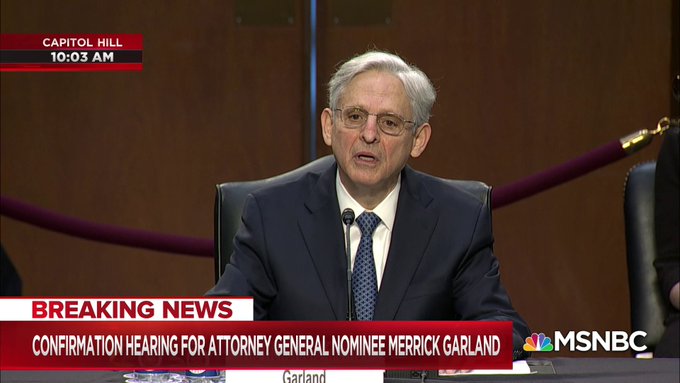 Yahoo reported, "At a ceremony Monday commemorating the 26th anniversary of the Oklahoma City bombing, Attorney General Merrick Garland said the Justice Department is 'pouring its resources into stopping domestic violent extremists before they can attack, prosecuting those who do, and battling the spread of the kind of hate that leads to tragedies like the one we mark here today.' "
Democrats and the Deep State celebrate the Oklahoma City bombing each year as proof that right-wing fanatics are terrorizing the country.
This is the same Washington Establishment that sternly warns us against blaming all Muslims for 9/11, which no one really does.
But a lone wolf attack in Oklahoma City remains decades later the justification for Garland and the Deep State to attack conservatives.
The story said, " Garland oversaw the bombing investigation and prosecution while working at the Justice Department in the 1990s, and said that even though 'many years have passed, the terror perpetrated by people like Timothy McVeigh is still with us.' "
Attacks by Antifa on federal buildings in Portland drew no rebuke from Garland or any other Democrat. Indeed, the media calls a half-billion dollars in riot damage in Minneapolis as mostly peaceful protest.
The story said, "There has been a renewed focus on domestic extremism in the wake of the Jan. 6 Capitol riot, and in March, the Office of the Director of National Intelligence wrote a report saying white supremacists and militias are the most lethal domestic threat. Often, these extremists 'radicalize independently by consuming violent extremist material online and mobilize without direction from a violent extremist organization, making detection and disruption difficult,' the report stated."
Riot?
No buildings were razed by arsonists.
The only person shot and killed was a protester. The police officer who died had a stroke. Three other protesters died in the protest of various causes.
Actual extremist violence from the left is protected and encouraged by the Deep State.
While I am grateful that McConnell kept Garland off the Supreme Court, I wish he had fought harder for President Trump's re-election to keep Garland from becoming attorney general.
But it is not McConnell's fault we have a fascist attorney general who will imprison dissidents "before they can attack." Americans must reject the by-whatever-means-necessary politicians who seek office to abuse their power.