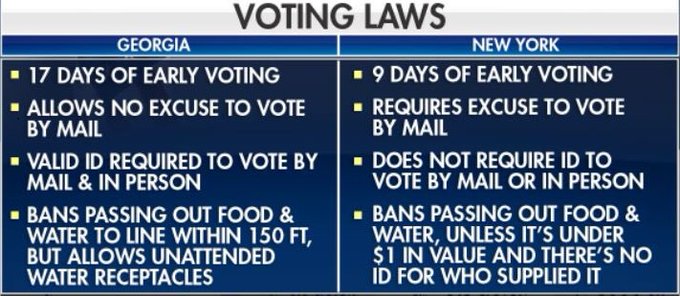 When Democrats took charge of the South after Reconstruction, they made racial discrimination the law of their part of the land. They passed Jim Crow laws to keep the black man down.
Jim Crow died in 1964. LBJ killed him with the help of 27 of the 33 Republican senators who voted to end a filibuster by 22 Democrat senators from the South and Bob Byrd.
30 years after passage of the Civil Rights Act of 1964 -- after the last white supremacist died -- Republicans began the long slog to political dominance. The South prospered.
Unable to win an election on merit in the South, Democrats used the covid 19 crisis to replace the ballot box with the mailbox and stole Georgia's election.
Republicans got smart and reformed the election law.
Democrats denounced it as JIM CROW because somehow black people who have a photo ID to drive a car, buy a beer, or get a pack of smokes do not have such identification when it comes to voting.
Jim Crow is a busy man these days, even though he died 57 years ago.
Democrats denounce racism and they see it everywhere.
The Washington Examiner reported, "Transportation Secretary Pete Buttigieg suggested in a recent interview that racism is built into the country's highway system.
" 'There is racism physically built into some of our highways, and that's why the jobs plan has specifically committed to reconnect some of the communities that were divided by these dollars,' the former South Bend, Indiana, mayor told reporter April Ryan this week in an interview discussing President Joe Biden's proposed $2 trillion infrastructure plan.
"Buttigieg explained that several major highways in the United States negatively affect minority communities."
He based his claim on hearsay.
He told Ryan, "Well, if you're in Washington, I'm told that the history of that highway is one that was built at the expense of communities of color in the D.C. area. There are stories, and I think Philadelphia and Pittsburgh [and] in New York, Robert Moses famously saw through the construction of a lot of highways."
Buttigieg heard stories!
Robert Moses oversaw the construction of a lot of highways!
It must be JIM CROW.
The Washington Times reported, "Sean Combs on Thursday accused General Motors and corporate America of exploiting black culture and manipulating black people into accepting incremental progress instead of radical change.
" 'The same feet these companies use to stand with us in solidarity are the same feet they use to stand on our necks,' the record executive and former rapper wrote on his website Revolt. 'No longer can Corporate America manipulate our community into believing that incremental progress is acceptable action. Corporations like General Motors have exploited our culture, undermined our power, and excluded Black entrepreneurs from participating in the value created by black consumers.'
"Mr. Combs' letter follows a statement by GM pledging to increase its partnerships with black-owned media organizations after its CEO, Mary Barra, was accused by multiple leaders of black-owned businesses of racism for initially refusing to meet with them and for not allocating more of GM's advertising dollars with them."
History says actually GM and the rest of the auto business helped create black culture by offering well-paid work to black people who migrated from the South to escape the Democrats' Jim Crow segregation.
And Detroit became a mecca of black music.
But if Puff Daddy, as Combs once called himself, says it is exploitation it must be JIM CROW.
Fox reported, "A Portland high school has postponed changing its mascot to an evergreen tree after a committee member raised concerns about its possible connotations to lynching.
"Ida B. Wells-Barnett High School adopted its namesake earlier this year after the Pulitzer Prize-winning African American journalist who extensively documented lynching at the turn of the 20th century, the Portland Tribune reported."
I called it a bigot-tree the other day.
Once again, it is JIM CROW.
Propagandists at the Associated Press duly trotted out JIM CROW to do the devil's work for the Democrats.
AP said, "Once obscure, the Senate filibuster is coming under fresh scrutiny not only because of the enormous power it gives a single senator to halt President Joe Biden's agenda, but as a tool historically used for racism.
"Senators and those advocating for changes to the practice say the procedure that allows endless debate is hardly what the founders intended, but rather a Jim Crow-relic whose time is up. Among the most vivid examples, they point to landmark filibusters including Strom Thurmond's 24-hour speech against a 1957 Civil Rights bill, as ways it has been used to stall changes.
"The debate ahead is no longer just academic, but one that could make or break Biden's agenda in the split 50-50 Senate. Carrying echoes of that earlier Civil Rights era, the Senate is poised to consider a sweeping elections and voting rights bill that has been approved by House Democrats but is running into a Senate Republican filibuster.
"In a letter Friday, nearly 150 groups called on the Senate to eliminate the filibuster, saying the matter takes on fresh urgency after passage of more restrictive new elections law in Georgia, which could be undone by the pending For the People act that's before Congress."
There is nothing obscure about the filibuster.
The filibuster has been around as long as we had a Senate. The filibuster was even used in the constitutional convention. Slowing legislation down is part and parcel to having a Senate
But Democrats call it Jim Crow and the press repeats it until once again a lie becomes the truth.
Michael Barone holds out hope that the Jim Crow lie will boomerang.
Barone wrote, "One of the great achievements of this country was the dismantling and repudiation of the system of legally and violently enforced racial segregation and subjugation. It was the achievement first of black Americans, famous and obscure, who risked, and in some cases gave, their lives to protest peacefully. This cause came to be embraced by a supermajority of people of all backgrounds and characteristics.
"To declare that provisions such as requiring voters to show picture identification and limiting no-excuse early voting to 17 days amount to a return to Jim Crow is disgraceful, whether you're the president or you're $46 million worth of CEOs.
"It's also not clear it's politically helpful. A Morning Consult poll shows 42% to 36% approval of the Georgia law. A CNN poll shows approval on Biden's handling of racial injustice standing at just 47%, below his overall job rating."
Today's Jim Crow is used by black Democrat leaders to bully the opposition. Anything they don't like is now JIM CROW.
As Barone pointed out, the nation whupped Jim Crow once.
It can and will whup this phony Jim Crow 2.0.