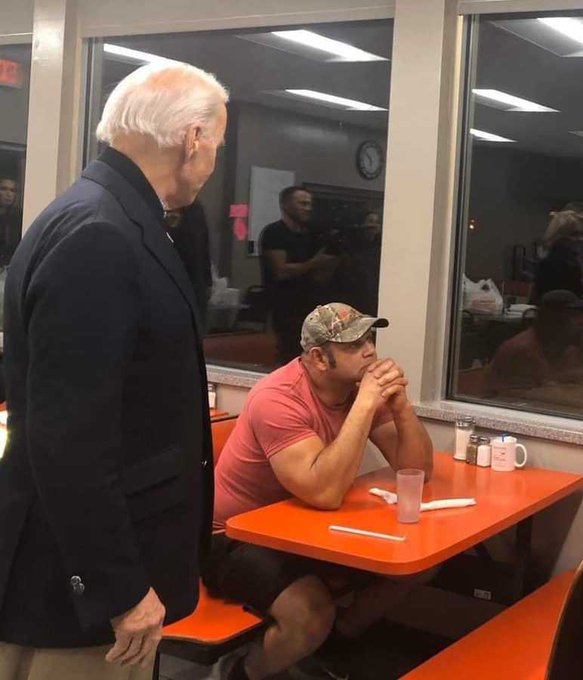 The man who totally received more votes than any president ever addressed Congress last night.
Millions did not watch.
ITEM 1
: Biden called to open the spigots and spend trillions of dollars we do not have on welfare and little on building bridges, water reservoirs, airports, power plants, and the like. He called his welfare program "infrastructure."
I call it cowpies.
Republican Senator Tim Scott said in the official reply, "Our best future won't come from Washington schemes or socialist dreams. It will come from you — the American people."
Reaganism lives.
Trumpism too.
ITEM 2: Scott also said, "Thanks to Operation Warp Speed and the Trump Administration, our country is flooded with safe and effective vaccines. Thanks to our bipartisan work last year, job openings are rebounding. So why do we feel so divided and anxious?"
President Trump got the vaccines to free people from masks.
And, boy, are the Democrats angry.
ITEM 3: The Gestapo invaded Rudy Giuliani's house, and confiscated his electronic equipment as the Biden Administration criminalizes political opposition.
Obama used the FBI as a KGB to spy on opponents.
Biden uses the FBI to destroy them.
CNN reported, "It is unusual for prosecutors to execute a search warrant on a lawyer, although Manhattan federal prosecutors have done so before, most notably in recent years against another former lawyer for Trump, Michael Cohen."
We have three sets of rules. One set for citizens, one set for protected citizens such as Hunter Biden, and one set for people connected to Donald Trump.
I have news for those in the first group. Soon there will be just 2 sets of rules and you ain't on the protected list.
ITEM 4: Royal Farms convenience stores announced, "With a growing store count and warmer months approaching, Royal Farms is ramping up a large-scale hiring effort that aims to bring on 4,500 new employees before the end of this year.
"The open positions range from part-time and full-time options, as well as customer service level associate and management level positions. A $500 sign on bonus at select locations is being offered to new employees. A $300 referral bonus for any active employee is also being offered internally. If an employee is fully vaccinated, they will also receive a $50 COVID-19 Wellness bonus."
The stores are headquartered in Baltimore.
Do people get combat pay as well?
In Grub Hub Nation, the government outspends employers to keep people jobless.
TWEET OF THE DAY: Ronna McDaniel tweeted, "Since Biden likes to talk about unity, it's worth noting that he's spoken more to Xi Jinping and Vladimir Putin than Kevin McCarthy and Mitch McConnell."
I love her moxie.
ITEM 5: The New York Post reported, "Cops dismantle vagrants' tent in middle of Upper West Side."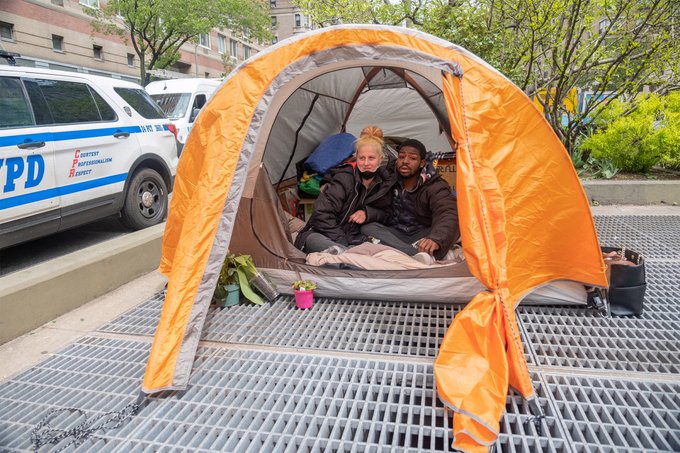 As hobo homes go, that one looked pretty nice. Upscale even.
But the police are there to protect the 1%.
ITEM 6: West Virginia enacts a new Sanity in Sports law.
BREAKING: West Virginia governor signs bill banning transgender athletes from competing in female sports in middle and high schools and colleges - AP

— Breaking911 (@Breaking911) April 28, 2021
Jim Justice (the governor) coaches the girls basketball teams at Greenbrier East High School and led them to a state championship in 2012. He also coached the boys team at the same time for a few seasons. He may not know much, but when it comes to school sports, I defer to his judgment.
ITEM 7
:
The Georgia Star News reported
, "Nearly half a year after the 2020 Election, and four months after the original inquiry, Fulton County has failed to fulfill the Open Records Request made by The Georgia Star News to produce complete copies of all ballot transfer forms documenting the chain of custody in the transfer of absentee vote by mail ballots deposited in drop boxes to county registrars during the November 2020 election, as required by the Emergency Election Code Rule adopted by the Georgia State Election Board in July 2020.
"On January 22, Fulton County Officials responded to the Open Records request made by The Star News with two PDF files. As previously reported, of those two files – one with a label that ended with BX-1, and another with a label that ended with BX-3 – showed ballot transfer form records for 36,635 absentee votes by mail ballots deposited in drop boxes.
"That amount is significantly less than what was expected for Fulton County, given that The Atlanta Journal Constitution reported that 145,000 absentee votes by mail ballots were cast in Fulton County in the November 3, 2020 general election out of more than 524,000 votes cast."
145,000 ballots cast. 36,635 accounted for. Whose votes did those 100,000+ unaccounted-for ballots cancel out?
Republicans must learn to ballot harvest. They must be as dirty and as dangerous as the Democrats are because until the laws change and are enforced by the courts, the law of the jungle applies.
ITEM 8: The Hill reported, "Former President Trump is discussing the possibility of resuming his signature Make America Great Again rallies as he seeks to remain a part of the political conversation while out of office and silenced on Twitter.
"CNN reported that Trump is considering the resumption of his rallies and that he may hold events to support candidates challenging Republicans who have criticized him, such as Sen. Lisa Murkowski (R-Alaska), one of seven GOP senators who voted to convict the former president in his second impeachment trial for inciting a mob to attack the Capitol on Jan. 6.
"Trump continued to hold MAGA rallies in 2020 even throughout the COVID-19 pandemic. The rallies came to a halt after his loss to now-President Biden in November's election."
No president ever campaigned harder for his party and for his re-election against such terrible odds.
I hope he is rewarded with MAGA wins in 2022.
ITEM 9: WJW reported, "An Ohio pub owner says he's never been busier since telling people that he wouldn't be showing NBA games until LeBron James was expelled from the league.
"Jay Linneman, owner of Linnie's Pub in Cincinnati, announced the ban shortly after a tweet from James about the death of Ma'khia Bryant."
James ran a picture of the police officer who stopped Bryant from killing another girl. James captioned it "You're Next."
Mega-millionaire James who peddles slave-made shoes tweeted, "Aww Damn! I was headed there to watch our game tonight and have a drink! Welp."
I have a feeling Linneman will make it without the thug.
ITEM 10: The Washington Post reported, "D.C. pastor misused $1.5 million in pandemic relief loans, federal prosecutors allege."
Misuse?
He used some of the money to buy a Bentley.
Put me on that jury and I vote to acquit.
ITEM 11: The Epoch Times reported, "California officials colluded with Big Tech to censor social media posts in the United States during the 2020 presidential election, government watchdog group Judicial Watch announced Tuesday.
"The findings come after Judicial Watch received 540 pages and a further four pages of documents from the office of the Secretary of State of California in response to an open records request, the group said.
"It had filed the request after a December 2020 report surfaced revealing that California's Office of Election Cybersecurity had surveilled and asked the social media giants to remove or flag as misleading at least two dozen messages.
"Judicial Watch President Tom Fitton said that SKDKnickerbocker, a communications company linked to President Joe Biden's election campaign, was involved in the censoring of speech during last year's election period.
"The company did this by sharing its Misinformation Daily Briefings with California officials, who then passed them on to social media giants Facebook, Twitter, and Google for dissemination, according to Judicial Watch."
Fascism is the use of corporations as muscle for the totalitarian state. George Orwell messed up. He thought only the government could do this.
The next Republican president must shut the social media down if we are to restore America as a constitutional republic.
ITEM 12: Breitbart reported, "Florida Gov. Ron DeSantis (R) extended the state's declared State of Emergency, contending it is necessary to 'ensure Florida schools remain open for the remainder of the school year and to protect Floridians from being required to produce a so-called vaccine passport,' per the order.
"The emergency order, which has been in effect for over a year, was set to expire at midnight, but DeSantis extended it again, citing the continued impact of the Chinese coronavirus beyond a public health standpoint alone."
What he is doing is intriguing.
While there is no emergency, there is an order. It said in part, "As Florida continues to realize a manageable trend in COVID-19 cases, over 8.5 million vaccinated individuals, a 4.7% unemployment rate well under the national average, and state revenues improving significantly from worst-case projections during the pandemic, gaining $4.1 billion additional projected revenue over three fiscal years from the August 2020 estimate, the state should prepare to resume non-emergency operations."
Some men talk presidential. Others act presidential. Readers know which kind I prefer.
ITEM 13: Newsotime reported, "Biden Calls For U.S. To 'Root Out Systemic Racism' In Speech To Congress."
The way to root it out is for Biden to resign because that system of racism elected him president.
He should turn the presidency over to a black man.
Tim Scott.
ITEM 14: Just the News reported, "Former President Trump issued a statement on Wednesday praising the decision by a judge in Arizona to allow the audit of the Nov. 3, 2020 presidential election to continue.
"The audit is focused on Maricopa County, the largest by far in Arizona, and involves more than two million votes. Though they have been recounted in the past, this is both a recount and a forensic audit to determine the legitimacy of each vote cast."
This should have been done months ago.
ITEM 15: The Daily Beast reported, "Fox News anchor Chris Wallace heaped praise on President Joe Biden's first address before a joint session of Congress on Wednesday evening, predicting it would be a popular speech with most Americans. Moments later, an on-air colleague swooped in to take a jab at his analysis.
"During Fox's post-speech coverage, Wallace specifically cited Biden's pitch for infrastructure and child-care spending plans as a reason why, in the anchor's view, many Americans will come away with a positive view of the address."
I predicted Wallace would gush over the speech because he is the cheerleader for socialism and the deep state.
Just like every other anchor in Washington.