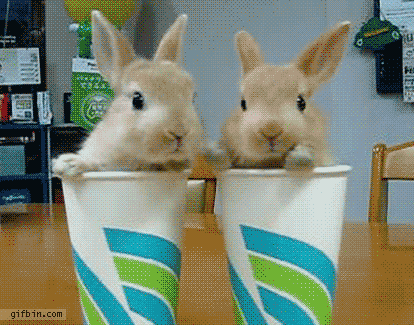 All out of coffee. How about a cuppa bunnies to start the day?
ITEM 1
:
The Toronto Sun reported
, "Jessie Hamilton worked as a cook at a fraternity house at Louisiana State University for 14 years.
"While she was in constant motion preparing breakfast, lunch and dinner for the members of Phi Gamma Delta, commonly called Fiji, she was widely known to lend an ear when one of the young men needed her advice or care."
" 'She was truly like a mother to us,' said Andrew Fusaiotti, 52, a Fiji fraternity brother who attended LSU in the late 1980s. 'She treated us like we were her own kids. She was always looking out for us.'
"More than 30 years later, he and his fraternity brothers returned the favor.
"On April 3, just before her 74th birthday, a dozen Fiji members and their families surprised Hamilton with an outdoor celebration at her home in Baton Rouge and presented her with a gift of $51,765.
"Nearly 100 Fiji brothers contributed money to cover the outstanding balance of Hamilton's mortgage – and then some – so she could finally retire. Hamilton was speechless."
She was their mom.
She helped raise great men.
ITEM 2: The Daily Mail reported, "The CDC's Deputy Director has admitted they have no proof Johnson & Johnson's vaccine actually causes rare blood clots and revealed one of the main reasons they've stopped giving it out is to give them time to talk to doctors about how to treat the condition, as some experts called the decision to suspend the shot an 'overreaction' that will stunt the US's COVID-19 recovery."
Democrats panicked because vaccinations would end the lockdown.
So the CDC shut down a vaccine because 6 out of 7 million people vaccinated had blood clots, which may or may not have been the fault of the vaccine.
Sometimes I get the feeling the government wants us all dead.
ITEM 3: CNBC reported, "Gary Gensler will lead the Securities and Exchange Commission after the Senate voted 53-45 on Wednesday to confirm his nomination to head the nation's top financial regulator."
How tough will he be?
The story said, "Gensler, a former Goldman Sachs executive, is perhaps best known in Washington for his unyielding work at the Commodity Futures Trading Commission, where he devised the regulatory framework for the multitrillion-dollar derivatives market."
Regulator? More like the maitre d' of Wall Street.
ITEM 4: The Daily Caller reported, "Law enforcement in the Minneapolis suburb of Champlin erected barriers Tuesday morning to blockade the home of former Brooklyn Center police officer Kim Potter, who fatally shot Daunte Wright during a traffic stop over the weekend.
"The home has been fortified with concrete barriers and metal fencing, according to video footage from the Daily Caller. The barriers are similar to those erected at the courthouse in downtown Minneapolis where former police officer Derek Chauvin is currently on trial in the death of George Floyd."
Good. She was charged with manslaughter. She deserves her day in court, unharmed.
If Nancy Pelosi can have her Pretorian Guard erect barriers around a public building to protect her from an imaginary militia, then police can do so to protect a private home from rioting mobs of mostly peaceful protesters.
ITEM 5: USA Today reported, "The U.S. Capitol Police officer who fatally shot veteran Ashli Babbitt during the Jan. 6 riot at the Capitol will not face charges after an investigation into the incident, the Justice Department said Wednesday.
"Babbitt, a 35-year-old from San Diego, was trying to climb through a barricaded door near the House chamber when the officer, who has not yet been publicly identified, shot her in the left shoulder. She wore a Trump flag as a cape as she tried to crawl through the broken window when the shot was fired, then fell to the ground.
"The Justice Department determined there was not enough evidence to prove that the officer who shot Babbitt did so unreasonably or in a manner that willfully deprived her of her civil rights. Rather, the investigation concluded the officer could reasonably believe he was firing in self-defense or in defense of members of Congress."
The officer was not named.
The Deep State protects its own. The press is a large part of this cover-up.
ITEM 6: Down goes CNN! Down goes CNN!
Weird - @DonLemon has spent almost 10 minutes on the Brooklyn Center protests and hasn't mentioned the attack on his own network's crew

Guess CNN will leave its employees out to drive if it doesn't fit the narrative https://t.co/UsOjoznLzH

— Will Chamberlain (@willchamberlain) April 15, 2021
It was a mostly peaceful bottle of water.
ITEM 7: The Washington Examiner reported, "Two of the companies that were hammered the hardest by the Right after criticizing Georgia's new voting law were absent from a new statement by hundreds of businesses and individuals about voting rights.
"The statement, which is very broad in nature and does not delve into specific provisions of bills, appeared as a two-page advertisement in the New York Times and the Washington Post on Wednesday morning. While major companies such as Amazon, Google, and Starbucks signed on, Delta Air Lines and Coca-Cola, which have both faced calls for boycotts, were not involved."
Does this statement apply to Big Business's No. 1 partner, Red China?
Or is Big Business as cowardly as LeBron James and his NBA cronies?
Mao was right. We are a paper tiger.
ITEM 8: United Press International reported, "About 300 members of the South Carolina Air National Guard's 169th Fighter Wing arrived in Saudi Arabia for deployment, it announced on Wednesday.
"The troop movement includes an undefined number of F-16CJ fighter planes, a statement from the wing said, noting that it is the SCANG's largest deployment since its support of troops in Kuwait in 2018.
"The unit, known as the Swamp Foxes, will support U.S. Central Command in Saudi Arabia by preserving operational depth, staging joint forces and projecting overwhelming combat power in the region, the statement said."
When did Saudi Arabia become a colony of the United States?
ITEM 9: Barron's reported, "Speaker Nancy Pelosi's husband just disclosed he bought Roblox stock the day it went public, and acquired Microsoft stock through options.
"Paul Pelosi bought 10,000 Roblox shares on March 10, the first day the videogame provider's stock began trading on the New York Stock Exchange. He paid $500,000 to $1 million in total, according to a form Speaker Pelosi filed April 9 with the Clerk of the House of Representatives. Specific figures aren't required for disclosure, only ranges.
"The speaker's husband also acquired 25,000 Microsoft shares on March 19 through call options, which allow a holder to buy a set amount of stock at a pre-agreed price. Using the options, an action known as exercising options, he paid $1.95 million to acquire 15,000 shares for $130 each, and paid $1.4 million for 10,000 shares for $140 each.
"Paul Pelosi and Speaker Pelosi's office didn't respond to requests for comment on the stock purchases."
Not even Republicans seem to care about this scandal.
ITEM 10: The Blaze reported, "A UFC strawweight fighter who made anti-communist comments ahead of her fight with the reigning champion is not apologizing for her remarks.
"Contender Rose Namajunas told Ariel Helwani's MMA Show on Wednesday that she does not regret saying her opposition to communism is part of her motivation to defeat Zhang Weili, the current UFC strawweight champion and the first and only champion from Red China.
"Namajunas is of Lithuanian descent. Her parents emigrated to the United States to flee communist tyranny under the old Soviet Union. Her grandfather served with the Independent Lithuanian military and was killed by Soviet forces."
Bravo.
She is more of a man than anyone in the NBA.
That includes LeBron James.
ITEM 11: The New York Times reported, "A North Texas school district said this week that it had disciplined a group of students at a predominantly white school who had assigned prices to students of color in a Snapchat group message called Slave Trade.
"Messages sent by students at the high school in Aledo, Texas, about 20 miles west of Fort Worth, said one student was worth "100 bucks" while another was worth a dollar — a price that 'would be better if his hair wasn't so bad,' according to a photo of the group chat seen by The New York Times."
It's rather creepy to have adults in New York spying on teens in Texas who are poking fun at classmates.
This is what you do when you are trolling for racism instead of reporting on black teens punching out Jews, Asians, and white people for fun.
ITEM 12: The New York Post reported, "A double shooting near West Palm Beach, Fla. left a 7-year-old boy dead.
"The child's mother was also injured when at least one shooter opened fire at the Riviera Beach home where the family was sleeping early Wednesday morning, according to WPTV.
"The young victim's father and another child inside the home were not injured, police told the local station.
"The mother, 28-year-old Addiscia Ball, is in stable condition, according to the report."
Pray for the family.
And then there is this, "In 2014, Ball held vigil for a close friend whose toddler was shot and killed while sitting in a car in West Palm Beach, according to the Sun Sentinel."
Heartbreaking. That toddler would have been 7 or 8 by now.
ITEM 13: Newsweek reported, "Trump-Era Family Planning Policy Resulted in About 180K Unintended Pregnancies, HHS Says."
Donald Trump saved 180,000 American lives.
ITEM 14: Morning Consult reported, "MLB is the latest sports property to fall out of favor with Republicans following its decision to pull its upcoming All-Star Game and draft out of Atlanta in response to Georgia's new voting law that changes how elections are administered. As a result, Republicans now have a less favorable view than Democrats of all four major U.S. sports leagues.
"New data from Morning Consult Brand Intelligence, which tracks consumer attitudes, indicates that MLB's net favorability rating among Republicans plummeted from 47 percentage points in mid-March to just 12 points at the end of last week, following the league's decision to relocate its events. Net favorability is calculated by taking the difference between the share of respondents with a positive opinion of the league and the share with a negative opinion."
Baseball did not fall out of favor with Republicans.
MLB abandoned us. They called us Jim Crow, then moved their all-star game from Atlanta, a majority black city, to Denver, a majority white city. They cited the reform of elections in Georgia. Colorado's election laws are the same.
But what does it matter? Only 3% of Americans cared enough about the all-star game to watch it in 2019. MLB cancelled 2020's game.
ITEM 15: Shooting Illustrated reported, "Remington Ammunition recently announced that it is back in full production mode at its Lonoke, AR, facility and is running 24/7 to ensure that Big Green's boxes are a common sight on the shelf once again.
"Jason Vanderbrink, president at Remington Ammunition, addressed ammo shortages and Remington's production in a recent video titled Where's the Ammo?"
Vanderbrink said, "Big Green is back and stronger than ever.
"I am sick and tired of not being able to find Remington ammunition on the shelf. We are fixing that. American manufacturing is about to roar, and Remington Ammunition is back..
"Our work force is doing fantastic and our raw material suppliers have come through. Remington is going 24/7. We will never sacrifice the quality of our ammunition in the market."
I love the guy's attitude.
ITEM 16: The guy who voiced Apu on The Simpsons apologized to every Indian for his depiction. That is more than 1 billion people, of which maybe 13 were offended.
John Cleese tweeted, "Not wishing to be left behind by Hank Azaria, I would like to apologize on behalf on Monty Python for all the many sketches we did making fun of white English people.
"We're sorry for any distress we may have caused."
Ministry Of Silly Walks softest hit.
ITEM 17: Just the News reported, "Ice cream company Ben and Jerry's is calling for the dismantling of U.S. police departments after the fatal police shooting Sunday of Daunte Wright in suburban Minneapolis.
" 'The murder of #DaunteWright is rooted in white supremacy and results from the intentional criminalization of Black and Brown communities,' the company tweeted Tuesday. 'This system can't be reformed. It must be dismantled and a real system of public safety rebuilt from the ground up. #DefundThePolice.'
"The company was founded in 1978 in Burlington, Vermont, and sold in 2000 to British conglomerate Unilever."
Ice cream's ties to slavery are numerous, including the production of sugar. Black people were denied vanilla ice cream in the Jim Crow south – except on Independence Day!
To really woke people, ice cream is a worse symbol of slavery and segregation than a noose.
ITEM 18: Summit News reported, "The Australian military has been reminded by MPs that its core mission is the 'application of lethal violence' in response to concerns about it being too woke following a performance during which scantily clad dancers twerked on a Navy ship.
"The advisory came after awkward scenes where young women gyrated suggestively in front of military officials, some of them elderly, during a ceremony to formally commission the Navy's newest ship, a debacle that was dubbed a shitshow by one member of the government.
" 'We're meant to be a fighting force,' he added, echoing comments by backbencher Phillip Thompson, who argued that the Australian Defense Force had lurched 'too far to the left' with its focus on social justice issues."
A spokesman for the 101st Twerkborne Rangers did not respond to a request for comment by deadline.
ITEM 19: Michael W. Chapman reported, "In a letter to Anti-Defamation League CEO Jonathan Greenblatt, the Coalition for Jewish Values, which represents more than 1,500 traditional, Orthodox rabbis, strongly criticized the ADL leader for calling on Fox News Channel to fire conservative commentator Tucker Carlson for his alleged white supremacist ideology.
"The coalition also criticized the ADL for its apparently selective denunciation of anti-Semitism."
Woke ADL is the worst ADL.
Well, woke anything is the worst anything.
ITEM 20: The Associated Press reported, "President Joe Biden's first address to a joint session of Congress will look like no other in recent memory.
"The traditional speech for the new president, set for April 28, will unfold against the backdrop of heightened security in the aftermath of the deadly Jan. 6 Capitol riot and ongoing coronavirus protocols.
"It will be designated a National Special Security Event, according to a Capitol official involved in the planning and granted anonymity to discuss the situation on Wednesday."
You may not look at the president as he makes his way to the Capitol, citizen.
ITEM 21: The Hollywood Reporter reported, "White House Correspondents' Dinner Canceled for 2021."
A little Trumpenfreude to dip in your cuppa bunnies today.
FINALLY, oh please do boycott us.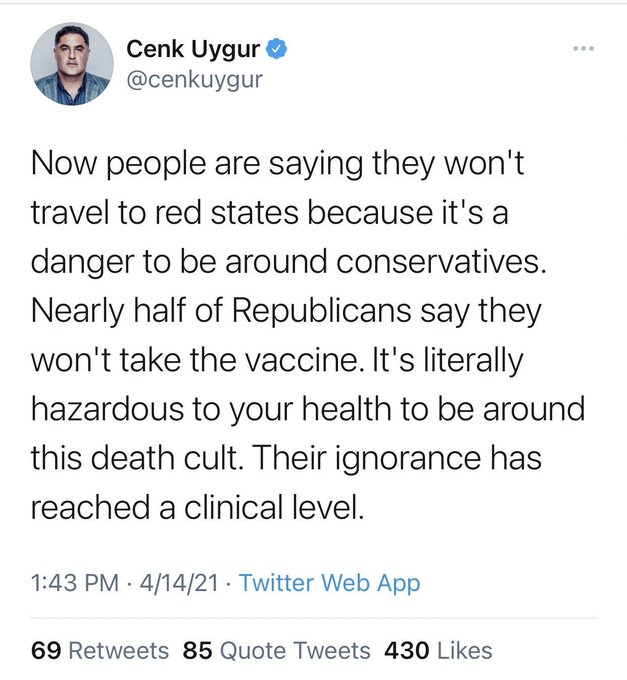 UPDATE: Because of an abusive commenter, I am shutting off new comments.