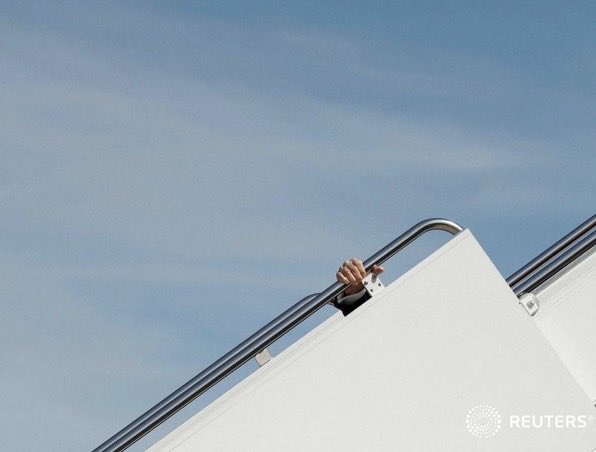 Jack Posobiec tweeted, "BREAKING: Biden did not come down to greet Japanese PM because he was 'feeling under the weather' this morning, per WH official."
America needs a president again.
ITEM 1
:
Sunny Skyze reported
, "The owner of a restaurant in Augusta, Georgia, is offering the man who burglarized his business a job."
The story said, "Carl Wallace is the owner of Diablo's Southwest Grill. Last weekend, someone smashed the restaurant's front door with a brick in an attempt to steal cash from the register -- but there wasn't anything in the drawer."
Wallace said, "You know my initial response was, you know, anger, frustration. I realized that we're gonna have to kind of put up a Facebook post about our door looking really, really bad because here we are going to put up two sheets of plywood over the front door to just get through the day."
Then he had an epiphany.
He said, "It really kind of occurred to me (that it's) … Easter weekend and to just extend an olive branch. You know, extend the layer of forgiveness and kindness and give the … would-be robber some redemption and a different path."
I don't know what religion Wallace is, but he's a better Christian than me.
ITEM 2: CNN reported, "When Raul Castro announced three years ago that he would step down in 2021 as head of Cuba's all-powerful communist party, he surely envisioned the island on firmer economic footing and the transition to a new generation of leadership nearly complete.
"Things have not worked out exactly according to Castro's plan.
"As Castro announced he was stepping down on Friday, his country is deep in crisis. The tourism-dependent island has been battered by the pandemic; the economy shrunk at least 11% in 2020 according to government estimates. Cubans each day spend hours in long lines to find increasingly scarce food, medicine and other necessities."
How does CNN know what Castro's plan was? After 62 years of misery for the people while the Castro family amassed a billion dollars in wealth, a logical person would say this was the plan.
ITEM 3: American Rifleman reported, "Barrett Firearms Manufacturing has been awarded a five-year, $49.9 million contract under the United States Army Precision Sniper Rifle program for its MRAD (Multi-Role Adaptive Design) MK22 MOD 0 rifle. The firearm will be issued as the cornerstone of a precision kit that includes a Leupold & Stevens Mark 5 HD scope and sniper-accessories. The MK22 will replace several currently fielded Army rifles.
"Designed with precision and modularity in mind, the MK22 provides even greater flexibility within the highly successful MRAD rifle platform. This multi-caliber bolt action sniper rifle is capable of converting between 7.62 NATO, .300 Norma Mag. and .338 Norma Mag. chamberings, based on the mission."
That is good, but I wish Singer Sewing Machines still made guns.
ITEM 4: HuffPo reported, "Throughout his decades in public life, Prince Philip was known for putting his royal foot in his mouth with occasional off-the-cuff remarks that could be embarrassing. But his faux pas at a White House dinner with President Richard Nixon in 1969 was enough for Philip to actually lose sleep.
"In a handwritten note to the president uncovered by archivists at the Richard Nixon Presidential Library and Museum in Yorba Linda, California, the Duke of Edinburgh wrote to humbly apologize for failing to toast the president's health as dictated by protocol during a stag dinner in his honor."
The note said, "After the brilliance of the other speakers and yourself, I am afraid my contribution was very lame. That night I woke up in a cold sweat when I realized I had forgotten to propose your health!"
That was sweet. RIP, Phil.
ITEM 5: The Sun reported, "America has suffered 54 mass shootings in just the past month, as a CNN host says there's an 'active shooter situation in the US.'
"The shocking statistics were revealed as a gunman opened fired during a FedEx night shift change in Indianapolis, Indiana, killing at least eight people before he turned the gun on himself."
There is no such thing as a coincidence in politics.
We are being set up for gun confiscation.
ITEM 6: The New York Post reported, "Sen. Ted Cruz is no longer wearing a mask while in the Capitol complex or on the Senate floor now that he is vaccinated, he revealed this week.
"Speaking to CNN Thursday, Cruz (R-Texas) explained, 'At this point, I've been vaccinated. Everybody working in the Senate has been vaccinated.'
" 'CDC has said in small groups, particularly with people who were vaccinated don't need to wear masks,' he continued.
"While lawmakers and congressional staff were given priority access to the Pfizer vaccine in December, as well as additional staff being inoculated earlier this year, there are many other Capitol employees and reporters on the premises who have yet to be vaccinated."
If you are vaccinated, you have no virus to pass along.
We would trust the science if the CDC and others based their decisions on science.
ITEM 7: NBC reported, "Public health officials say there are many reasons for the rising surplus of vaccine doses sitting on shelves. Before vaccine production ramped up, providers often maxed out quickly as residents at the greatest risk from the virus scrambled to book scarce appointments. But as availability continues to swell, there are new challenges: how quickly front-line workers are able to push out the shots, whether those who want to get vaccinated face barriers in doing so — and, most significantly, hesitancy among some residents to get vaccinated at all.
"Recent polling shows that although vaccine hesitancy is on the decline, 17% of Americans still want to wait and see before getting a shot, a figure that rises to 24% among black Americans. Doctors and nurses say it's still common to hear from patients fearing complications that they're not ready to make an appointment. Public health officials and front-line workers say that not all of that opposition derives from concerns of safety or effectiveness. Polls show Republicans are among the most likely to say they won't receive a jab at all."
'Tis the nature of vaccinations. Many of us are hesitant. Prior to this one, it had been 44 years since I had a flu shot and that was mandatory as I was in the Army.
Yanking the J&J vaccine over a 1-in-a-million chance of getting blood clots undermined public confidence as well.
My body, my choice.
ITEM 8: CBS reported, "Activists in Chicago are calling for the resignation of Mayor Lori Lightfoot and Police Superintendent David Brown following the release of bodycam footage that shows an officer fatally shooting 13-year-old Adam Toledo."
The 774 murders last year -- an increase of 50% from the 506 murders in 2019 -- did not bother these activists.
Only the death of a 13-year-old boy out at 2 AM with a gun does.
One death is a tragedy to communists.
774 are a statistic.
ITEM 9: Glenn Reynolds wrote, "Georgians adopted voter-integrity measures supported by a large majority of Americans, that are in the mainstream of state regulation and in fact are less stringent than the rules in Delaware, President Joe Biden's home state, and New York. By more than a 2-1 margin, Americans think such rules are not unfair or discriminatory.
"Nonetheless, these measures have produced an unprecedented effort by large corporations to interfere in the workings of a democratic government. Major League Baseball moved its All-Star Game out of (majority-black) Atlanta to (majority-white) Denver in protest. Coca-Cola's president weighed in against the changes. And in a statement organized by Kenneth Chenault, former chief executive of American Express, and Kenneth Frazier, the chief executive of Merck, hundreds of CEOs voiced opposition. Why?
"A cynic would say Georgia is a crucial red state the Democrats managed — barely — to flip blue in 2020 by adopting unorthodox voting measures and the mega-corporations who've thrown their lot in with the Democratic Party want to make sure Democrats hold it in 2024. They'd like to ensure similar measures apply across America because they make it easier for Democratic voters — living and dead — to cast votes without identification and without even showing up at the polls, producing a structural advantage for Democrats.
"As always, this is defended in the name of racial equality. But as usual, that's just a smokescreen for power."
Conservatives have had it with Corporate America.
The Fortune 500 by and large have no problem with dictator Chairman Xi.
But they did everything they could to keep President Donald John Trump from doing the job that we elected him to do.
Up theirs.
The running dogs of capitalism, as Mao called them, are in for a big surprise once Red China takes over.
Hope they like picking cotton and making shoes.
ITEM 10: Breitbart News reported, "An NPR/PBS NewsHour/Marist poll released Thursday found that a majority of Americans oppose woke corporations influencing everyday life. The poll asked registered voters if they support or oppose American companies using their public role, position, or events to influence political, cultural, or social change.
"The findings show 58% oppose any type of corporation using its power to influence any type of political, cultural, or social change across the country. They also show that 35% did support the efforts by woke corporations, while 7% were unsure how to answer."
Republicans need to make "get woke, go broke" a reality.
Break up Microsoft, Apple, Google, Facebook, Twitter, and Coca-Cola. We have antitrust laws. Enforce them.
ITEM 11: Daniel Greenfield reported, "Boehner Stands to Make Millions in Drug Money From Biden Win."
The story said, "While Boehner can be found addressing the Bank of Montreal, the Edison Electric Institute (an electric company lobby), and a Portland life insurance company offering services to the ultra-affluent for pay, he's better known for going to pot.
"Boehner, who had opposed drugs as an elected official, received the high honor of heading up the National Cannabis Roundtable to lobby for drug legalization. The former House Speaker came by the position naturally since he was already on the board of Acreage Holdings.
"Acreage Holdings has one of the biggest marijuana operations in America. As Democrats began to legalize drugs in select states, companies were formed to get in on the action. But despite all the hype, the marijuana business was a disaster.
"Legalizing and taxing pot just meant users buying cheap 'illegal' pot from drug dealers.
"Acreage tried opening operations everywhere only to pull back. The marijuana company suffered $286 million in net losses in 2020. But there was some good news.
"Canopy Growth, a Canadian company, controlled by Constellation Brands, a liquor company which owns everything from Svedka Vodka to Robert Mondavi, has a deal to buy Acreage on the condition that marijuana is federally legalized in the United States.
"And the only way that could happen is with a Democrat in the White House."
Boehner went from House Speaker to House John Dean.
Which I will shorten to House John.
Republicans must end floor privileges for ex-congressmen.
ITEM 12: Fox enjoyed reporting, "CNN has been hemorrhaging viewers since President Biden took office, with ratings down more than 50% in multiple categories since Inauguration Day.
"The liberal network spent years attacking former President Donald Trump and the network thrived during his final days in office amid a brief post-election spike. CNN averaged 2.2 million viewers during the first three weeks of 2021, but it has averaged just 1 million viewers since Biden took office, a staggering decline of 54%."
CNN should go back to what worked.
Bashing the president.
Heck, with this demented crook, CNN would not have to use Fake News.
ITEM 13: Roger Friedman reported, "Hunter Biden's Confessional Book Beautiful Things Is a Sales Bust After First Week Despite PR Push."
The story said, "NPD Book Scan says the book, in which Hunter whines about being a drug addict who slept around and has no memory of fathering a child, has sold just 10,000 copies in its first week. For a celebrity book with so much PR, TV appearances, etc, that's not a lot.
"On Amazon, Beautiful Things is ranked at number 130 now 177, now 208."
Hunter's broke.
Cocaine dealers and strip joints hardest hit.
ITEM 14: No Q Report reported, "The entire purpose of a free press is to allow the truth to come out. In modern day America, mainstream media works against this notion and proactively works to subvert the truth with their reporting. In the case of CBS News coverage of the police shooting of 13-year-old Adam Toledo, the dishonesty on their part is striking.
"They intentionally edited out the part of the video that shows a gun in Toledo's hand just prior to being shot. We know it was intentional because the rest of the video edit kept Toledo in best view, but the split second in which the gun can be seen, they conveniently pulled the edit to the left to keep him hidden before panning back to show him getting shot."
Toledo, armed with a gun, ran from police at 2:30 AM in the middle of Chicago.
No one has explained why a minor was running around like that on what should be a schoolnight.
ITEM 15: Margaret Menge reported, "Both houses of the Indiana legislature voted Thursday to override Gov. Eric Holcomb's veto of a bill that would allow legislative leaders to call the Indiana General Assembly back into session to deal with an emergency.
"The vote in the House on Thursday morning was 59-26, with all of the yes votes coming from Republicans, and a total of 15 representatives excused.
"In the Senate, all Republicans voted to override the governor's veto except Sen. Liz Brown of Fort Wayne, the chair of the Senate Judiciary Committee, who was absent."
We can become a republic again. Indiana showed us how. Rein in those powers of the governor.
ITEM 16: Reuters reported, "President Joe Biden signed an order on Friday limiting U.S. refugee admissions this year to the historically low 15,000 cap set under his predecessor Donald Trump, shelving a plan to raise it to 62,500 and drawing the ire of refugee advocates and some Democratic lawmakers.
"But as criticism mounted, the White House issued a statement saying Biden would set a final, increased refugee cap for the remainder of this fiscal year by May 15."
The heat is on.
Americans want their border closed.
If Biden really won the election, he would not have to do this.
ITEM 17: The Blaze reported, "U.S. Embassy warns people fleeing an active volcano about the COVID dangers associated with cruise ships."
Our crack federal team is right on the case.
Follow the science. Zero people died of covid at Pompei because they knew better than escaping aboard a cruise trireme and risking a virus.
Just think of molten lava as Nature's Vaccination, which comes without the risk of blood clotting.