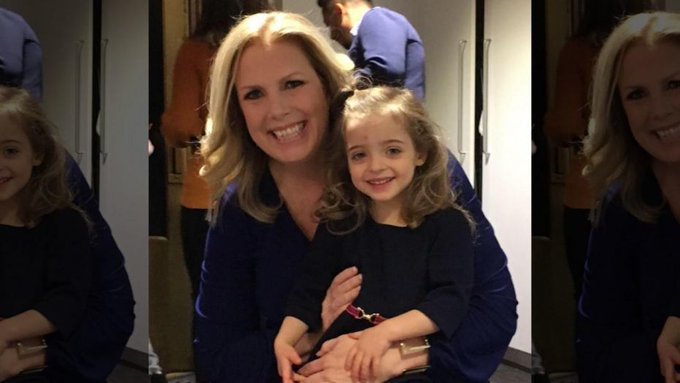 Break out the Kleenex.
ITEM 1
:
Life Site News reported
, "Nurse Liz Smith began visiting baby Gisele in her hospital bed when no one else was.
"The Massachusetts woman was single, approaching 40 and losing all hope of having the large family that she wanted some day, according to the Franciscan Children's Hospital blog.
"But visiting baby Gisele brightened her day. Both were struggling, and both needed each other.
"Fox News reports Smith recently adopted Gisele after fostering her for nearly two years. The little girl now is thriving at home with her adoptive mom.
"Gisele was born 11 weeks prematurely in 2016 after being exposed to narcotics in her birth mother's womb, according to the report. The hospital noted that the infant weighed a little less than 2 pounds at birth and was diagnosed with neonatal abstinence syndrome.
"About that same time, Smith learned that she would not qualify for in vitro fertilization, meaning she likely would never be able to bear children, the report continued. While working at the hospital, she met Gisele and began to visit her."
This world is not as doomed as we thought.
The thing with feathers just soared a mile high.
Yes, that's them in the picture.
ITEM 2: The New York Post reported, "A black man who was killed during a traffic stop in Minnesota was fatally shot by a cop who mistook her gun for a Taser, police said Monday, as they released bodycam footage of the incident, showing the officer screaming, 'Taser! Taser!'
"Brooklyn Center Police Chief Tim Gannon said Daunte Wright died as a result of 'an accidental discharge' by the officer, who has been placed on administrative leave."
There is no such thing as an accidental discharge of a gun.
She needs turn in her badge and her gun, and lawyer up.
ITEM 3: NPR reported, "After a fatal police shooting near Minneapolis on Sunday, former Minneapolis police officer Derek Chauvin's attorney expressed concern that jurors in his murder trial could be swayed by the events. Judge Peter Cahill denied the request to re-question jurors and immediately sequester them.
"Cahill said the jury would be fully sequestered beginning next Monday when closing arguments are expected to start.
"Defense attorney Eric Nelson asked that jurors be questioned on what they had heard about the police shooting of 20-year-old Daunte Wright in Brooklyn Center, a nearby city in Hennepin County. Unrest followed the shooting: Police deployed tear gas and flash-bang grenades to clear protesters who had gathered outside the Brooklyn Center Police Department.
"One of the jurors lives in Brooklyn Center, and others have ties to the city, Nelson said. He said jurors should have already been sequestered due to the high-profile nature of the case and its tendency to evoke strong emotions. Nelson asked that jurors be warned at the beginning of each day to avoid all media."
Why the jury was not already sequestered is beyond me, but a fair trial is not being sought.
ITEM 4: The Smoking Gun reported, "Thanks to the ballooning value of Bitcoin, the U.S. government could liquidate more than $4 billion in cryptocurrency confiscated from a hacker whose identity--despite an array of felonious conduct--is mysteriously being shielded by federal prosecutors.
"In November, the Department of Justice announced the forfeiture of 69,370 Bitcoin from a wallet that had been dormant for more than five years. The Bitcoin, prosecutors say, had been stolen from Silk Road, the notorious darknet drug marketplace that was shut down by federal investigators in October 2013. Silk Road's founder, Ross Ulbricht, was subsequently convicted of an assortment of crimes and sentenced to life in prison.
"Since last year's seizure, the value of Bitcoin has quadrupled. With the cryptocurrency now trading for about $60,000, the stolen Silk Road coins could become the most lucrative forfeiture by an individual in United States history. By comparison, Purdue Pharma, as part of a plea deal to criminal fraud and conspiracy charges related to its marketing of the opioid OxyContin, agreed last year to a $2 billion criminal forfeiture (along with a $3.54 billion fine and a $2.8 billion civil settlement)."
Check the parking lot at DOJ for new Bentleys.
ITEM 5: Zero Hedge reported, "Billionaire hedge fund manager Steve Cohen, first put his gorgeous Upper East Side duplex penthouse on the market in 2013 for $115 million.
"He bought the place for $24 million back in 2005. He hired late architect Charles Gwathmey to transform the space."
Millions of dollars in renovations and 16 years later, the $24 million penthouse is now on the market for (drumroll please) $29.5 million.
Manhattan is turning into a ghost town where thugs play the punch-out game and the mayor paints racist slogans on the streets. Even the elitists are leaving.
Cohen supported De Blasio. Electing a communist mayor has consequences.
ITEM 6: Axios reported, "Michigan can't vaccinate its way out of a COVID-19 spike, Centers for Disease Control and Prevention director Rochelle Walensky said at a briefing Monday, during which she called on the state 'to close things down.'
"Why it matters: Michigan's average daily case count has jumped about seven times from a low point in February, per the New York Times. It's a reality check for the nation, CNN writes."
Wait a second.
Michigan has been the most locked down state in the 48 contiguous states. Maybe what it needs is to get everyone outdoors again in the sunshine, and air out all the houses and offices because lockdowns have not worked.
But this is a political appointee providing cover for a power-tripping maniacal Democrat governor.
ITEM 7: Israel made Iran nuke program fall down, go boom.
That was the whole point: Iran Natanz explosion could derail nuclear talks https://t.co/scBzQgdzTb #axiosworld

— Andrew Malcolm (@AHMalcolm) April 13, 2021
Oh, and they are not talks. They are Iran handing Chairman Xiden his marching orders.
ITEM 8: Our president emeritus handed CNN its ass again.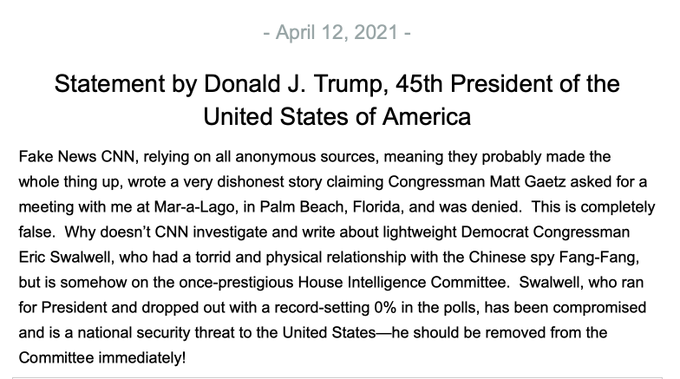 I will care about the rumors surrounding Matt Gaetz when the media begins pressing on Eric Swalwell's actual scandal.
But banging a Red China spy is no big deal among American elitists who praise Mao and condemn Washington.
ITEM 9: Fox reported, "President Biden vowed to bridge the partisan political divide but, struggling to garner Republican support for major bills, his administration appears to be changing the narrative by redefinining what bipartisan means.
"First, Biden's $1.9 trillion coronavirus relief package passed without a single GOP vote, and now his massive infrastructure package is facing strong Republican opposition in Washington. Biden insists he does enjoy support from both parties, however, pointing to Republican voters and officials outside the Beltway.
" 'If you looked up bipartisan in the dictionary, I think it would say support from Republicans and Democrats,' senior Biden adviser Anita Dunn told the Washington Post. 'It doesn't say the Republicans have to be in Congress.' "
As readers may recall, Obama fired Dunn when he learned she praised Mother Theresa and Mao. Apparently Obama hates Catholic saints.
ITEM 10: The Conversation reported, "Vegan diets are adding to malnutrition in wealthy countries."
The story said, "Hidden hunger affects over two billion people, globally. The cause is a chronic lack of essential micronutrients in the diet, such as vitamins and minerals. The effects of these nutritional deficiencies may not be seen immediately, but the consequences can be severe. They include lower resistance to disease, mental impairment and even death.
"While many of the cases of hidden hunger are found in developing countries, this phenomenon is also a growing public health concern in developed countries. For example, iodine deficiency is the most common cause of preventable mental impairment and the UK ranks seventh among the ten most iodine-deficient nations. And data from the US shows that more than one in four children lacks calcium, magnesium or vitamin A, and more than one in two children are deficient in vitamin D and E."
Vegans are not solely responsible. The story blamed processed food and the like. But the soy boys are sallow.
Eat meat!
ITEM 11: City Journal reported, "Beautifully landscaped with ample medians and harmoniously lined with gracious houses in various historic styles, Richmond, Virginia's block-paved Monument Avenue and its several statuary tributes to Confederate leaders were once recognized as a triumph of American urban design. The residential frontages served admirably as a variegated frame for the monuments, creating a superb urban tableau that it made no sense to eradicate—especially as the monuments lost ideological currency with the passage of time, as monuments often do.
"But after the mayhem triggered by George Floyd's fatal arrest in Minneapolis in May 2020, the 14 blocks of the avenue comprising a National Historic Landmark District present a sorry spectacle. Bare pedestals, with the vandals' graffiti not entirely washed away, stand on the avenue's median. Statues of General Thomas Stonewall Jackson, the cavalry commander J. E. B. Stuart, Confederate president Jefferson Davis, and the world-renowned oceanographer Matthew Fontaine Maury, who played an inconspicuous role in the Confederate war effort, are gone—victims of fanaticism fueled by Twitter slogans drawing, in turn, on national-guilt and systemic-racism narratives in which Americans have been increasingly indoctrinated."
All those Confederates were Democrats.
The story said, "Located in the Confederacy's capital, Monument Avenue was the South's most important venue for commemoration of the Lost Cause."
Ah yes, the Lost Cause, an odd assertion that the Civil War was not about slavery. No, no, no. Democrats said that the war was about states' rights.
Never mind that the Fugitive Slave Act trampled states' rights.
You know who else pushes that nonsensical narrative? Critical race theorists. They maintain that blacks freed themselves while whites were arguing over states' rights.
ITEM 12: Martin Walsh reported, "Kentucky GOP Sen. Rand Paul is sounding the alarm on two Republican senators who are, as he claims, lying to conservative voters.
"While delivering remarks at the Save America Summit in Florida, Paul called for GOP Sens. Lisa Murkowski and Susan Collins to be ousted because they are a problem for the party."
Democrats don't seem to have this problem because when push comes to shove, their Joe Manchins back down.
ITEM 13: Nikki Haley now is back to backing our president emeritus.
I asked @NikkiHaley if she would support Donald Trump if he runs again in 2024.

"Yes," she told me.

"I would not run if President Trump ran, and I would talk to him about it," she added. "That's something that we will have a conversation about, at some point."

Story upcoming pic.twitter.com/8uGwxk2s84

— Meg Kinnard (@MegKinnardAP) April 12, 2021
She is a president neveritus.
ITEM 14: Politico reported, "President Joe Biden is preparing to name Republican Cindy McCain to a coveted ambassador post in Western Europe in what would be his administration's first Republican appointee to a Senate-confirmed position.
"McCain is undergoing vetting to be nominated for U.S. ambassador to the U.N. World Food Program, a mission based in Rome, according to two sources with knowledge of the matter."
McCain is going to be our ambassador to FOOD?
Not even beer, but food.
How the mite-y have fallen.
ITEM 15: Breitbart reported, "The focus of President Joe Biden's $2.3 trillion infrastructure bill is allegedly to address aging infrastructure across the country, but the massive bill covers a vast amount of other spending, including money for diversifying neighborhoods.
"This portion of Biden's American Jobs Plan would change zoning laws to end single family home neighborhoods and allow for multiple unit affordable or low-income rental housing."
Let Kalorama go first.
Then Martha's Vineyard.
Then the Hamptons.
FINALLY, Just the News reported, "The federal government spent $660 billion more than it collected in tax revenue in March, the Treasury Department said Monday.
"The U.S. spent $927 billion last month, which also was more than double that of March of 2020, according to The Washington Post.
"The department also said March marked the third-largest monthly deficit on record, only surpassed by April and June of 2020. The latest deficit was in part the result of one-time coronavirus stimulus paychecks to tens of millions of Americans under the American Rescue Plan. The payments went out to Americans in March. Despite the pandemic, tax revenue is roughly the same as it was last March."
Why bother taxing anyone?
The government already spends twice as much as it collects in taxes. Let's just have it print the money it wants and let it spend, spend, spend because there no longer are any brakes on Washington.