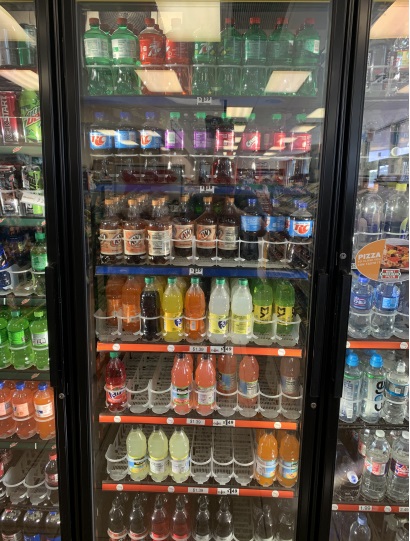 From a reader in Mississippi, "So in my local convenience store RC cola used to be one row of drinks kinda behind the door hinge of the cooler
"Look now 👀"
Coke's CEO has done the impossible and created the first Southern store without Coca Cola in 100 years.
ITEM 1
:
The Dirt reported
, "A secluded mini-compound tucked into L.A.'s rustic and semi-remote Topanga Canyon was recently sold for a tad more than $1.4 million to a corporate entity that public records show is controlled by Patrisse Khan-Cullors, 37-year-old social justice visionary and co-founder of the galvanizing and, for some, controversial Black Lives Matter movement.
"Kahn-Cullors, a UCLA and USC graduate married about five years ago to social activist (and amateur boxer) Janaya Khan, co-founder of Black Lives Matter Toronto, created the #BlackLivesMatter hashtag in 2013 in response to George Zimmerman's acquittal in the 2012 shooting of Trayvon Martin. Since then, the largely decentralized movement has been at the influential forefront on issues of police brutality and racially motivated violence against Black people, particularly in the wake of George Floyd's killing last summer that sparked massive protests across the United States and around the globe. Kahn-Cullors' published When They Call You a Terrorist: A Black Lives Matter Memoir in 2018."
The Malibu Maoists! She has her own song.
Come and listen to a story about a gal named Kahn.
A poor terrorist who kept on keeping on.
Then one day she turned a city into tatters.
All she had to say was Black Lives Matter.
Some that is. Mostly peaceful protests.
Well the first thing you know ol Kahn's a millionaire.
Kinfolk said "Kahn move away from there"
Said "Topanga Canyon is the place you ought to do"
So they loaded up the truck and moved near The Bu.
Malibu, that is. Virtue signals. Movie stars.
ITEM 2: The New York Times said, "Roberta S. Jacobson, the former ambassador to Mexico whom President Biden chose as his "border czar" on the National Security Council, will step down at the end of the month, she said on Friday, even as the administration struggles to confront a surge of migrants at the nation's southwestern border.
"Ms. Jacobson, who had been described as one of the Biden administration's key players in dealing with the governments in the Northern Triangle area of Central America, praised Mr. Biden's efforts to repair and recast the nation's immigration system after four years under President Donald J. Trump.
" 'They continue to drive toward the architecture that the president has laid out: an immigration system that is humane, orderly and safe,' she said in a brief interview. 'I leave optimistically. The policy direction is so clearly right for our country.'
"Ms. Jacobson said that her appointment as a special assistant to the president and as the border coordinator in the White House was always intended to last for only about 100 days — a period that will expire at the end of April, when she intends to leave government.
"The timing of her departure is nonetheless striking, coming in the middle of the administration's efforts to reduce the flow of immigration from Honduras, Guatemala and El Salvador. Ms. Jacobson had been charged with leading that effort when her appointment was announced this year."
Yeah, right! She intended to do the job for only 100 days!
Barely 2 months into his administration and his puppeteers are firing people.
Amid a border crisis, the Jacobins running the show oust their own czar.
ITEM 3: The Daily Mail reported, "Jimmy Kimmel was last night blasted for joking about Hunter Biden's drug addiction in a light-hearted interview on his show.
"Social media users branded the pair 'dumb and dumber' after they laughed together about how the president's son used to smoke crack cocaine and then take his clothes off.
" 'Pants were the problem,' the 51-year-old told Kimmel during the interview to promote his new memoir.
"But some viewers were less than impressed by their attitude towards cocaine and, more broadly, how the late night host failed to grill Hunter on his role on the board of Ukrainian gas firm Burisma or the infamous contents of his laptop."
An American media that turns the weekly anti-Republican blasts on SNL into a phony news story seemed silent about this actual controversy.
ITEM 4: The same Daily Mail story reported, "The bombshell cache of 103,000 text messages, 154,000 emails, more than 2,000 photos and dozens of videos are packed with revelations conveniently missing from the memoir, including:
How he begged his father to run for president in 2019 to salvage Hunter's own reputation
How he repeatedly dodged police action against him, despite constantly dealing with drug pushers and prostitutes and having multiple run-ins with law enforcement
Hunter was guarded by a Secret Service agent while on a 2018 drug and prostitute binge in Hollywood, despite not being entitled to protection at the time and amid denials from the federal agency
Joe Biden was afraid his text conversations with Hunter were being hacked even as they discussed his White House bid
How Hunter's laptop is brimming with evidence of apparent criminal activity by Hunter and his associates including drug trafficking and prostitution."
The Daily Mail broke the story on Thursday.
Good luck finding an American outlet reporting it. Besides Candace Owens on Fox.
ITEM 5: The Associated Press reported last May 15, "Rory McIlroy says he wouldn't play golf again with President Donald Trump and doubts he would even be invited after questioning his leadership during the coronavirus pandemic."
The story said, "McIlroy, the No. 1 player in the world, said three years ago he played with Trump out of respect for the office."
So he golfed with Donald Trump and became the No. 1 golfer in the world.
Then he dissed him.
Now McIlroy is in the Master's. ESPN reported, "Rory McIlroy's errant approach shot on No. 7 strikes his dad in leg."
The story also said, "It was one of quite a few errant shots for McIlroy, who shot a 4-over 76 in the first round of the 85th edition of the Masters and trails leader Justin Rose by 11 shots."
His brief reign of golf ended when he dissed The Donald.
We call it Trumpenfreude.
ITEM 6: So how is Our President Emeritus doing?
Ashley Feinberg reported, "Donald Trump's Save America PAC is sitting on over $85 million. It's admittedly unclear what that money will be used for, but it is supposedly there nonetheless. He's also ostensibly got a team hunting down GOP primary challengers, but ultimately, most of his endorsements, as with everything else the man does, appear to be decided on a whim.
"So how is the most attention-hungry of former presidents actually filling his time? Because Trump is now effectively living at a private club perpetually littered with wealthy supporters desperate to show off their close, personal friendships with the former president, we can actually construct a pretty decent picture of his daily routine. It's a life full of powerful visitors, grim sycophants, and ecstatic worshippers at every turn. In short, it's Donald Trump's wildest dreams come true."
And his golf game is better than McIlroy's.
ITEM 7: The Daily Wire reported, "In a bizarre op-ed published Thursday, a writer for CNN suggested that certain fonts can perpetuate racism.
"The piece by Anne Quito, titled 'Karate, Wonton, Chow Fun: The End of 'Chop Suey' Fonts,' ridiculously asserts that fonts used to communicate 'Asaianness' perpetuate negative stereotypes."
The word is spelled Asianess, so Quito is disproving one stereotype that Asians are good spellers.
ITEM 8: WILL announced, "The Wisconsin Supreme Court issued a 5-2 decision, Friday, that the Wisconsin Elections Commission does not have a duty to remove voters from the rolls who have been flagged as having moved from their voting address. The Wisconsin Institute for Law & Liberty (WILL) sued WEC in November 2019 on behalf of three Wisconsin voters.
"WILL President and General Counsel, Rick Esenberg, said, 'This is a disappointing setback for those who expect Wisconsin state agencies to follow the law. The Court held today that the legislature created a duty and failed to provide an effective way for that duty to be carried out or enforced by voters. We respectfully disagree. It is now up to the legislature to fix the law. WILL remains committed to the rule of law and to a reasonable set of election rules that acknowledges that the right to vote involves both convenience and assurances of accuracy and integrity.' "
Once again, a court rules that the law does not mean what the law says.
ITEM 9: Red State reported, "The National Center on Sexual Exploitation Law Center (NCOSE) on Thursday announced that another individual came forward with trafficking allegations against the social media company. According to a released statement:
" 'The plaintiff, John Doe #2, joins the federal lawsuit originally filed by John Doe #1, alleging that both boys were trafficked by Twitter. The First Amended Complaint, John Doe #1 and John Doe #2 v. Twitter, Inc. was filed on April 7 in the United States District Court for the Northern District of California.
'Both plaintiffs were harmed by Twitter's distribution of material depicting their sexual abuse and trafficking, and by Twitter's knowing refusal to remove the images of their sexual abuse (child pornography) when notified by John Doe #1 and his parents.' "
Trumpenfreude.
Jack Dorsey, Twitter's CEO, bought this lawsuit when he censored a sitting president. Anyone that powerful and picayune has to be able to ban child porn.
If he wants to.
ITEM 10: National File reported, "A leftist anti-war activist was visited by the California Highway Patrol for a tweet he made that lightly criticized Rep. Alexandria Ocasio-Cortez's (D-NY) pandering and bumbling comments about a 'two-state solution' in the Middle East. Rep. Ocasio-Cortez's office has denied contacting police about the tweet."
Why doesn't Jack Dorsey call CHiPs on the child pornographers who tweet on his platform?
ITEM 11: Another World War II hero died.
It is with deep sorrow that Her Majesty The Queen has announced the death of her beloved husband, His Royal Highness The Prince Philip, Duke of Edinburgh.

His Royal Highness passed away peacefully this morning at Windsor Castle. pic.twitter.com/XOIDQqlFPn

— The Royal Family (@RoyalFamily) April 9, 2021
He fought in:
Battle of Crete
Battle of Cape Matapan
Allied invasion of Sicily
Operation Dragoon
Operation Robson
Operation Lentil
Battle of Okinawa
So he fought the Nazis, the Fascists, and Imperial Japan. Three wars in one.
His one mistake is named Chuck.
ITEM 12: CNN reported, "The Anti-Defamation League is calling for Fox News to fire Tucker Carlson.
" 'Given his long record of race-baiting, we believe it is time for Carlson to go,' ADL CEO Jonathan Greenblatt says.
"There is zero indication that Fox will take such a step -- or even reprimand Carlson. But the ADL's call, delivered in a letter to Fox News Media CEO Suzanne Scott, underscores the extreme and unsettling nature of Carlson's anti-immigration commentary."
There was a time when the media banded together to fight such attacks on free speech.
The short-sighted monkeys now in charge deserve what inevitably will happen to each one of them.
ITEM 13: The New York Times announced, "Biden Creating Commission to Study Expanding the Supreme Court."
They will cite a need for diversity because we will need on the Supreme Court a black woman communist, a transgendered communist, a Hispanic male communist, a pansexual him/her communist, and a Muslim communist to re-interpret that Constitution that was written by those slave owners. Oh, and they need to replace that Karen that President Trump put on the court.
Writing liberal gibberish is easy-peasy. That's really why journalists write it. The truth is, they are as lazy as sloths on Quaaludes.
ITEM 14: We Love Trump reported, "Biden Stumbles Through Another Speech, Refers To Merfin and Ruthers."
Dementia is cruel.
Biden's family is crueler. He had to run to save his son from being brought to justice.
ITEM 15: The Daily Mail reported, "Deshaun Watson DID have sex with massage therapists - but his attorney says it was consensual as the Texans QB faces lawsuits from 22 women."
They are massage parlors. Certain men go to them for sex.
He was a john, not a rapist.
ITEM 16: Reuters reported, "U.S. President Joe Biden asked Congress to sharply hike spending on climate change, cancer and underperforming schools, but his first budget wishlist on Friday drew howls of bipartisan concern over military spending."
Screw military spending.
I mean it.
We have been had.
The Pentagon has these adventures in Afghanistan and Iraq, which lead to promotions for the officers and billions for the contractors. and then the generals retire and work for the contractors.
Last summer when these generals refused to back the commander-in-chief's efforts to quell actual violence near the White House, I realized the hippies were right. This is an American war machine. And America no longer controls it.
The hippies now control it.
ITEM 17: Breitbart reported, "On Friday's broadcast of the Fox News Channel's Tucker Carlson Tonight, Uvalde, Texas, Mayor Don McLaughlin said that the border is a madhouse and that things would be better if the border had the same fencing as the U.S. Capitol. McLaughlin also stated that 'we haven't heard from the administration yet.'
"McLaughlin said, 'Well, it's kind of like the wild, wild west down there. We have car chases on a daily basis. We have immigrants jumping off of trains.'
"He added, 'The southern border is not under control. It's a madhouse. If — maybe if they gave us the same opportunities they had up there in Washington with that great big fence with that razor wire and would do that along our southern border, maybe we could get a little peace and quiet.' "
I would say send in the military but the Pentagon would side with Mexico.
ITEM 18: Adam Liptak, Supreme Court reporter for the New York Times, alleged in a tweet, "By 5-to-4 vote, the Supreme Court lifts California's Covid restrictions on prayer meetings in homes."
The opinion seems to verify his claim.
Don't worry, Newsom. Once Joe packs the court, it will be easy sailing.
FINALLY, today marks the anniversary of our son Michael's death. Readers and their prayers have helped my wife and I enormously.
Thank you so much.
Well now it's time to say goodbye to Don and all his news.
And he would like to thank you folks for kindly reading his views.
You're all invited back Monday to this locality
To have a heapin helpin of his commentary.
Conservative that is. Likes Trump. Convertibles too.
Y'all come back now, y'hear?