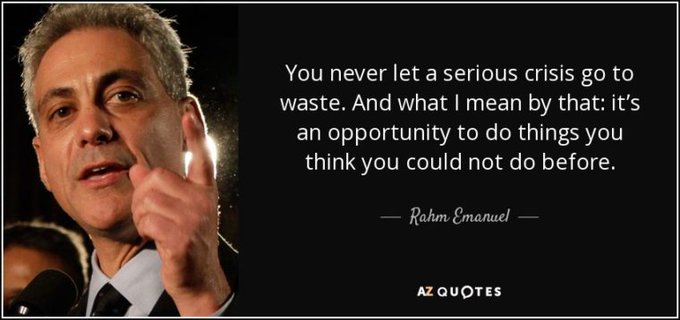 Democrats never let a crisis go to waste to expand their power, which is why we suddenly have all these crises. Many are an old crisis that failed to produce the desired result.
ITEM 1
:
The Washington Post reported
, "The routine has become so predictable that some gun-control activists see the familiarity of tragedy as their biggest obstacle to achieving the change they've been seeking for the past decade.
"A gunman's rampage that claimed eight lives Thursday in Indianapolis became the latest mass shooting to set off the well-known pattern of condolences, lowered flags and a somber presidential statement calling on Congress to act.
"With the cycle typically ending in legislative gridlock before repeating itself, activists are seizing on the most recent spate of deadly shootings to try to disrupt the system."
Mass shootings will not cause Americans to give up their guns because Americans get a different message than the one the media sends. The media sells fear. The fear makes people seek to protect themselves.
Mark Barden, a co-founder of the gun violence prevention group Sandy Hook Promise, told the Post, "God help us if we ever become complacent, or if this should ever just become routine and we just look the other way. I do believe that we have an opportunity now for a bipartisan solution to gun safety, and I am trying to convey to folks that it's all hands on deck."
And real Americans pray to the Lord not to become complacent and give up their guns to kooks like Barden.
ITEM 2: The Associated Press tweeted, "Half of U.S. adults have now received at least one COVID-19 vaccine dose, the Centers for Disease Control and Prevention says. Almost 130 million people 18 or older, or 50.4% have received at least one dose of a vaccine."
That is a remarkable accomplishment. One year ago, experts said it would take a miracle to get a vaccine by the year's end. Not only do we have 3 vaccines but we are halfway to vaccinating everyone who wants one.
As a member of the vaccinated half, I am truly grateful for these 3 miracles, and for a mean wife who insisted I be vaccinated.
Now to get her to agree to buying that Bentley.
ITEM 3: The New York Post reported, "The man charged with trying to shove an Asian undercover cop onto Queens subway tracks was cut loose without bail Sunday — as the judge claimed, 'My hands are tied.'
"Suspect Richard Hernandez, 32 — who faces three hate-crime charges in the attack on the unnamed cop on a Long Island City train platform around 5:30 p.m. Saturday — even had an earlier open-container summons dismissed in court at the same time.
"At Hernandez's arraignment over the attempted push onto the tracks, Queens Supreme Court Justice Louis Nock said the state's bail-reform measures barred him from holding Hernandez in jail."
Crime theater.
The communist mayor already defanged justice by ending the jailing of suspects. This arrest was for show.
ITEM 4: White supremacists are not the problem. Black supremacists are.
Two National Guard members were injured in a shooting just hours after Rep. Waters made this incendiary statement, directly calling for violence.

she must be stripped from her committees and suspended immediately from social media for inciting violence. https://t.co/sWJrEDnCDe

— Madison Cawthorn (@CawthornforNC) April 18, 2021
If you capitalize black but not white when referencing people, you are part of the problem.
Meanwhile, Jacob Palmieri reported, "Marjorie Taylor Greene (R-GA) announced she is going to introduce a resolution to expel Maxine Waters (D-CA) from Congress."
Look for Liz Cheney to denounce her -- MTG, that is.
ITEM 5: Breitbart reported, "French lesbians have denounced sexual assaults perpetrated by transgender individuals within the far-left activist scene, saying transgender Antifa activists have accused them of transphobia.
"A number of lesbian feminist activists have said that transgender male-to-female activists have sexually assaulted them and accused them of transphobia for not being sexually attracted to them.
"In a letter signed by eleven women and published by the magazine Marianne, they say that 'men who have transitioned systematically try to take control of lesbian associations.' "
So they are saying men make better lesbians than women do.
ITEM 6: Newsbusters reported, "Lachlan Murdoch, the successor to his father Rupert as the executive chairman and CEO of Fox Corporation., has made news himself in recent days for standing up to the woke mob that was, yet again, clamoring for the head of a Fox News host.
"This time --- for the umpteenth time --- the host in question was Tucker Carlson. Tucker had drawn the wrath of the mob for pointing to the obvious. Which is to say the American left is deliberately creating and using the chaos at the US southern border as a way of re-populating the US, in this case with poor illegal immigrants who would presumably be the political pawns of the Democratic Party."
Perhaps the Spawn of Rupert has learned that caving into the mob only brings further demands.
ITEM 7: The good shepherd takes care of everyone in his flock.
Yo en la vida. pic.twitter.com/45QYhU670w

— Victoriano Aizpurú (@urupzia) April 17, 2021
And the sheep never stops to say thank ewe.
ITEM 8
:
The Daily Caller reported
, "Chris Wallace challenged National Security Adviser Jake Sullivan on Sunday, asking whether he was prepared to guarantee that withdrawing troops from Afghanistan would not bolster terrorist groups.
"Wallace noted that Biden had been in favor of the troop drawdown in Iraq — which took place while he was serving as vice president under former President Barack Obama — which was quickly followed by the rise of ISIS."
The Deep State's power comes from fear. They stoke it through mouthpieces like Wallace. What guarantees that staying in Afghanistan will stop terrorism? That is the question Wallace did not ask.
ITEM 9: Vox reported, "The White House pulled back from its decision earlier this week not to raise the US refugee cap, pledging late Friday to accept more refugees than the historically low levels set by the Trump administration.
"Last year, Trump lowered the refugee cap to 15,000, the lowest number allowed into the US since the refugee cap was introduced in 1980. Immigration and refugee advocates had hoped for an ally in Biden, who pledged during his campaign to raise the cap, and proposed in early February to accept up to 62,500 refugees this year."
George Soros called Obama to straighten Biden out.
Americans overwhelmingly do not want open borders. From the Internet oligarchs to the Chamber of Commerce to MS-13 to the Democrat Party, the people running the Deep State want open borders.
ITEM 10: President Emeritus Trump announced, "Great news for the Republican Party! Senator Lisa Murkowski said she is 'still weighing whether she will run again' for the Senate in Alaska. In other words, there is a chance that she won't run!
"Wouldn't that be great? And so many people are looking to run against Crazy Liz Cheney—but we only want one. She is so far down in Wyoming polls that the only way she can win is numerous candidates running against her and splitting the vote. Hopefully, that won't happen. I'll make an Endorsement soon!"
The Deep State beware.
ITEM 11: Carmine Sabia reported, "The campaigning for the affection of Donald Trump ahead of the 2024 presidential campaign has begun as two Republican favorites appear to be courting his favor.
"Florida Gov. Ron DeSantis, a favorite among many Republicans, and seen by many as the front runner if Trump decides not to seek the nomination of his party, and former Secretary of State Mike Pompeo, who is speculated to be considering his own campaign, were both with Trump this weekend for the Lincoln Day GOP fundraiser.
"The fundraising dinner was held at Trump's Mar-a-Lago resort in Florida on Saturday where all three men appeared, The Daily Mail reported."
Donald Trump has a third party.
It is called the Republican Party.
Meanwhile, Kurt Schlichter tweeted Jeb! is running again in 2024. Well, Biden could use some competition in those Democrat primaries.
I am not going to be coy. Whomever Donald Trump endorses in 2024 will get my vote.
ITEM 12: Fox reported, "Former President George W. Bush on Friday made a call for what he described as a gradual path to legal residency and eventually citizenship for millions of illegal immigrants -- while at the same time claiming that amnesty would be fundamentally unfair.
"Bush, whose 2007 push for an immigration reform bill met with furious resistance from his own party, wrote an op-ed for The Washington Post, in which he previewed a new book that he said will include 'principles for reform that can restore the people's confidence in an immigration system that serves both our values and our interests.' "
Dubya asked the trillion-dollar question: "The help and respect historically accorded to new arrivals is one reason so many people still aspire and wait to become Americans. So how is it that in a country more generous to new arrivals than any other, immigration policy is the source of so much rancor and ill will?"
Had he entered the fray 4 years ago, we would have resolved the issue under President Trump.
But Bush is on the other side now. Along with Dick Cheney and the rest. I like to think that they are being blackmailed, but I know in my heart they just sold us out.
ITEM 13: Outkick reported, "Coming into the 2020-21 season, NBA games on ABC — the league's most important partner — were down 45% since 2011-12. On cable, it's only slightly less damning. NBA broadcasts on TNT were down 40% and 20% on ESPN.
"To stick with more recent trends, the past two NBA Finals crashed to double-digit declines, with the most recent falling down 51% to an all-time record low. Last season's NBA on ABC games fit that same category, recording the lowest average (2.95 million) on record. According to The Athletic's Ethan Strauss, that record will break once again this season."
The story said, "The current average for the premium network TV games to this point in 2020-2021 is 2.83 million."
And the story said, "Tellingly, ESPN spent a day building up this past week's Wednesday night showcase between the Nets and 76ers. Per the hype, the matchup was a potential Eastern Conference Finals preview that could decide the top seed in the East. That must-see showdown (on ESPN) lost head-to-head to AEW Dynamite (on TNT), a wrestling brand created less than two years ago."
The NBA lost to AEW Dynamite? Well, the Red Chinese basketball league is still ahead of Ring of Honor wrestling.
For now.
ITEM 14: Breitbart reported, "Vandals smeared a home in Santa Rosa, California, with pig blood on Saturday because a defense witness in the Derek Chauvin trial used to live there — though he no longer does so."
If a cop in Minneapolis cannot get a fair trial, no one can.
BLM donations and insider information paid for this assault -- and that money came from Corporate America.
ITEM 15: Speaking of pigs, Dana Bash of CNN said, "47 mass shootings in the United States in just over the last month. And I know you know this, polls show the vast majority of Americans support at least some new gun restrictions. When you were speaker, there were 20 first-graders killed in Newtown, Connecticut. Looking back, do you regret not passing laws then, and do you to see Republicans come to the table now at least to pass something?"
Pass something.
That sounds like something a 7-year-old would say.
But we did pass something. Murder is against the law.
ITEM 16: Just the News reported, "Nearly three months after Donald Trump's departure from the White House, his plans for a politically active post-presidential role are coming into public focus.
"After a comparatively quiet first five weeks in Palm Beach, Fla., following a final five in Washington plagued by all sorts of chaos, Trump stirred up excitement in late February at the annual Conservative Political Action Conference (CPAC), where he addressed an enthusiastic crowd for 90 minutes about moving forward with the America First agenda. That plan is now moving into its operational stages, with the launch of a network of political funding vehicles and public messaging platforms.
"Most prominently, there is the former president's leadership PAC — the Save America PAC — which has a war chest totaling more than $85 million heading into the second quarter of this year. That sum positions Trump to make a hefty impact on the upcoming 2022 midterm elections, during which Republicans will attempt to take back control of the House and Senate.
"Trump has made it his mission not only to assist Republicans in their effort to reclaim power in Washington, but to select candidates across the country to primary those he views as out-of-sync with the America First platform."
Unlike Obama, he is not doing this stealth.
Unlike Obama, he has no lobbying job to offer Pelosi to retire so a Republican can become speaker.
Unlike Obama, he does not have the media serving as his henchmen.
But he is Donald Trump and I learned years ago, Never Bet Against The Donald.
ITEM 17: The New York Post reported, "Cows take over quiet suburban street."
The intro to the video said, "Four cows were filmed milking their moment after invading a sleepy Westside neighborhood of Jacksonville, Florida. According to local news, other farm animals, such as donkeys, pigs and sheep, have been spotted in the area since 2019."
Why does the New York Post have more interesting stories than the New York Times?
ITEM 18: Reuters reported, "India may build new coal-fired power plants as they generate the cheapest power, according to a draft electricity policy document seen by Reuters, despite growing calls from environmentalists to deter use of coal.
"Coal's contribution to electricity generation in India fell for the second straight year in 2020, marking a departure from decades of growth in coal-fired power. Still, the fuel accounts for nearly three-fourths of India's annual power output."
West Virginia has enough proven coal reserves to keep America going for 250 years.
The next Republican president should push for the construction of coal-fired plants.
ITEM 19: United Press International reported, "North Korean leader Kim Jong Un attended a concert with first lady Ri Sol Ju on the 109th birth anniversary of his biological grandfather Kim Il Sung, as analysts raised concerns about military developments.
"Kim attended a performance with his wife Thursday, the same day North Koreans were seen celebrating the anniversary with fireworks in Pyongyang on state media."
The story said, "South Korean unification ministry spokesman Cha Deok-cheol said at a regular press briefing Friday that the North Korean anniversary appeared to have taken place in a setting comparable to a pre-pandemic environment."
If the communists are not worried about their Communist Covid, why should we?
Re-open America!
ITEM 20: Twitchy reported, "Enemy of the people? Utah journo goes to paramedic's house to ask about his $10 donation to Kyle Rittenhouse."
James O'Keefe should go to ABC 4 reporter Jason Nguyen's home "to get his side of things."
ITEM 21: Legal Insurrection reported, "China is considering sending troops to Afghanistan after the planned U.S. military withdrawal in coming month. 'China may send peacekeeping force to Afghanistan after US troops leave,' the Hong Kong daily South China Morning Post reported Friday, citing senior Chinese national security experts.
"The report comes after this week's announcement by President Joe Biden to withdraw all U.S. troops from Afghanistan. According to the plan, 2,500 U.S. servicemen and a further 7,000 allied NATO troops will leave the country by September 11, 2021.
"Following the Biden White House announcement, China raised the alarm about the security situation in the Taliban-ridden country close to its western borders. On Thursday, Chinese Foreign Ministry spokesman Zhao Lijian warned that terrorist forces may take over Afghanistan once the U.S. pulls out.
"Afghanistan is strategic to China's economic and military expansion in Eurasia and the Middle East, also known as the Belt and Road Initiative."
Well, there you go.
After nearly 20 years of wandering the desert in our Hummers, let Red China take over.
May Afghanistan do for the People's Republic of China what it did to the Soviet Union.
ITEM 22: The Daily Mail reported, "A North Carolina woman who grew up picking cotton, got married at 14 and went on to become the oldest living American with more than 120 great-great-grandchildren has died peacefully in her home, according to her family."
The story said, "Her 12 children gave her 48 grandchildren, 108 great-grandchildren, and at least 120 great-great-grandchildren."
By the way, that marriage at 14 lasted 44 years until her husband died.
FINALLY, the Chicago Sun-Times reported, " 'They just shot my baby,' says father, moments after 7-year-old daughter killed at McDonald's in Homan Square
"Jontae Adams, 28, and his daughter, Jaslyn, were in their car at a McDonald's drive-thru Sunday near Kedzie and Roosevelt when they were shot. The father called his mother moments after and broke the news to her."
Tell me why are we so blind to see
That the ones we hurt are you and me?
Tell me why are we so blind to see
That the ones we hurt are you and me?
Jontae Adams was 2 years old when Coolio released that song. Do not dare to lecture me in my boondocks home about Black Lives Matter when Chiraq continues to stack hundreds of black bodies in the morgues each year, many of them children.
Fix the gangbangers first, then work on the cops, idiots.