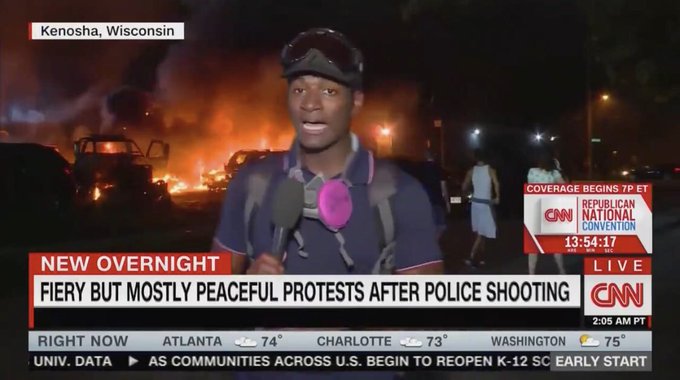 No, you don't get to burn a city down just because a congresswoman encourages you.
ITEM 1:
Politico reported
, "The judge overseeing the trial of former Minneapolis police officer Derek Chauvin on Monday excoriated House Financial Services Chair Maxine Waters after she urged protesters to 'get more confrontational' if the jury did not return a guilty verdict for the murder of George Floyd.
"Judge Peter Cahill told Chauvin's defense team that the California Democrat "may have given you something on appeal that may result in his whole trial being overturned."
" 'I wish elected officials would stop talking about this case, especially in a manner that is disrespectful to the rule of law and to the judicial branch and our function,' he said.
"Cahill's comments, which he made after denying a mistrial request from Chauvin's defense attorney, marked an escalation in the controversy swirling around Waters for her remarks over the weekend."
Politico sugar-coated her remarks.
I won''t.
The black supremacist congresswoman said, "We're looking for a guilty verdict. And we're looking to see if all of the talk that took place and has been taking place after they saw what happened to George Floyd, if nothing does not happen, then we know that we've got to not only stay in the street, but we've got to fight for justice."
And she said, "I am very hopeful. I hope that we are going to get a verdict that will say 'guilty, guilty, guilty.' And if we don't, we cannot go away. We've got to get more confrontational."
Saints appeal to our better angels.
Waters appeals to our inner devils.
ITEM 2: Fox reported, "Rep. Maxine Waters, D-Calif., reportedly requested police protection during her trip to Minnesota over the weekend, where she made inflammatory comments that many have perceived as inciting violence in a region that has been experiencing intensifying protests.
"Travel logs obtained and published by Townhall editor Katie Pavlich, who is also a Fox News contributor, appeared to show that Waters requested a U.S. Capitol Police escort on Saturday when she flew from Dulles International Airport to Minnesota-St. Paul International Airport.
"Protests have been intensifying in Brooklyn Center – near Minneapolis – where Duante Wright was shot as the trial of Derek Chauvin, who has been accused of murdering George Floyd, nears its culmination.
"A spokesperson for Rep. Waters did not return Fox News' request for comment."
She is the bully who challenges you to fight surrounded by the U.S. Marines.
ITEM 3: The New York Post reported, "Detroit's police chief said he would love to see Democratic Rep. Rashida Tlaib step down after her call for abolishing police departments following the fatal shooting of Daunte Wright during a traffic stop in Minnesota.
" 'I'd love to see her resign, I'd throw her a goodbye party,' Chief James Craig told the Fox 2 TV station in Detroit of Tlaib (D-Mich.) on Sunday. 'Let her go. … Let me just say this, when you talk about abolishing police, incarceration, you talk about safe cities – what do you think the residents in Detroit want?'
" 'If I made comments on par with hers, they'd be calling for my resignation,' he said.
"James also had choice words for Rep. Maxine Waters (D-Calif.), who stood among protesters in Minnesota early Sunday and told them to 'get more confrontational' if former police officer Derek Chauvin is acquitted in the killing of George Floyd."
Police officers looking to leave their ingrate mayors may wish to consider moving to Detroit.
ITEM 4: International Business Times reported, "Eligible Californians are set to receive a one-time direct payment of up to $1,200 as part of the $7.6 billion Golden State Stimulus package.
"California's Franchise Tax Board (FTB) is sending an extra $600 one-time check to qualified individuals or a $1,200 check to qualified married couples filing jointly.
"The state's stimulus payment cannot be garnished or offset to cover a debt, child support or spousal support, the FTB said."
Nothing to see here. It is just Democrat Governor Gavin Newsom using taxpayer money to buy votes in his upcoming recall election.
ITEM 5: The Washington Examiner reported, "The Supreme Court on Monday showed skepticism about allowing temporary immigrants protected from deportation to apply for green cards.
"The case's outcome could affect more than 400,000 noncitizens who entered the United States illegally but live here under temporary federal protection. It concerns whether these people, many of whom fled natural disasters, can apply for lawful residency without having to leave the country first. The court, on Monday, questioned whether the terms of the Temporary Protected Status program, which protects them from deportation, allows an ease of access to green cards."
Justice Brent Kavanaugh told the lawyers for the illegal aliens, "We need to be careful about tinkering with the immigration statutes as written, particularly when Congress has such a primary role here. You have an uphill climb, textually speaking."
Wait a minute.
Is he saying justices will uphold a law they don't like?
No way.
ITEM 6: Auto Week reported, "As soon as the first ID.4s started arriving in the U.S. in mid-March, Volkswagen took one on a cross-country trip, traveling from New York to Sacramento with some stops in the Midwest and the South. The 6,700-mile scenic route, much of which took place along the southern edge of the lower 48 states, took 18 days. The leisurely route also saw the electric crossover make 32 stops at Electrify America charging stations, access to which is included free for three years with an ID.4 purchase."
18 days?
That's 372 miles a day. At 62 miles (100 kilometers) per hour, that is a mere 6 hours of driving per day. What were they doing the other 18 hours a day?
Recharging.
ITEM 7: The Toronto Police politely and apologetically tweeted, "New emergency orders announced yesterday to help limit the spread of Covid-19 are now in effect. The Toronto Police Service will continue to engage, educate and enforce, but we will not be doing random stops of people or cars.
"We can all do our part for the health & safety of everyone. The Toronto Police Service will continue to engage and enforce equitably and effectively, recognizing always that we must inspire public trust."
The first reply came from Alainna J. Jamal.
She tweeted, "Can you please also educate your own police officers to wear a mask and maintain physical distancing? This will keep everyone safer. I frequently see officers unmasked and chatting within a few feet of each other around construction sites and movie sets downtown."
ITEM 8: Julio Rosas reported, " 'Rioting and Violence Have Absolutely No Place in Florida': Ron DeSantis Signs Anti-Riot Bill Into Law."
Democrat state Senator Shevrin Jones said, "Not only is this racist at its core, but it's also a reaction to what occurred over the summer after the death of George Floyd. The governor made no mention of the Jan. 6 insurrection."
Anything that a black Democrat dislikes is racist.
And the ACLU as usual called the law Jim Crow. When you cannot argue the facts, argue the law. When you cannot argue the law or the facts, cry Jim Crow.
ITEM 9: CNBC reported, "Senate to vote on bill to combat anti-Asian American hate crimes on Wednesday."
The Democrat law would ban calling covid 19 the Chinese Flu.
No problem.
Call it what it is: Communist Covid.
ITEM 10: Zero Hedge reported, "A group of Oregon residents want their rural counties to be absorbed by Idaho, to throw off the control Portland exerts on a very different area of the state. Two counties have already voiced majority support for the idea in ballot initiatives.
"The latest step for the organizations Move Oregon's Border and Citizens for a Greater Idaho, was to present the idea to House and Senate committees in the Idaho legislature. The former house speaker of Oregon, who lives in one of the counties that want out, joined the movement's leader to help pitch the plan."
I don't think that is a good idea.
After all, these people ruined their own state. Why would they not ruin another state?
ITEM 11: Fox reported, "Democrat Governor Gretchen Whitmer's office is responding to a report she traveled out of Michigan to Florida about a month ago to visit her father in a report by Michigan Information and Research Service published Monday.
"According to spokesperson Tiffany Brown, Whitmer's father is battling a chronic illness and has a home in Florida. Brown said he is vaccinated against COVID-19 and that the governor is tested regularly and has never tested positive for COVID-19."
If she can be vaccinated and do as she pleases, why not the Michiganders she serves?
She is a monarchist who deserves to be overthrown.
ITEM 12: The Washington Examiner reported, "A Kentucky state report found at least 19 state workers used the unemployment insurance program to claim benefits for themselves.
"Neither Gov. Andy Beshear nor the Kentucky Education and Workforce Development Cabinet released the report, but the Lexington Herald-Leader received a copy of it through an Open Records Act request.
"The report found that workers in the cabinet, while they were still employed full-time, filed claims for part-time work and amassed $54,232 in benefits during April and May last year.
"That timeframe coincided with a period when the state initially approved all unemployment claims due to the spike in filings because of business closures and other restrictions put in place at the start of the COVID-19 pandemic."
Grant their wish.
Unemploy them all.
ITEM 13: ABC News reported, "The Biden administration over the weekend shuttered a Houston warehouse that housed unaccompanied migrant children following allegations that the nonprofit organization running the site failed to provide adequate living conditions for hundreds of young girls, multiple sources familiar with the matter told ABC News."
The story also said, "Sources familiar with the facility's operation said the girls housed there, aged 13-17, were at times instructed to use plastic bags for toilets because there were not enough staff members to accompany them to restrooms. A spokesperson for the nonprofit would neither confirm nor deny these allegations to ABC News."
This is a huge scandal that even the conservative press will ignore.
The story said, "The National Association of Christian Churches (NACC), a Houston-based organization with its roots in disaster relief, was awarded a $4 million contract to operate the warehouse despite having no record of caring for unaccompanied migrants."
So we are literally warehousing teenage girls without a large enough staff or toilets.
For $4 million.
It must be nice to have connections.
ITEM 14: The Washington Free Beacon reported, "The progressive congresswoman Ayanna Pressley (D., Mass.) has called rent cancellation legislation "literally a matter of life and death." At the same time, she has collected cash from her own rental properties.
"Pressley and her husband made as much as $15,000 in rental income in 2019 after purchasing a $658,000 Boston home, according to property records and financial disclosures reviewed by the Washington Free Beacon. The income appears to come over the course of four months—the unit was first listed for $2,500 a month in June 2019 and the posting was removed in August.
"Pressley and her husband refinanced the building as a multifamily investment property in August 2020. That requires the couple to maintain rent loss insurance."
Who handled the mortgage?
What were the terms?
What was the original asking price for the home and did she get an elected-official's discount?
ITEM 15: Just the News reported, "Former President Trump, during a lengthy interview on Fox News with conservative commentator Sean Hannity, said that he is strongly considering a 2024 presidential run."
The president emeritus said, "I am looking at it very seriously, beyond seriously. From a legal standpoint, I don't want to really talk about it yet."
It would be nice to have a president again who can walk up the stairs to Air Force One without falling 3 times.